Where to Stay in Coron: Feel Right at Home at these 15 Beautiful Airbnbs
Rates start at P1,500 per night.
by Ina Louise Manto | May 03, 2023
With its limestone cliffs and stunning diving spots, Coron remains one of the top travel and diving destinations in the country and in Asia. If you're planning a trip this summertime, we've got you covered with this list of beautiful Airbnbs in Coron:
Family Room at Crisilyn's Place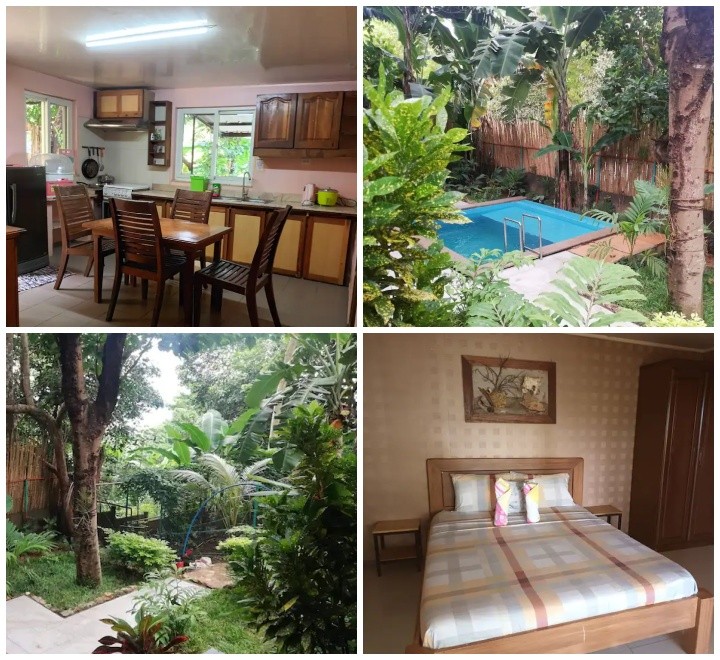 Traveling with a group? This Family Room set in the hills near Coron's town has three bedrooms that can accommodate up to six guests. If you're looking for a garden setting for your cozy home on the island, you'll fall in love with this space. It also has a fully equipped kitchen and a plunge pool where you can chill after a day of island hopping. This property has a laundry area too, which is perfect for those planning a longer stay.
Rates start at P3,950 per night. Book here.
Rock Island Eres Bella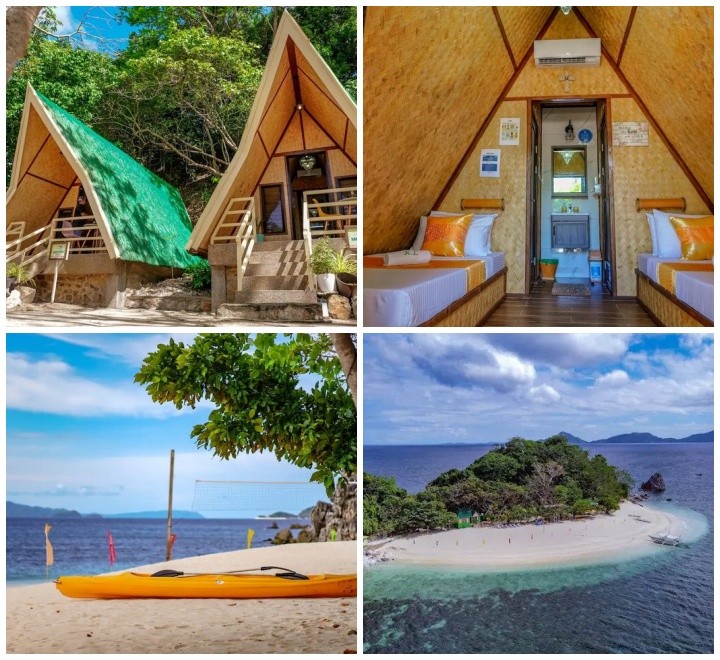 Ever wondered what it's like to stay on a private island in one of the top beach destinations in the country? Rock Island Eres Bella has glamping huts ideal for two, and you'll get to have a powdery white sand beach as your front yard during your stay. If you're staying with a group, there's also an exclusive bungalow you can rent, with two rooms.
Rates start at P7,500 per night. Book here.
The Garden of Eden at Hacienda Paragua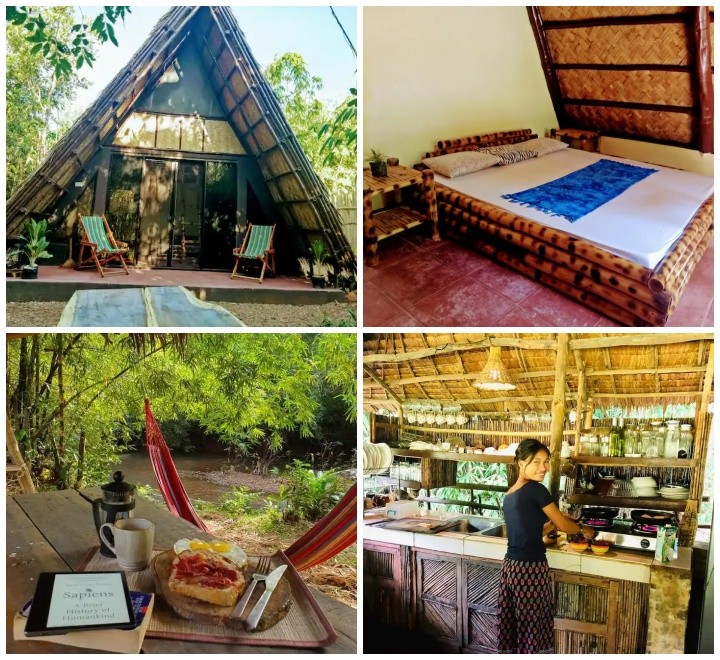 If you don't want the usual seaside accommodation in Coron, experience a simple and traditional farm life right at Hacienda Paragua inside The Garden of Eden. This A-frame accommodation features nipa walls and bamboo furniture, which will remind you of a bahay kubo. Up to four people can stay here: two on the ground floor and another two in the loft area. The property is also by the river, which you can explore during your stay.
Rates start at P2,500 per night. Book here.
Cocovana Beach Resort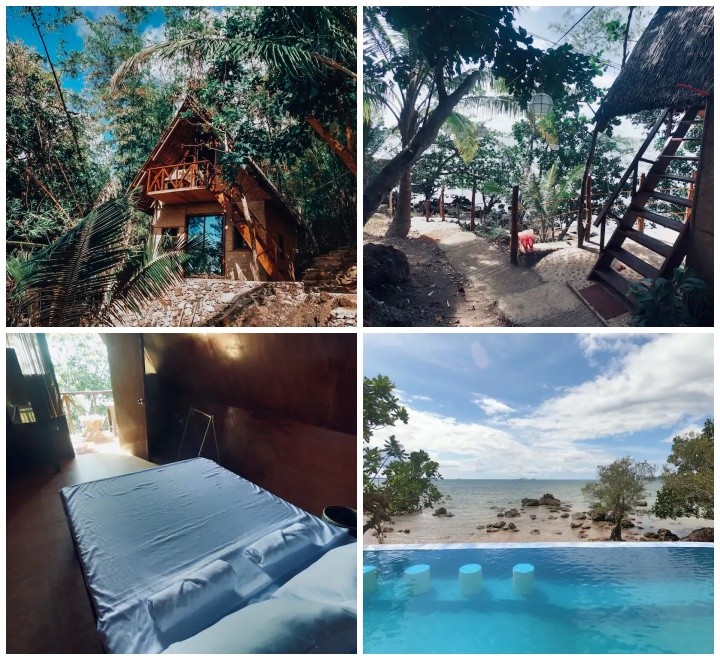 This traditional nipa hut is one of the accommodations you'll find at Cocovana Beach Resort in Busuanga. If you want that beachfront stay, you'll have the sea as your front yard here. Perfect for solo travelers and couples, guests will stay on the top floor of the two-story unit. You'll also have a balcony overlooking the beach – one of the best spots to appreciate the breathtaking beauty of the island. Some of the resort's amenities include an in-house restaurant, lounge, mini bar, and Wi-Fi connection.
Rates start at P1,800 per night. Book here.
Pineapple House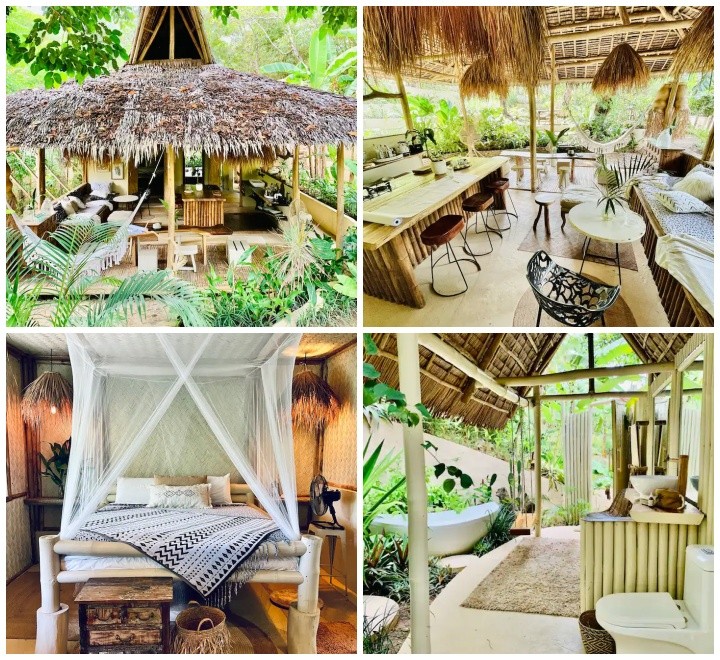 Find yourself a hidden paradise when you stay at Pineapple House. This garden cottage sits near Ocam Ocam Beach and it's directly behind private beaches, which you can also explore during your stay. Surrounded by lush greenery, the 600 sqm property features an exclusive garden cottage with an open-plan dining, living, and kitchen areas. It also has a bedroom and a spacious lounge where you'll be tempted to take lots of photos.
Rates start at P3,996 per night. Book here.
Unique Villa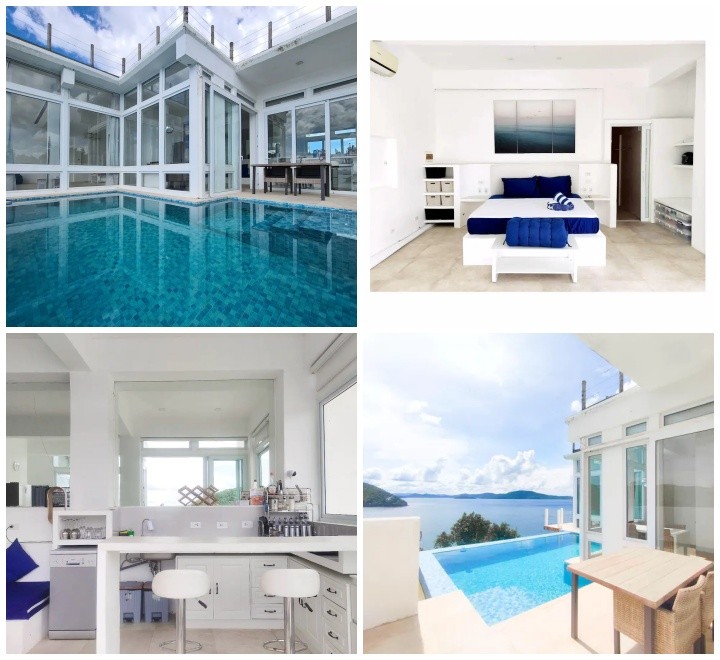 Get to wake up to 180-degree panoramic views of nearby islands at Unique Villa. This bright, clean, and inviting property looks straight out of a dream, and you won't get enough of the view during your stay. Ideal for four people, this exclusive property by the sea has a pool, sunset balcony, terrace, and outdoor dining area.
Rates start at P10,281 per night. Book here.
The Beach House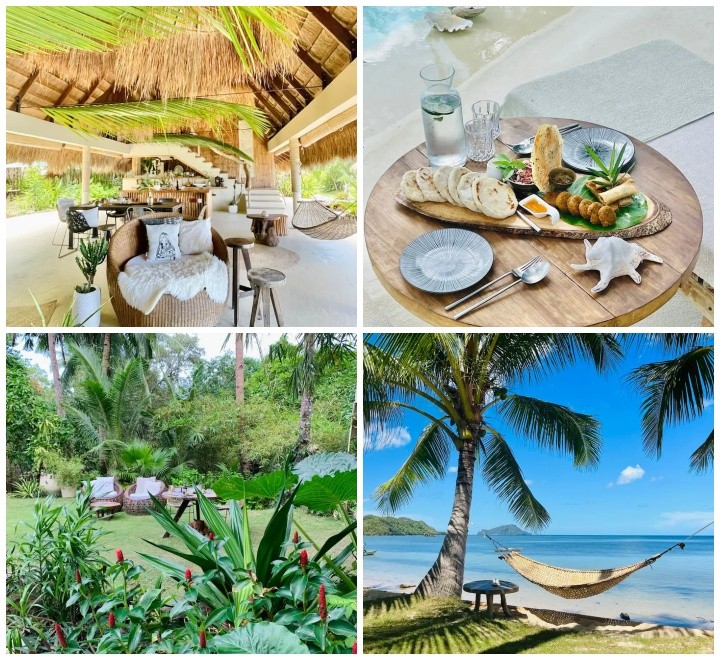 If you're looking for an exclusive and secluded Airbnb in Coron, go for The Beach House. This boutique hotel is one of the only few establishments you'll find in the cove it's located at, and it's the perfect venue to experience barefoot luxury. Just look at the exclusive pool that's a stone's throw away from the sea!
Rates start at P15,000 per night. Book here.
OcamOcam Sunset Bay Guest House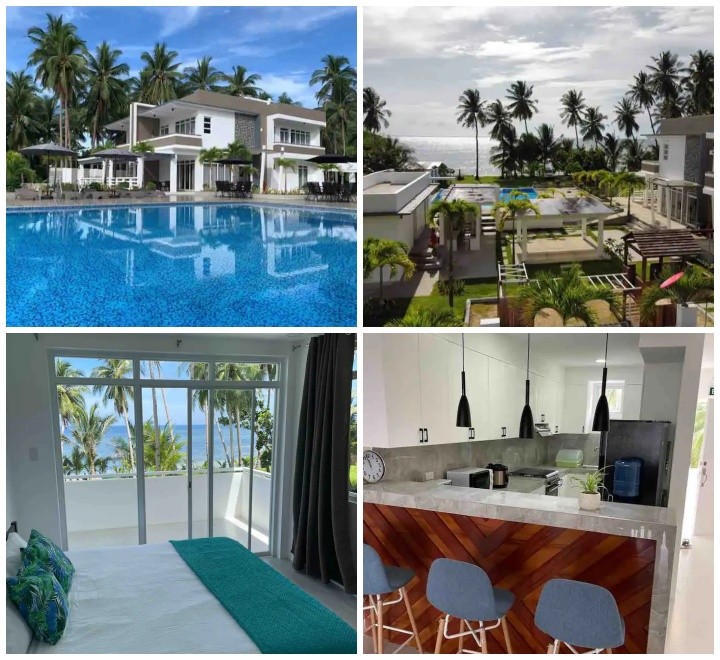 Instead of staying in a hotel when you're traveling as a group, why don't you try staying at an exclusive house by the sea? You'll get to stay on the second floor of the house, which features a condo-like layout. It has two bedrooms, a fully equipped kitchen, a living room, and a patio area. Guests also have access to the pool, playground, and bar.
Rates start at P10,001 per night. Book here.
Sanctuaria Treehouses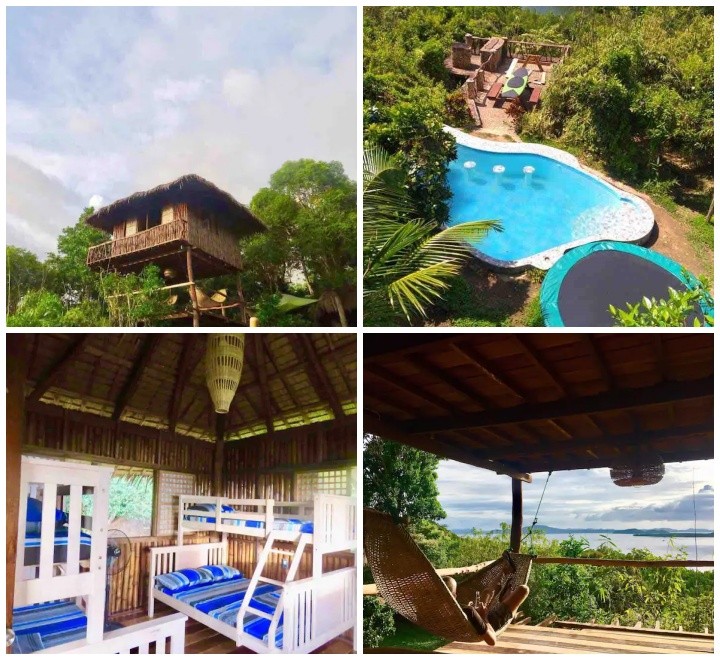 Rekindle your inner child and embrace the tropical island life at Sanctuaria Treehouses. This stay has two floors: a viewing and lounging deck on the ground floor and a room upstairs. You'll find comfy bunk beds here, which can sleep up to six guests, which is a bang for the buck, considering its affordable prices per night. Nothing like a stay with breathtaking views, a pool to lounge at, and a scenic viewing deck.
Rates start at P1,900 per night. Book here.
The Bali Huts Resort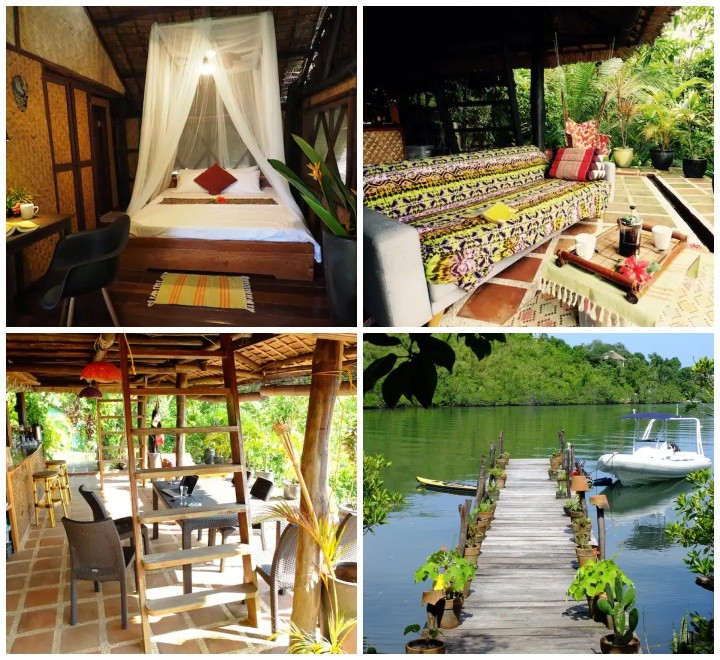 The journey to The Bali Huts starts with a 6-minute speed boat ride that will lead you to a private bay in Busuanga protected by mangrove trees. Nestled on a remote island, the resort features a charming garden where you'll find huts with two bedrooms, a dining area, and a kitchen. These huts are also nestled on hills, giving guests a better view of the private bay.
Rates start at P5,500 per night. Book here.
Nomad Yurt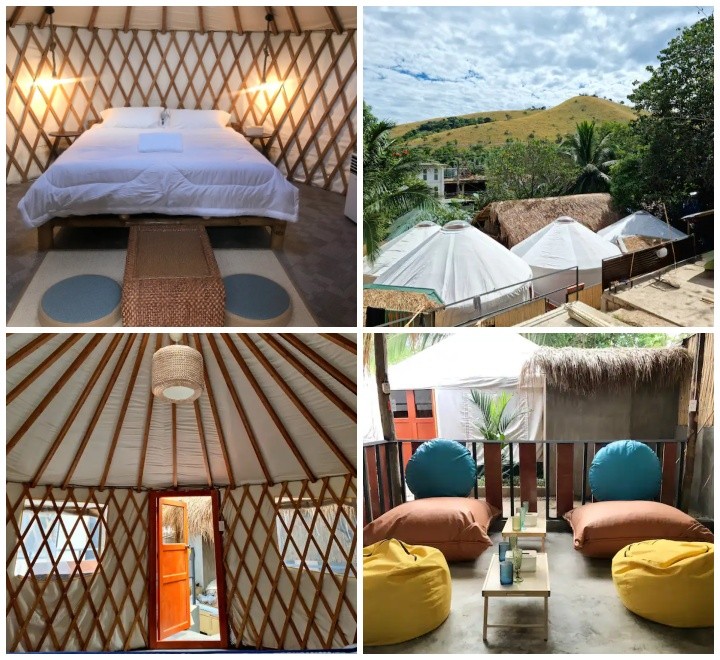 For a unique experience in Coron, try staying in a Mongolian yurt at Nomad Yurt. This boutique stay has four yurts that can sleep up to people each, which is also great for solo travelers. If you're going solo and keen on new meeting people, this stay is one of the ideal places to be. They also have a lounge area with comfy bean bags.
Rates start at P2,794 per night. Book here.
Bella Villa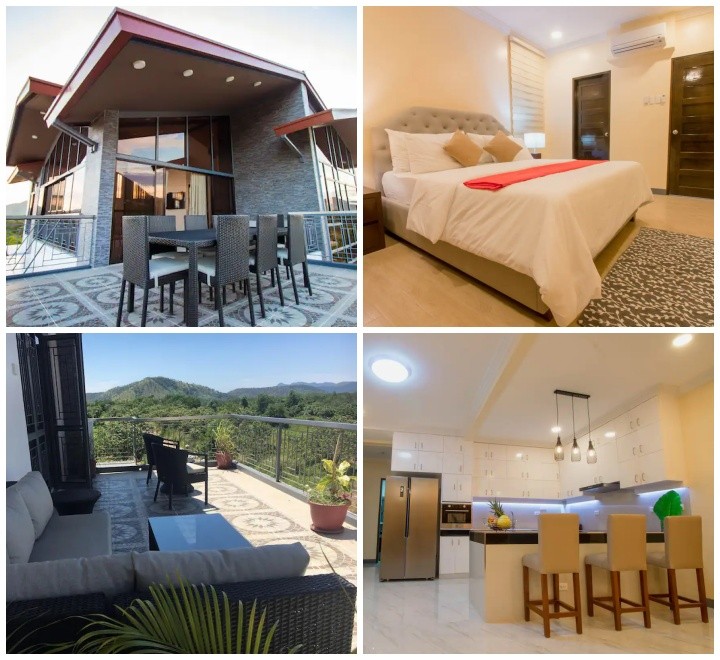 While owning a property in Coron will probably cost a hefty sum, experience being a homeowner in this beautiful travel destination when you stay at Bella Villa. Ideal for families and big groups, this beautiful glass penthouse has two large view decks that offer sweeping mountain views. It's also just 25 minutes away from the airport and 10 minutes away from Coron Town.
Rates start at P11,174 per night. Book here.
Paolyn Bamboo Houseboat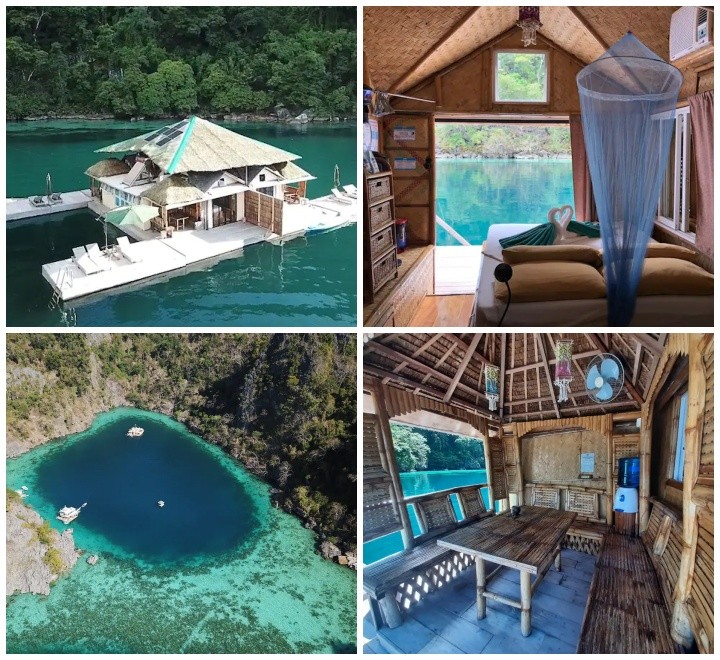 If you have the budget to stay in a floating houseboat in a middle of a lagoon with crystal-clear waters, go for it. Paolyn Bamboo Houseboat offers floating homes in an off-grid location near Kayangan Lake and Twin Lagoons. These houses are totally eco-friendly; they produce their own electricity and don't dispense waste straight to the sea. When you stay here, all you have to do is relax, swim, snorkel, and
Rates start at P20,800 per night. Book here.
Margie's Home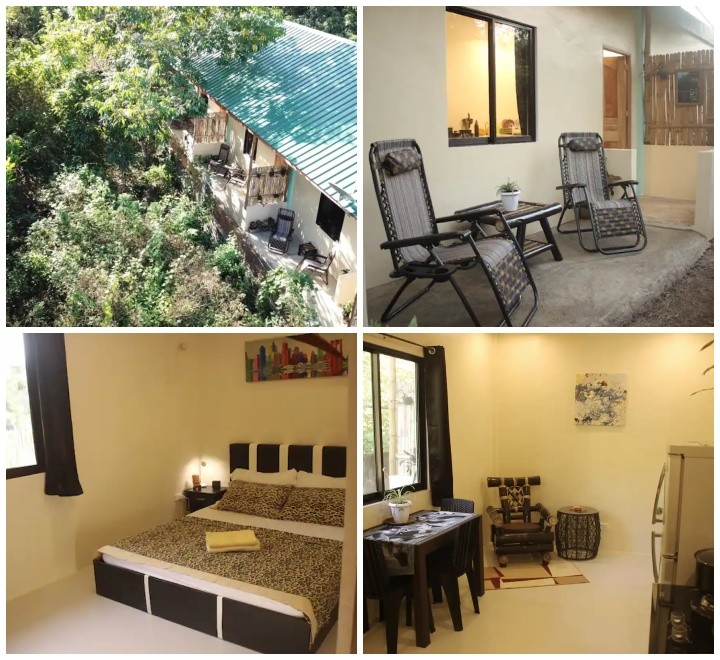 Set a few minutes from Coron town, Margie's Home offers two apartments that feel like a home away from home. You'll get a private veranda, views of the surrounding greenery, two rooms, a dining space, and a fully equipped kitchen. If you're looking for a quiet sanctuary without sacrificing the convenience of being near the town, go for this place!
Rates start at P3,000 per night. Book here.
Anya Bed & Breakfast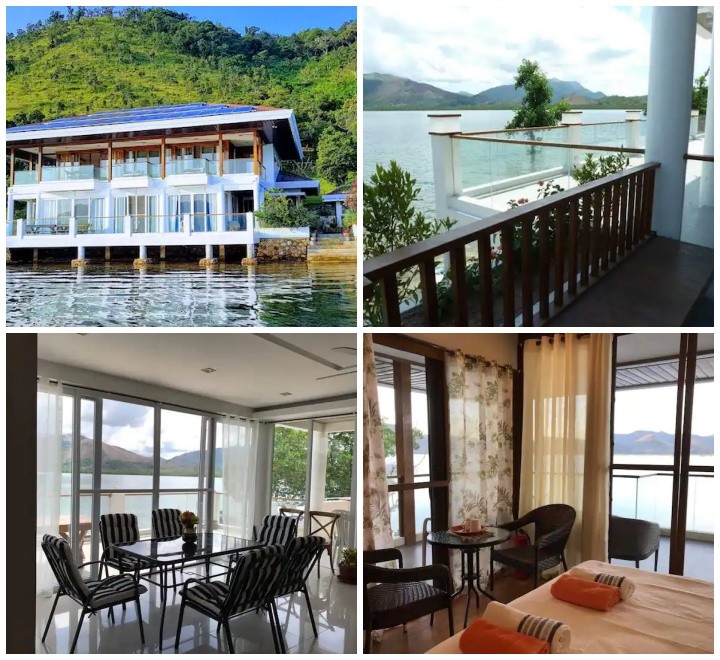 Nestled on Baquit Island, Anya Bed & Breakfast offers a two-story modern home that's exclusive for up to eight people. It's located in a quiet cove with picturesque views of the sea and surrounding islets – watch a colorful sunset, enjoy breakfast on the veranda, and take a dip in the sea. They also have room offerings for three people.
Rates start at P16,000 per night. Book here.
Windowseat Destination: Coron
Windowseat Destination: Coron
Alain Fusana | Jul 23, 2020
Looking for other places to explore? Join WindowSeat.ph's official Facebook community What's Your Trip PH for more recos!