Things to Look Forward to in 2017: Visa-Free Travel
Here's your 2017 visa-free bucket list!
by Therese Aseoche | December 28, 2016
Head to roads less traveled this year and explore destinations in some of the 61 visa-free countries for Philippine passport holders. Here, we talk about where to go, what to eat see and do in some of the best 2017 destinations in East Asia, South Asia, South America, Oceania and even Europe.
Mongolia
How long you're allowed to stay Visa-Free: 21 days
When you should go: Mid-May when the summer season has begun; September to October when the weather is cool and when you can avoid the flock of tourists.
What to eat: Khorkhog (Mongolian barbecue), Buuz (dumplings), Tsuvian (fried noodles with mutton)
Where to shop: The best place to go to shop is at Ulaanbaatar City. You can find almost everything at the State Department store, the largest mall in the country, although at slightly expensive prices. For the cheaper goods, you can visit the Naran Tuul Black Market.
What to see and do: Experience camping out with a nomadic family, ride a camel to the Gobi Desert, catch the sunset at Bayanzag (known as The Flaming Cliffs), go fly fishing, meet the wild Przewalski horses (or takhi horses) at the Khustain Nuruu Nature Reserve, and learn more about Mongolia's history and culture around the museums of Ulaanbaatar City.
Sri Lanka
How long you're allowed to stay Visa-Free: 30 days (Visa issued upon arrival)
When you should go: Because Sri Lanka experiences two monsoons, you'll be surprised that the Eastern part of the country suffers heavy rainfall while the weather is sunny and pleasant in the Southern part. Generally, the best time to travel across Sri Lanka is from January to March, and mid-July to September.
What to eat: Kottu roti (flat bread mixed with vegetables, meat, and seasoning), Lamprais (rice with different food wrapped in banana leaf and steamed), Egg hopper (egg in a bowl-shaped pancake), Polos (green jackfruit curry), Wambatu Moju (candied eggplant pickle), and any type of curry.
Where to shop: Colombo City is teeming with malls and shops where you can find everything you'd hope to, especially popular souvenirs and must-haves like elephant carvings, handicrafts, religious items, and jewelry. Colombo's Paradise Road is a must-visit for all these and more. Sri Lanka's Ceylon Tea is best bought in local supermarkets rather than at spice gardens where prices for them are ridiculously high.
What to see and do: Soak up the sun and surf the waves at Sri Lanka's various beaches, go on a sacred pilgrimage to Adam's Peak, view the wildlife at Yala National Park, wander around the Rock Fortress of Sigiraya, visit the Pinnawala Elephant Orphanage, and drink tea at the tea plantations of Ella and Nuwara Eliya.
Nepal
When you should go: Nepal is best visited during its autumn season when the weather is absolutely pleasant, which is between October and December. For fewer crowds, January to February is the best time to visit despite the cold.
What to eat: Dal-baht (rice, lentils, and vegetable curry), Momo (dumplings), Sel roti (donut), Dhido (porridge), Chatamari (Nepali pizza)
Where to shop: Head to Kathmandu whether for luxury items or for discounted goods. Durbar Marg Street holds all the premium brands, while the neighborhood of Thamel is where you can purchase your souvenirs and handcrafted items. For budget shoppers, the two-lane street of New Road is the best place to get the cheapest products.
What to see and do: Trek to Gokyo Lakes and marvel at the view of Mount Everest, discover the history of Buddhism at Lumbini, explore the beautiful lakeside town of Pokhara, go sightseeing around Kathmandu, experience one of the best whitewater rafting at Bhote Koshi river, and stroll through the medieval alleys of Bhaktapur.
Brazil
How long you're allowed to stay Visa-Free: 90 days
When you should go: September to October when the weather is pleasant and prices haven't increased in anticipation of New Year's and Carnaval season
What to eat: Brigaderio (chocolate truffle), Acai berry (as a sorbet or in a breakfast bowl), Coxinhas (fried doughnuts), Feijoada (beef, pork, and beans stew), Acaraje (black-eyed peas fritter), Caipirinha (cocktail)
Where to shop: Sao Paulo will fulfill all your shopping needs, especially when you're on the hunt for luxury brands both local and international. The main shopping center in Sao Paulo is the Oscar Freire Street. Budget shoppers don't have to venture far from Rio. You can find great bargains in different areas of Rio, such as the Feira do Rio Antigo Saturday Antiques Fair, the  indoor market at Uruguaiana, and the SAARA Market.<
What to see and do: Ride a jungle cruise, relax at the islands and beaches of Costa Verde, experience the Carnaval festivities, learn the Samba, marvel at the Iguazu Falls, see Christ the Redeemer, and take a tour to the Amazon rain forest.
Colombia
How long you're allowed to stay Visa-Free: 90 days
When you should go: Colombia experiences dry season from December to March and July to August. Although the country is its most festive during Christmas time, it likewise gets a high influx of tourists and thus increases its rates nationwide.
What to eat: Ajiaco (Chicken, potato, and corn soup), Sancocho (traditional stew), Fritanga (fried offal), Empanada (stuffed pastry), Cazuela de mariscos (seafood pot)
Where to shop: In Colombia's shopping district in Medellín, you shouldn't miss Via Primavera, a street lined with stalls selling the latest fashion and the best bargains. Bogota's central artisanal markets and Sunday flea markets are worth the visit too for unique and rare finds.
What to see and do: Drink coffee at the coffee farms around Zona Cafetera, learn about Colombia's history and culture at the colonial town of Cartagena, visit the vibrant city of Medellín, experience the picture-perfect beaches of San Andres and Providencia, visit the gold museum at Bogota, learn to Salsa at Cali, and see the Salt Cathedral of Zipaquira.
Palau
How long you're allowed to stay Visa-Free: 30 days (Visa issued upon arrival)
When you should go: The best time for diving is between November and April<
What to eat: Coconut, taro, yam, halo-halo (dessert), pichi-pichi (cassava and coconut dessert), tinola (soup with chicken and ginger broth), Ulkoy (deep fried shrimp fritters)<
Where to shop: You can find a variety of small gift shops around Koror. It also has the WCTC Shopping Center for your big purchases or for items you need but forgot on your trip. If you're in the hunt for a souvenir that's unique to Palau, check out the Palau Jail Gift Shop which sells the best Storyboards—long wooden carvings that depict ancient Palauan folktales or legends.
What to see and do: Enjoy all the watersports you can do (kayaking, scuba diving, beach bumming, swimming with the dolphins), visit the World War II relics, and explore the island's city center, Koror.
Kosovo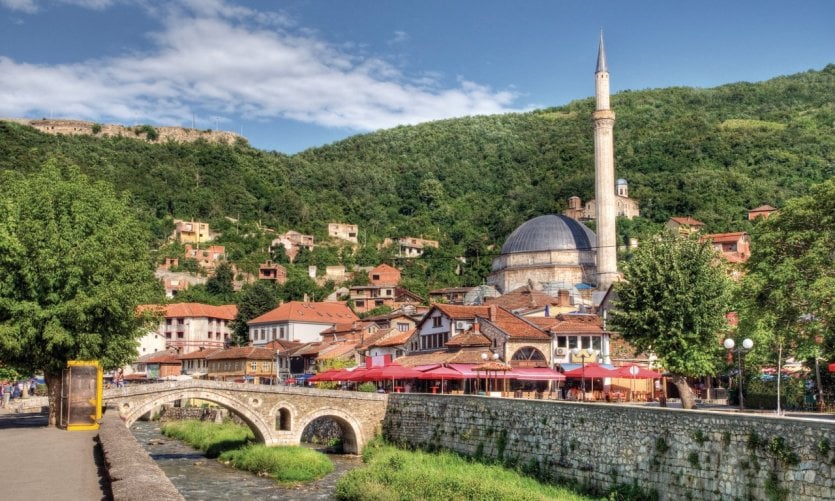 How long you're allowed to stay Visa-Free: 30 days
When you should go: It depends on what you'd hope to do. To ski the famous ski slopes of Brezovica, go during the wintertime from December to March. May to September, on the other hand, is the best time for hiking the mountains.
What to eat: Flija (pie with crepe-like layers and yogurt filling), Raznjici (grilled skewered meat), Hajvar (preserved red peppers), Pasterma (dried beef with pickled vegetables), Rakija (strong spirit made from grapes), Turska kafa (Turkish coffee)
Where to shop: Head to Pristina for your shopping needs. You can find stalls lining up the streets downtown selling a variety of goods. Fashion finds on the cheap can be bought at Albi Mall on Skopje Road.
What to see and do: Drink afternoon coffee at the cafes along the side streets of Prishtina, take a nightly "xhiro" (stroll) around the main pedestrian plaza, see why the National Library of Kosovo has been dubbed one of the world's ugliest buildings, see the stunning views of Prizren at the Kalaja Fortress, ski at the Sharr Mountains in Brezovica, hike up Gjeravica mountain and feast your eyes at panoramic views of the Albanian Alps, and get cultured by the museums, galleries, and shops at Pristina.
Where are you planning your trip next year? Tell us below!