5 Extraordinary Pink Sand Beaches in the Philippines You Should Visit
Pretty in pink.
by Kyzia Maramara | May 04, 2018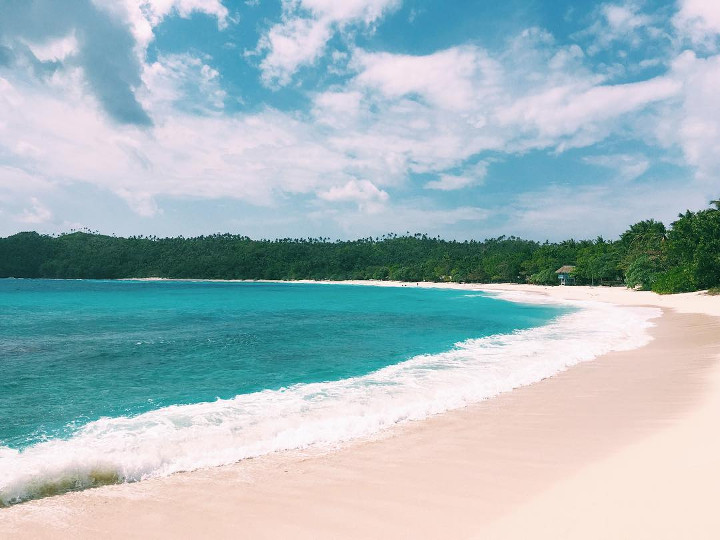 The Philippines can boast itself not only of having the greatest white sand beaches, but also being blessed with rare and unusual pink sand beaches. Although these pink hued strips of sand are few and most are far flung, the view they provide is worth the time travelling to get there.
You may have heard about Zamboanga and its famous Philippine pink sand beach, but there are other beaches scattered around the country you could visit for a view of pastel paradise!
Great Sta. Cruz Island, Zamboanga
National Geographic has hailed Great Sta. Cruz Island as one of 21 of the most beautiful beaches in the world. The pink hued sand in this spectacular island in Zamboanga comes from billions of crushed red organ-pipe corals.
The pink sand complements the crystal blue waters at the beach front. The island has available cottages, spacious shower area, and comfort rooms for the convenience of guests. Overnight camping, however, is not allowed.
Sta. Cruz Island is protected by the government and visitors are regulated to preserve its beauty. If you're planning a trip here, coordinate with the officials or with trusted travel agencies to make the most out of your visit.
To get there from Zamboanga, go to port Paseo del Mar and board a boat which costs Php 1,000 for 10 people.
Sila Island, Northern Samar
Another pink beach could be found in Sila Island in Northern Samar. The blushing sand is similarly caused by corals washed ashore pulverized by the waves and tiny sea creatures with red shells called "foraminifera."
Locals say that the best time to visit the beach is during summer where the sun shining on the beach tinges the sand to become redder.
The emerald waters and colorful coral reefs are great for snorkeling, although you have to bring your own gear as there are no rentals or shops on the island.
Getting to Sila Island requires quite a long travel time: from Tacloban City you can rent a van for a four-hour drive to Calbayog City. From Calbayog, take another van to San Isidro and charter a boat to transfer you directly to Sila Island. Travel time over all could last to about half a day but the pink sand beach is worth it!
Subic Beach, Matnog, Sorsogon
Sorsogon's Subic Beach is divided into Subic Laki (Big Beach) and Subic Liit (Small Beach) which are two separate strips of pink beaches. Just like other pink sand beaches, Subic Beach gets its pinkish hue from crushed corals.
Subic Laki nowadays, however, tends to get crowded, as the island is slowly being transformed to accommodate waves of visitors. Some cottages around the island even have air conditioning and there's an option to stay overnight. Food, although pricey, is available through sari-sari stores and grilling stations.
If you take a flight or a bus ride to Legazpi, the beach is approximately 3 hours away from Legazpi via buses. You will be dropped off at Matnog Municipality Hall and from there coordinate with Matnog Tourism Office for an island hopping tour.
Tikling Island, Sorsogon
Tikling Island, also found in Sorsogon, could be included in the island hopping to Subic Beach. Although not as pink as the other beaches, Tikling Beach which is named after the birds in the area, makes up for being secluded, almost like a secret pinkish island.
There are no cottages, tents, or resorts for visitors but day tours are allowed. More than the serene beach front, the island also boasts of lush vegetation and beautiful rock formations.
To add to the wildlife fascinations, there are wild boars in the area under the protection of the Tikling Beach caretakers.
Overnight stays aren't recommended because of the lack of accommodation in the area, but that's exactly what keeps this island pristine. It's better to spend the night at Subic Beach and just take a side trip to Tikling during the day.
Parola Island, Camarines Norte
Camarines Norte's very own pink beach is found in Parola Island, named after the parola (lighthouse) located in the area and is accessible by a 30 to 40-minute boat ride.
The island is small and only has one cottage to shelter guests from the sun or rain. It doesn't have tents or other forms of accommodation (no toilets!) so if you're planning to stay for a couple of hours or overnight, bring your own tents, umbrellas, and beach towels. Parola Island also doesn't have electricity or stores to buy your food from, so better come prepared.
Aside from the beach, the island also offers a beautiful green coconut tree forest and amazing rock formations by the sea. You could spend your time snorkeling, exploring the island, and looking for the parola.
Ever been to any of these pink beaches? Share your experience with us below!