Love the Second Time Around: 72 Hours in Bali
Featuring Nusa Dua, Seminyak, and Ubud
by Charisse Vilchez | May 22, 2015
[article_carousel images="https://windowseat.ph/wp-content/uploads/2015/05/Day-3-Ubud-Market1.jpeg, https://windowseat.ph/wp-content/uploads/2015/05/c2.jpg, https://windowseat.ph/wp-content/uploads/2015/05/c1.jpg, https://windowseat.ph/wp-content/uploads/2015/05/c3.jpg"]
The Dalai Lama once said, "Once a year, go someplace you've never been before."
But what if you want to go to a place that you've already been to before?
As a lady who believes in second chances, I booked it again this year with my cousins. Why? Simply because you now know how to maximize your time. You'll know what to prioritize this time. You'll have a different take on things at the end of the trip. You're giving yourself a chance to fall deeper for that country, city or state.
So I only had 72 hours in Bali last Labor Day Weekend.  First time I went to Bali, I stayed in Kuta, was able to surf, shop (a lot!) and go bar hopping with a couple of Aussies. This time, I was able to pin down the purpose of this trip – relax in Nusa Dua, eat and drink in Seminyak, and experience Ubud.
Day 1: Relax in Nusa Dua
Nusa Dua is in the southern part of Bali, near Balinese sea temple Uluwatu, and known for some five-star beachfront properties. It was my cousin's request to experience The Mulia which according to Conde Nast Traveler's Reader's Choice Awards, is one of the top three resorts in the world. Since our flight was early in the morning, we arrived at the resort around 10am and unfortunately would not be ready until after lunch. The hospitable team of the establishment gave us a tour and we already knew what the agenda was for that day. We wanted to just enjoy the facilities and just chill.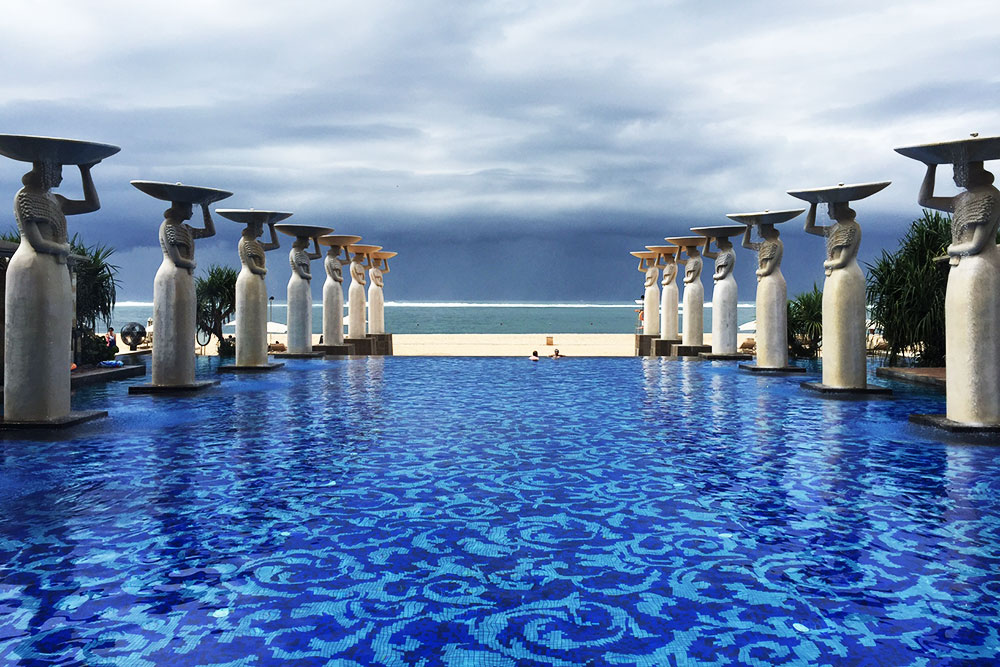 We had brunch in one of their restaurants called Soleil, and then we changed into our swimsuits. We opted to chill by their pool and explore their beach.  It was drizzling during that time, but that didn't stop us from enjoying. Allow the photos below to speak for themselves on how beautiful the establishment is.
A good friend recommend to try Bebek Bengil Restaurant while we were in the area. We asked the front desk to reserve us a table for dinner and we were fetched by a purple bus! I was impressed that they really try to make it easier for their customers. I also loved the ambiance and we had a table in one of their cabanas. Aside from the good service, I would say that the food was really good, too. Their signature dish was "The original crispy duck since 1990," which is best paired with Bintang Beer.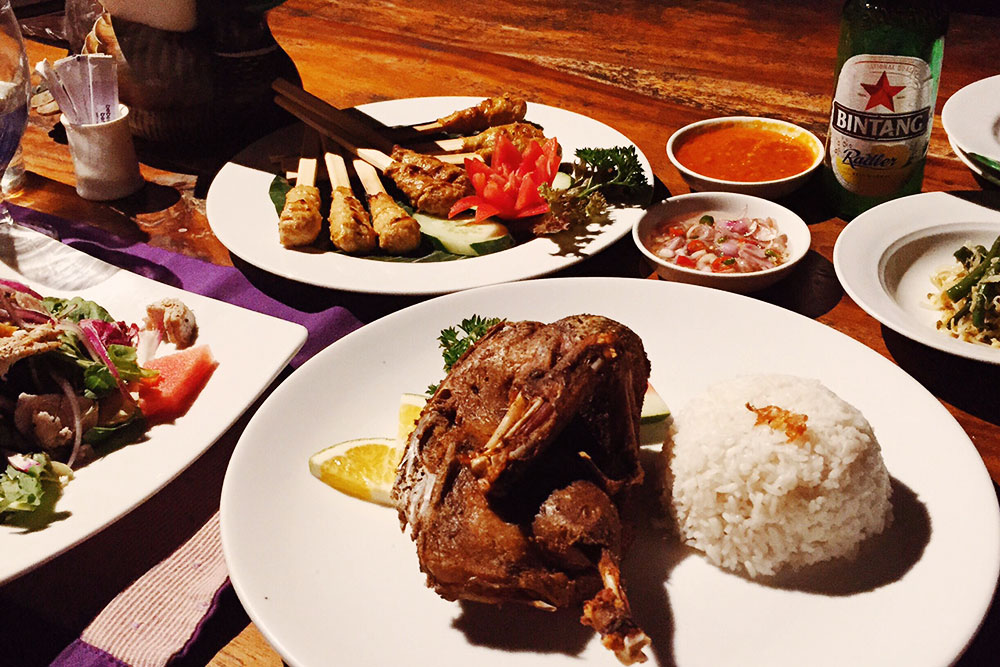 After dinner, we decided to avail our free cocktail drinks in their bar called Zj's.  Here's what I discovered while having a drink and talking to their bartender: most of the people working in the resort are from five-star properties in Dubai so they would always share that their good friends in their previous jobs were Filipinos.
A stress-free first day was achieved. I'm not a five-star property type of girl (I usually opt for hostels or boutique hotels) but I'd have to say, I was really awestruck by the service.
Day 2: Eat and Drink in Seminyak
First agenda for the second day was to have The Mulia's buffet breakfast (was over-the-top!), to do a bit of swimming, and then take care of check-out, which was hard especially if you're already attached to their comfortable, fluffy bed.
Our driver for that day arrived to bring us to our second hotel. The first time I was in Bali, I stayed in a three-star hotel in Kuta, this time I wanted to experience a Villa in Seminyak. Since we figured out that the room wouldn't be ready till 2pm. We decided to do what Filipinos love doing – have lunch and EAT again.
Motel Mexicola is one of my favorite restaurants in the entire trip. It was very colorful, atmosphere was more laid back and the food. And oh god, the food!  I would recommend the Lechon Adobe Taco – crispy pork belly with pickled pineapple and smokey adobe.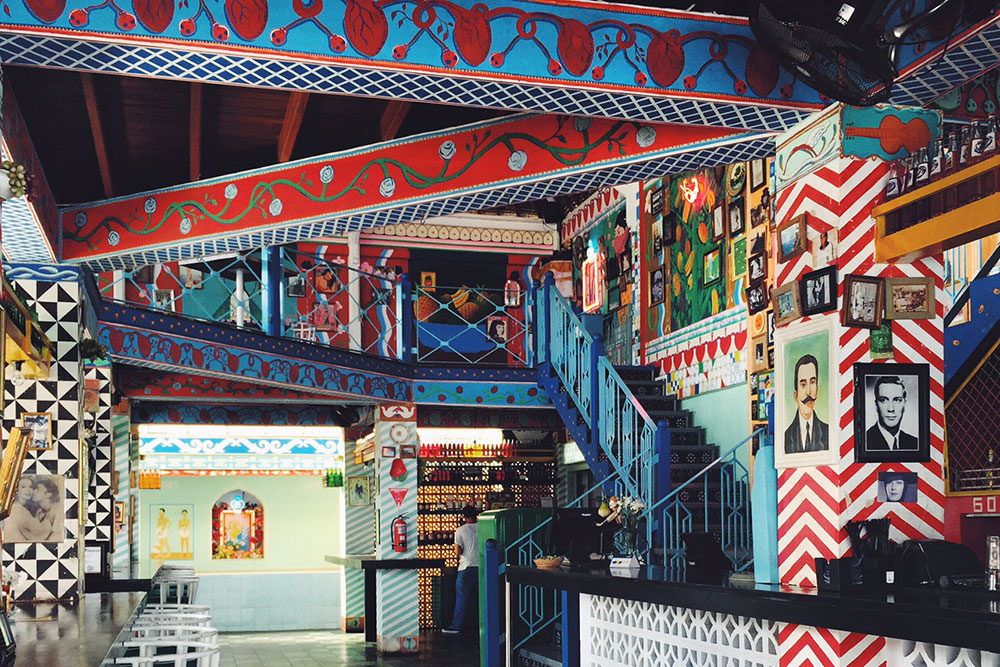 An awesome find at Agoda.com, our room in The Bidadari Villas and Spa was ready by exactly 2pm. The room was huge! For around 4,000 Pesos per night and you have all of this? Your own pool, a sala outside and an outdoor shower (yes you'll feel one with nature).
After settling in and taking a dip, we opted to explore more of Seminyak. Dropped by at a hipster coffee shop called Sisterfields Cafe, the latte art on their mocha latte was a bear!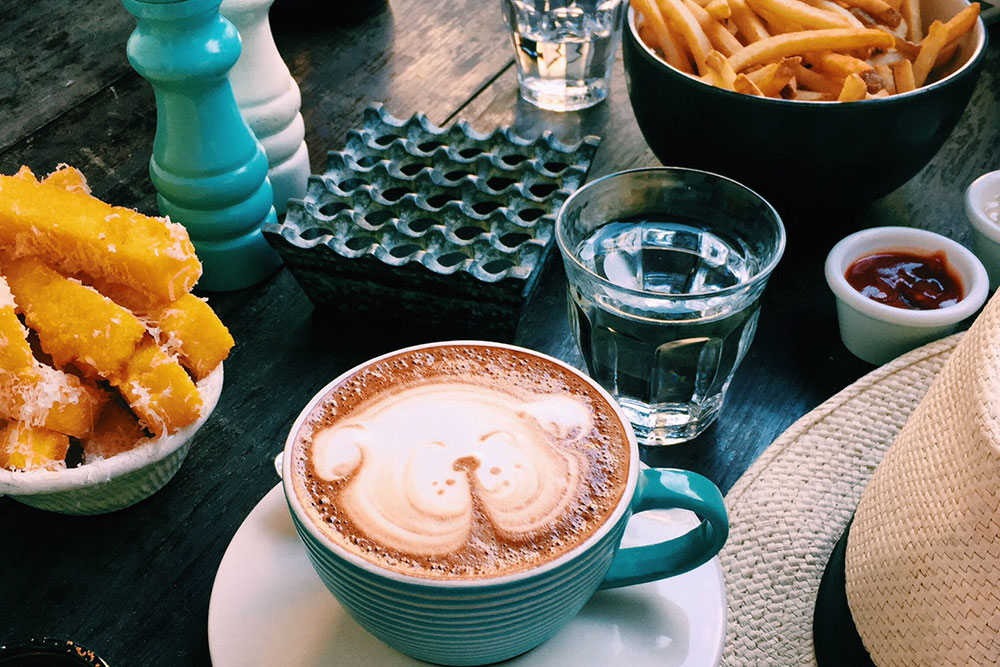 Time for sunset sessions – torn between Potato Head and La Plancha, but we chose the latter. Again, I always get fascinated to anything with lots and lots of color. Steady hits are what we always want, right? They were selling sky lanterns by the beach and, of course, I went for it. People say that when you make a wish and offer it to the sky it will come true, but I think it's more of the art of letting go. This activity also made the trip more meaningful for us too.
Day 3 – Experience Ubud
I've always been curious about Ubud. Since this part of Bali was a bit farther, we had to wake up extra early and make sure we get to see the sights. First stop would be the Tegalalang Rice Terraces. There were actually cafes lined up on the street, so that tourists can sit down have a drink and enjoy the view.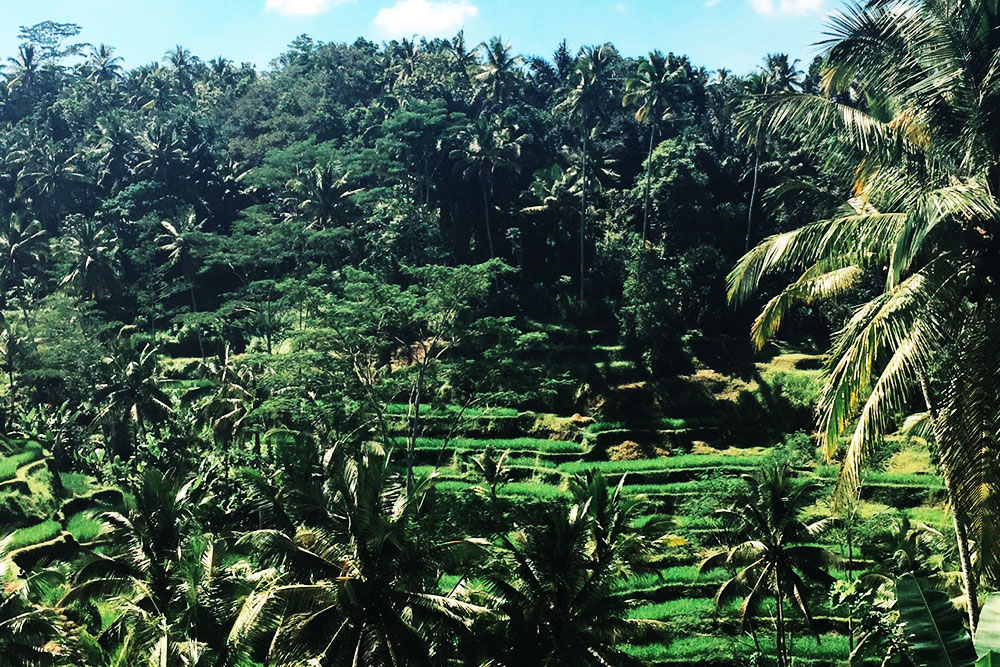 Fan of Elizabeth Gilbert's Eat, Pray, Love? Eat at Nuaghty Nuri's Warung. Best baby back ribs I've ever had in Asia. Don't expect it to be like a fancy-schmancy resto though but it their wooden shack has its charm.
I will never get tired of Asian temples, Ubud Palace was part of my list.  The intricate details always fascinate me and it's the best part to go full-tourist-mode.
Since it was our last day, Ubud Market is the place to be for pasalubong. Growing up with enough exposure in Greenhills and Divisoria, and as a Filipino who has impressive haggling skills, I promise you that you won't have a hard time bargaining at all.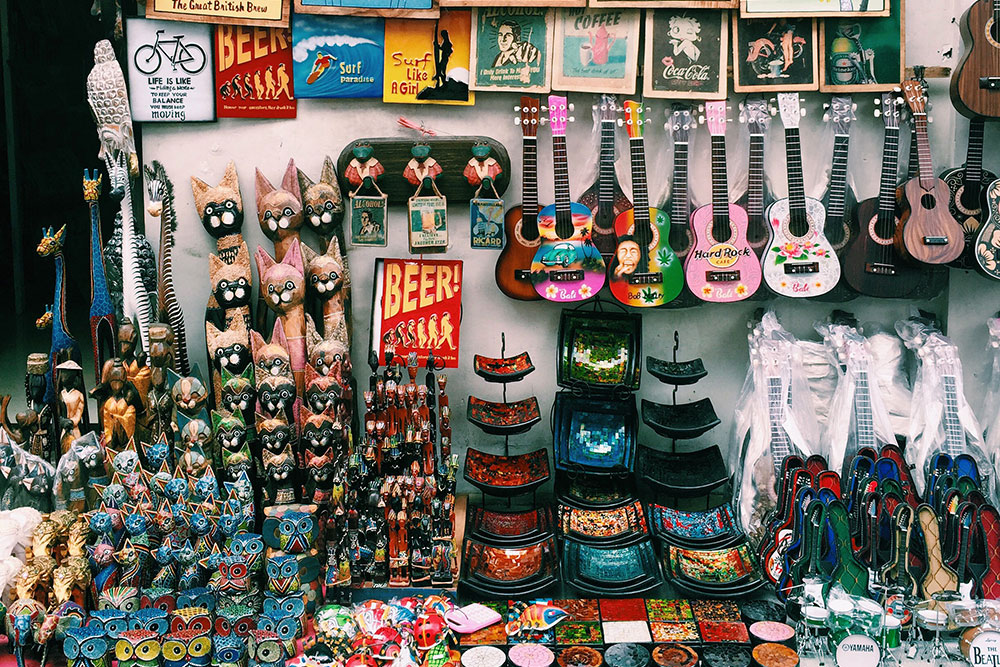 I didn't want to leave Ubud without trying at least one coffee shop from there.  We were lucky enough to get a table in Seniman Coffee. They're known for their specialty beans which they roast themselves. I felt like I found a San Francisco coffee shop in the middle of a province! I tried their cold brew latte (since it was just so hot outside) with their very moist and delicious chocolate brownie. With a cat on their menu, it doesn't get any more hipster than this.
Heading back to Seminyak since we had to pack and get ready for our early flight back to Manila, I had to complete the remaining restaurants or bars on my list. For dinner, I had the Beef Rendang in  Made Warung. It's a must (Warning: might be very spicy for some of you).  We had our night cap in La Favela, one of the most interesting bars I ever set foot in. I like how they dressed up the entire place with antique interiors, attention-grabbing murals, the music fit into the restaurant bar and the cocktails are amazing concoctions. It was the perfect night cap for a short but sweet second visit in Bali.
Three days were definitely not enough. I'm already thinking of going back, because the more you get to know the place and meet people, the more you want to explore deeper. I believe in second chances, this was great but I also hold on to the thought "the third time's a charm," too. All this being said, I end this with a message to this wonderful place: I'll see you soon, Bali.

From Manila
We took Cebu Pacific from NAIA Terminal 3 and landed at their Bali Denpasar Ngurah Rai International Airport. Cebu Pacific flies to Bali every Tuesdays and Saturdays at 4am while return flight departs in Bali at 8:30am.
Others can opt to take Philippines Airlines where they fly to Bali 3 times a week – Tuesdays, Thursdays and Saturdays while their return flights are usually every Mondays, Wednesdays and Saturdays at around 1am.
If you want to explore other Asian countries before Bali, I would suggest making Kuala Lumpur or Singapore as your stopovers.


SHOPPING
If the market just opened, they believe in the concept of buena mano so they will do anything–and I do mean anything!–to make sure they get their first sale. Bargain to death, I was surprised that I was able to get 50% off from the initial price they said on some sarongs. Time to bring out the skills you've learned from your momma after all those trips in 168.
Make your rounds before actually purchasing anything, some stores sell almost the same things but priced differently.

| English | Indonesian |
| --- | --- |
| Good morning | Selamad pagi |
| Good afternoon | Selamad siang |
| Good evening | Selamad malam |
| Yes | Say yah |
| No | Sing |
| Thank you | Terima kasih |
| What is your name? | Sira pesengen ragane? |
| How much is this ? | Ajikuda niki? |