Angono, Rizal: 5 Places Where You Can Enjoy Food and Art
Go on a gastronomical tour around the country's art capital.
by Kara Santos | June 07, 2017
The town of Angono in Rizal is known as the Art Capital of the Philippines. As the hometown of some of the country's national artists, you can expect to find lots of museums, galleries and art houses that showcase the work of local talents. Those who prefer food tripping to art appreciation will be happy to know that some of these art galleries double as cafes and restaurants as well.
Here are five destinations in Angono where you can enjoy folk art and unique food finds in the same place.
Balaw-Balaw Restaurant and Art Gallery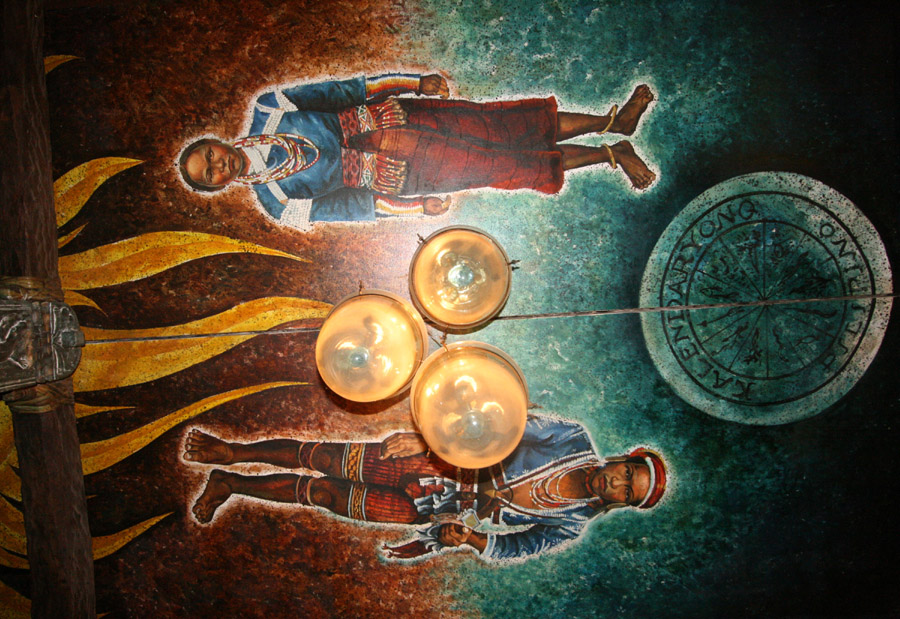 16 Doña Justa St, Dona Justa Village Phase 1, Angono, Rizal, Philippines
(+632) 651 0110 | Facebook Page, Website
Open daily from 10 a.m to 10 p.m.
One of the most famous homegrown restaurants in Angono is Balaw-Balaw, a specialty restaurant and art gallery established back in 1983. Owned by artist Perdigon N. Vocalan and school teacher Luzvimin L. Vocalan, Balaw-Balaw hosts an extensive collection of folk art work and furniture displayed on three floors of the building.
Balaw-Balaw gets its name from a native sauce of fermented shrimp paste that's native to Angono. However, the resto is more popularly known for serving exotic dishes like Soup No. 5, sinabawang balut (duck eggs cooked like bulalo), nilasing na palaka (frogs marinated in wine), kamaro (crispy deep-fried crickets) and uok (coconut worms), to name a few. If you're in a group, be sure to try their minaluto, a paella-like dish that combines prawns, crabs, mussels, pork, water spinach, and salted egg on a bed of rice served on a native bilao.
Nemiranda Art House Atelier Cafe Restaurant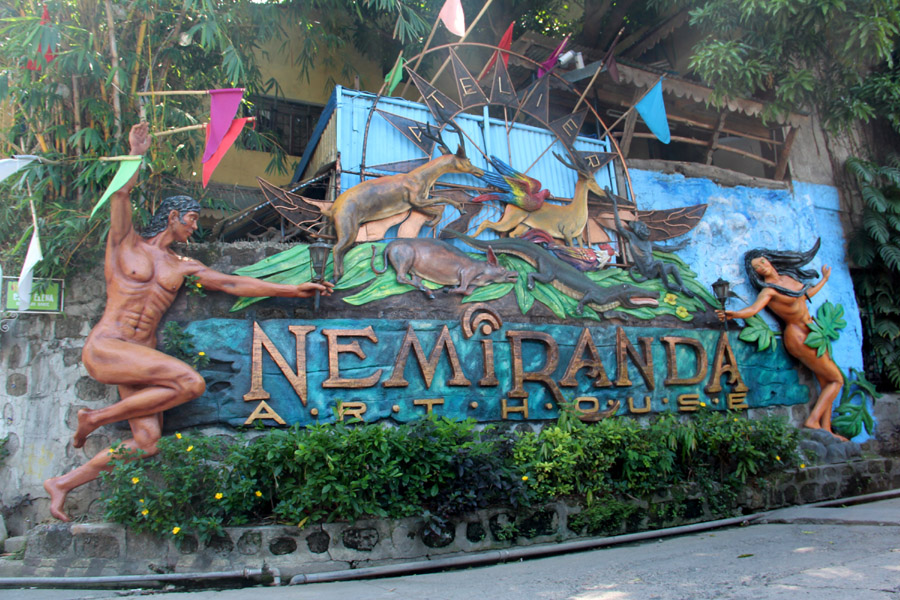 5 Dona Elena St., Dona Justa Village Phase 1, Angono, Rizal
(+632) 451 1480
Open daily from 10 a.m. to 10 p.m.
Right next to Balaw-Balaw, you can find Nemiranda Arthouse, a family art museum owned by renowned Angono artist Nemesio R. Miranda (more popularly known as Nemiranda) who specializes in paintings and sculptures celebrating the rural scenery and figures from folklore. The restaurant has lots of rustic touches, incorporating bamboo, sawali and reclaimed wood coming from Angono's old church in its design.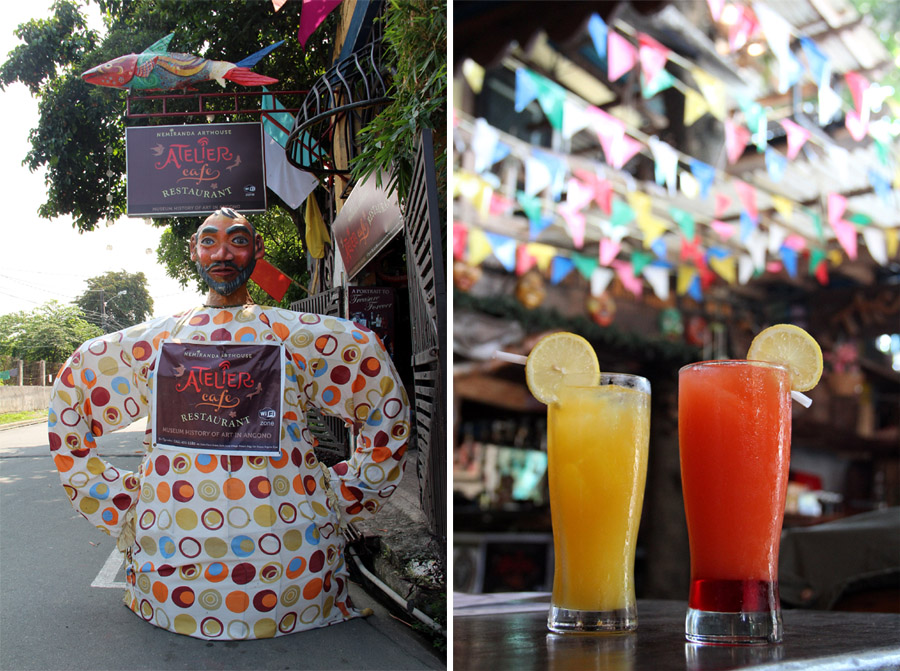 Their in-house restaurant Atelier Museum Cafe serves local dishes like fried itik (deep-fried duck), pesang dalag (stewed mudfish), sinigang na kanduli (a type of catfish), alongside regular Pinoy staples like tapsilog, grilled liempo, chicken barbecue and pork sisig at affordable prices. After a filling meal, you can take a tour of the museum and see beautiful works of art up close.
AngNewNo Arts Design Cafe
6 Manila East Road, Brgy. San Roque, Angono, Rizal
(+632) 703 6557 | Facebook Page
Open from 4 p.m. to 12 a.m. from Monday to Thursday, 11 a.m. to 2 a.m. on Saturday and  11 a.m. to 12 a.m. on Sunday
AngNewNo Arts Design Cafe is one of the newer homegrown restaurants in Angono celebrating folk art and good food. Located along the Manila East Road Highway, this resto has become a favorite hangout and watering hole for the younger crowd since they opened in 2013.
The cafe gets its name for a shortened term for "Ang New Angono" (The New Angono). While other established restaurants feature work of the masters, AngNewNo chooses to feature the work of up and coming artists. Higantes-inspired festival masks adorn the restaurant's facade, while the interiors showcase various paintings, woodcrafts and sculptures in the homey dining space.
The resto serves some unique pizzas topped with tinapa and itik, pulutan favorites like red hot itik, sisig, crispy pata and budget-friendly rice meals.
Lava Mocha Cafe
97 Doña Aurora St, Angono, Rizal
+63936 855 7335 | Facebook Page
Open from 11 a.m. to 11 p.m. from Tuesday to Sunday
Angono also has a few homegrown alternatives to Starbucks serving desserts and coffee.
Previously a school supplies store, Lava  Mocha Cafe is a student-friendly hangout decked out with paintings of local artist Nani Reyes and masks. Their specialty here is the hefty Higante Frappe inspired by Angono's Higantes or colorful paper-mâché giants which are paraded on the streets during the town's popular Higantes Festival.
The one-liter beverage served in a gigantic mug comes in strawberry, chocolate and cookies and cream flavors with some overloaded toppings. Unless you want to get a sugar rush, it's best if you share this drink with friends (the drink is good for up to 3 persons!). The cafe also encourages patrons to show their artistic side by designing their own frappes with colorful and edible toppings.
Art Capital Cafe
M.L. Quezon Avenue, Brgy. San Isidro, Angono, Rizal
+63920 597 6985 | Facebook Page
Open from 12 p.m. to 10 p.m. from Tuesday to Thursday, 12 p.m. to 12 a.m. from Friday to Sunday and 4 p.m. to 10 p.m. on Monday
Art Capital Cafe is another small coffee shop where you can enjoy good food and see a display of paintings and art pieces by aspiring artists. The cafe serves the usual brews and coffee-based frappes like Butter Beer, Mocha Mint and Salted Caramel Mocha. For non-coffee alternatives, try their bestselling Milo Nitro and Blue Dragon.
Art Capital Cafe also serves some savory dishes like nachos, buffalo wings, potato wedges and pizzas, some of which are named after renowned national artists. Lucio Pizza pays tribute to composer Lucio San Pedro while Botong Pizza gets its name from muralist Carlos "Botong" Franscico.
This cozy cafe is located beside a gas station, making it a good pit stop for your road trips and pick-me-ups before driving back home. 
For more restaurant suggestions in Angono, check out this list. Know of any other must-visit food and art destinations in the art capital? Let us know in comments!