Not Boracay: Partying with Mother Nature in Bakhawan
There ain't no party like a Bakhawan party.
by Vicky Conanan | May 04, 2015
[article_carousel images="https://windowseat.ph/wp-content/uploads/2015/05/Vicky_Bakhawan-1025.jpg, https://windowseat.ph/wp-content/uploads/2015/05/Vicky_Bakhawan-1000596.jpg, https://windowseat.ph/wp-content/uploads/2015/05/Vicky_Bakhawan-0999.jpg, https://windowseat.ph/wp-content/uploads/2015/05/Vicky_Bakhawan-1000578.jpg, https://windowseat.ph/wp-content/uploads/2015/05/Vicky_Bakhawan-0986.jpg"]
Aklan is mostly known for Boracay Island, one of the most popular white sand beaches in the world. The unbearable summer heat, especially around May (which is welcomed by #Laboracay), brings masses of the Manila crowd to the island to party and get wasted. Many think that this is all there is to it.
For the folks who would rather spend their summer vacation in a more serene and relaxing setting, Aklan provides other hidden gems. Case in point: Bakhawan.
On the outskirts of Kalibo is Barangay New Buswang, where a vast and beautiful 220-hectare eco park is located. This is Bakhawan (meaning "mangrove" in Aklanon) Mangrove Forest, a nature conservation area that is home to over 20 species of mangrove trees, 28 species of birds and a diverse marine life.  Recognized as one of the most successful mangrove reforestation projects in all of Southeast Asia by the United Nations Food and Agriculture Organization, the Bakhawan Mangrove Forest is less than a 10-minute drive from Kalibo International Airport.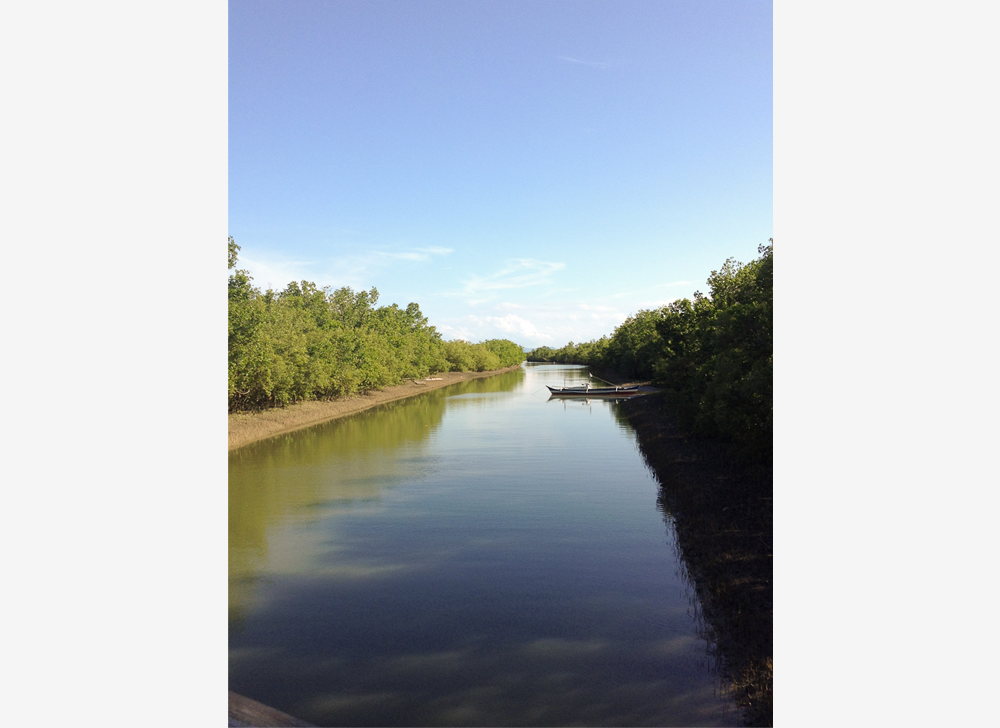 Started in 1990 with only 50 hectares of reclaimed land, the wide mudflats made the area prone to floods and weather disturbances. The non-profit organization Kalibo Save the Mangroves Association (KASAMA), the local government unit of Kalibo and the Department of Environment and National Resources (DENR) spearheaded the project of mangrove reforestation to address the community's problems on flooding and to provide livelihood for the locals.
Bakhawan is not one of those tourist-laden and crowded attractions. A real sanctuary for nature lovers, a wooden walkway surrounded by lush mangroves and species welcomes its visitors.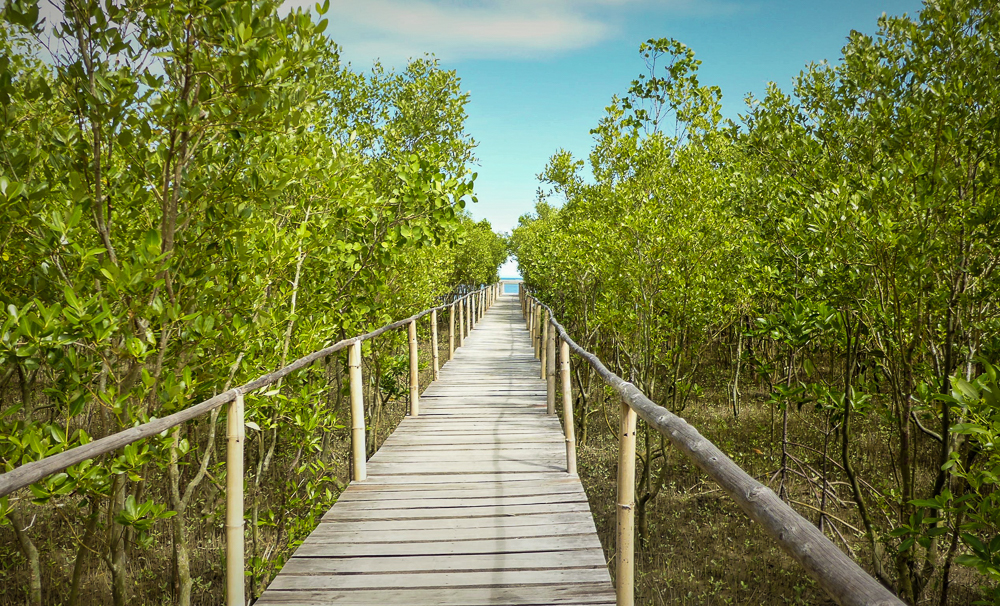 This 1-km trail, which used to be all bamboo but was renovated to make it safer, begins at the entrance of the park and ends at the confluence of the Aklan River and the Sulu Sea.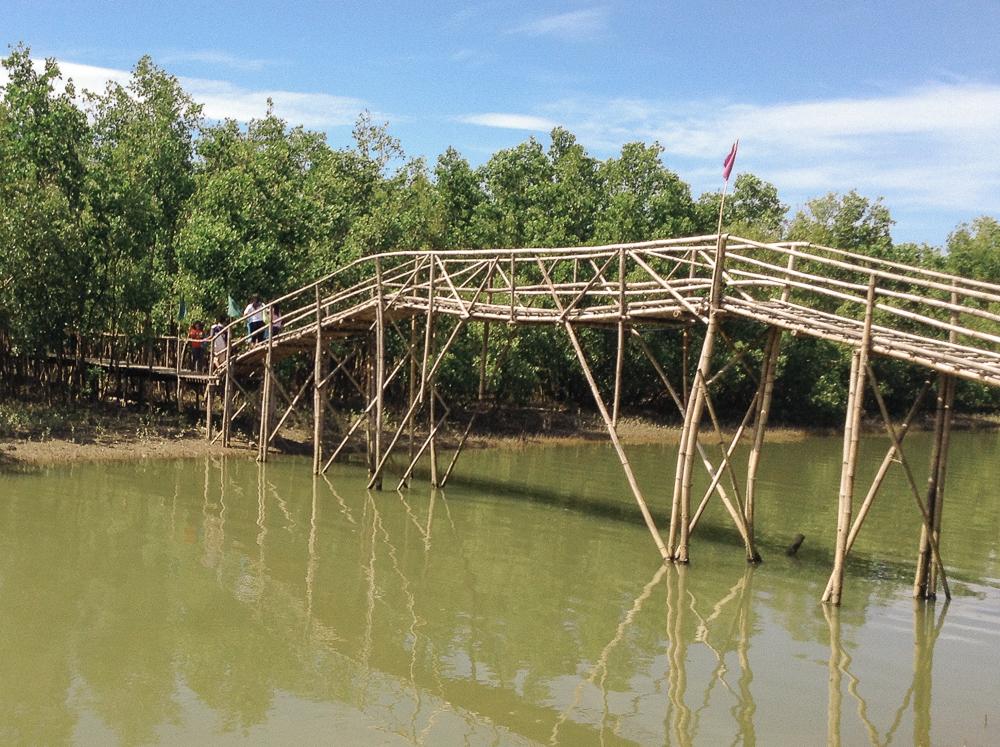 People who are hungover or not ready for a hike and long walk should probably avoid this long bamboo bridge.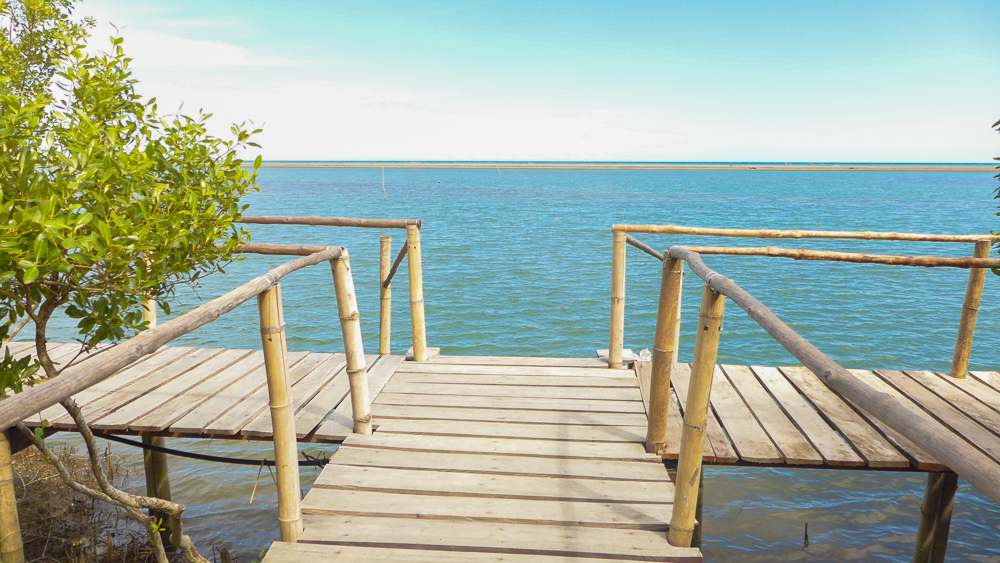 The edge of the eco park has a view deck beside the Aklan river. An empty sandbar sits across the river.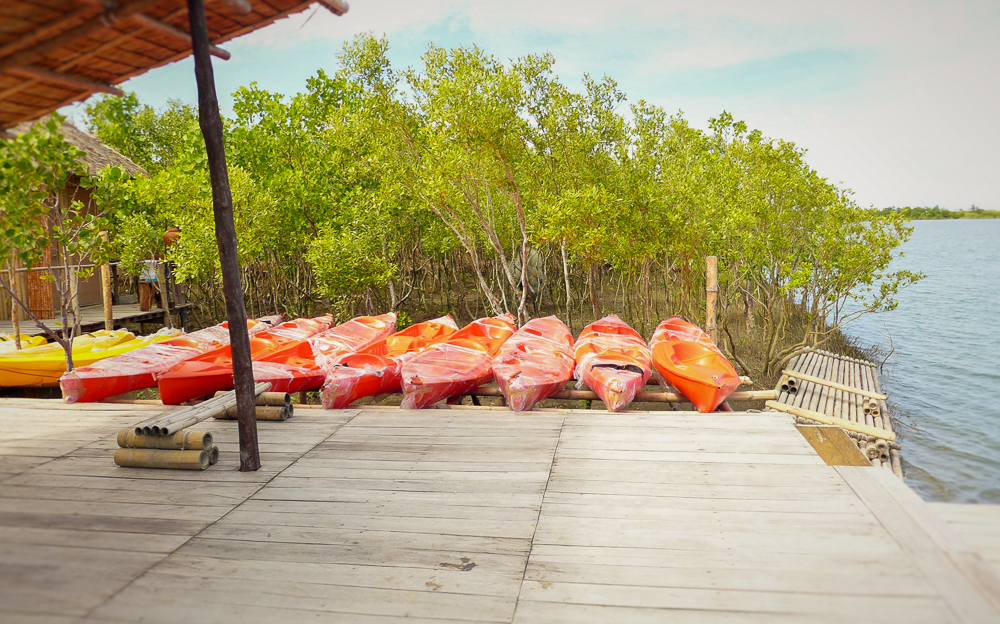 Guests can rent sit-on-top kayaks to explore the narrow waterways of the Bakhawan Mangrove Forest on their own (subject to suitable weather and tide conditions). River tour guide fee is Php 200.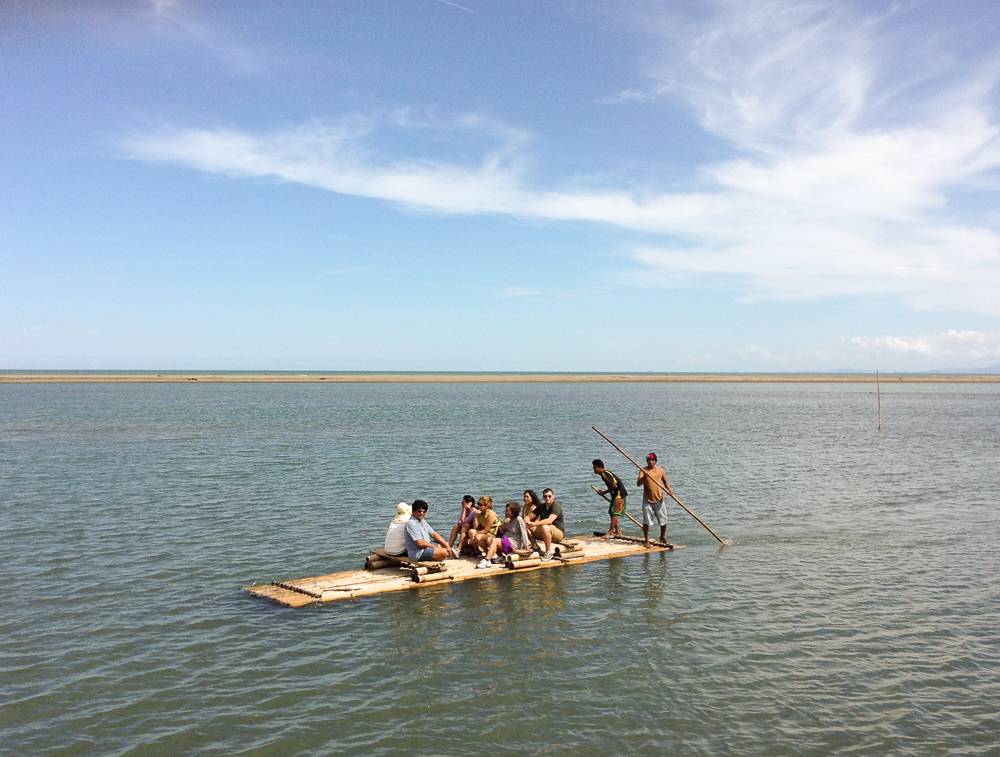 Big bamboo rafts that can sit up to 10 people are also available for rent at Php 150. These are used to cross the river to go the sandbar.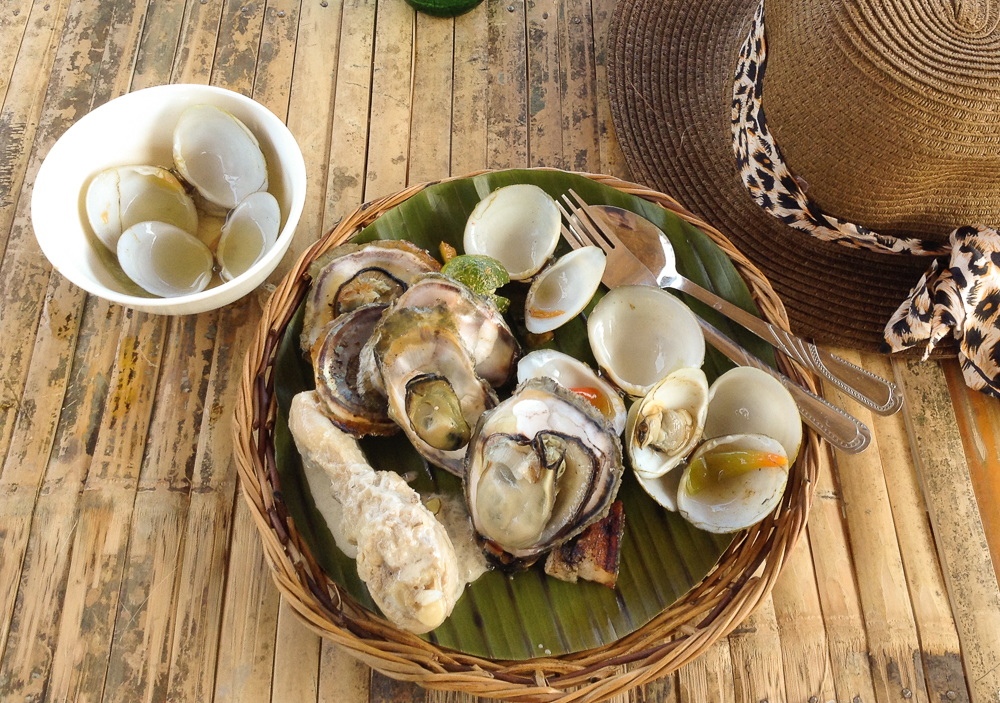 Locals from the community harvest mud crabs, clams, and tamilok (woodworm).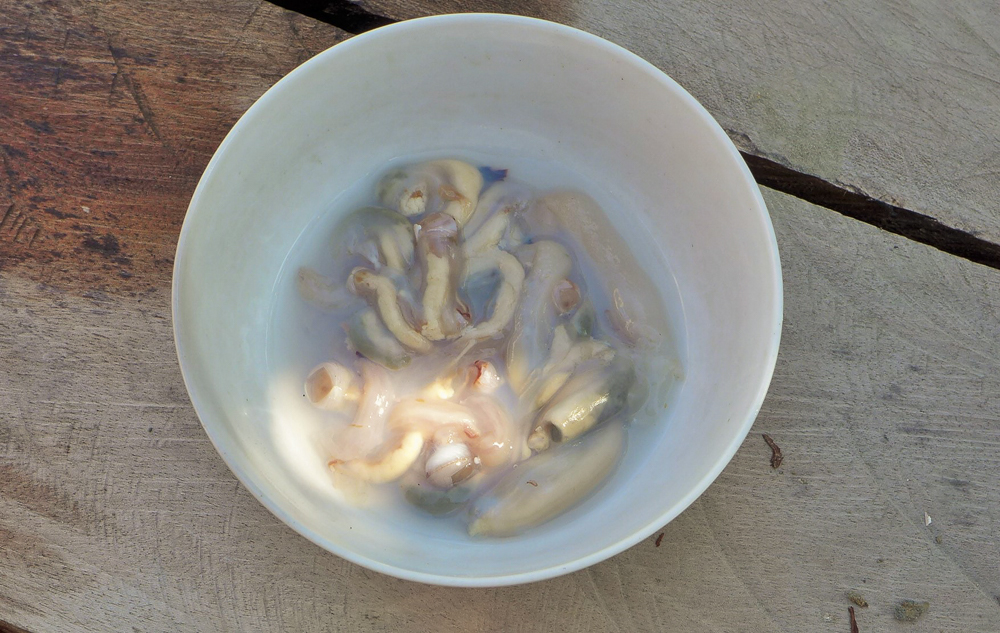 Considered as a native delicacy, tamilok is eaten raw after being dipped in a light vinegar-based sauce.  Guests can enjoy a local demonstration of how the tamilok is carefully removed from a tree branch in preparation for the dinner table.  Courageous tourists are also given the opportunity to sample the tamilok woodworm for themselves.
Just like Manila or Cebu, Kalibo is also like a little city. Although less developed and smaller, it also has its fair share of pollution and dust and the clutter of city living. Bakhawan  gives visitors aquatic and plant life sights, fresh air and tranquility for a few bucks. A retreat to the natural world is always good for the soul, especially if it means contributing to the community.
The following activities and attractions are included with General Admission:
1.1km Wooden Boardwalk (newly-renovated)
Bamboo Bridge over the Aklan River (newly-renovated)
Bakhawan Mangrove Nursery
Local Clam Farming
Badminton Courts
Additional activities: 
Guided Floating Raft Trip (1-Hour Tour): 500PHP (up to 5 pax)
Self-Guided Kayak Rental (beginning in mid-January 2015): 500PHP
Private Cabana Rental: 500PHP
Transportation from Wooden Boardwalk to Private Sandbar: 100PHP (up to 5 pax)

From Boracay Island
Cagban Jetty Port is the main boat station in the island. Boat fees are from 40PHP to 60PHP. Terminal and environmental fees apply for non-Aklanon residents. The boat ride to Caticlan Port is about 20 minutes. Shuttle vans going to Kalibo Town Proper are always available outside the port and costs around 150PHP. Tricycles going to New Buswang cost 10PHP for one person.
From Kalibo Airport
A 10-minute tricycle ride and will cost you less than 60PHP.


BUDGET
General Public: P100
Aklanon Residents & Senior Citizens (ID Required): 60PHP
Aklanon Students (ID Required): 50PHP

| English | Aklanon |
| --- | --- |
| What's your name? | Ano ro imong pangaean? |
| Thank you | Saeamat |
| Good morning | Mad-ayad nga agahon |
| Good evening | Mad-ayad nga gabi-i |
| How much is this? | Tig-pila ra? |