Cabin-Esque Airbnbs Near Manila to Book for the Holidays
No Scrooges allowed!
by Therese Aseoche | December 12, 2017
The holidays are almost here! If you haven't sought out places to go during the Christmas break, then this list might change your mind about it. We've curated some of the cabin and cabin-like Airbnbs you can book over the holidays that will truly make you feel the Christmas spirit!
This loft in Baguio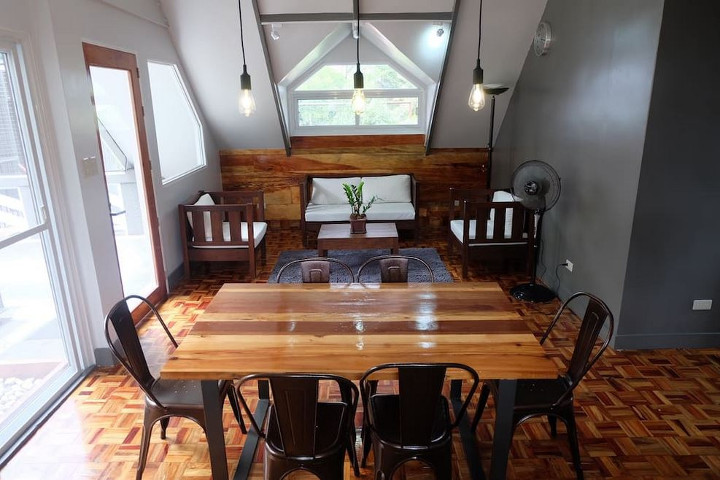 8 guests | 3 bedrooms | Entire loft | PHP 3,283 per night
This loft lies in the heart of Baguio City overlooking the cityscape. Enjoy the chilly December breeze in this comfy wood cabin-like house that's fully furnished with everything you need for a homey stay. Book this now!
This big family home at Amadeo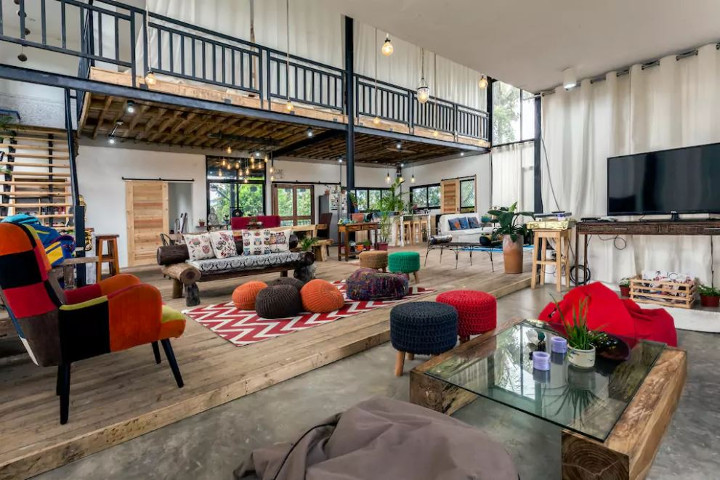 16 guests | 3 bedrooms | Entire chalet | PHP 7,980 per night
News about this huge rustic house at Amadeo went viral for all the right reasons: it's so spacious that it can fit even the biggest of barkadas, it's cozy with its numerous couches, beanbags, and beds, and it's situated at a breezy farmhouse in Tagaytay. Set your year-end reunion with the barkada or family party in this comfy and stylish home! Book it here now.
This wooden retreat in Subic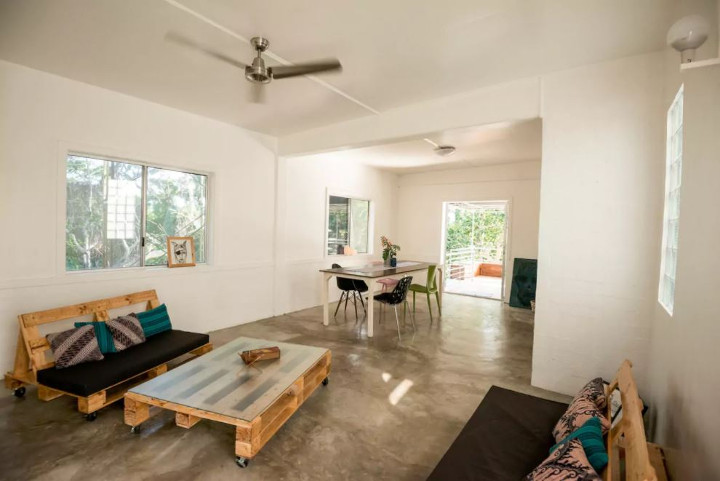 9 guests | 3 bedrooms | Entire house | PHP 3,993 per night
This eco-friendly home surrounded by a lush rainforest will serve as a respite for you and your friends or family during the holidays. It used to be a US Military house and has solar-powered features, natural cooling system, and a green roof so you'll feel in touch with nature. There's an organic garden too where you can help yourself to a variety of herbs for your meals. You can also book private yoga sessions, rent a stand-up paddleboard and take surfing lessons. Book this now!
This cozy penthouse in Makati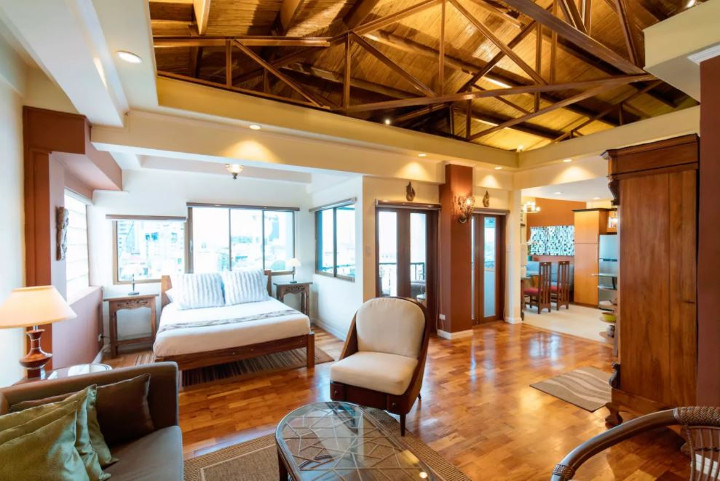 2 guests | Entire studio | PHP 3,387 per night
You won't believe that this penthouse isn't actually a real cabin when you enter through its doors. Furnished in wood, this cozy condo unit is an unusual find amidst the buzzing neighborhood of Poblacion. It has an amazing view and a relaxing ambiance that will provide you that holiday R&R you've been craving for without venturing too far out of the Metro. Book this now!
This tree house in Tagaytay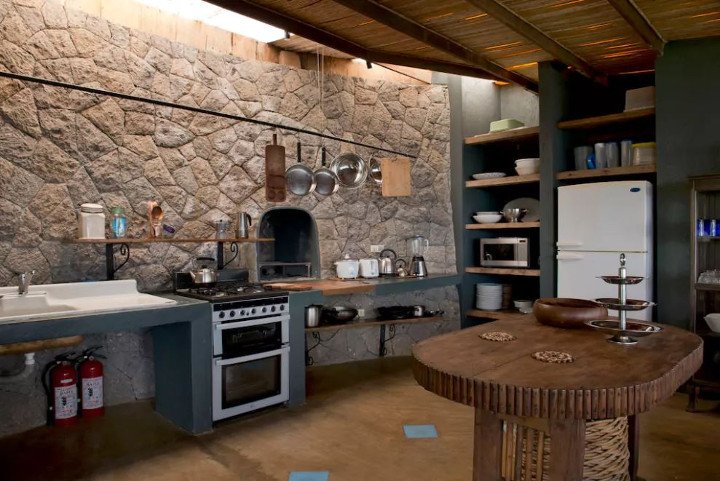 10 guests | 1 bedroom | Entire chalet | PHP 4,246 per night
Bring your barkada to a holiday weekend out-of-town sleepover at this comfy and private cabin at Tagaytay. It has an amazing view of Taal Volcano and is surrounded by lush nature. You'll definitely enjoy the peace and quiet in this homey abode! Book this listing now.
This luxury villa in Baguio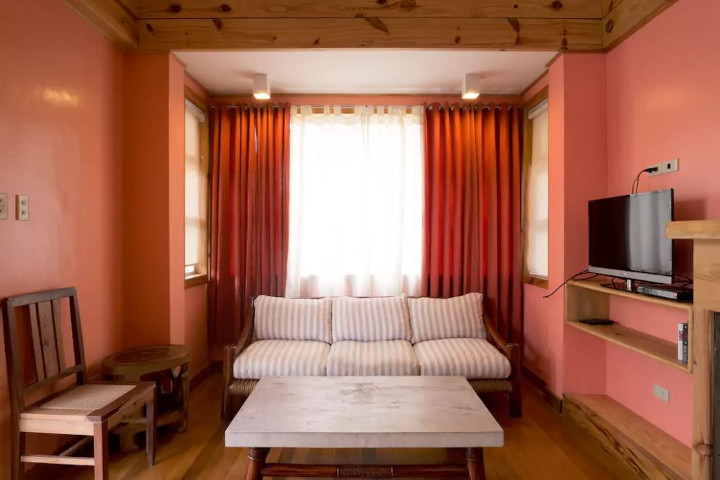 6 guests | 2 bedrooms | Entire villa | PHP 2,628 per night
Nestled within a bamboo and pine grove in Baguio City is this beautiful and homey villa. Fully furnished in wood, this cabin makes you feel like you're out camping in the woods. Snuggle up while watching Christmas films and drinking hot cocoa, or get warm around the campfire outside of the villa! Book this listing now.
This rustic cottage in Tanay, Rizal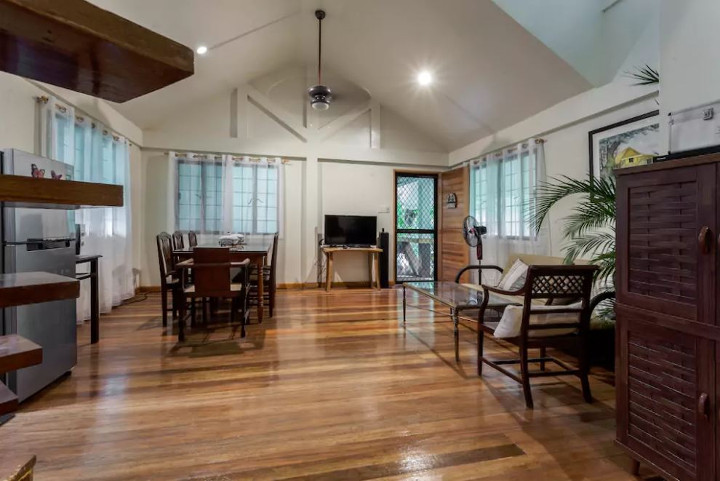 16 guests | 2 bedrooms | Entire house | PHP 6,419 per night
This cozy rustic cottage in Tanay, Rizal puts you right in the middle of a lush environment. You'll be surrounded by fresh fruit trees, a variety of birds, and lots of outdoor activities to do. You'll also love the views and the fresh air, just as much as you'll delight in the nearby attractions such as Daraitan River, Daranak falls, Tinipak River, and Masungi Georeserve. This is one-holiday getaway that adventure seekers will want to book. Book this now!
Which one do you want to book for the holidays? Share them with us below!