Is Your Carry-On Fit for Travel?
Because there have been so many confusing proposals.
by WindowSeat.ph | December 10, 2015

Most travelers will tell you that apart from exceeding the weight capacity of check-in luggage, carry-on's can be one of the biggest headaches of a trip. Most carriers have different restrictions when it comes to carry-on luggage, leading to confusion from passengers as to whether their bags will be permitted in overhead bins or will need to be checked in.
The International Air Transport Association (IATA), a group that represents airlines who make up almost 85% of all air traffic, proposed a new standard size for carry-on's in June of this year. The IATA sent the new dimensions, which are around 20% smaller than average carry-on bags, to luggage manufacturers and sent the proposal to airlines around the world. The suitcases that were to be manufactured to these specifications were to carry the IATA's "Cabin OK" logo; the desire for smaller carry-on bags having come about from airplane manufacturers plans to increase overhead storage.
The IATA's proposed carry-on luggage size limit.
The proposed carry-on size standard was to shrink the industry maximum (which ranges from a length of 22-24″ or 56-60cm, a width of about 14-18″ or 36-46cm and a depth of 9-16″ or 23-41cm) to 21.5 x 13.5″ or 55 x 34cm, and a depth of 7.5 inches or 19cm.
Despite airlines like Emirates, Lufthansa, Qatar Airways, Avianca and Cathay Pacific agreeing to recognize the new "Cabin OK" cases, the proposal received backlash from US Senators and some of the United States' biggest carriers: American Airlines, Delta and United. The objections were that the new size restrictions would force passengers to shoulder more fees and purchase new luggage—ultimately great for the luggage manufacturers and for the airline, but heavier on the pocket for travelers.
The proposal was scrapped not soon after, and most carriers maintain their individual size restrictions. For a more complete list of airline carry-on restrictions, you can check here and here, or visit your carrier's website as they are the authority on their own size limits. If that ever fails, you can count on one of the racks below to check your luggage against at the airport, and cross your fingers that you won't need to have it checked in!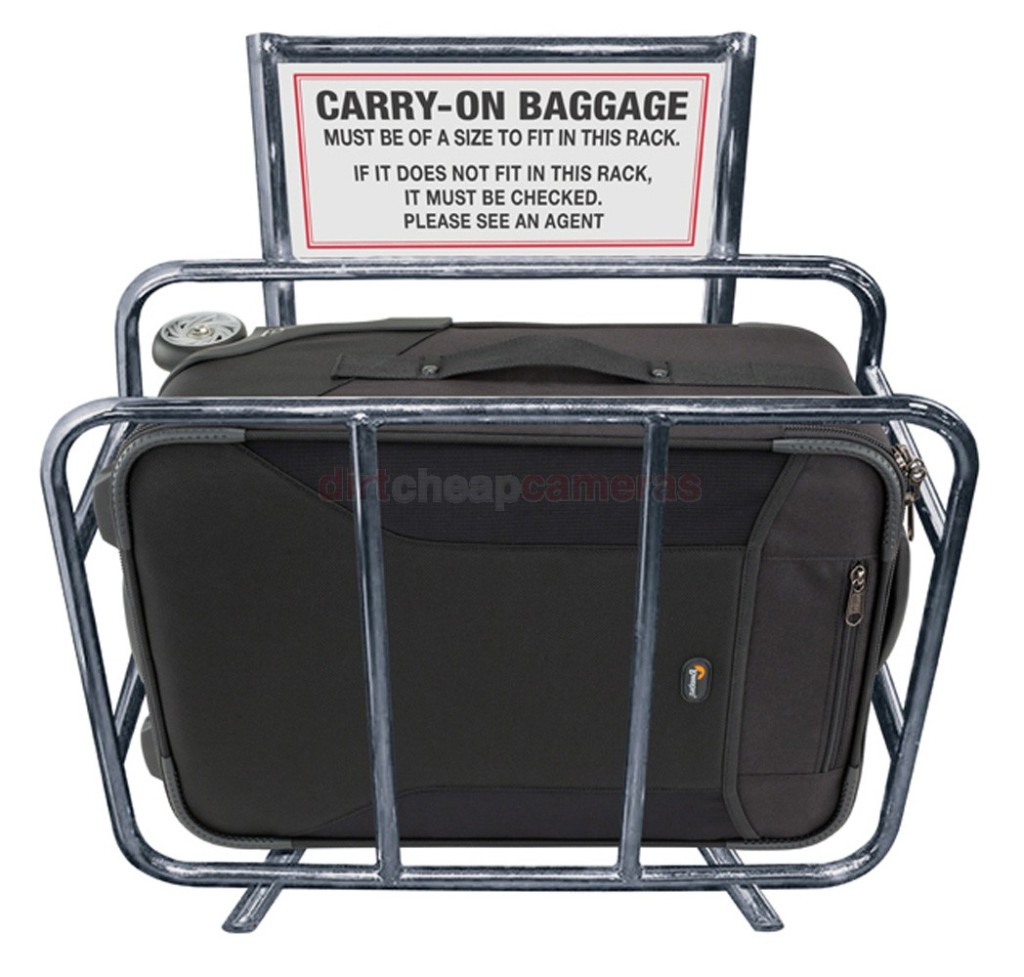 If you have related tips, please share them in the comments! Easy travels!