Reconnect with Nature at This Riverside Camping Ground in Sta. Maria, Laguna
No need to bring your own camping equipment.
by Ina Louise Manto | August 29, 2022
When planning a getaway in nature, camping is one of the best activities to try. Just imagine being surrounded by a forest and having the sounds of nature as your background – it's a break from the usual distracting noise of the city. While the usual camping experience will make you leave your comfort zone, there are newer camping grounds where all you have to do is drive and relax, just like Casa Villanueva:
Casa Villanueva
Nestled in Sta. Maria, Laguna, Casa Villanueva is a camping ground that starts with a fun adventure. Since its location may be difficult for your vehicles to drive to, you will be given a complimentary 4×4 ride to the grounds. Fresh air, the sounds of flowing river water, and towering trees are some of what await.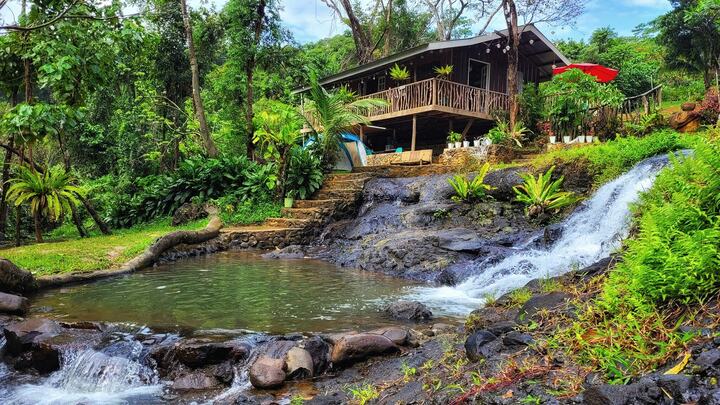 It's totally fuss-free too, unlike the usual camping experience where you'll have to hike or bring your own camping gear. Casa Villanueva is perfect for first-timers who are in it for the experience – there's no need to splurge on gear because they're already provided for you. This is also perfect for those who are commuting!
You can rent a tent starting at P500 for four pax, which is already inclusive of airbeds to ensure a comfortable stay. For bigger groups, there's also a tent good for six pax for P700.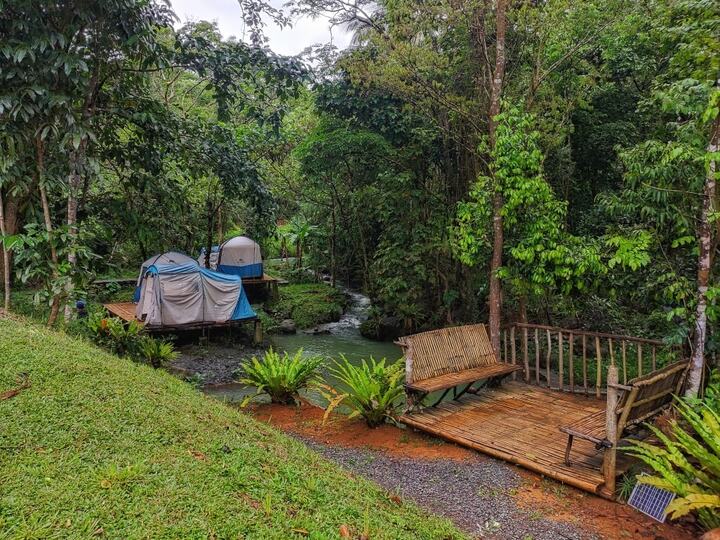 If it isn't your first time going camping and you're looking for a new relaxing location in the province, you may bring your own tent and gear, and pay a pitching fee of P300.
Don't want to go camping? Casa Villanueva also offers other comfortable stays, and they're all by the river:
Communal Kubo
The Communal Kubo is literally a home away from home. It's the biggest stay at Casa Villanueva, which can accommodate a group of 10 guests. The house has one bedroom and floor mattresses for sleeping, a fully-equipped kitchen, and a veranda that overlooks the picturesque river.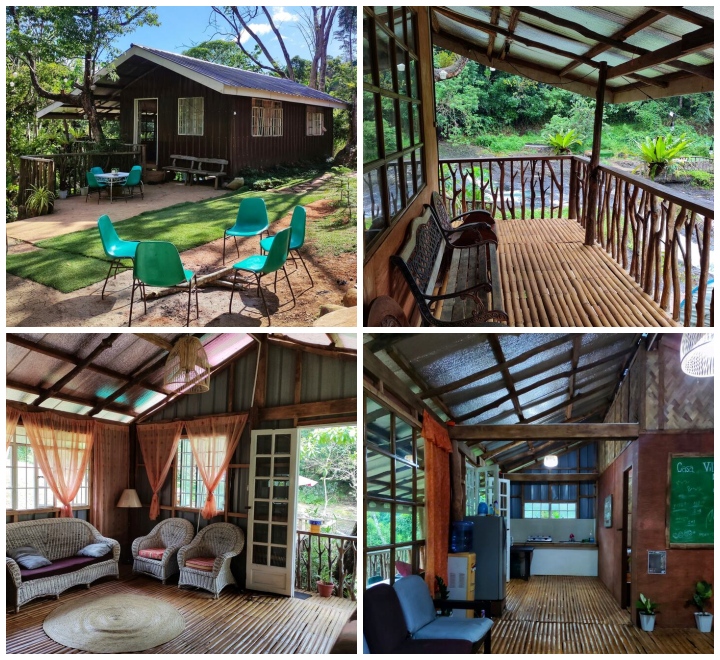 Dreamy lanterns light up at night, giving a Studio Ghibli-like (Spirited Away bathhouse) feel around the area.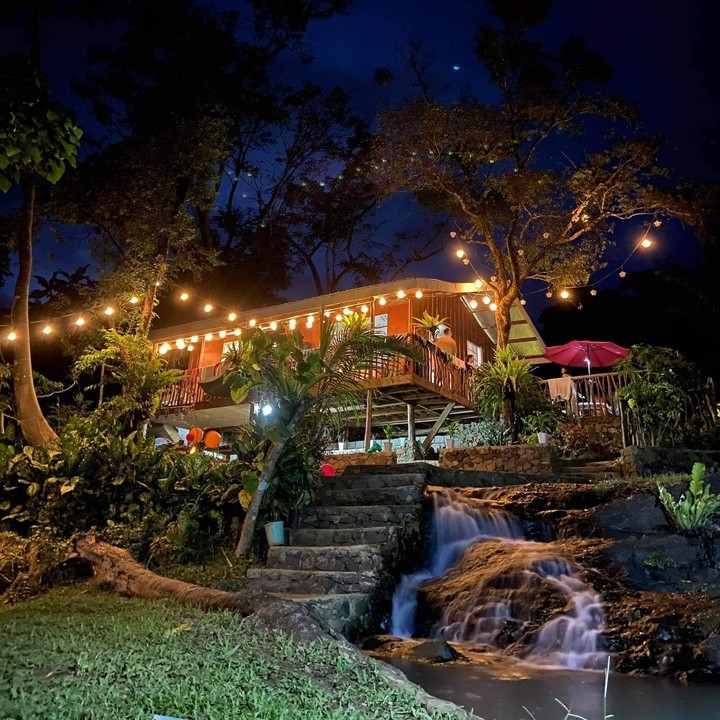 The rate is P3,500 per night.
A-Frame cabin
The A-frame cabin is ideal for small families or barkadas. Inside the cabin, you'll find floor mattresses that can sleep up to six guests. A veranda is also overlooking the river, perfect for some late-night muni-muni or stargazing with your beloved company.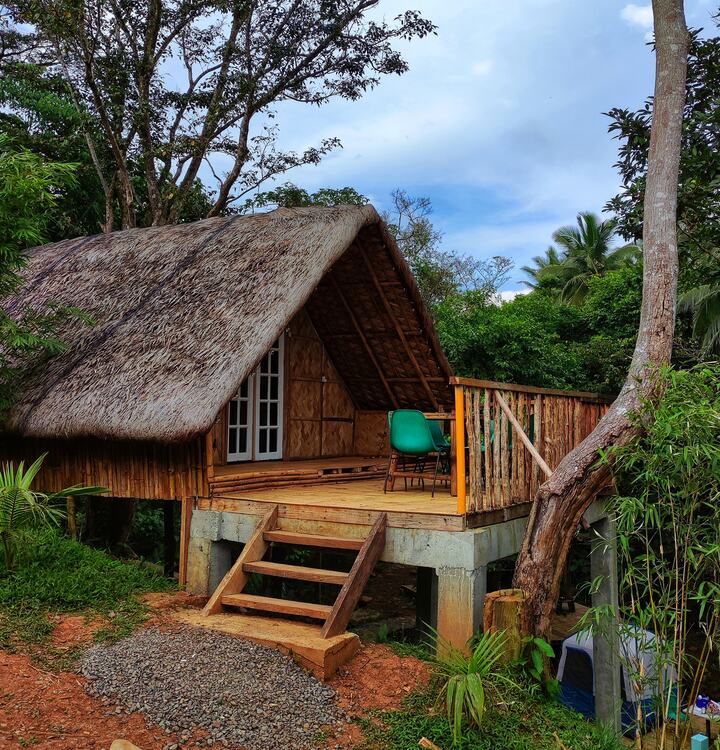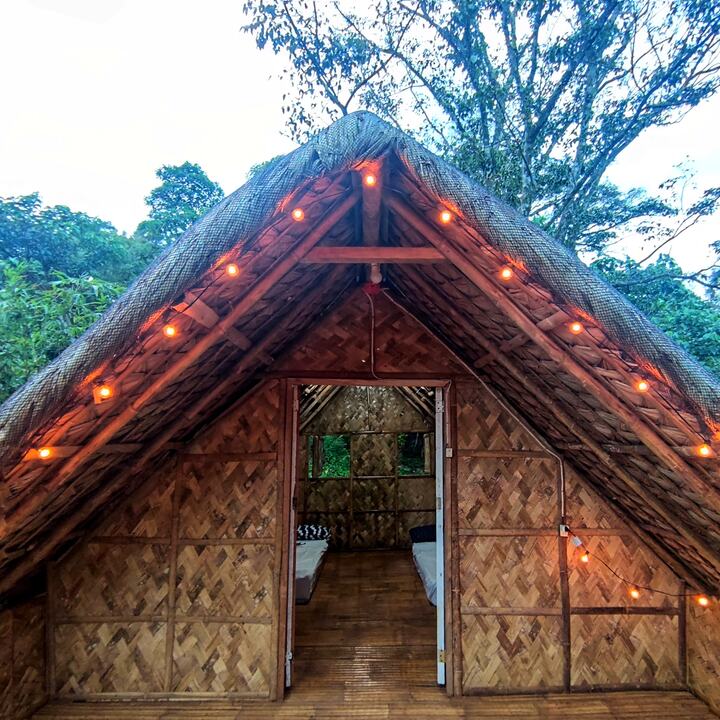 The rate is P2,500 per night.
Hideaway Cabin
The Hideaway Cabin is another stay that features an a-frame structure. This cabin can also accommodate a group of up to six guests and has a loft-style interior.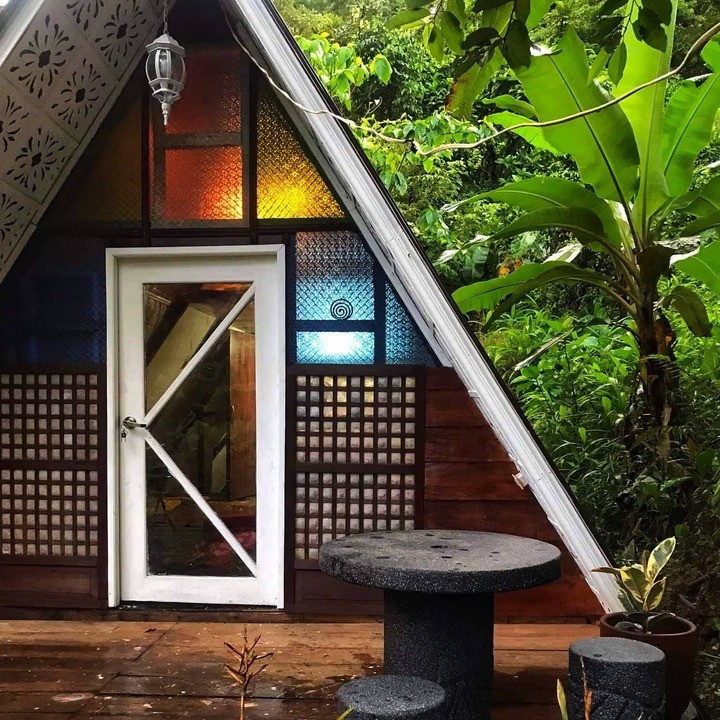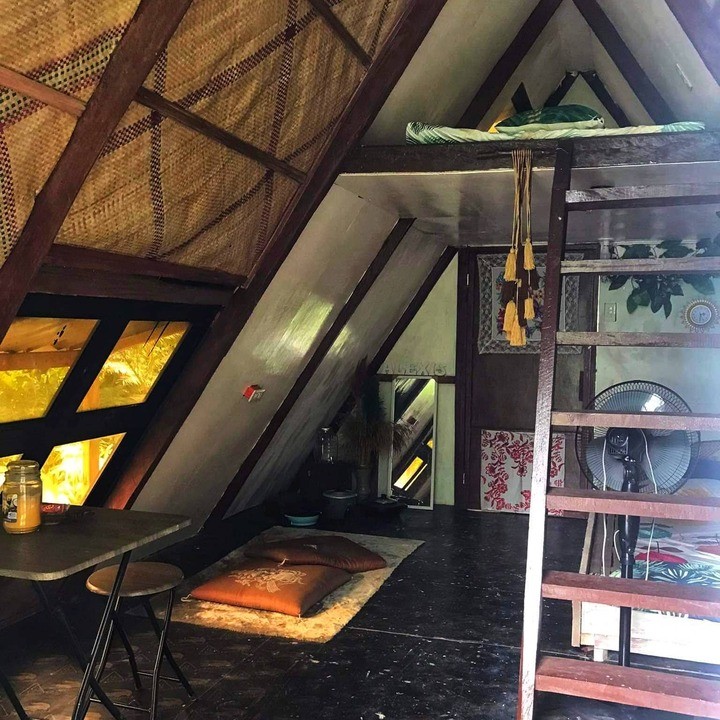 The rate is P3,000 per night.
How to get there
Casa Villanueva is located at Brgy. Cueva, Santa Maria, Laguna 4022. If you're driving, simply enter "Casa Villanueva" on Google Maps or visit this location link.
10 Best Glamping Sites Near Metro Manila for Your Next Getaway in Nature
10 Best Glamping Sites Near Metro Manila for Your Next Getaway in Nature
Ina Louise Manto | Oct 08, 2021
For bookings, inquiries, and more information, send a message to Casa Villanueva on Facebook or 0947 436 9906.