Cebu Pacific Explains Why CEB Flights Have Been Delayed and Canceled
What's happening at CEB?
by Cristina Morales | June 21, 2023
It's never easy when flights get delayed or cancelled, and unfortunately, Cebu Pacific passengers have been experiencing more of these disruptions lately. The frustration and inconvenience caused by these interruptions are not lost on the airline company. In fact, Cebu Pacific is fully aware of the challenges that their passengers have been facing and wants to let them know that they understand how difficult this can be for them.
Amidst the ongoing Senate hearings investigating the recent flight delays, Cebu Pacific issued a statement acknowledging the difficulties and frustrations that passengers have been experiencing. The airline company extended their sincerest apologies to their valued customers for any inconvenience caused:
"We understand that it is our responsibility as a public service to manage these external issues and deliver on our promise to provide access to affordable and reliable flights. Unfortunately, the unprecedented issues we face have made it difficult to deliver on the customer promise and for this, we are deeply sorry."
Here's what they said in their statement.
Why are these delays and cancellations happening?
Cebu Pacific has been experiencing disruptions in their flight schedules due to various factors. In their statement, these are the reasons they cited for these recent issues:
1. Global lack of supply for spare engines
The airline industry is currently facing a global issue that has caused over 120 grounded Airbus planes powered by Pratt and Whitney engines worldwide. Despite proactively securing double the recommended number of spare engines last year, CEB was informed in March 2023 that Pratt and Whitney could no longer provide the promised support for these spare engines.
Upon receiving this news, CEB  took immediate action to adjust their flight schedule in order to minimize the impact. However, some flights that were scheduled and sold months in advance had to be disrupted as a result.
2. Ground damage from runway debris (and a "number of [other] incidents")
CEB also faced several incidents, including ground damage from runway debris, that caused more aircraft to be grounded for an extended period of time.
3. Grounded aircraft
In total, three CEB aircraft are currently grounded due to Pratt and Whitney issues, while five aircraft remain grounded for a longer period of time due to other incidents. While the airline aims to recover the five grounded aircraft in the coming months, the impact of the Pratt and Whitney engine shortage requires planning for a longer time period.
4. Weather issues
In addition to fleet-related matters, the rainy season has also affected CEB flights, and the airline has experienced a higher frequency of Red Lightning Alerts. These alerts necessitate the suspension of all flight and ground activities at the airport for safety reasons. Between April and June, a total of 78 Red Lightning Alerts were raised, with some lasting for more than two hours.
What is Cebu Pacific doing now to address these issues?
So what exactly is CEB doing to address these issues? The airline has implemented various initiatives aimed at mitigating the impact of fleet-related issues and weather-related concerns.
HEIGHTENED CUSTOMER CARE & RECOVERY – CEB has established a disruption management team to support its ground staff in assisting passengers during unexpected events. The airline has also expanded its customer service capabilities by increasing the number of live agents available round the clock to assist customers. These measures have been put in place to ensure that passengers receive timely and effective support during disruptions and to minimize the negative impact on their travel experience.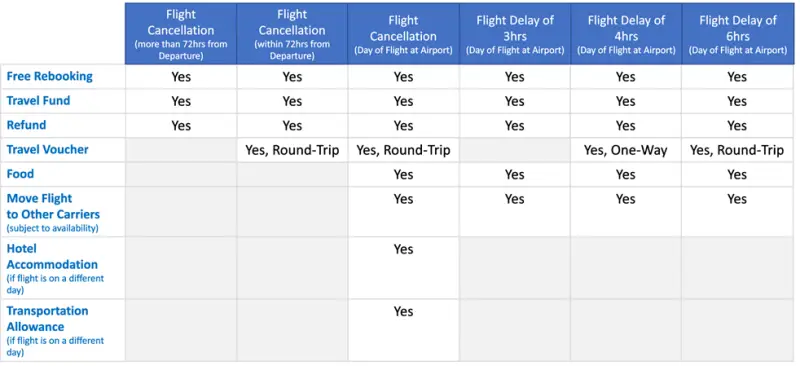 CEB has also refined its policies to provide customers with more options beyond what is required by the Air Passenger Bill of Rights.
REDUCED SCHEDULED FLIGHTS – In response to the unprecedented number of grounded aircraft, including some that will be out of service for a significant period of time, CEB has adjusted its flight schedule. The airline has reduced its flight frequency to account for the long-term unserviceable aircraft and to enable more standby aircraft on the day. This measure is aimed at minimizing disruptions and ensuring that customers can travel with as little inconvenience as possible.
INCREASE STANDBY AIRCRAFT — To enhance its operational resilience, CEB has increased the number of standby aircraft from three to four, with plans to increase this to six by year-end. These standby aircraft can be used immediately in case of unforeseen events on the day of the flight. Additionally, the airline is leasing additional aircraft to further strengthen its capacity and ensure continuity of services.
"We understand that these mitigating actions may still seem insufficient for our affected passengers," said CEB in their statement. "We assure you that we are actively managing the situation and determining how we can assist affected passengers."
Want more travel updates? Check out WindowSeat.ph's official Facebook community What's Your Trip PH to join the conversation!