LOOK: CEB's P99 Super Pass is the Best Companion for Your 'Drawing' Travel Plans
You can buy all you can and fly when you can.
by Ina Louise Manto | May 06, 2021
We get it – you're not the only one who's been dreaming of travel, which is one of the first things we had to say goodbye to after being hit by the pandemic. But that doesn't mean you can stop adding destinations to your bucket list and stop planning for future getaways, especially with Cebu Pacific's latest bang for the buck voucher – the CEB Super Pass.
What's the CEB Super Pass?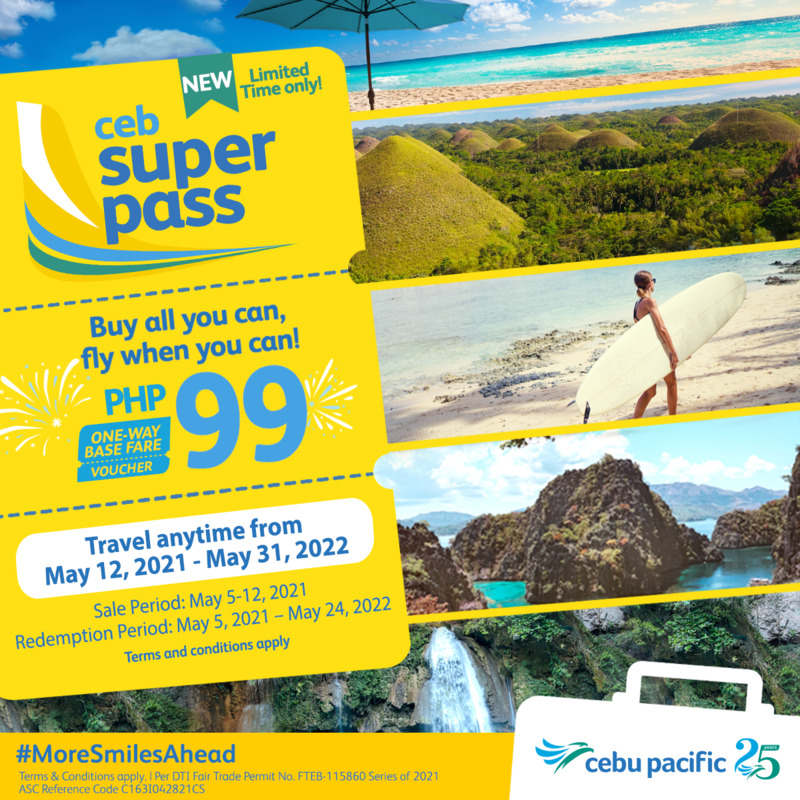 Here's to the barkadas and families who are indecisive when it comes to travel. Don't know where to go and when to go? You can still plan for future travel and secure a plane ticket for just P99 (base fare). The CEB Super Pass is a limited-time offer that allows you to buy a one-way ticket to any Philippine destination in CEB's widest local network for travel from May 12, 2021 to May 31, 2022. You're basically buying a blank plane ticket you can use whenever.
"On our 25th anniversary, the CEB Super Pass is a timely option for guests who would want to travel whenever they want, wherever they want in the country, at a guaranteed low fare. With the widest network in the Philippines, we offer this one-of-a-kind product that enables us to fulfill our commitment of providing fast connectivity and value-for-money deals for every Juan," said Candice Iyog, Cebu Pacific Vice President for Marketing and Customer Experience.
How can I purchase it?
Available only from May 5 until May 12, 2021, all you have to do is go to this page, input the number of passes you want, add passenger names, and pay. You can pay for your vouchers via existing Travel Funds or online payment options such as credit cards. Once successful, your CEB Super Pass will be sent via email, which you can redeem when you finally decide on a place and date of travel.
How can I redeem the CEB Super Pass?
You can book your CEB Super Pass via the "Redeem CEB Super Pass" tab on the website as early as 30 days before the flight's departure or until 7 days before the intended flight, as long as seats are still available. Your voucher/s may be redeemed from May 5, 2021 to May 24, 2022, for travel between May 12, 2021 and May 31, 2022.
How many vouchers can I buy?
For a single transaction, you can buy as many as 10 tickets. Don't worry though; there is no limit to the number of vouchers each passenger can avail of. So go and buy as many vouchers as you see fit!
Cebu Pacific currently flies to 32 local destinations. For more details, visit their official website.