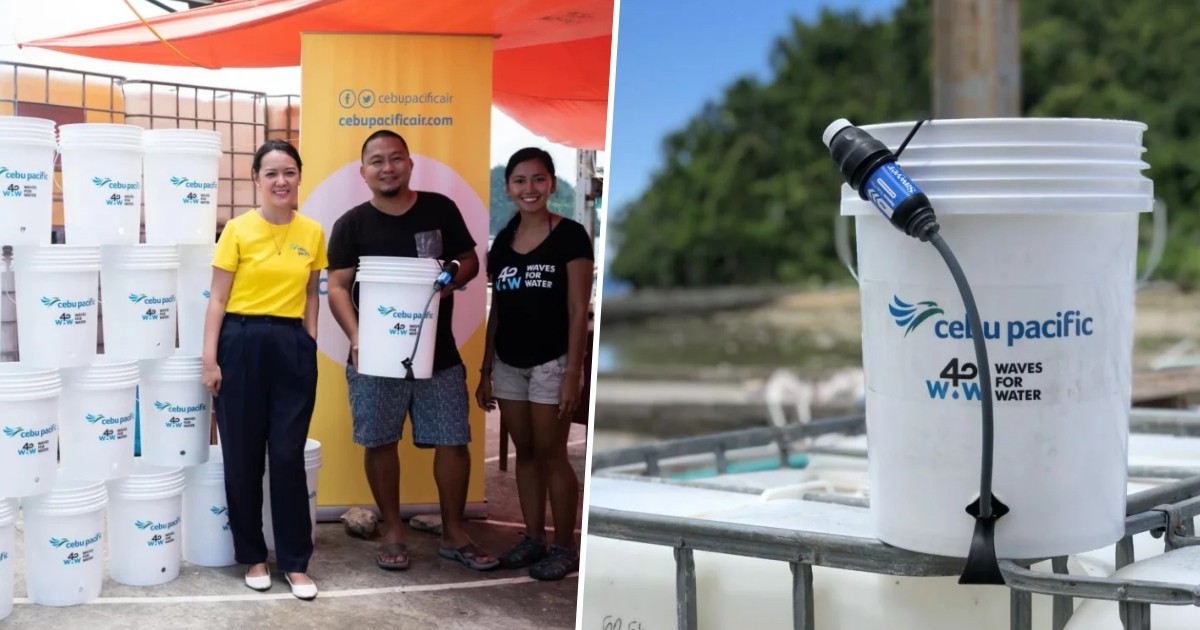 Waves After a Storm: How Cebu Pacific and Waves for Water PH Is Helping Siargao Get Back on Its Feet
Eight months after Typhoon Odette, Caub Island residents still fear water shortage crisis.
by Kyzia Maramara | August 31, 2022
It has been eight months since the severe tropical storm Super Typhoon Odette (Rai) devastated large parts of Visayas and Mindanao. Siargao, in particular, was one of the hardest hit. Overnight, it went from a world-famous tourist destination to Ground Zero for Odette. In the aftermath, hundreds of residents lost their homes and had no access to clean drinking water and basic hygiene and sanitation services.
In the coming months after the typhoon, many would extend help to the residents to help them get back on their feet. But the future doesn't promise to be typhoon-free, especially now that we're headed to the peak of typhoon season. That's why disaster preparedness is the key to making sure Siargao residents won't have to worry about their survival.
Cebu Pacific and Waves for Water team up
On August 25, Cebu Pacific and Waves for Water visited Caub Island in Del Carmen, Siargao to distribute water filters. The team-up was made in partnership with Del Carmen's local government unit headed by Mayor Alfredo M. Coro II.
The 502-household community in Caub primarily relies on rainwater – a source that can easily be contaminated due to storage and surrounding land uses. To help them, Waves for Water distributed 63 water filters to the residents and a rain catchment tank giving residents 24/7 access to potable water.
Cebu Pacific previously worked with the global humanitarian aid organization Waves for Water last December. They transported over 2 tons (1,447 units) worth of water filtration free of charge across seven affected provinces, namely Bohol, Cebu, Negros Oriental, Negros Occidental, Palawan, Southern Leyte, and Surigao del Norte.
During last weekend's event, Waves for Water representatives taught Caub community leaders how to properly use the water filters and also conducted a WASH (water, sanitation, and hygiene) education session.
Watching the magic happen
Unlike other water filters that would take a while to do their job, Waves for Water filters can decontaminate 1 liter of water in 1 minute. That's magic if you ask us! From dirty, muddy water to clean, potable H2O in mere seconds. And the best part is these filters don't require batteries or a machine to function. All it needs is to let gravity do its work making it a perfect system for disaster preparedness.
Waves for Water filters can separate dirt, debris, and even the following bacteria from water:
Cholera
Botulism
Typhoid
Amoebic Dysentery
E. coli
Coliform Bacteria
Streptococcus
Salmonella
The 0.1-micron absolute filter makes it possible to drink from a water source without the risk of any life-threatening contaminants passing through — preventing the spread of waterborne diseases and severe dehydration.
These water filters can filter rainwater, well water, water from streams, and any source that isn't salt water or water with chemicals. Each filter can last for 5 to 10 years and can filter up to 4 million liters in its lifetime. Imagine the huge help these give!
We've seen for ourselves how effective the filtration system is during Waves for Water's demonstration for the residents at Caub Island. We're also glad to report that the water tasted how it's supposed to – clean water.
With these buckets and filters from Cebu Pacific and Waves for Water, Caub Island's disaster preparation methods have bumped up a notch.
"Waves For Water's collaboration with Cebu Pacific has paved the way for us to reach more underserved communities throughout the Philippines," said Jenica Dizon, Waves For Water Philippines' Country Director.
"The joint effort is a testament to the organization's ethos of serving as a platform for strategic partnerships that will make clean water access a reality for all Filipinos across the archipelago," she added.
How water filters can literally change lives
The typhoon affected over 500 households in the outskirts community of Caub. Their homes and their boats (the main source of livelihood for fishing) were destroyed.
"After the typhoon struck, we had no access to clean, drinking water. We have to buy water but when the boats [with water gallons] arrive on our shores, some residents swim ahead to buy a gallon leaving nothing for the rest of us," says Caub Island resident Rosevic Sulapas.
She recalled how serious the island's water shortage problem was. Sulapas said that boats coming from Del Carmen only carried 60 gallons of water at P80 each. For an island of 500 households, that's not enough. And they almost could never buy one since some residents would scramble to secure theirs.
"We saved a lot of coconut water so the kids have something to drink, but it turns sour after a while. It was so difficult," she adds. "These water filters from Waves for Water are a huge help."
Caub Island has lost lives from water shortage, with residents succumbing to diseases brought about by unclean drinking water. Now that Waves for Water has given each district on the island an ample amount of filters for the community, it has given Caub Island hope for the future.
Almost a year after Typhoon Odette, Caub residents are still rebuilding their lives. In fact, some of them are yet to relocate to a new home. But with helping hands from all sides, the small community is slowly getting back on its feet. Sure, this might not be the last time it bows to a typhoon, but at least now, Caub Island, Siargao is more prepared to face the battle head-on.
Cebu Pacific currently flies to Siargao from Manila 11x weekly, and from Cebu twice daily. The airline continues to offer its guaranteed low fares to stimulate travel across its network while it implements a multi-layered approach to safety to encourage everyJuan to fly once more. Visit www.cebupacificair.com to learn more about their latest offerings, safety protocols, and travel reminders.