Got Plans for Siargao 2022? Here's What You Can Expect to See + Do on the Island
This is your sign to bring the barkada to the island soon!
by Kyzia Maramara | September 02, 2022
When Super Typhoon Odette made its landfall nine times in Siargao last December 2021, it shattered the island. The storm brought with it violent winds, mudslides, and torrential rain, enough to make some residents think they'd never make it out alive. But Filipinos are nothing if not resilient. Eight months later, Siargao is almost back on its feet, happily welcoming tourists to the island once again.
What can you expect from a post-typhoon visit to the Surfing Capital of the Philippines?
Walk on a fortified Cloud 9 boardwalk
Folks who have been to Siargao pre-pandemic will notice first thing that Cloud Nine's famous watchtower is no longer there. The storm unfortunately blew the wooden tower and its boardwalk to bits. But thanks to Siargao's local government unit and the resident's bayanihan efforts, they managed to rebuild the 100-m boardwalk with a stronger structure. You can watch surfers ride the waves again or revel in the sunset in the middle of the boardwalk.
Don't worry, there are plans to rebuild the watchtower too, but it would take a while since the LGU has to wait for proper funding.
While you're in the area, you might want to drop by Siargao's famous Shaka Cafe. Their menu consists of the freshest organic fruits and vegetables in smoothies, power bowls, juices, and more. Granted, there are Shaka branches in the city (BGC, SM Mall of Asia), but the vibe is different when you're spooning down a smoothie bowl after surfing.
Jump from Sugba Lagoon's diving board
Sugba Lagoon is a tourist-favorite destination. It's located in Caub Island past vast mangrove forests and cocooned on a cove. The lagoon's boardwalk and the floating house were also affected during the typhoon but Del Carmen Mayor Alfredo M. Coro II made it a point to prioritize its rehabilitation.
Coro knew that one of the quickest ways to get Siargao back on its feet was to encourage tourists to visit again. He called Sugba Lagoon as Del Carmen's "anchor of hope." And he was right.
Today, you can now have your fill of jumping from Sugba Lagoon's diving board into the turquoise waters. You can also rent kayaks and bamboo rafts to paddle away from the crowd at the floating house.
Look out over the Coconut Trees View Deck
Back in General Luna, the Coconut Trees View Deck is another epic tourist spot you shouldn't miss. It's located along Siargao Circumferential Road, a 20-30 minute drive from the town proper. A number of benches line the road so visitors can sit and take their photos with the backdrop of the trees. Locals will also volunteer to take your videos "human drone" style and the results are hilarious but surprisingly great for the 'Gram.
Cross the Tri-Island Hopping off your bucket list
There are three islands in Siargao that can't be missed if you're going island hopping: Daku Island, Guyam Island, and Naked Island. Tours can start at P2,000 for a group of 1-6 people and can go as low as P8,000 for a group of 21-25 people.
Naked Island
It's called Naked Island for a reason – there are no palm trees or rocks to shield you from the sun. If you're into sunbathing and getting that tan, you'll enjoy this stop the most. And if you're doing a little soul searching, it's best to do it at Naked Island. With only the turquoise waters and white sand, you'll feel detached from the world – a peaceful respite before going back to the concrete jungle.
Daku Island
Daku Island has one of the best white sand beaches. It's the biggest island out of the three and it's where tourists usually have their lunch (the special buffet with 'SIARGAO' spelled out with rice). Nipa huts and cabanas line the shore where you can chill while eating your lunch.
Guyam Island
Coconut trees are in abundance at Guyam Island which thankfully provides shade from the sun. There are a number of fun activities to do on Guyam Island such as picture taking in the Instagrammable areas (there's a swing set!), playing basketball, and even balancing on a tight rope. The island also has a newly-built restaurant where you can buy sodas and burgers for meriyenda before heading back to the port.
Other tours you can take in Siargao
Aside from the three islands, you can also add stops to other beautiful islands in Siargao for your trip. The options are:
Mam-on Island + Tri-Island Hopping – starts at P4,500; a minimum group of 7
Corregidor Island + Tri-Island Hopping – starts at P4,000 for a group of 1-6
Corregidor Island only – P4,000 for a group of 6
Sohoton Cove + Tri-Island Hopping – starts at P6,500; a minimum group of 7
Sohoton Cove only – P6,000 for a group of 6
You can also opt for a special trip consisting of Mam-on Island, Suyangan Island, La Januza Island, and Anajawan Island for P4,500 for a group of 6.
For hassle-free tours in Siargao, you can reach out to Siargao Byaheros Travel and Tour and Golden Tara Travel and Tours. These folks will make sure you've got a seamless and fun island hopping vacation ahead of you.
Back in town: Restaurant hopping
Of course, a visit to Siargao won't be complete without dropping by its most famous eats. Kermit Siargao with its mouthwatering brick-oven pizza remains to be one of the best Italian restaurants on the island.
The menu is reasonable too with pizzas starting at P380 and main entrees at P270. And when they bust out their drinks menu, you can expect a variety of non-alcoholic and alcoholic drinks to suit your fancy.
Check out Kermit Siargao's full menu here.
Another restaurant worth visiting is Isla Cabana's Isla Cusina. The beach-front restaurant lets you watch the sunrise and moonrise while eating a delicious meal and feeling the cool ocean breeze. Isla Cabana's menu offers sumptuous and delectable Asian and Western cuisine.
Don't miss out on the Cabana Special wood-fired pizza which puts together farmer's ham, bacon, mushrooms, and mozzarella into one delightful mouthful. The perfectly seasoned and seared Grilled Tuna Steak is also one for the books as well as their Sizzling Squid in coconut sauce.
Isla Cabana's bar has a wide selection of wines and liquors. They can also make you fresh cocktails or, if you'd like, fresh smoothies with a blend of healthy fruits and greens.
Siargao awaits!
A visit to the Surfing Capital of the Philippines is something every Filipino should do at least once in their lives. And with loosened travel restrictions and the unparalleled beauty of Siargao Island that beckons, it's about time you heeded the call. There's something for all kinds of people in Siargao – from surfing and island hopping to chilling at restaurants and even getting a random tattoo at the many tattoo parlors around. So if you're looking for a sign to get the barkada together, this is it.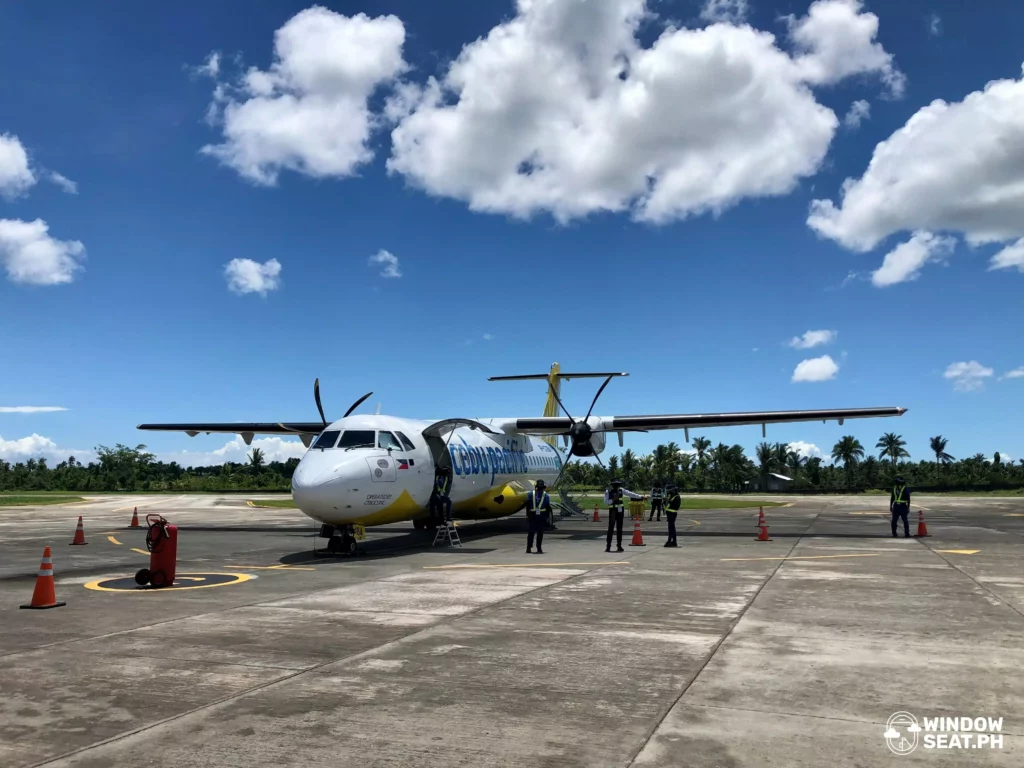 Cebu Pacific currently flies to Siargao from Manila 11x weekly, and from Cebu twice daily. The airline continues to offer its guaranteed low fares to stimulate travel across its network while it implements a multi-layered approach to safety to encourage everyjuan to fly once more. Visit www.cebupacificair.com to learn more about their latest offerings, safety protocols, and travel reminders.