Cheap Stays: Malapascua Island
Ready for a beach day?
by Jaime Perez-Rubio | September 02, 2016
Malapascua is a tiny island located in the Visayan Sea right across the northern most tip of Cebu. It has recently gained fame for its great dive spots which showcase beautiful coral gardens. Its white sand beach has also drawn tourists from all over the world.
If you head further out to Malapascua's most famed dive spot, Monad Shoal, you can spot wild thresher sharks and manta rays while basking in the underwater glory of its beautiful coral walls. If you're lucky, you might even spot a Hammerhead!
Known as Bounty Island, Malapascua is a great place for an island getaway; and contrary to what most tourists think, there are fairly cheap places here that offer accommodation. Check one of these places and indulge in Malapascua's scenic view—you won't regret it.
5. Evolution Dive and Beach Resort
RATE: US$39/night
Evolution Dive and Beach Resort is the most expensive inclusion in this list but for good reason. This beachfront resort offers lavish air-conditioned rooms with private balconies that overlook the beautiful horizon. They have a beautiful garden to gaze upon as well! In this resort, diving is greatly encouraged and can be easily arranged via the resort staff. Its amenities include an in-house restaurant and bar so everything you need for a comfortable stay is covered.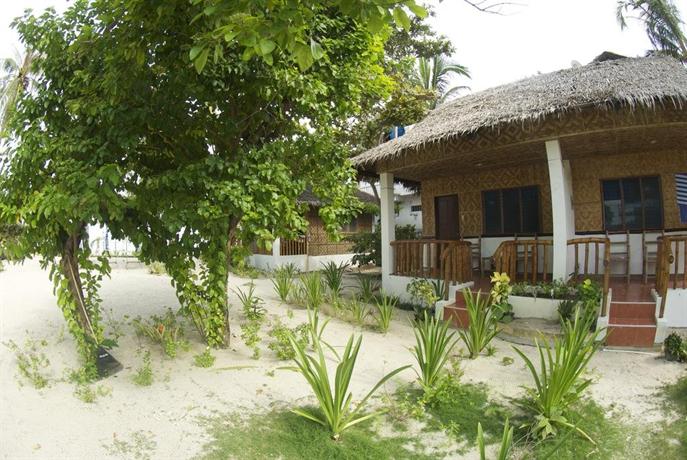 4. Blue Corals Beach Resort
RATE: US$33/night
If you're looking for a resort that's closest to the beach, look no further than Blue Corals Beach Resort. Situated right on the shores of Malapascua Beach, it has a private beach wherein guests can go fishing and snorkeling. Tired of the sand? No worries as they have a swimming pool, too! The rooms don't come with air-conditioning but it does get breezy and cool during the night. The resort offers luggage storage, laundry service, currency exchange, and massages for all its guests. An awesome perk here is that it rents out bicycles and cars to explore the island!
3. Malapascua Garden Resort
RATE: US$35/night
One of the cheaper luxury resorts in Malapascua Island, Malapascua Garden Resort is only a five-minute walk from the beach. It is surrounded by natural gardens for a pleasing view and staying here will make you feel pampered. Rooms come fitted with a wardrobe, a flat screen TV, a safety deposit box for your belongings and best of all, room service. Yes, you can sit back and relax while daily room service is provided. After a long day of diving or just basking in Malapascua's ambience, one can opt for a massage to unwind. There is also an in-house bistro that serves alcohol and some snacks, perfect for that sunset session!
2. Moonlight Resort
RATE: US$26/night
Only a two-minute walk from the beach, Moonlight Resort offers an in-house restaurant, free WiFi and rooms with a garden view. Each room has its own private terrace as well cozy bamboo beds—whether you choose to stay in a fan or air conditioned room. It even has its own walk-in wardrobe that's attached to the bathroom! The staff are also extremely friendly; they will help you in you in planning your day, so if you want to go sight-seeing, snorkeling or hiking, they can arrange the activity for you. The Moonlight Restaurant is also a big attraction here as it serves international dishes and cocktails! Guests can also take a dip in the night-lit swimming pool.
1. Malapascua Budget Inn
RATE: US$9/night
It might be the cheapest resort on this list but it doesn't mean that it's the least inviting. If you're into hostels where you can meet all sorts of people from all over the world, then Malapascua Budget Inn is the place for you. This pet-friendly inn has a bar and barbecue pit which all of the guests are free to use. It also has a common kitchen so you can cook your own meals. Hang out in the common area and share drinks with your fellow adventurers. This Inn has an intimate feel and almost all guests who frequent it will immediately become friends. It has free WiFi as well!
Which of these Malapascua resorts would you like to stay at?  
Also read:
5 of the Best Airbnb Accommodations in the Philippines
6 of the Hippest Places to Stay in Baler
9 of the Best Glamping Spots in the Philippines