BOOKMARK: Top Cherry Blossom Viewing Spots in South Korea this 2023
Making your K-drama pilgrimage dreams come true this springtime?
by Ina Louise Manto | January 27, 2023
Picture this: you're wearing your best OOTD with hundreds of falling pastel pink flowers behind you – this is the K-drama backdrop of your dreams. Even without an oppa, it's still a picture-perfect scene! South Korea is another destination to witness cherry blossoms in full bloom during springtime if you don't want to go to Japan. Planning to visit this season? We've got you covered; here are the best places to witness cherry blossoms in South Korea:
Seoul
When in bloom: March 24 to April 10
If you're flying to South Korea, you're probably planning to stay around Seoul. There are plenty of destinations to view cherry blossoms around the country's capital and here are some:
Changgyeonggung Palace
Location: 185 Changgyeonggung-ro, Jongno-gu, Seoul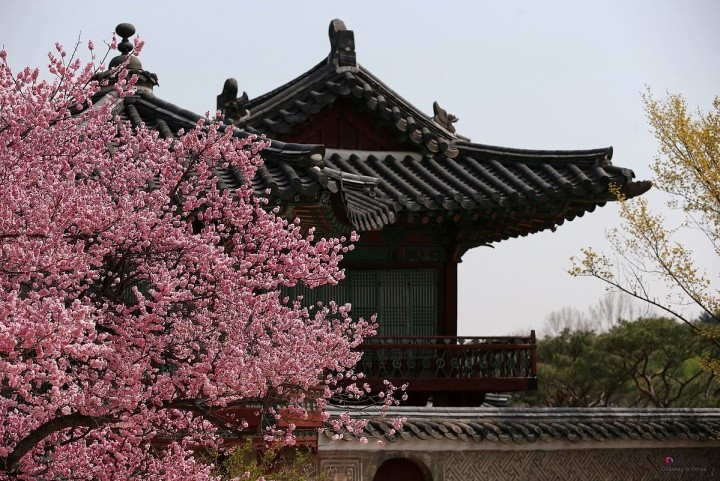 No South Korea trip is complete without visiting a palace and dressing up in a hanbok. The Gyeongbokyung Palace is a must-visit for first-timers but if you're looking for a palace with the most cherry blossom trees, head to Changgyeonggung Palace instead. Cherry blossom trees were planted all over the palace during the Japanese colonial period. Now that's a scene that'll look straight out of your favorite period drama.
Seokchon Lake Park
Location: 05608 136, Samhaksa-ro, Songpa-gu, Seoul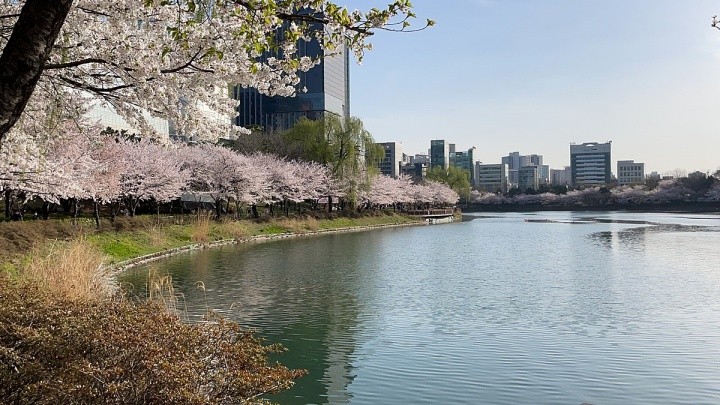 If your itinerary includes visiting Lotte World, you might as well drop by Seokchon Lake Park and participate in the annual cherry blossom festival. The tranquil lake is located near Lotte Mall.
Yeouido Park
Location: 68 Yeouigongwon-ro, Yeongdeungpo-gu, Seoul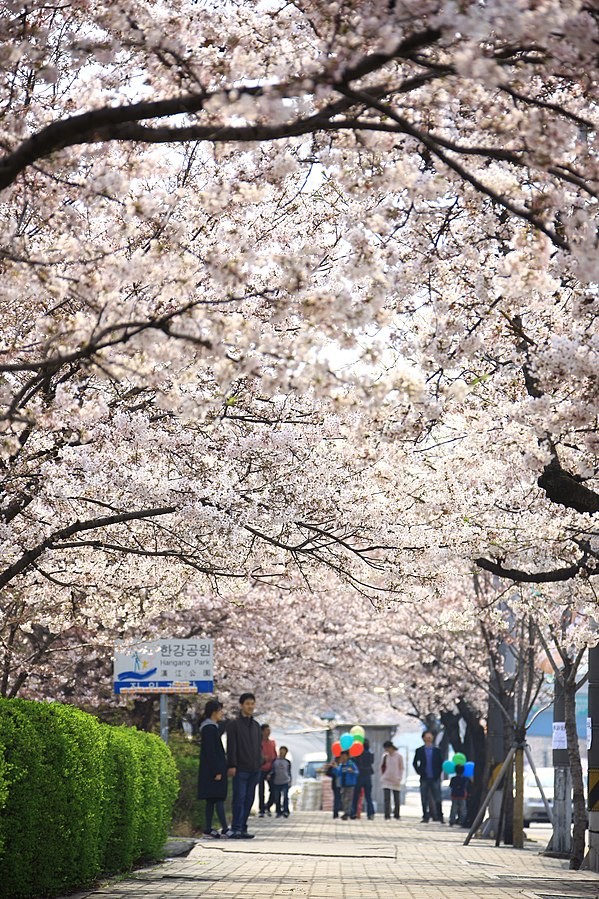 If you wish to experience another cherry blossom festival, head to Yeouido Spring Flower Festival and witness over 1,500 trees in full bloom. Take a scenic stroll along Han River with rows of cherry trees, feast on snacks from the food stalls, and hear live music from buskers.
N Seoul Tower
Location: 105 Namsangongwon-gil, Yongsan-gu, Seoul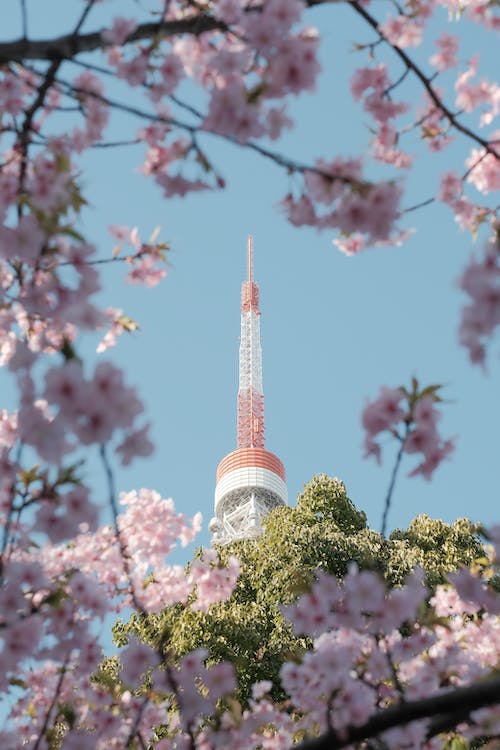 Also known as the Namsan Tower or Seoul Tower, this location is also a hotspot for tourists visiting Seoul. You've probably seen it in one of your favorite K-dramas too, so you might want to recreate some scenes here.
Jeju Island
When in bloom: March 18 to 24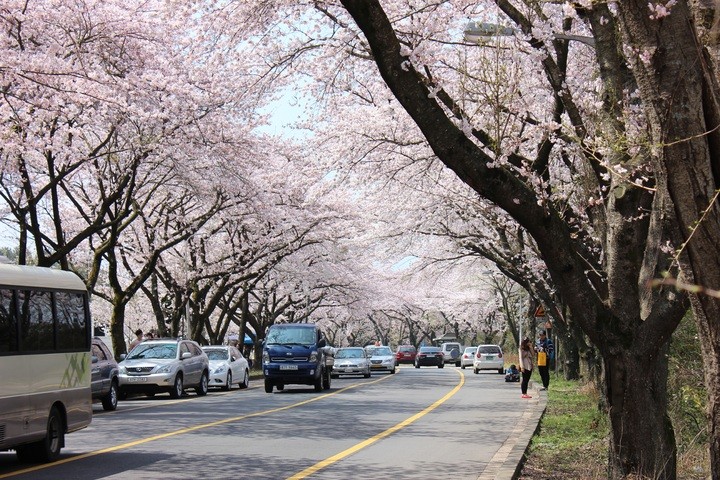 Did you know that Pinoys can enter Jeju visa-free for up to 30 days? If you don't want to go through process of applying for a visa but still want to visit South Korea, grab the visa-free opportunity to explore Jeju Island. The island also celebrates an annual Cherry Blossom Festival, where you'll witness the "king cherry", a unique variety of the tree. The catch is, it only blooms for three days so schedule accordingly.
How to Get a South Korean Visa Appointment Slot
How to Get a South Korean Visa Appointment Slot
Meryl Medel | Dec 05, 2022
Busan
When in bloom: March 22 to 28
Busan isn't just a beautiful coastal town known for its fresh seafood. It's also the home of many cherry blossom viewing spots, which you can explore for a day. If you're coming from Seoul, it will only take you approximately two hours and 15 minutes via the KTX train. Here are some top spots where to see cherry blossoms:
Namcheon-dong Cherry Blossom Street
Location: Namcheondong Samic Beach Town Apartment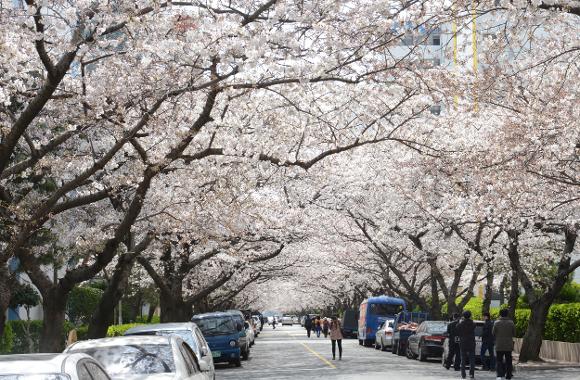 Do you plan on renting a car when in Busan? If you're sightseeing, don't forget to pass by Namcheon-dong Road. It's lined with cherry trees that have adapted the shape of the highway, making a picturesque scene. It's near Gwangli beach, which was Busan's original cherry blossom road.
Oncheoncheon Café Street
Location: Yeonsan 9(gu)-dong, Yeonje-gu, Busan
If you wish to go café hopping in Busan, explore the many hip and trendy cafes at Oncheoncheon Street. Tourists and locals flock to the street lined with not only unique cafes but also cherry blossom trees during springtime. You can also head to the Oncheoncheon Stream and witness cherry blossom petals fall like rain. Such a dreamy scene!
Nami Island
Location: 1 Namisum-gil, Namsan-myeon, Chuncheon, Gangwon-do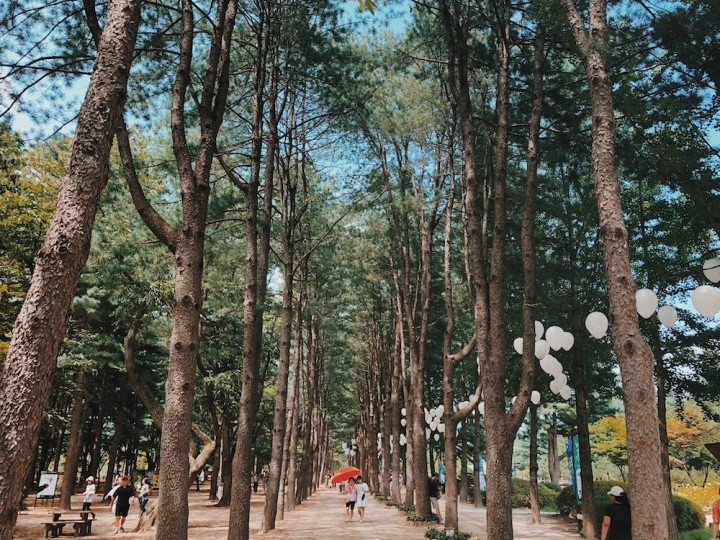 Nami Island's autumn foliage makes the K-drama-like backdrop of your dreams but it's also a great location to see cherry blossom trees during spring. The island is known for its cultural and natural attractions – no wonder why it's also a must-visit destination when in SoKor.
'Crash Landing on You' Iconic Filming Locations You Can Visit IRL
'Crash Landing on You' Iconic Filming Locations You Can Visit IRL
Ina Louise Manto | Feb 19, 2020
Daegu
When in bloom: March 23 to 31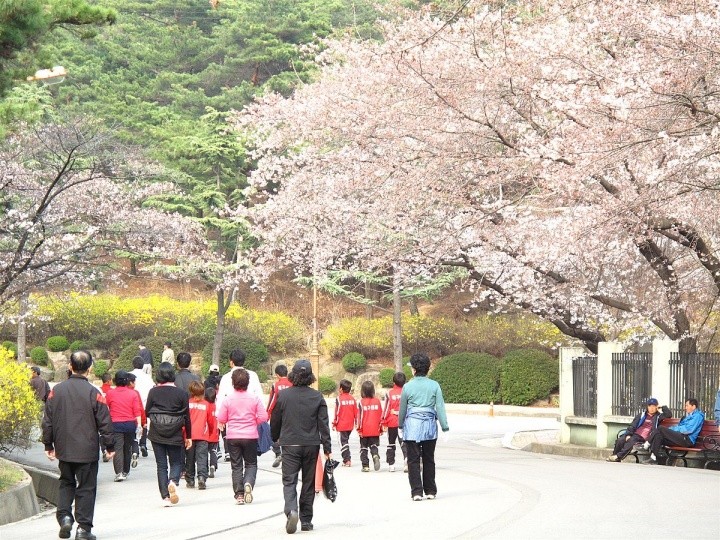 If you want to enjoy cherry blossom viewing with a lesser crowd, visit Daegu. It's one of the largest cities in South Korea and is home to scenic mountains and historical sites that date back to the Joseon Dynasty. Here are some of the best cherry blossom spots in the city:
Chimsanjeong Pavilion
Ayang Bridge Trail
E-World
Kkotbora Flower Garden
Jinhae
When in bloom: March 26 to April 2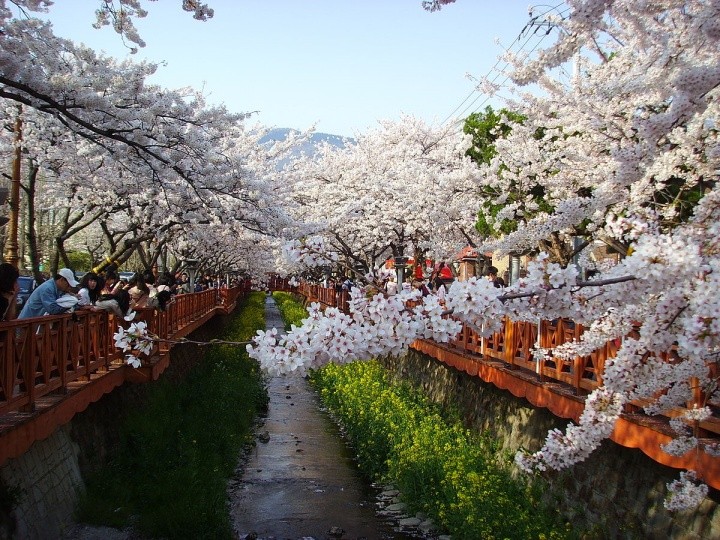 Jinhae may be a four-hour trip from Seoul but trust that it's going to be worth the trip since the town hosts the biggest cherry blossom festival in South Korea. Its festival lasts for 10 days, giving you plenty of time to explore viewing spots and try its famous cherry blossom bread. Some popular spots include Gweonghwa train station and Yeojwacheon Stream.
Have you experienced cherry blossom viewing in South Korea? Share your experience and fave spots in the comments!
BOOKMARK: Here's Where You'll Catch the Best Cherry Blossoms in Japan this 2023
BOOKMARK: Here's Where You'll Catch the Best Cherry Blossoms in Japan this 2023
Ina Louise Manto | Jan 20, 2023
Looking for other places to explore? Join WindowSeat.ph's official Facebook community What's Your Trip PH for more recos!