BOOKMARK: Here's Where You'll Catch the Best Cherry Blossoms in Japan this 2023
Dreaming of witnessing Sakura this springtime?
by Ina Louise Manto | January 20, 2023
Unlike the Philippines, Japan experiences all four seasons. One of the best seasons to visit is around springtime when thousands of people from around the world travel to Japan to witness Sakura in full bloom. Now that country is open to tourists again, you might want to participate in the annual hanami or flower viewing, and witness rows and rows of trees in scenic destinations. Here's the cherry blossom forecast for 2023 according to Japan Meteorology Agency and the best spots to see them:
Fukuoka
Flowering: March 22 | Full bloom: March 27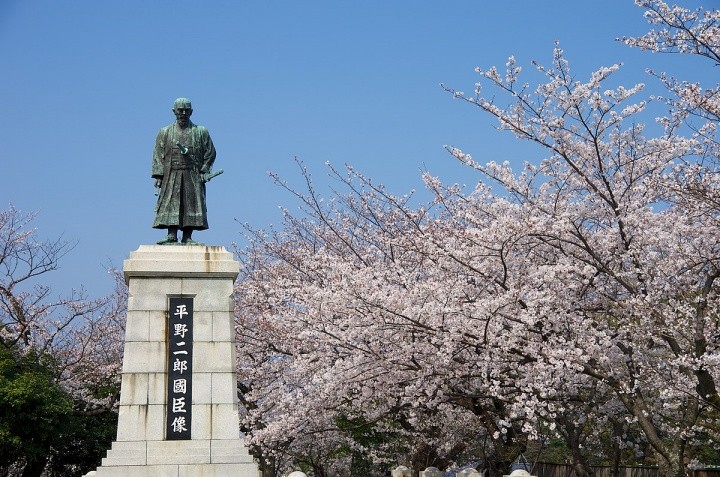 Where to view: Nishi Park
Location: 13 Nishikoen, Chuo Ward, Fukuoka 810-0061 Japan
Did you know that the weather gets warmer first in southern Japan? This is why cities in the south witness Sakura first, including Fukuoka. Built in 1875, Nishi Park is one of the best places to witness Sakura in Fukuoka. It houses 1,300 cherry trees and setting a picnic beneath them is a favorite activity among visitors. You can also enjoy a view of Hakata Bay, Fukuoka, and neighboring islands from the park's observatory.
Hiroshima
Flowering: March 25 | Full bloom: April 3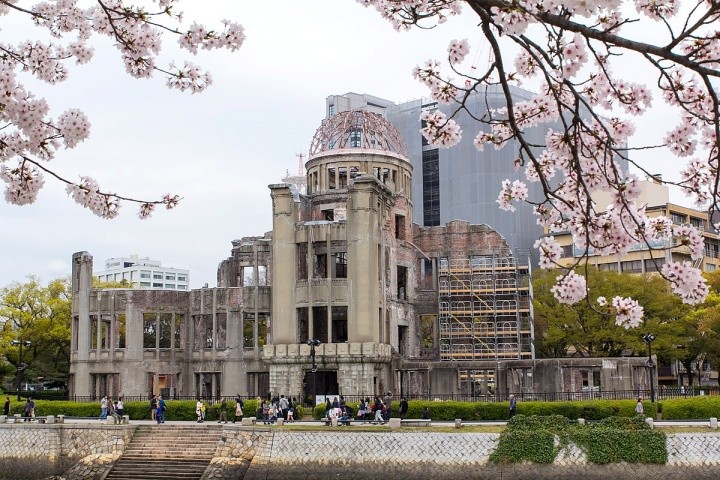 Where to view: Peace Memorial Park
Location: 1丁目-1-10 Nakajimachō, Naka Ward, Hiroshima, 730-0811, Japan
Hiroshima's Peace Memorial Park is dedicated to the victims of the nuclear attack in 1945. Every August 6th, a peace ceremony takes place to comfort both the spirits of the victims and their families. Aside from this, you'll also find cherry blossom trees around the park, which are near the ruins of an old building from World War II.
Okayama
Flowering: March 28 | Full bloom: April 4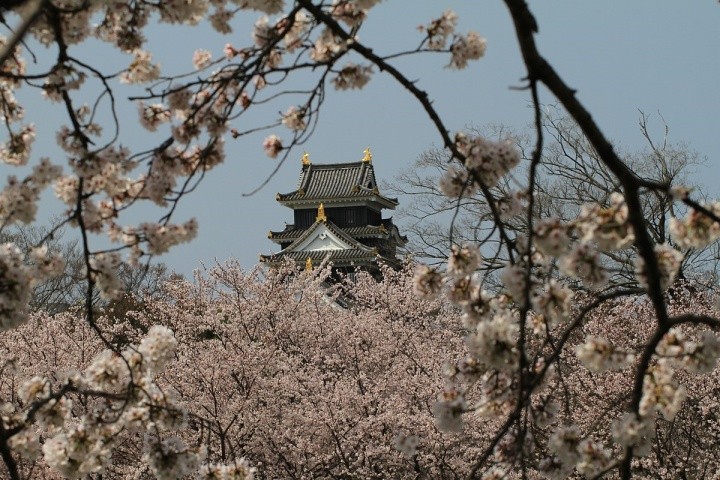 Where to view: Okayama Korakuen Garden
Location: 1-5 Korakuen, Kita Ward, Okayama City, Okayama Prefecture
The Korakeun Garden is one of Japan's three great gardens, which was built over three centuries ago by the Ikeda family. The garden boasts picture-perfect scenery: ponds, bridges, waterfalls, and rows of cherry blossoms around springtime. After strolling around the garden, don't forget to visit the Okayama Castle, which is right beside it.
Nara
Flowering: March 28 | Full bloom: April 6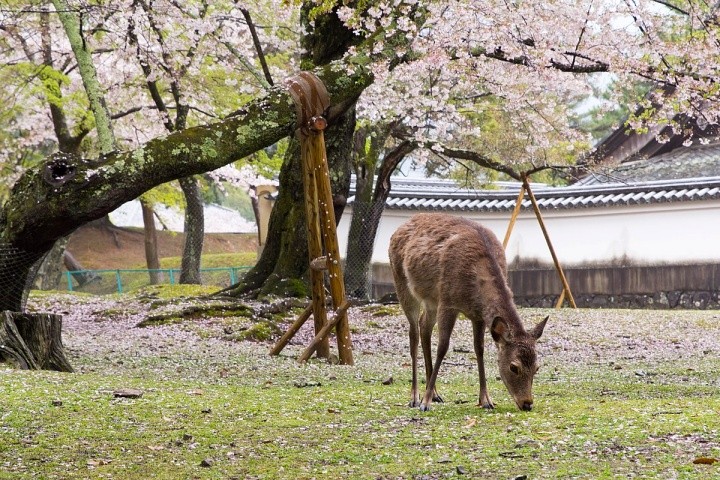 Where to view: Nara Park
Location: Nara, Japan
Nestled at the foot of Mt. Wakakusa, Nara Park is a must-visit when in Japan. You can't skip exploring its many temples and shrines, and interacting with friendly deer. The park is also a great venue to learn about Buddhism in Japan; it houses the largest bronze Buddha statue in the world, which you'll find inside the Great Buddha Hall in Todaji.
Osaka
Flowering: March 28 | Full bloom: April 5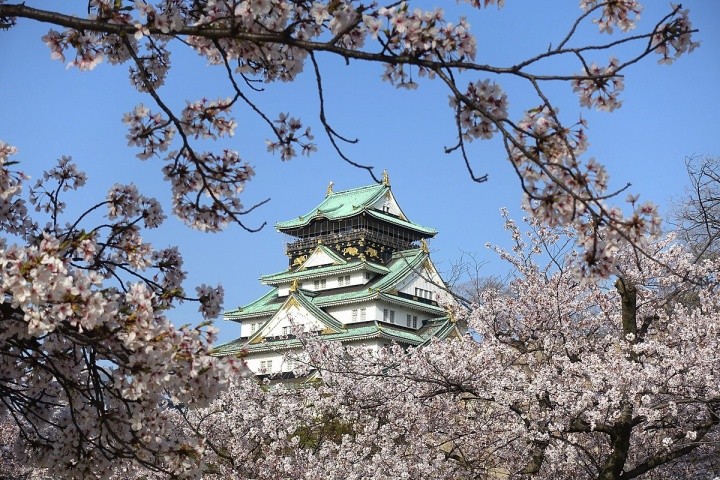 Where to view: Osaka Castle
Location: 1-Osakajo, Chuo-ku, Osaka-shi, Osaka-fu
Osaka Castle is the most prominent landmark in Osaka, built by the "Napoleon of Japan" in 1583. The castle's central tower was reconstructed in 1931 and the historic castle's surrounding grounds are now a hub for relaxing, cycling, and jogging among locals. You can also learn about the castle's rich history when you visit the museum inside it.
Tokyo
Flowering: March 24 | Full bloom: March 31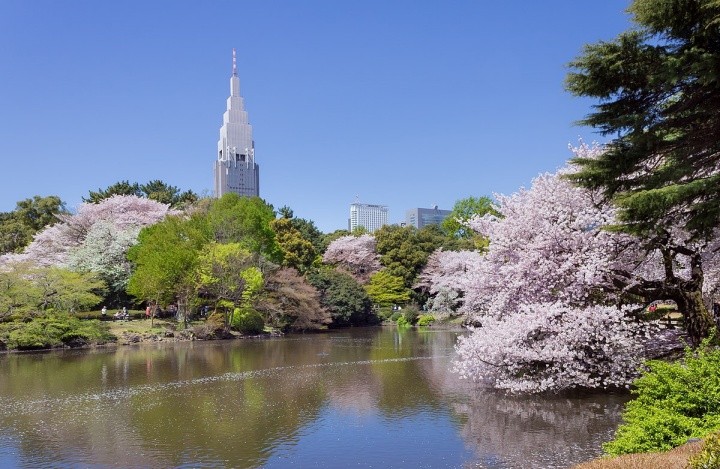 Where to view: Shinjuku Gyoen
Location: 11 Naito-machi, Shinjuku-ku, Tokyo-to
While there are plenty of cherry blossom spots around Tokyo, Shinjuku Gyoen is the top spot to witness them in full bloom. The Shinjuku Gyoen National Garden has about 68 varieties of cherry blossom trees, which blossom on different dates; some of which bloom as early as February. So if you're looking for a spot that will guarantee you get to experience hanami, this garden is the place to go.
Fujiyoshida
Flowering: March 24 | Full bloom: April 2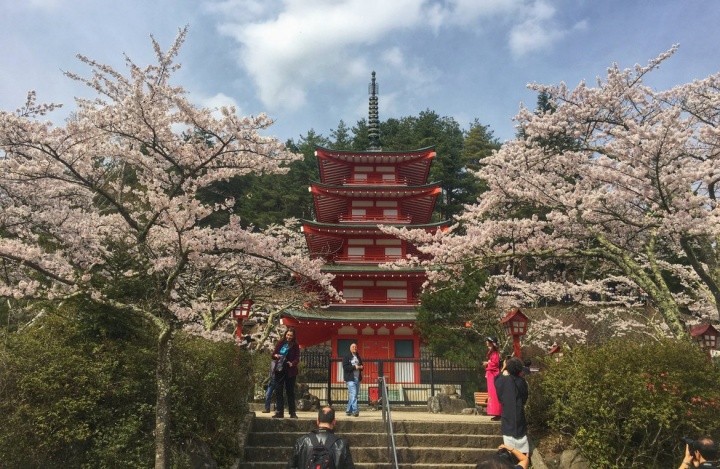 Where to view: Chureito Pagoda
Location: 2-chome-4-1 Asama, Fujiyoshida, Yamanashi 403-0011, Japan
Want to catch a scenic view of Mt. Fuji? Head to the Chureito Pagoda, which is a historical landmark on the mountainside of Fujiyoshida City. It serves as a peace memorial for citizens of Fujiyoshida who died in wars from the 1800s until World War II. The view from the pagoda is already a sight to behold but looks more picturesque during autumn and the Sakura season.
Nagano
Flowering: April 11 | Full bloom: April 16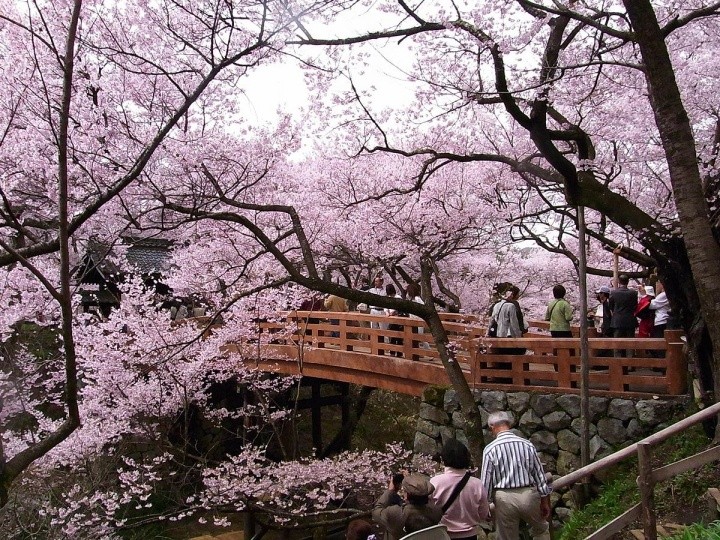 Where to view: Takato Castle Park
Location: Takatomachi Higashitakato, Ina, Nagano 396-0213, Japan
Nestled in the city of Ina in the Southern Nagano Prefecture, Takato Castle Park is known for its Takato Cherry Blossom Festival. The park houses 1,500 trees – some of which were planted in the late 1800s. During the festival, you'll get to enjoy a variety of drinks and food from stalls perfect for picnics. The trees are illuminated as well at night.
Fukushima
Flowering: April 7 | Full bloom: April 11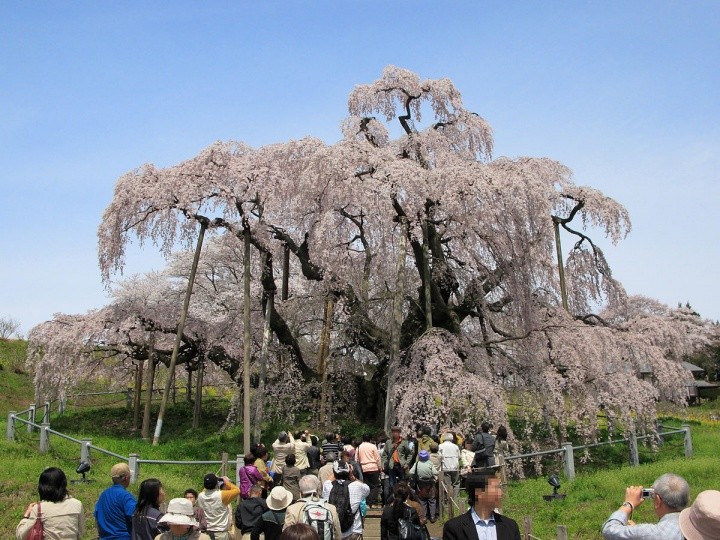 Where to view: Miharu Takizakura
Location: 296 Aza-sakurakubo, Oaza-taki, Miharu-machi, Tamura-gun, Fukushima-ken
During cherry blossom season, over 200,000 visitors travel to Fukushima to witness Miharu Takizakura, a gigantic tree that's said to be over a thousand years old. It's known for its distinct blossoms that look like waterfalls, which is also the literal translation of its name: "waterfall cherry blossom". The tree became a National Monument in 1922.
Hirosaki
Flowering: April 22 | Full bloom: April 26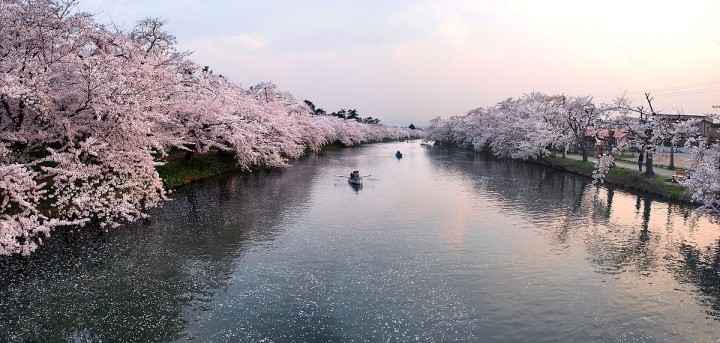 Where to view: Hirosaki Castle Park
Location: 1-1 Shimoshirogane-cho, Hirosaki-shi, Aomori-ken
Hirosaki is located in the northernmost part of Japan, which will take four hours via train from Tokyo. It's one of the last places to witness Sakura as its flowers are in full bloom on April 26. Hirasoki Castle Park is one of the best places to witness them, which is also the venue of the Hirasoki Cherry Blossom Festival. Aside from hanami, the park is also famous for the Somei-Yoshino cherry tree, which was planted in 1882.
Have you participated in hanami before? Tell us about your experience in the comments!
A First-Timer's Guide to Japan Etiquette: 8 Things You Shouldn't Do in Japan as a Tourist
A First-Timer's Guide to Japan Etiquette: 8 Things You Shouldn't Do in Japan as a Tourist
Edgardo Toledo | Jan 17, 2023
Looking for other places to explore? Join WindowSeat.ph's official Facebook community What's Your Trip PH for more recos!