LOOK: This U-Belt Cafe Has a Cool '0.5 Selfie' Photo Booth
Ready for budol? They have coffee, a photo booth, and merchandise.
by Ina Louise Manto | October 17, 2023
Whether it's at a wedding or an arcade, photo booths are a fun way to capture special moments with friends and family. It makes the perfect souvenir and room decor too! Fortunately, they're more accessible now as more self-shoot studios and photo booth shops open around the metro. If you find yourself around the U-Belt area, don't forget to drop by this cool cafe that has a unique take on your typical photo booth experience:
Hype Me Up at Chingu Dachi Cafe
Costumes, props, and even makeup are your typical finds in a photo booth experience, making your shots look cuter. But Chingu Dachi Cafe elevates the photo booth experience with Hype Me Up. This unique photo booth concept started in Korea where you'll get to capture shots more creatively through a 0.5-wide lens or what we usually refer to as a "Gen-Z selfie".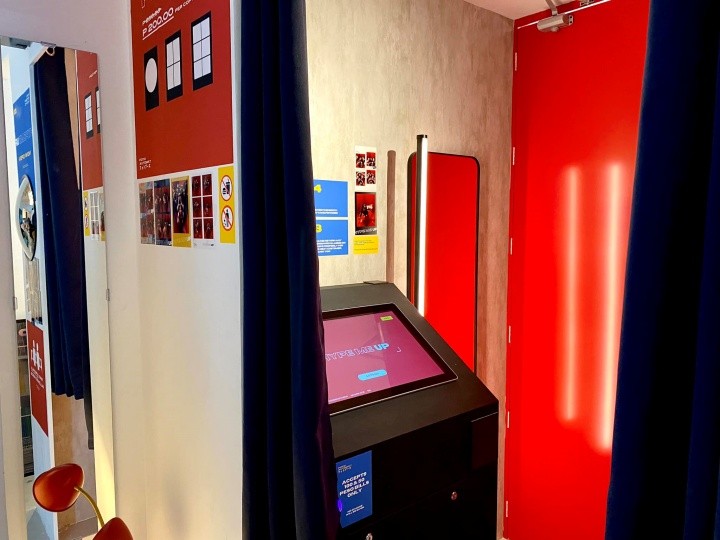 There's no need to fly to Seoul anymore to achieve these cool shots and feel like some of your favorite K-Pop idols like BTS' J-Hope. For PHP 200, you can take 0.5 photos available in three frames: entire solo, four shots, and six shots.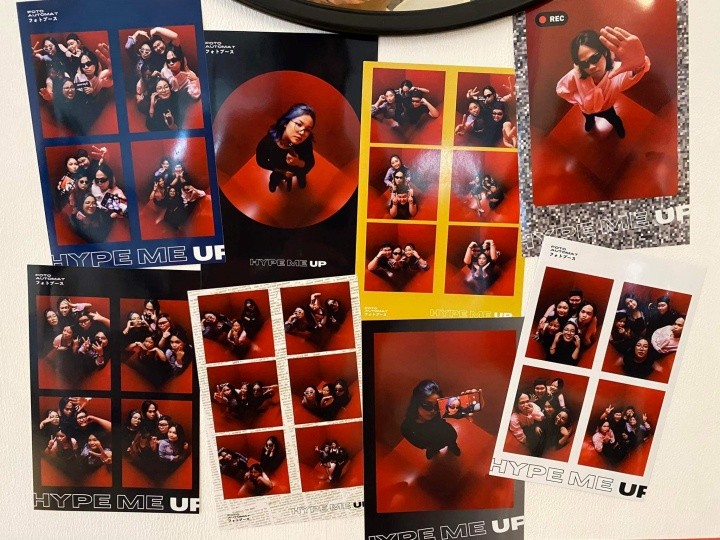 Don't have props? They've got you covered. You may use Y2K aesthetic sunglasses, film cameras, and even a baseball bat.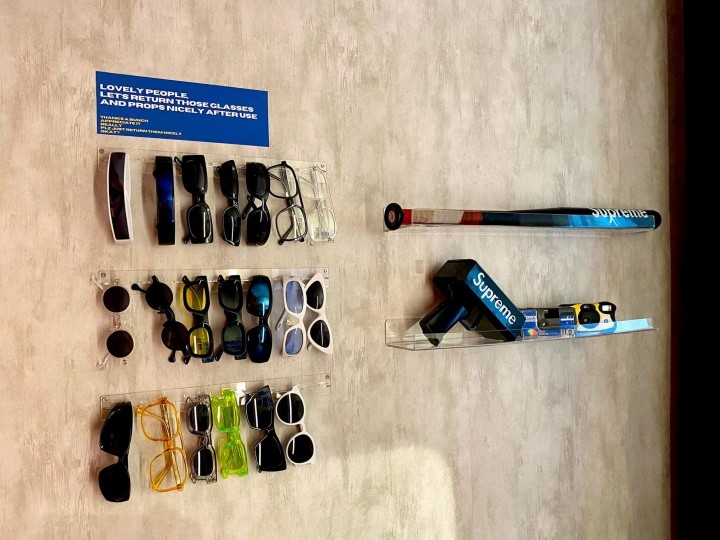 If you plan on sharing your photos on social media, you can also download a GIF version of your photo sesh.
The cafe and menu
If you're looking for a study or work spot, Chingu Dachi Cafe makes the perfect venue with its Bahaus-inspired interiors and selection of food and beverages. Who wouldn't be inspired to get things done at a well-designed place?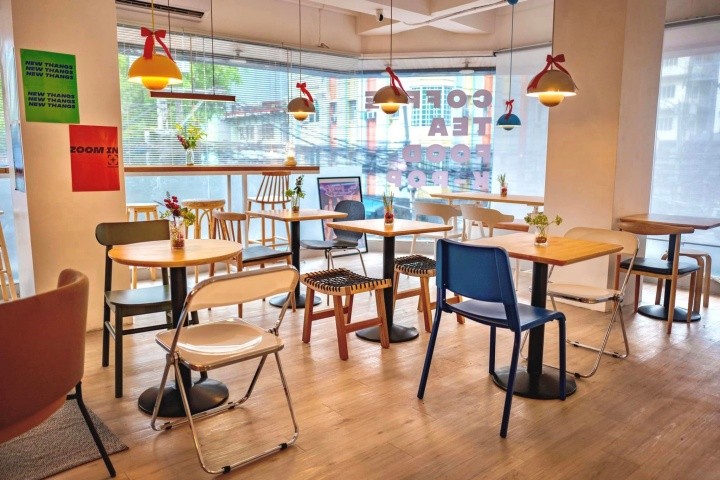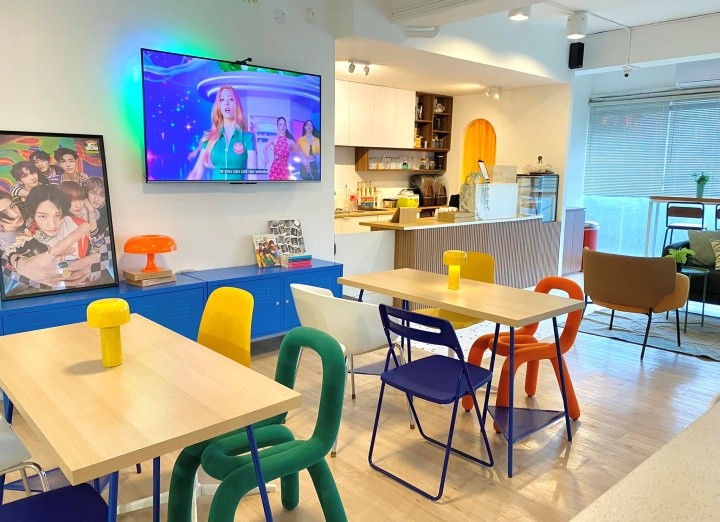 Chingu Dachi also makes the perfect venue for meeting fellow fans. You might even catch a cup sleeve event when you visit!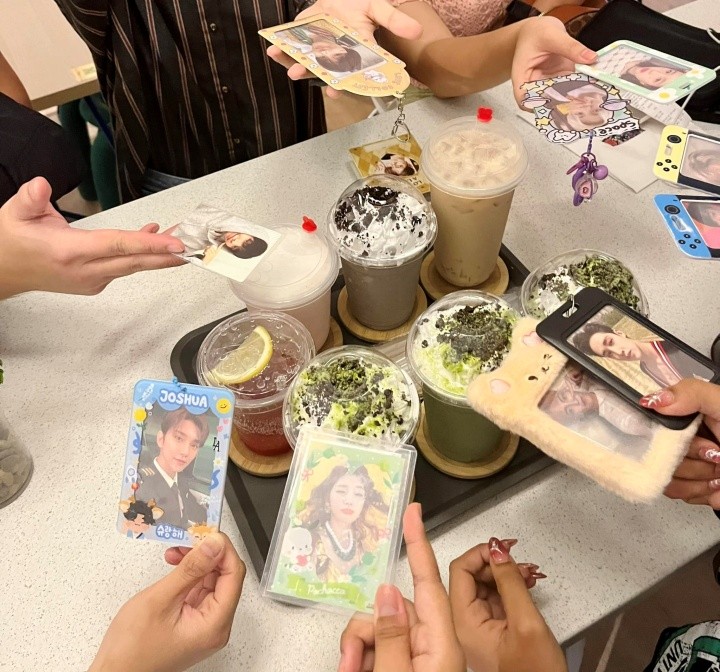 Curious about their offerings? Chingu Dachi has a variety of delectable beverages and food that will keep you fueled when studying, working, or meeting with friends. Coffee drinks start at P65 for espresso, while non-coffee drinks start at P122 for a cup of hot chocolate. They also have ice-blended coffee and cream-based drinks like Dark Mocha and Ppong Crush, which are both P160.
View this post on Instagram
When you get hungry, they have pasta, pastries, waffles, and sandwiches.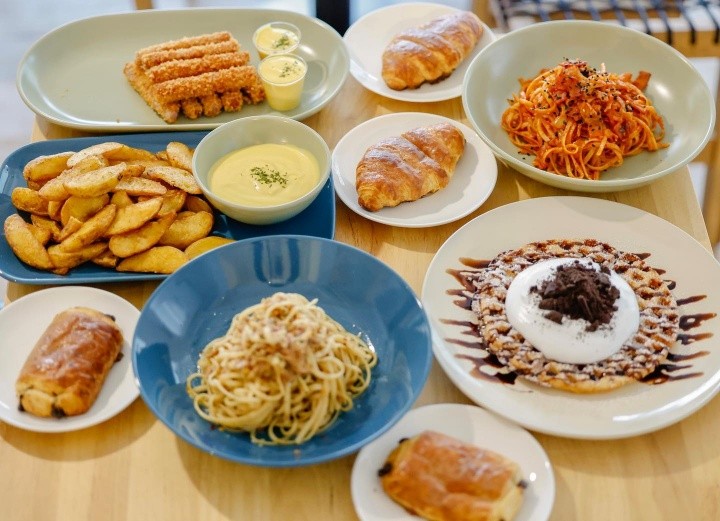 See their full menu here.
You can also buy merch here
Chingu Dachi first started as a K-Pop and J-Pop merchandise store in BF Homes and you don't have to travel to Paranaque to get your hands on their merch selection. There's a merch corner inside the cafe, so ensure you're prepared with your merch wish list when you visit, as you might find them here.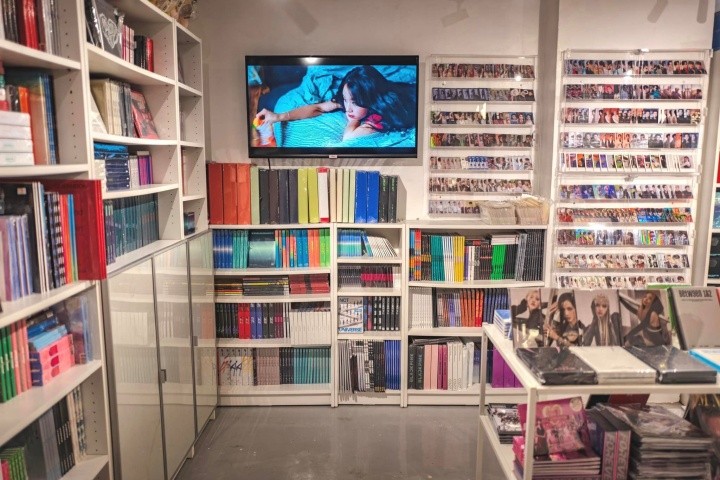 From photo cards and albums to plushies, it's merch heaven for stans.
Location and operating hours
Chingu Dachi Cafe is located at 2/F 1655 Margal cor. Don Quijote St., Sampaloc, Manila. They're two blocks away from UST Hospital gate, above 7-Eleven.
The cafe is open from Tuesdays to Sundays from 12 PM to 9 PM.
For more information and updates, follow Chingu Dachi on Instagram and Facebook.
Be Your Own Photographer at These 12 Self-Shoot Studios in the PH
Be Your Own Photographer at These 12 Self-Shoot Studios in the PH
Ina Louise Manto | Feb 16, 2023
Looking for other places to explore? Join WindowSeat.ph's official Facebook community What's Your Trip PH for more recos!