LOOK: You Can Now Experience Glamping at Singapore Changi Airport
No flights? No problem.
by Ina Louise Manto | November 24, 2020
You've probably stayed at an airport overnight due to a delayed flight, but never because you simply wanted to be there. While we still wait for travel to return to normal, establishments have been finding unique ways to have a semblance of travel, even if it's in the oddest ways. If you've ever dreamed of staying at an airport just because, Singapore Changi has come up with ways to maximize their facilities, even for guests who aren't flying anywhere.
Changi Festive Village
Hailed as the world's best airport for eight consecutive years, Singapore Changi Airport balances functionality and leisure. The airport connects passengers to over 200 destinations worldwide and while they wait for their flight, passengers can explore the airport's facilities, including the world-famous Rain Vortex and idyllic Shiseido Forest Valley. No wonder why even non-passengers would want to get a glimpse of the scenic airport.
From November 30, 2020, to January 3, 2021, guests can explore Changi Airport like never before with the Festive Village experience. From themed activities, stays, and craft workshops to educational camps, Changi Airport is opening three of its areas: Jewel, Terminal 3, and Terminal 4 for the public to enjoy.
Glampcation at Shiseido Forest Valley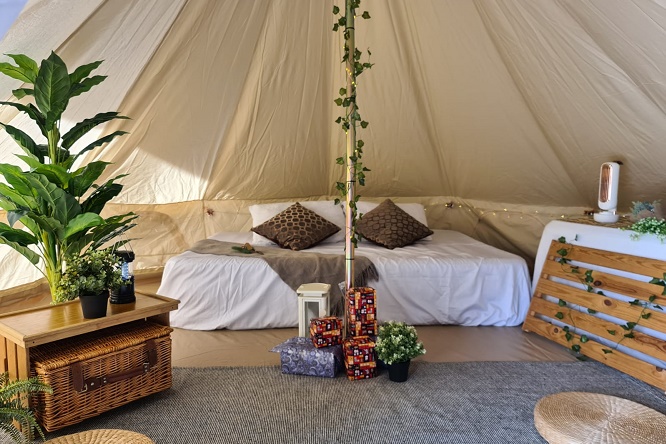 Ever wondered what it's like to wake up to an indoor garden? Boasting over 60,000 shrubs and 900 trees and palms, Shiseido Forest Valley is truly a sight to behold.
At SG $320 per night on weekdays, guests can enjoy a glamping tent that can accommodate up to four adults or two adults and three children, this glamping tent has two queen-sized beds, pillows, and even a shower – everything you'll need for an overnight stay. On top of that, guests also have access to other locations under the festival and discounts.
Glampcation in the Clouds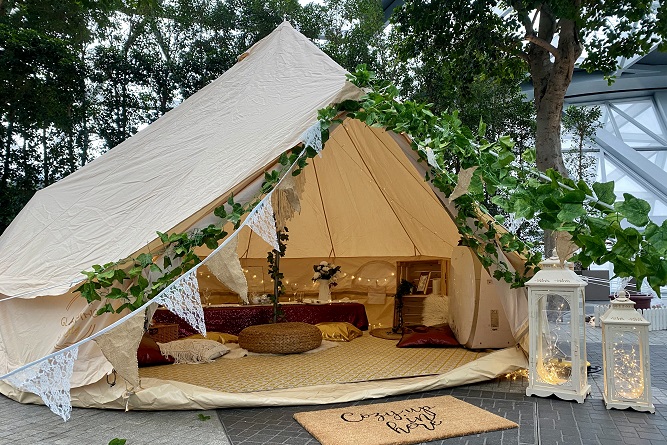 Fall asleep under the stars and a breath-taking view of the famous seven-story high Rain Vortex with this experience. At SG $320 per night on weekdays, the four-meter glamping tent can accommodate up to three adults or two adults and two children. Adorned with vines, rustic interiors, and fairy lights, it's a garden experience that families would enjoy.
The tent comes with a queen-sized bed, cooler box, pillows, cushions, toiletries, and 75 minutes access at Showers at Changi Lounge. Guests can also enjoy exclusive perks like tickets to Changi Experience Studio and Canopy Park.
Glampicnic in the Clouds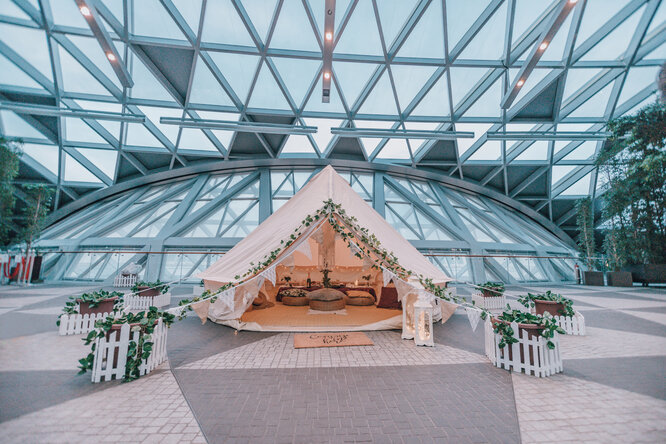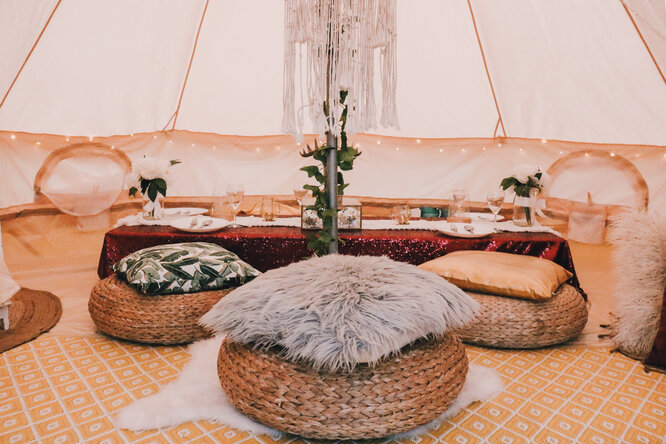 The Glampicnic in the Clouds experience is perfect for those who don't want to stay overnight and wish to have an indoor garden picnic experience. Complete with a table setting and wine, the air-conditioned glamping tent is decorated to provide an IG-worthy experience. Located in the same lush garden, guests can relax for three hours and enjoy idyllic views for SG $160 for three hours.
The Glampicnic package isn't inclusive of food. Guests can bring their own spread or order at the airport.
Would you want to book an experience at Singapore Changi Airport? For more information and updates, visit the airport's official website or Changi Festive Village.