Japan's Sakura Season Will Come a Little Earlier Than Expected This 2020
If you're visiting Japan in late March, you're in for a treat!
by Kyzia Maramara | January 13, 2020
Who hasn't dreamt of visiting the Land of the Rising Sun at least once at the height of its cherry blossom season? It's on every traveler's bucket list and for good reason! Sakura season signals the start of spring and it brings a different vibe to Japan. You can join locals during their popular cherry blossom viewing known as hanami, take stunning photos with the pink blooms as backdrop, or enjoy seasonal sakura treats offered by a lot of shops.
This year, kaika, or the blooming of the blossoms, will come a little earlier than expected. With the warm weather still prevailing over the country, blossoms will start showing as early as March 19 for Tokyo and will reach full bloom on March 27.
For popular spots in Osaka and Kyoto, the blossoms will bloom starting March 27 and reach full bloom on April 1.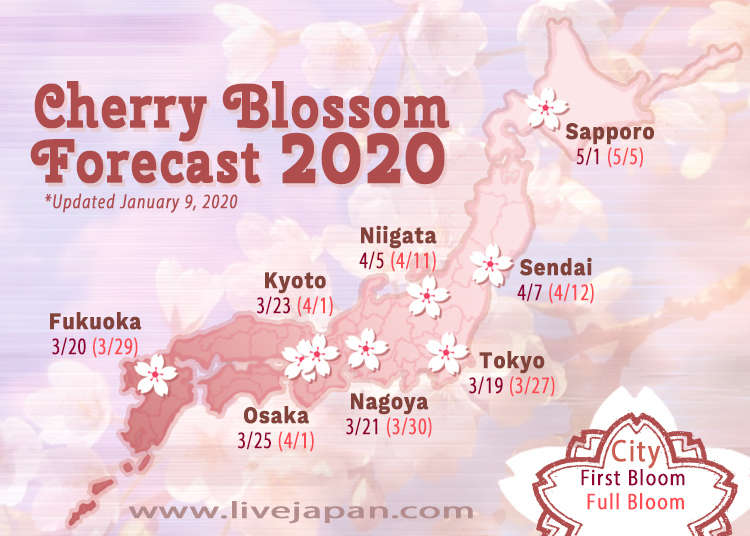 READ:
Your Ultimate Guide to Cherry Blossom Viewing in Japan
7 Spectacular Spring Festivals You Should Experience in this Lifetime
Unbelievably Stunning Cherry Blossom Destinations Outside Japan
But the forecast, which comes from Japan Meteorological Corporation, is subject to change. To get regular updates by JMC on where you can catch the full bloom of the cherry blossoms at about 1,000 cherry blossom viewing locations, download the Sakura Navi app on iOS and Android.
Will you be visiting Japan this cherry blossom season?