Book Your Next Photoshoot at This Netherlands-Inspired Resort in Davao Del Sur
It's right at the foot of Mt. Apo!
by Jon Christoffer Obice | September 16, 2021
The Netherlands is known for its breathtaking destinations and unique culture, which make it one of the most popular destinations in the world. From its biker-friendly streets, beautiful canals, and fascinating museums, to its famous tulip fields and charming windmills, the Netherlands definitely deserves a place on our travel bucket list.
The downside, though, is the not-so-budget-friendly cost it usually takes to travel to this country. And now with so many travel restrictions, visiting the country has become more difficult than ever. But no worries! This captivating Netherlands-inspired resort in Davao Del Sur may be the next best thing.
Jardin De Señorita
Located at Sitio Bacoco, Barangay Kapatagan, Jardin De Señorita is just 40 minutes to an hour away from Digos City proper. It's even nearer when you're coming from Bansalan. You'll be there in half an hour. The best thing is, the entrance fee only costs Php 100 per person!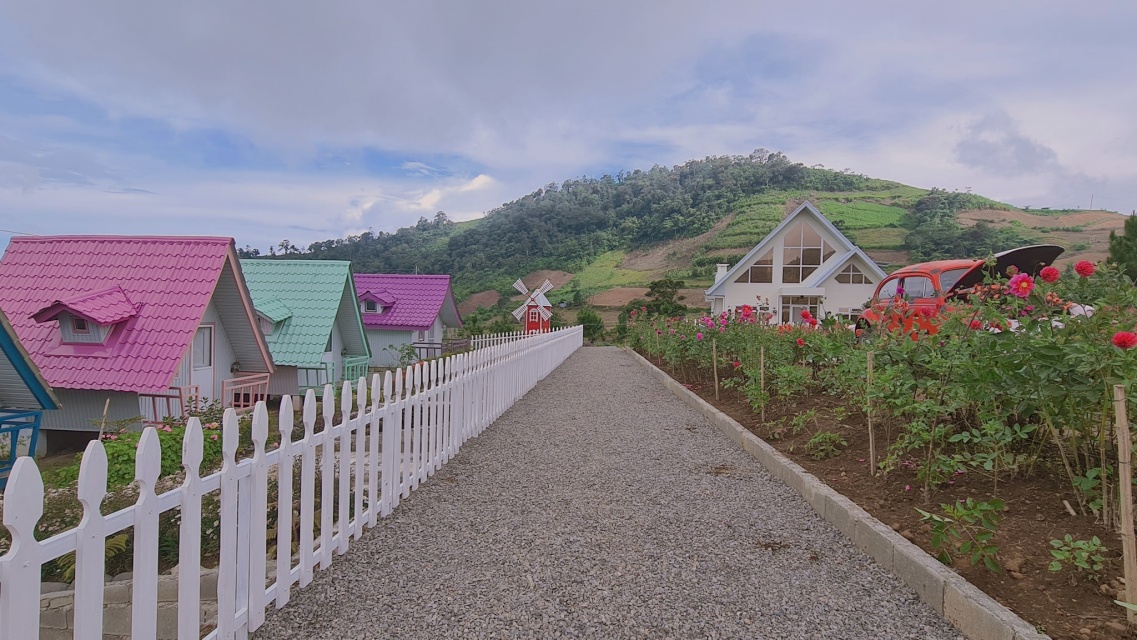 Breathtaking Scenery
Every spot at this newly-built resort is Instagram-worthy, so make sure to bring your most flattering poses and OOTDs. You'll be greeted by the relaxing scenery of picturesque mountains, lush greenery, and fields of pretty flowers. The cool temperature will even remind you of Baguio's atmosphere, and on a clear day, you'll be treated to fantastic views of Mt. Apo.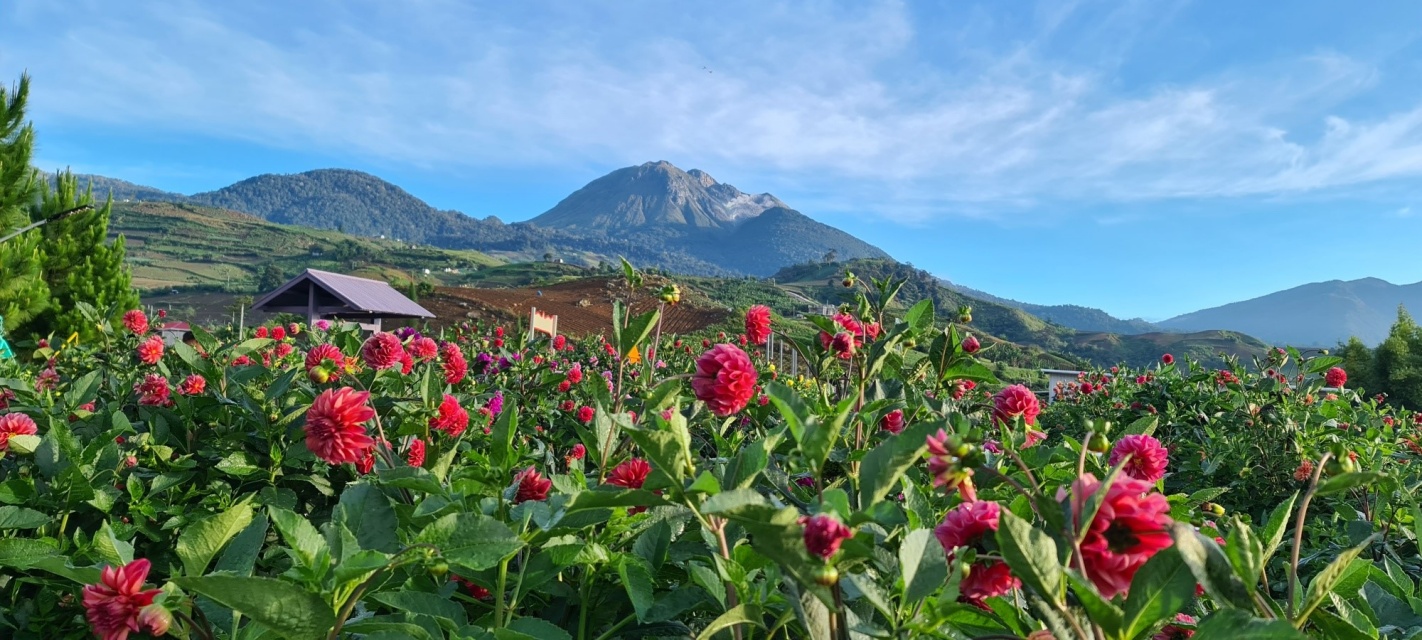 IG-Worthy Spots
Since it was only opened to the public recently, some of the resort's areas are still under construction, including the café and restaurant. But that doesn't mean you'll run out of activities to do quickly. You can strike a pose and explore different camera angles in various locations within the resort. This haven's most eye-catching attractions are its colorful lineup of dwarf houses, the White House, and a miniature red-and-white windmill. And when you want to take a breather, comfy hammocks, Adirondack chairs, and benches are dotted all over the resort.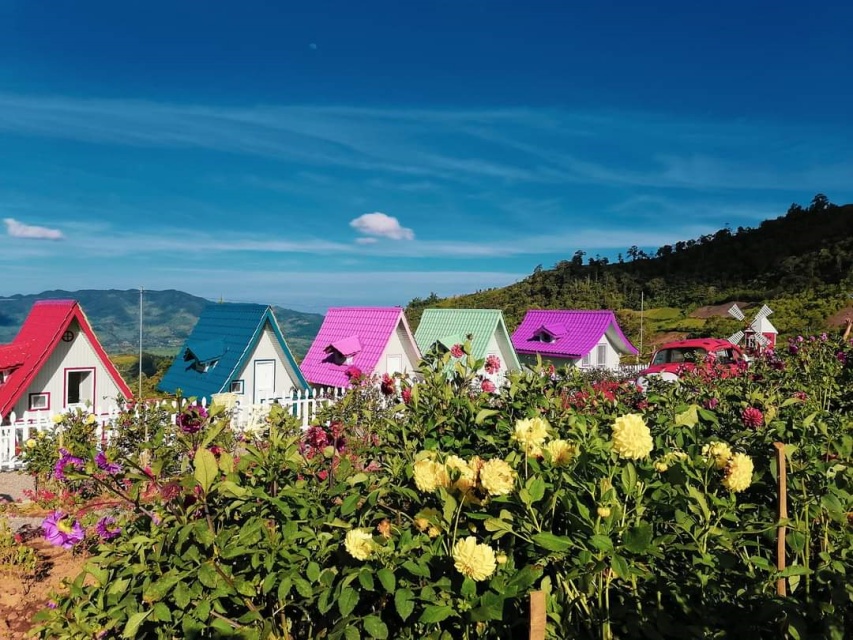 Photoshoot Packages
While some of its areas are still under construction, Jardin De Señorita offers affordable packages ideal for your next photo shoot. Be it for your prenup, birthday, or just a leisurely challenge to update your Instagram feed, the resort is open for booking daily from 8 AM to 5 PM.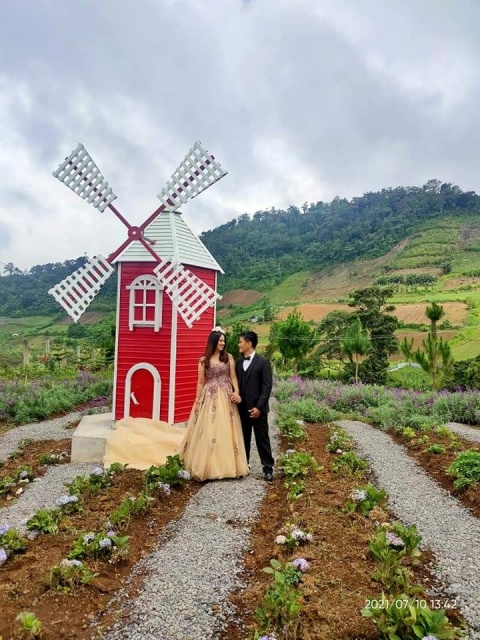 Rates start at Php 4,000 for a group of 6 persons. This 6-hour package includes a 1-hour photoshoot at the White House. Around 2 to 3 persons in your group can also use one of the resort's five dwarf houses, which can serve as your dressing room. The dwarf houses are furnished with water dispensers. You can also request servings of coffee or tea good for 6 persons. Additional people will have to pay Php 200 each.
Note that outside food and drinks are not allowed inside the resort, so make sure you eat a healthy serving beforehand.
Some Reminders
Due to the ongoing COVID-19 pandemic, Jardin De Señorita has to comply with health and safety protocols. Don't forget to wear your face mask and face shield, and observe proper physical distancing at all times. If you're feeling unwell, you'll need to reschedule your visit.
Jardin De Señorita does not accept walk-ins at the moment. For reservations, you can contact them at 09633122838. You can also book your stay and check the resort's latest updates through their Facebook page here.
READ MORE:
Local Guide: The Best 24 Hours in Davao City
This Newest Attraction in Davao is for those Who Want to Conquer Their Fear of Heights
5 of the Most Bucket List-Worthy Obscure Philippine Destinations: Mindanao Edition