Pack Your Bags and Work from Siargao at this Artsy Hotel for P9.5k a Month
The P9,500 rate/pax is for a minimum of 4 persons per room.
by Ina Louise Manto | September 15, 2021
If you've been dreaming of going to the beach for a change of scenery, you're not alone. While several beach resorts can be found near the metro, there are a bunch who want to take their remote working setup to another level: try moving to an island and embracing the beach life. Of course, it's not easy to just pack your life in a suitcase and leave the city in a heartbeat, but this art hotel will let you try a month-long stay on the island of Siargao starting at P9,500. 
Work from paradise at Pepito's Art Hotel 
We've all been staying indoors for too long and it's understandable that you might crave a change of workplace if you follow a remote work schedule. If your dream workplace is somewhere sunny and filled with dreamy motorcycle rides on roads lined with tall coconut trees, this might be your sign to finally take the chance and experience Siargao for a whole month. Nestled right in the heart of General Luna, Pepito's Art Hotel is a newly-opened stay where you can commune with fellow travelers looking for a change of scenery and lovers of art.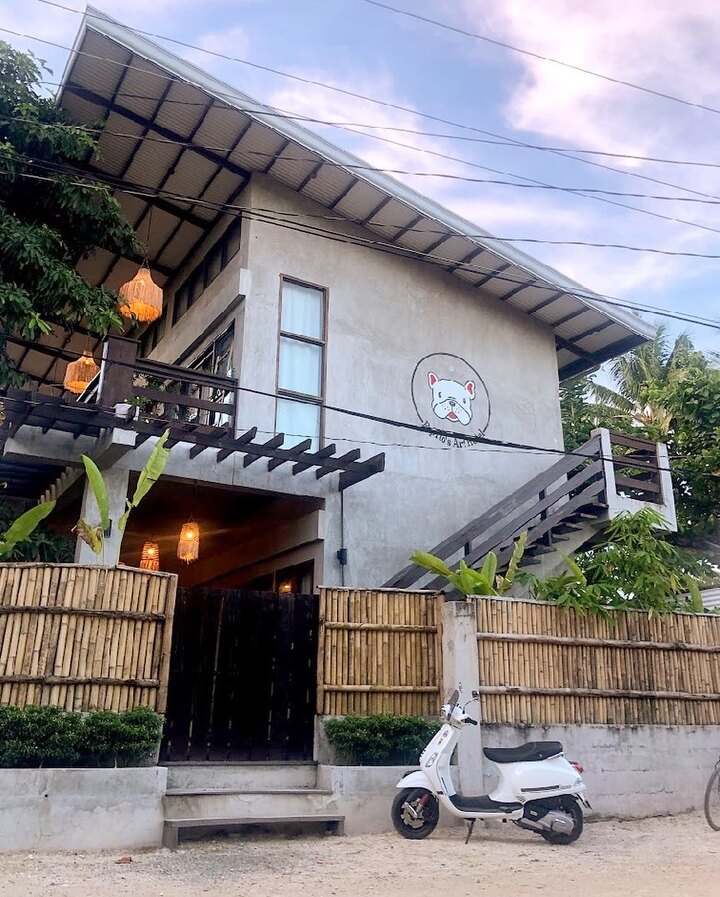 Bring your closest friends or your favorite officemates as Pepito's offers a Barkada Room package with a minimum of 4 adults for P9,500 a month. At this rate, you can already enjoy access to the facilities this artsy and bohemian hotel has: a room with 2 queen beds, fans, a television, access to the balcony, and most importantly, a free WiFi loadable modem.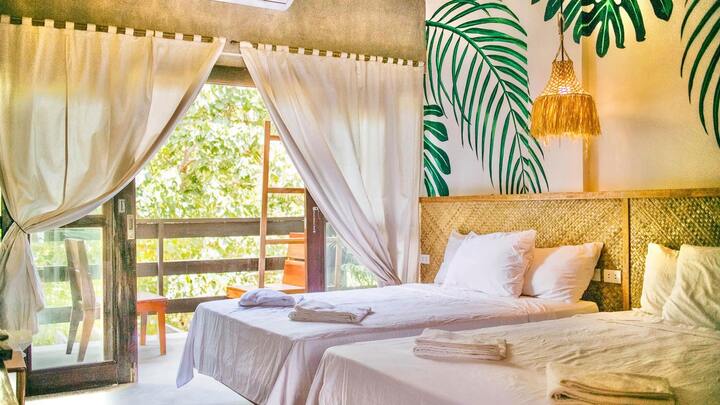 On days where you can't explore the island because of work, you can simply chill by the pool area to enjoy the weather. There are rattan tables and chairs by the pool; when you begin feeling sluggish from work, you can just jump straight to the pool!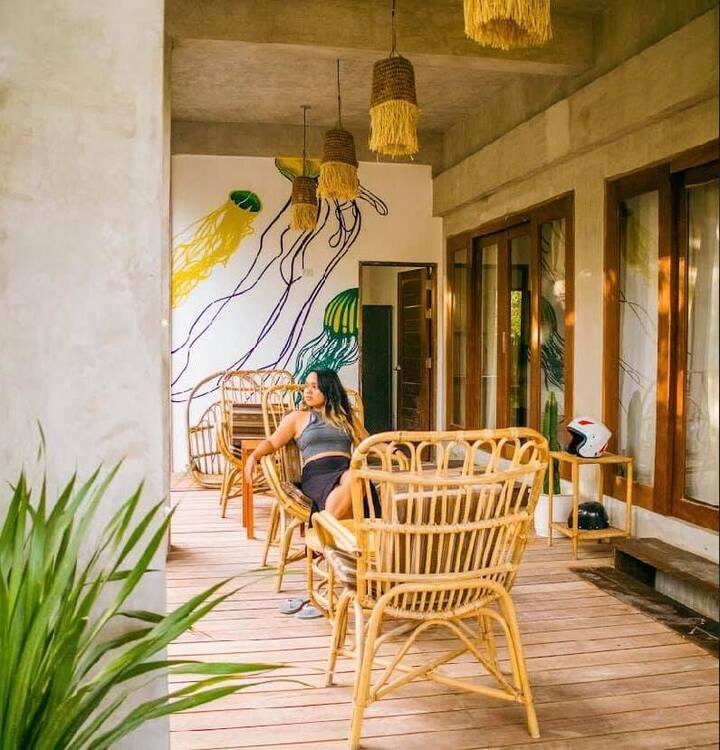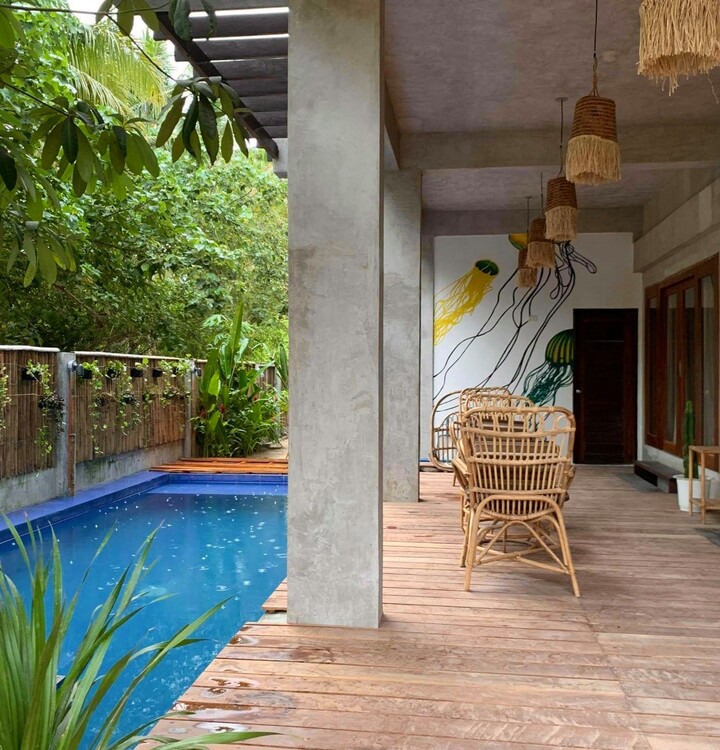 Don't worry about spending too much on takeout; you'll also have access to the shared kitchen at the hotel. Since it's conveniently located right in the heart of the town, you can easily buy ingredients in nearby stores and wet markets.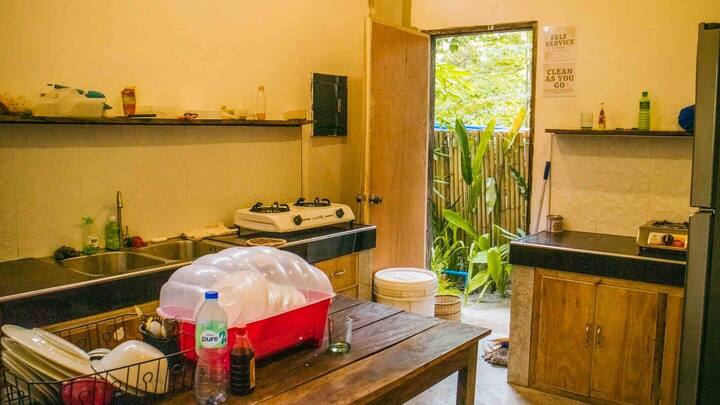 The package also comes with free rebooking valid for one year as well as free general cleaning for your room. 
Other room rates 
Here are the other room rates Pepito's offers, which are inclusive of the same amenities and access as the package for a group of 4: 
For 3 pax, monthly rate is at P11,000 per person 

For 2 pax, monthly rate is at P11,500 per person 
Again, the P9,500 monthly rate is for a minimum of 4 pax. These rates apply from September to November 2021. Pepito's Art Hotel also offers regular overnight stays, with rates starting at P 2,399 per night via Airbnb.
Ready to Get Salty? This Resort Will Let You Experience the Best of Siargao
Ready to Get Salty? This Resort Will Let You Experience the Best of Siargao
Ina Louise Manto | Jul 06, 2021
For inquiries about the monthly package, bookings, and more information regarding travel requirements to Siargao, visit Pepito's Art Hotel's Facebook page.