Embrace the Island Life and Find a Home Away from Home at this Villa in Siargao
A private paradise without driving too far from General Luna and Cloud 9.
by Ina Louise Manto | December 06, 2021
In case you haven't noticed it yet, more and more people are flying to Siargao; whether it's just for a quick getaway with the barkada or a month-long work-from-paradise set up, everyone can't get enough of the sunny island. If you're planning to treat yourself to a trip to the island too, this newly-opened private villa might be your next home away from home.
Mango Tango Villa
Tucked in a quiet area of General Luna, Mango Tango comprises two stylish villas you can call home on your next trip to the island. If you're looking for a peaceful stay without sacrificing the convenience of having the heart of General Luna and the famous Cloud 9 near you, these villas are perfect.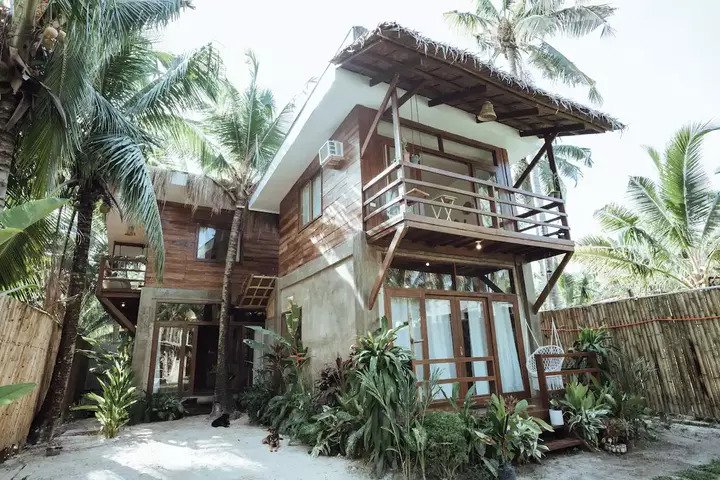 Surrounded by a lush jungle and a spacious outdoor area, a private villa at Mango Tango features two floors. According to the owners, the stay feels more like home than a resort, which is perfect you're planning to stay long term. On the ground floor, you'll find a fully equipped kitchen.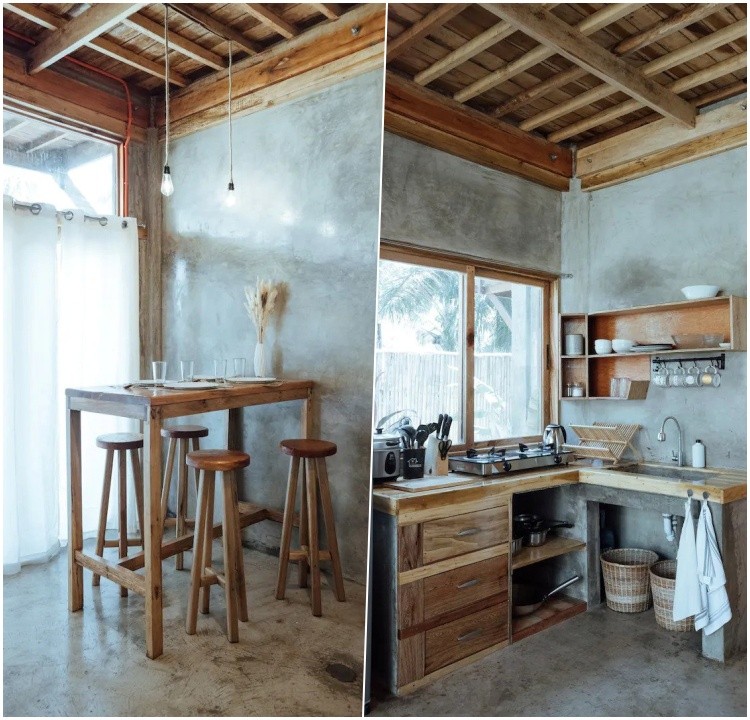 Stay in, improve your cooking skills, and save up on expenses on the island! The kitchen has everything you need: from cooking utensils and dinnerware to appliances. It also has a picturesque dining area, which can double as a WFH nook if you're staying long term.
You'll also find the private toilet and bath here, featuring an outdoor jungle-like shower. If you've ever dreamed of posing with your swimmies other than at the beach, this is the ideal place for an insta-shoot!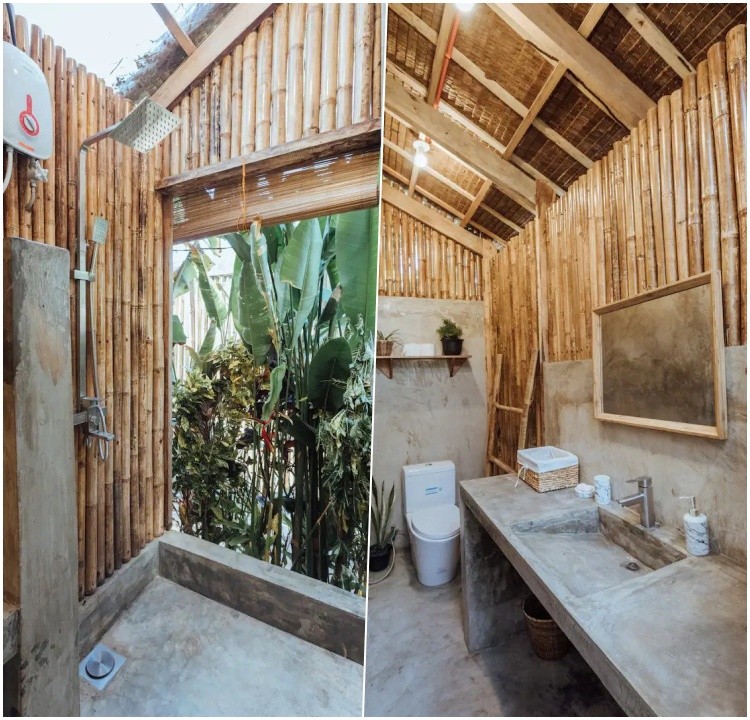 A living area is just across the kitchen – a comfy nook for catching up on your to-read list.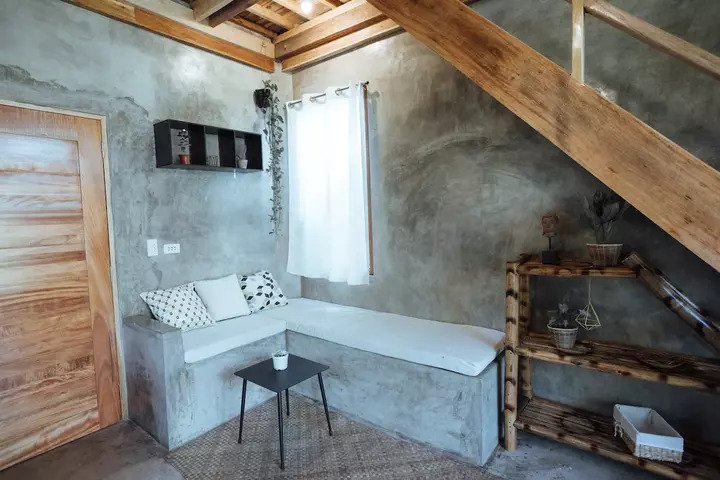 The upper floor
Mango Tango can accommodate up to four guests. Whether you're bringing your family, fave officemates, or closest friends, your group will be accommodated here comfortably. Located on the upper floor is the main sleeping area, where you'll find a four-poster queen bed. It has a pull-out bed as well.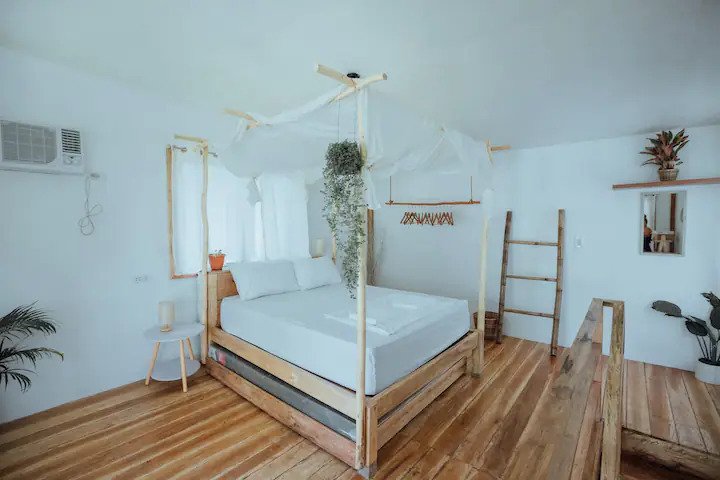 Ready your post poses too, the bedroom looks straight out of one of your Pinterest boards!
One of the best things about the villa is the balcony. With floor-to-ceiling glass panels, you'll get a full view of the surrounding garden and front yard, which also makes the room feel brighter and spacious.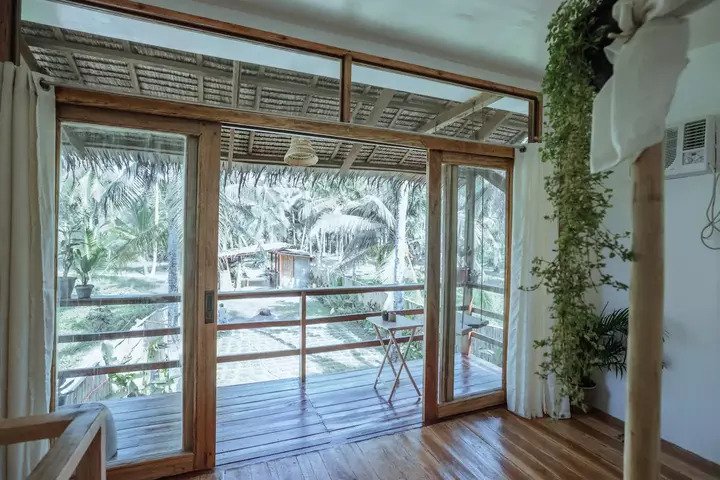 Mango Tango is located along a backroad of General Luna, in front of Vedya Restaurant. Rates at Mango Tango start at P2,700 per night. Book your stay here.
This Unique A-Frame Loft Will Let You Enjoy a Tropical Paradise for P3,700 a Night
This Unique A-Frame Loft Will Let You Enjoy a Tropical Paradise for P3,700 a Night
Ina Louise Manto | May 21, 2021
For inquiries and more information on travel requirements, contact the Airbnb host or visit their Instagram.