Here are the Metro Manila Parties to Check Out This Halloween
Is your costume ready?
by Tynne De Leon | October 20, 2016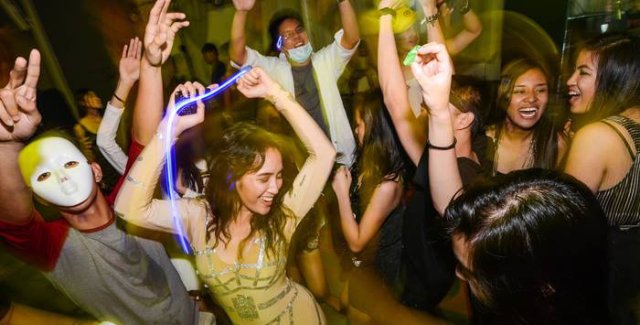 Halloween is coming! Aside from the usual neighborhood trick-or-treat and horror film marathons, why not go out there and experience the Halloween vibes with a crowd? I mean, come on, it's one of the most-awaited seasons in the metro!
Whether you want to go to a club or to a costume event, there's always a Halloween party in the metro that best suits you. Make your Halloween senses tingle by heading to these spooky celebrations in town.
Today x Future Halloween 2016
Today x Future, Cubao, Quezon City
October 29 (7 p.m. to 5 a.m.)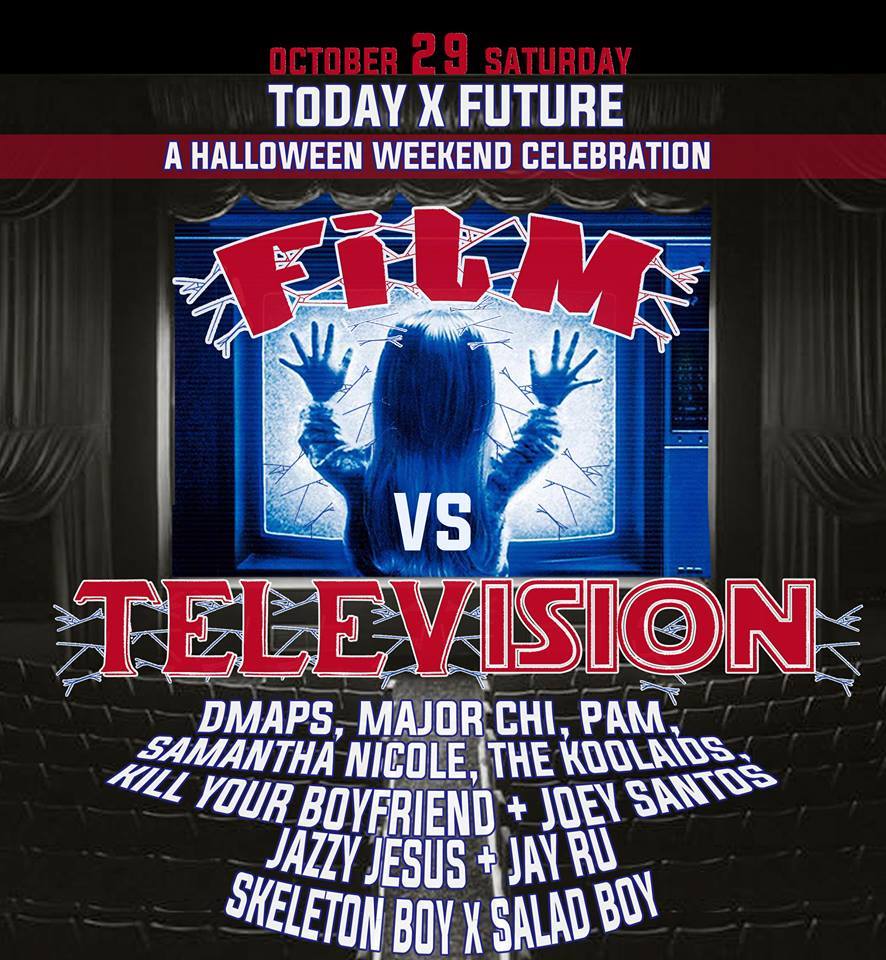 Get ready for an all-night dance-a-thon in one of the hippest venues in downtown Quezon City. This year's theme is #FilmVSTelevision, so unleash your inner movie star by dressing up as your favorite film character and you can win exciting prizes.
Lineup consists of DJ sets by: DMAPS, Major Chie, Pam, Samantha Nicole, The Koolaids and many more. Click here for more details.
Space Odyssey: The Palace Halloween Ball
Valkyrie Nightclub at the Palace, Uptown Bonifacio, Taguig City
October 31 (10 p.m. onwards)

Compared to last year's GoT-themed Night of Thrones, this year would be a spectacular out-of-this world celebration as the Palace brings us to the Space Odyssey on Halloween eve. And just like the past years, everyone in the solar system is encouraged to wear their most creative Halloween costumes as the Pool Club transforms into Moon, Valkyrie as Space Station and Revel as Mars.
There will be prizes for the best costume, so you better start prepping your Space Odyssey-est outfit now. Click here for ticket reservations.
Stranger Winks
Hoodwink, SM Aura Premier, Taguig City
October 22 (7 to 9 p.m.)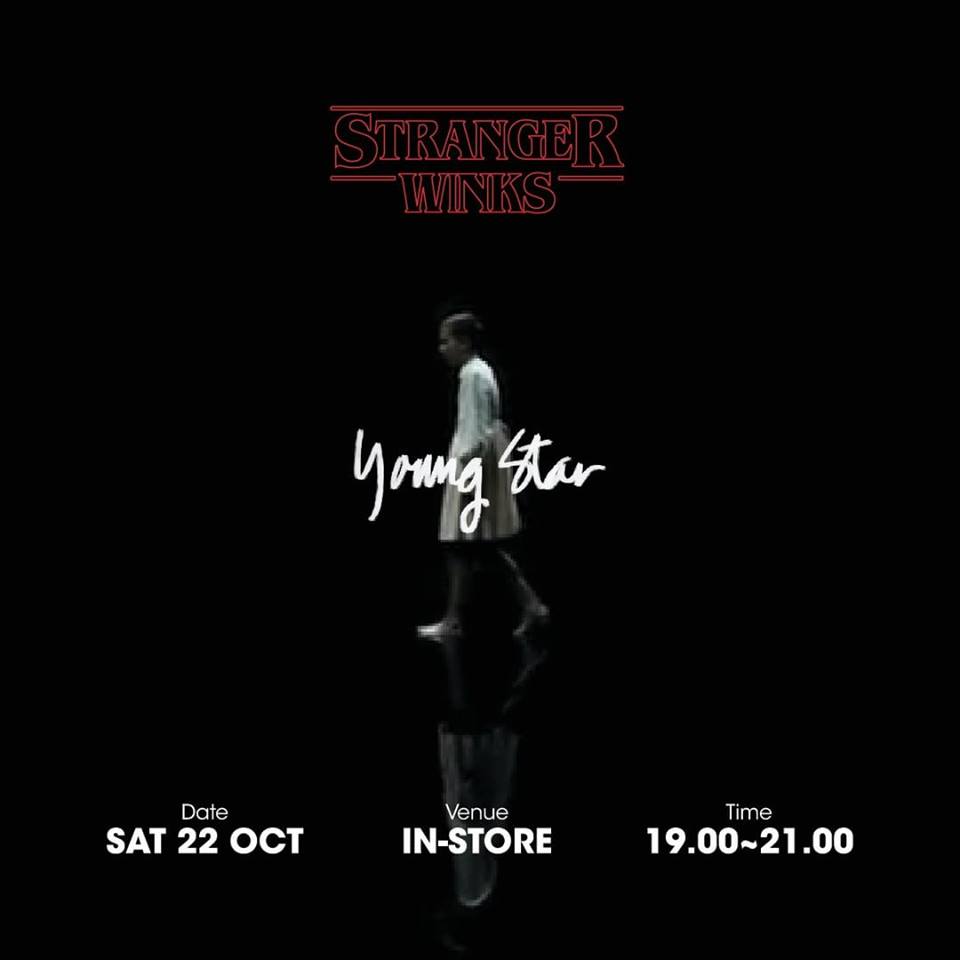 On its third anniversary, Hoodwink will flips Upside Down with their Stranger Things-themed party on October 22 at their store. This is your chance to cosplay your favorite Stranger Things character and win Hoodwink goodies! Don't worry, there are a lot of DIY costume ideas you can copy from the internet, so you'll surely slay that party!
You can also create an '80s-themed playlist to be played at the event and win prizes if yours gets picked. Click here to see the event.
The Mighty Comicon: A Halloween Bash 2016
Vivere Hotel, Alabang, Muntinlupa City
October 29 (10 a.m. to 2 p.m.; Registration starts at 9 a.m.)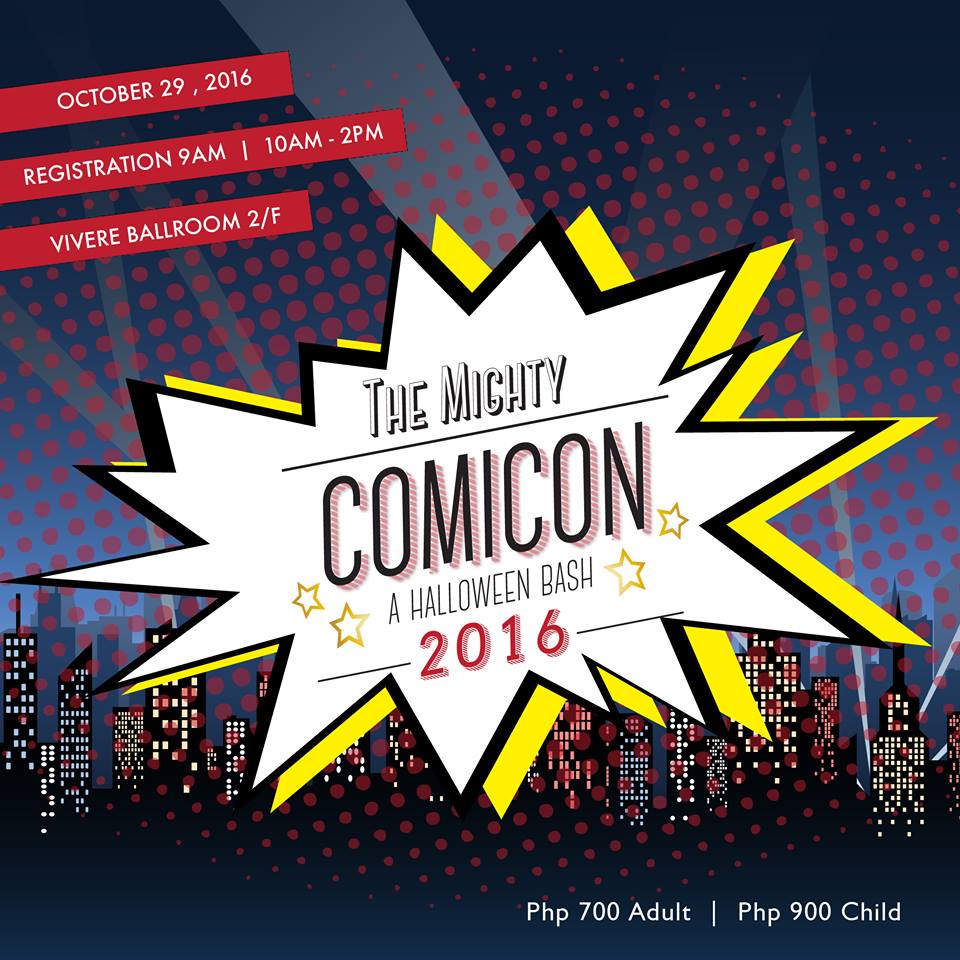 Kids and kids-at-heart! Get in your best Halloween cosplay in the early Halloween celebration of Vivere Hotel at their grand ballroom. Who knows, you might take home the XBOX 1S grand prize on the costume contest, so slay that Halloween game.
There are limited seats, so reserve now by calling 771-7777 or e-mail them at fnbinformation@viverehotel.com.ph.
Spooky Family Halloween
Diamond Hotel, Roxas Blvd, Manila
October 30 (10 a.m. to 2 p.m.)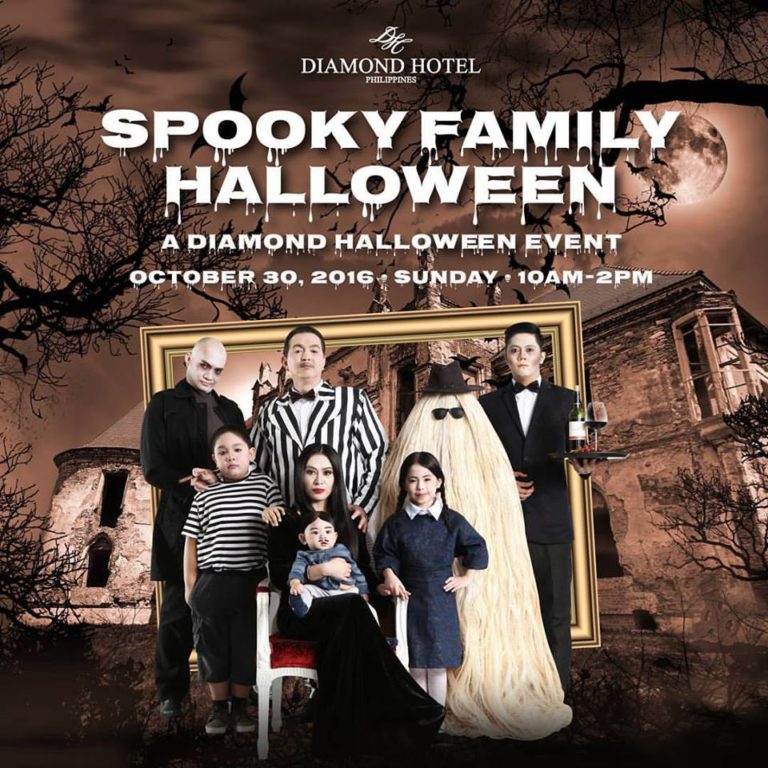 Not only is Halloween for horror junkies, it can also be a bonding excuse for the whole family! Take them to the "Spooky Family Halloween" in Diamond Hotel and take part in the spooktastic activities such as the face painting, trick-or-treating around the hotel, photo booths, food stations and many more. There will also be a stunning performance from an illusionist and a live musical show.
Best costume wins a new Samsung Gear VR! Tickets are available for PHP980 nett per person. For more inquiries, call (632) 528-3000 ext. 8461.
Harry Potter Trick or Treat at Crimson School of Witchcraft and Wizardry
Crimson Hotel, Alabang, Muntinlupa City
October 29 (2 to 5 p.m.)
Wizards, rejoice! The Crimson Hotel at Filinvest City will host a Harry Potter-themed Halloween party and will transform into a school of witchcraft and wizardry on October 29. While it's a kid's party, adults are also allowed to join the fun. Who said that we're too old for Harry Potter?
The magical afternoon includes a magic show, Azkaban horror house, Half Blood Prince cookie design booth, The Goblet of Fire kiddie games, The Chamber of Secrets kids salon, Meet and Greet with Harry Potter and Harry Potter film showing (with unlimited popcorn!).
Tickets are PHP998 each (entrance, food and loot bags) and kids 2 years old and below join for free!
To know more about this exciting event, contact Yelle of Crimson Hotel Events at 863 2222 local 1204 / 0998 590 0435 or email at alabang.eventsmgr5@crimsonhotel.com.
Nightmare Run
SM Mall of Asia by the Bay, Pasay City
October 30 (6 p.m. onwards)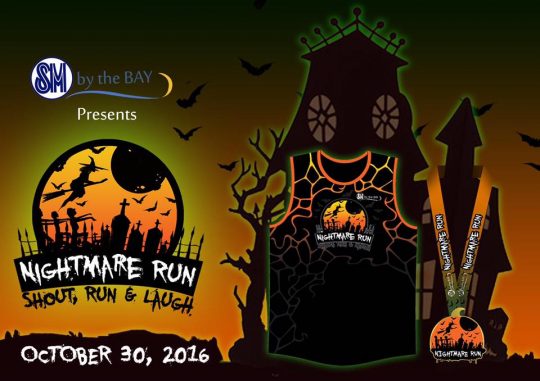 Another family event, AffiniTea Run takes Halloween to another level by hosting a 3km run with spooky surprises along the way! Run like the zombies in Train to Busan and enjoy trick or treats from fairies and Encantadia sang'gres in the race track.
10 individuals and two groups will win awards for the best costumes! Click here for the mechanics.
Registration is ongoing until supplies last and you can claim your race kit on the day.
Monsterrific Halloween
The Fields at Nuvali, Sta. Rosa, Laguna
October 22 (Gates open at 2 p.m.)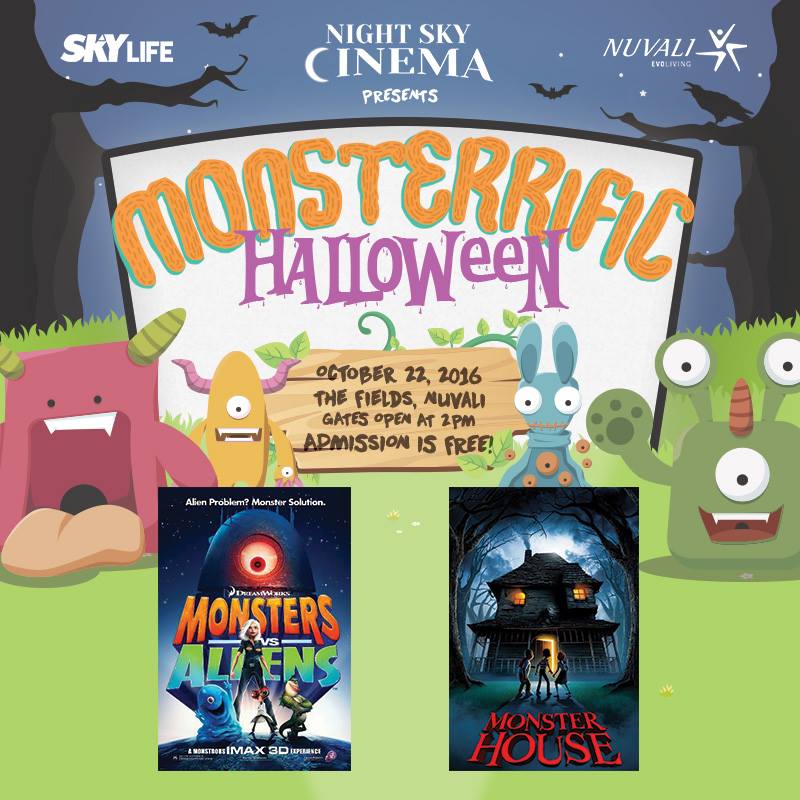 Technically not in the metro, but spending Halloween night under the stars is such a great idea, you won't mind the few drives away from the city. Spend your pre-Halloween by watching Monsters vs Aliens and Monster House with your friends on October 22, Saturday at Nuvali.
Gates open at 2 p.m. and admission is free so don't miss out! For more details, visit Nuvali's Facebook page.
La Fuerza Plaza Halloween Party
La Fuerza Plaza, Chino Roces Avenue, Makati
October 31 (8 p.m. onwards)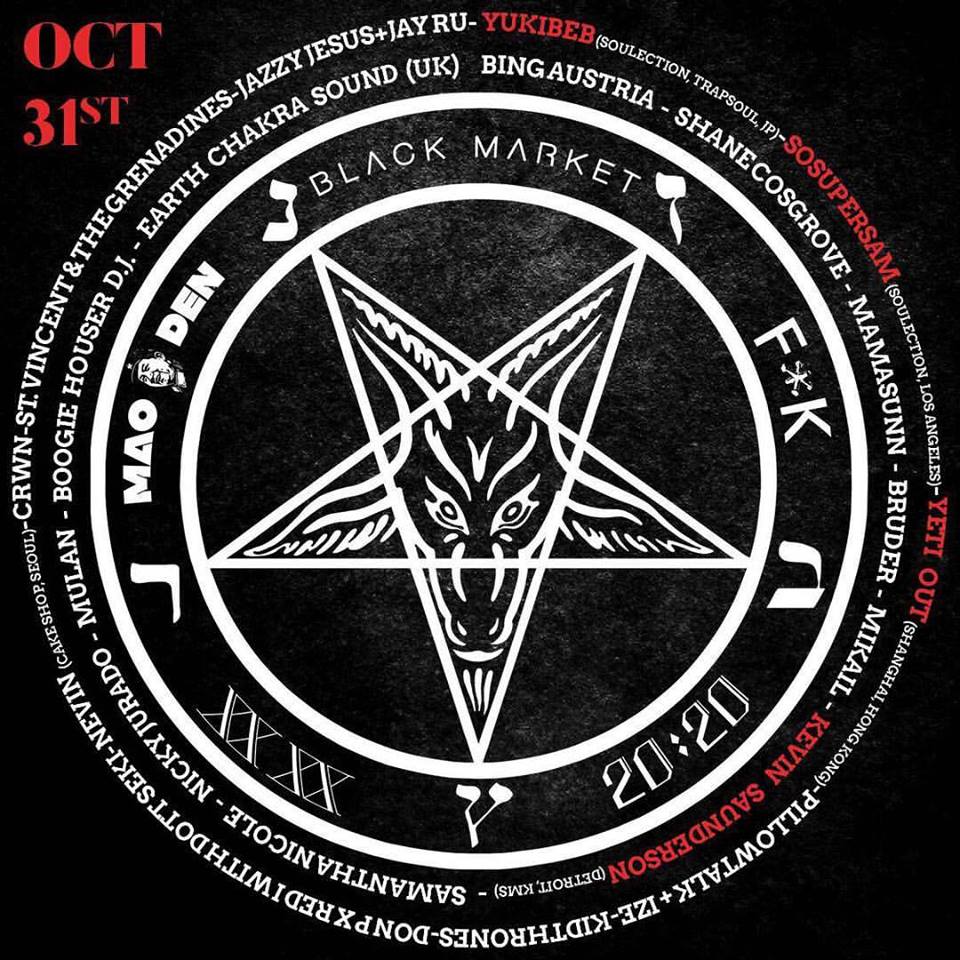 If you're looking to party this Halloween, one venue is clearly not enough. Thus, five La Fuerza venues: Black Market, 20:20, XX XX, Finders Keepers and Mao Den will celebrate Halloween in one night! With the huge lineup and exciting atmosphere, it's one massive party you and your friends shouldn't miss.
Check out their Facebook pages for more details!
Sexy Halloween Party
Alchemy Bistro Bar, Poblacion, Makati
October 28 (9 p.m. onwards)

Flaunt your assets in the sexiest Halloween celebration in town! Dress as Harley Quinn or recreate your favorite icon in Alchemy's Sexy Halloween Party on October 28. You can win exciting prizes so start prepping your best sexy costume now!
Visit Alchemy Bistro Bar's Facebook page for more details.
Secrets of the Dead: A Halloween Party
Darkside Restaurant, J. Nakpil Street, Manila
October 31 (8 p.m. to 4 a.m.)

Bask in the spooky world of the Darkside as goth bands take over the place on Halloween! Catch the dark melodies of Norway's KARSTEN HAMRE aka DEFRAKTOR and Manila's Own Danger UNderground: The Late Isabel, Switch, Names Are For Tombstones, Scarlet Tears, Cinema Explosion, Gozo Army, among others.
Click here for the event details.
Disco Fever Halloween Shindig
Route 196 Bar, Katipunan Ave., Quezon City
October 29 (7 p.m. to 3 a.m.)

Get away from all the Elevens and join the '70s Disco Shindig of Route 196! Dressing up is required, so don't be a killjoy and wear your most colorful outfit! Dance to the music of the groovy decade with live performances from itchyworms, Rob & The Hitmen, Maya's Anklet and many more.
There will be a PHP200 door charge (with free drink!) for those who come in costume and PHP300 for those who don't. See the event here.
Got leads for more parties worth checking out? Post them in the comments!