10 Theaters All Cinephiles Should Experience
Because it's not just about the film, it's the experience.
by Leigh Bagtas | September 02, 2015
Back in the day, before there was SFX or surround sound, theaters weren't the always dark, in-mall, cube-shaped places we know them to be. There was a time when they were the attractions.
If you love film, you're in it for the complete experience–and we're not talking about comfortable seats. We're talking about theaters to behold, cinemas to marvel at. Here are 10 that every cinephile should put in their bucket list.
Kurshumli An in Macedonia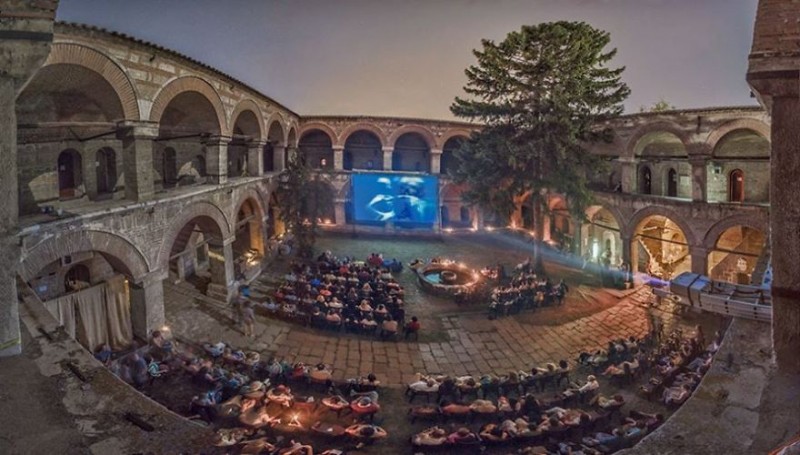 Built in the 16th century, Kurshumli An is a representation of the Islamic architecture and culture that tried to cross European borders. This open-air cinema has window arches, square stone columns and a meticulously crafted fountain right in the middle of the courtyard. Kurshumli An's yard is usually the setting of many cultural events, including theatrical presentations.
Electric Cinema in London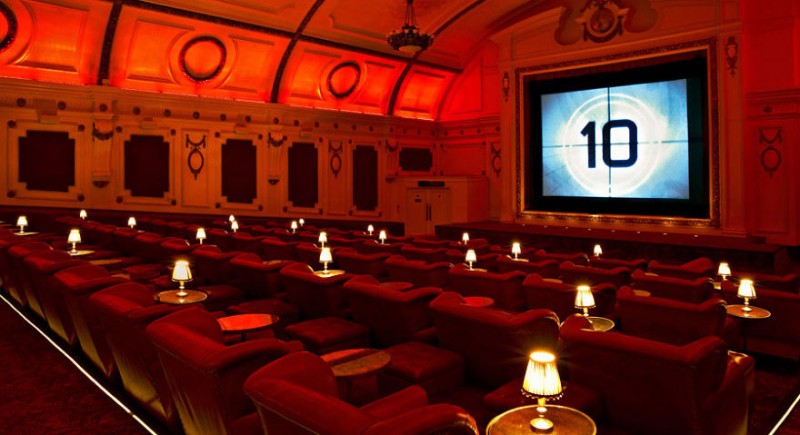 Aside from the mere fact that this cinema looks so British because of its polished leather seats, table lamps and aura of sophistication and elegance, it also houses queen-like double beds in the front row for those who want to want to toss and turn while watching. The 100-year-old Edwardian theater also offers blankets, booze, and snacks.
The Riverbed Cinema in Prizren, Kosovo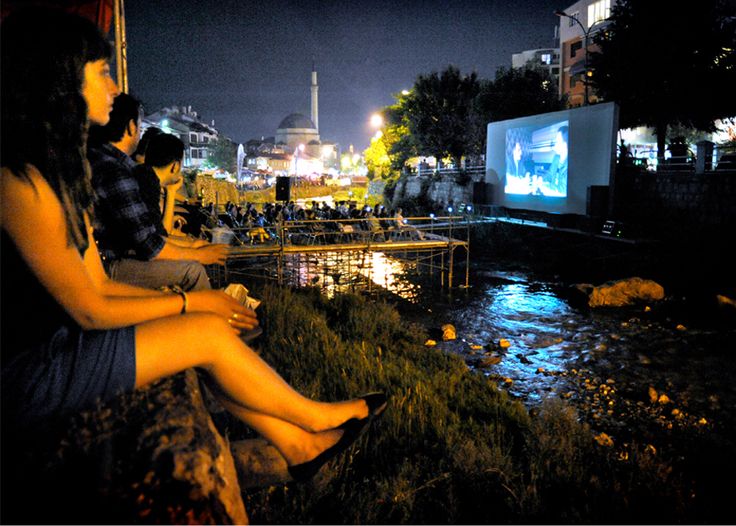 If you're up for a night out on your own, then this should be your go-to cinema. With the fresh air, the peaceful environment, the traffic and city lights away from you, you won't only enjoy your movie, you'll also get to enjoy your surroundings.
Pula Arena in Croatia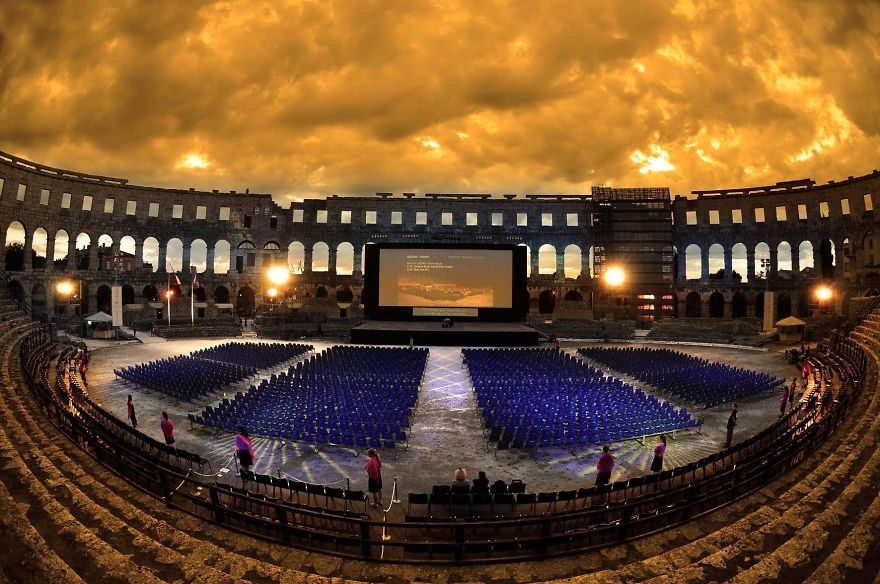 This cinema house will take your breath away. It's literally a Roman arena built back in the 27 BC–tall pillars and columns and all! This was where gladiators fought. You're officially standing on a piece of history. You're welcome.
Cinespia Hollywood Forever Cemetery in California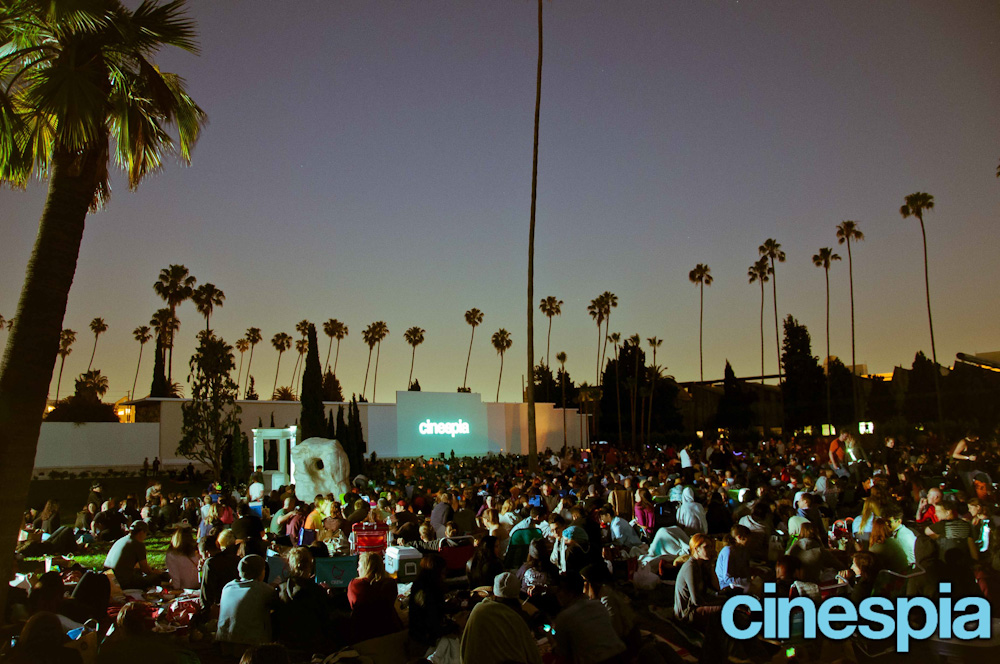 A cinema in the cemetery? You might think it's creepy, but a lot of people actually come up there to catch a good flick. Aside from the resting place of famous Hollywood stars, there were a number of films that were shot within the area (like Valentine's Day and Comet).
Avoca Beach Picture Theater in Australia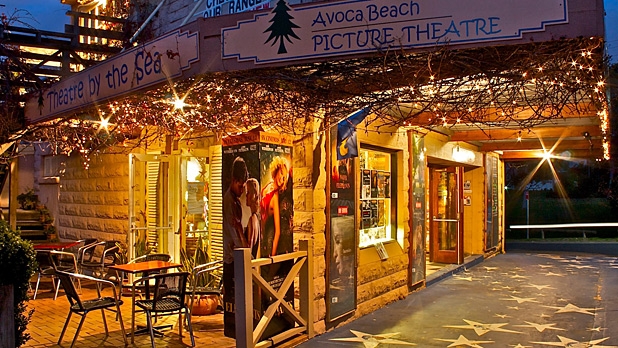 Built in 1951 by brothers Norman and Mervyn Hunter, the Avoca Beach Theater offers more than just good films, it also hosts red carpet premieres, fundraiser events, and even weddings. And come on, it's by the beach. Free swimming after show!
Le Grand Rex in Paris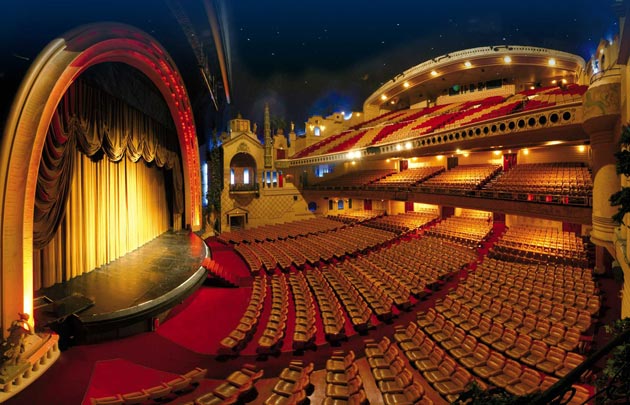 Dubbed as the largest cinema in Europe, Le Grand Rex attracts about 50,000 tourists every year because of its domed tower, fountains, and starred ceiling.
Sci-Fi Dine In in Disney World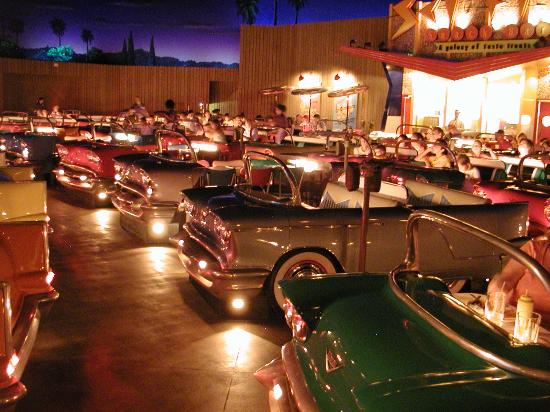 Feeling a little retro? Relive that 50s vibe in this awesome kitchenette-like cinema. It also has classic convertible cars as chairs, resembling drive-in movie theaters from days of yesteryear.
Hot Tub Cinemas in London, New York, and Australia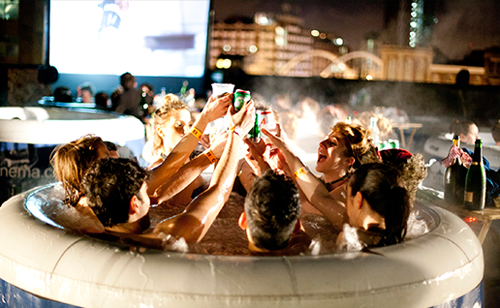 Aside from a relaxing dip in a hot tub, your favorite flick is also at your disposal. This cinema is usually arranged on a rooftop for better view of the horizon and skyline. Oh, and there's an open bar, too.
And finally, the BlitzMegaplex in Indonesia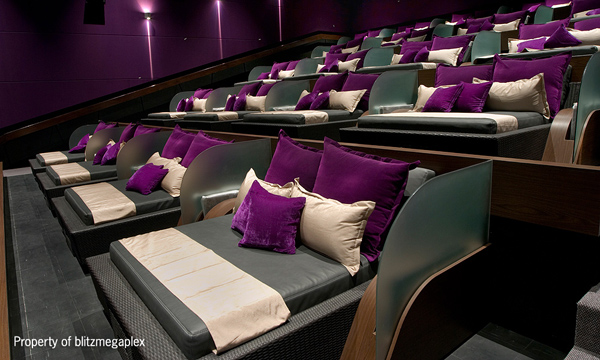 There are beds. All of them are BEDS. That's all you need to know.
Pick your movie and get those tickets! Watching a movie never felt this good.