3D2N in Singapore: What to Do, Where to Stay on a P15,000 Budget
That's enough to visit Singapore's highlights.
by Kyzia Maramara | November 07, 2022
Singapore is one of the best countries to visit for Filipinos planning a quick and affordable vacation abroad. Aside from it being visa-free, city public transport is so efficient it's easy to get from one place to another. You'll also never run out of attractions to visit — explore the stunning Gardens By the Bay, Singapore Botanic Gardens, ArtScience Museum, Universal Studios Singapore, and more. Although Singapore could get pretty expensive (a bottle of water costs SGD 2 or PHP 82!), there are ways you can budget P15,000 for three days and two nights of fun.
That's exactly what we did in the Lion City and here's what we found out:
1. Singapore Fast Facts
Currency: Singapore Dollar (SGD 1 = PHP 41.30 as of Nov 2022)
Tax Refund: 7% refund for tourists on Goods Services and Tax (GST) on a $100 from participating stores
Wi-Fi and Connectivity: Free Wi-Fi at most locations but you can also rent a pocket Wi-Fi or buy a Singapore sim card (better option)
Language: English and Singlish, Malay, Tamil, Mandarin Chinese
Weather: Hot and humid all year round with an average temperature of 30 degrees Celsius. But tourists should still prepare for rain at any time.
Best Time to Visit: All-year round is great but December to June could be the best because of cooler temperatures and year-end festivities
Power Plug: 220-240 volts AC; Use power plugs with three square prongs
Important numbers: 999 for police, 995 for ambulance and fire brigade
2. Getting to Singapore
Cebu Pacific Air has multiple flights daily to Singapore Changi Airport from Manila's Ninoy Aquino International Airport and the Mactan-Cebu International Airport. Take an early morning flight (5:40 AM is the earliest from NAIA) so you can maximize your time to explore the city.
We also recommend taking a red-eye flight going to and from the Philippines to Singapore. Cebu Pacific has flights leaving as late as 9 PM to Singapore and as early as 12:45 AM to the Philippines. That way you'll have the whole day the next day to enjoy. Here's what your schedule can look like:
Day 0 – 9 PM flight, 1 AM touchdown Singapore
Day 1 – 24 hours to explore
Day 2 – 24 hours to explore
Day 3 – 20 hours to explore, 9 PM/12:45 AM flight, 1 AM/4:45 AM touchdown Philippines
That's easily three whole days in Singapore! Book a flight here.
3. Getting Around the City
From the airport, you can get to the city via train or booking a Grab. If you're on a budget, taking trains and buses is the best way to go. In our 3-day stay in Singapore, we never once booked a Grab or took a taxi (they could get expensive).
Singapore's MRT and bus transport system is impressive. They have over 130 stations across six MRT lines with an over three million daily ridership. (Metro Manila can only dream!) You can pay for both the subway and the bus with an EZ-Link card you can purchase online or at kiosks in Changi Airport.
If you love walking, you'll love Singapore. Think BGC but on a bigger scale. There are wide sidewalks everywhere with overhead shelters so even if it rains, you almost never need an umbrella unless it's to cross a road. We spent about 40% of our time in Singapore walking from Point A to Point B which isn't too bad for your health and your wallet.
4. Singapore Travel Requirements (as of November 2022)
Now that travel restrictions have eased up, it's even easier to fly to Singapore. Here's what you'll need:
A valid Philippine passport
Vaccine certificate from the Department of Health (online)
Accomplished Singapore Arrival Card (online)
One Health Pass/eARRIVAL Card (online)
Vaccination Certificate
Fee: FREE
Before you sign up for your SGAC, you need to have a vaccine certificate first since they will require you to attach that document to your submission. Go to the DOH's VaxCertPH portal. The details you need to provide are your contact info and the dates and vaccination sites of your first, second, and booster doses. You'll immediately get a QR code which you can either screenshot or save as a PDF.
Singapore Arrival Card (SGAC)
Fee: FREE
Travelers should submit their SGAC at least three days before their flight to Singapore. For example, if you're flying out on December 12, you can only submit your SGAC from December 10 onwards. To get yours, you can fill out the form on Singapore's Immigration and Checkpoints Authority website. Details you will need to share include your passport, contact, and vaccination info, and details about your travel and accommodation in Singapore.
If you're traveling with a group, you can do this individually or do a group submission with one representative for up to 10 persons.
eARRIVAL Card
Fee: FREE
When it's time to fly back home, you'll need to present an eARRIVAL Card (previously called One Health Pass) to enter the Philippines. You can also accomplish this online for free via the DOH Bureau of Quarantine website. The eARRIVAL Card will need details such as your flight number, date of departure and arrival, entry ports, vaccination details, and other personal details. Once done, you can screenshot the QR code.
Read more about Singapore travel requirements:
Travel to Singapore from Philippines: Singapore Travel Requirements
Travel to Singapore from Philippines: Singapore Travel Requirements
WindowSeat.ph | Mar 07, 2022
5. Singapore Budget Stay
During our stay, we booked our accommodation with Cube Boutique Capsule Hostel in Smith Street, Chinatown. If you're traveling with your friends, a capsule hostel is the best option to save money. Our room had eight capsule bedrooms, a mix of single and double beds. It was almost fully booked but we didn't have a problem sharing with other tourists who mostly kept to themselves.
We didn't have to worry about storage, there's plenty of it. There's a huge bottom locker for luggage and inside the bedroom, there are foldable tables plus two spacious lockers with combination locks. A night light in the corner makes sure the cube is bright and there's also a large mirror above two sockets. For privacy, you can roll down the shade which serves as a door. The air conditioning unit was working well despite being in a closed capsule room.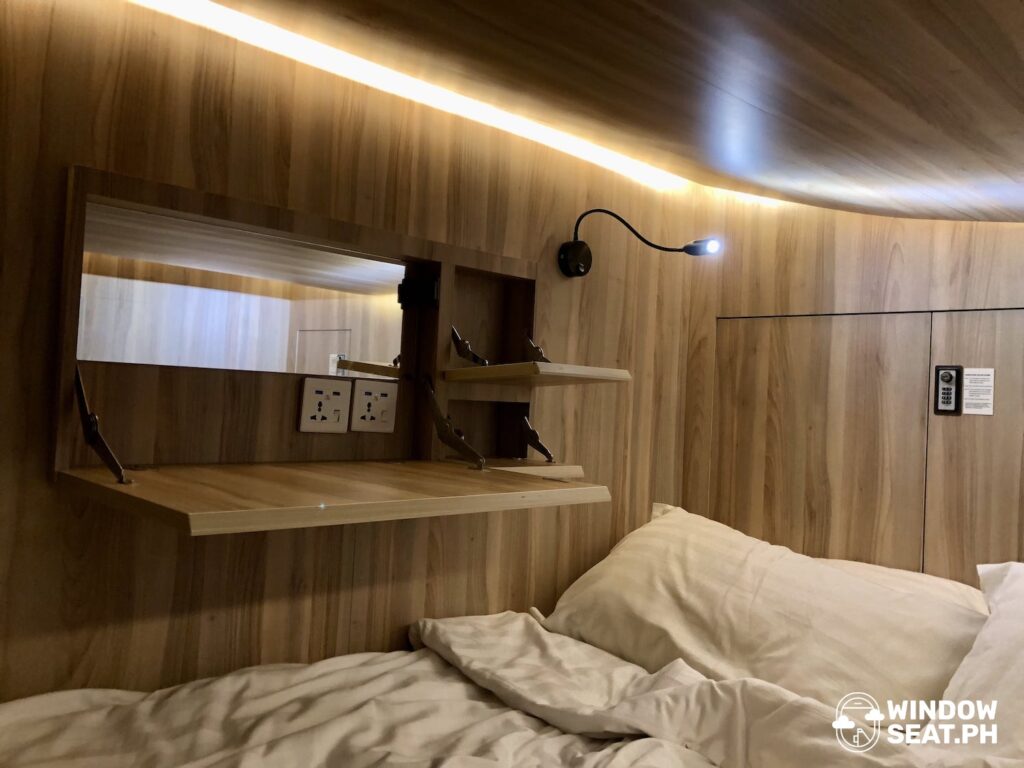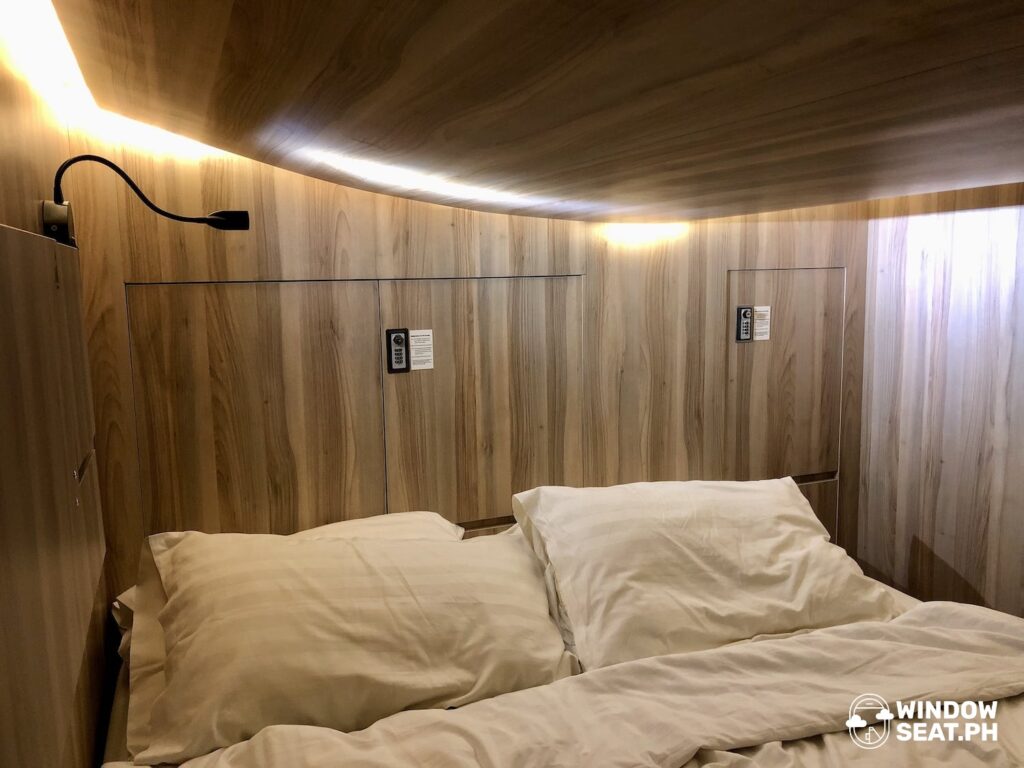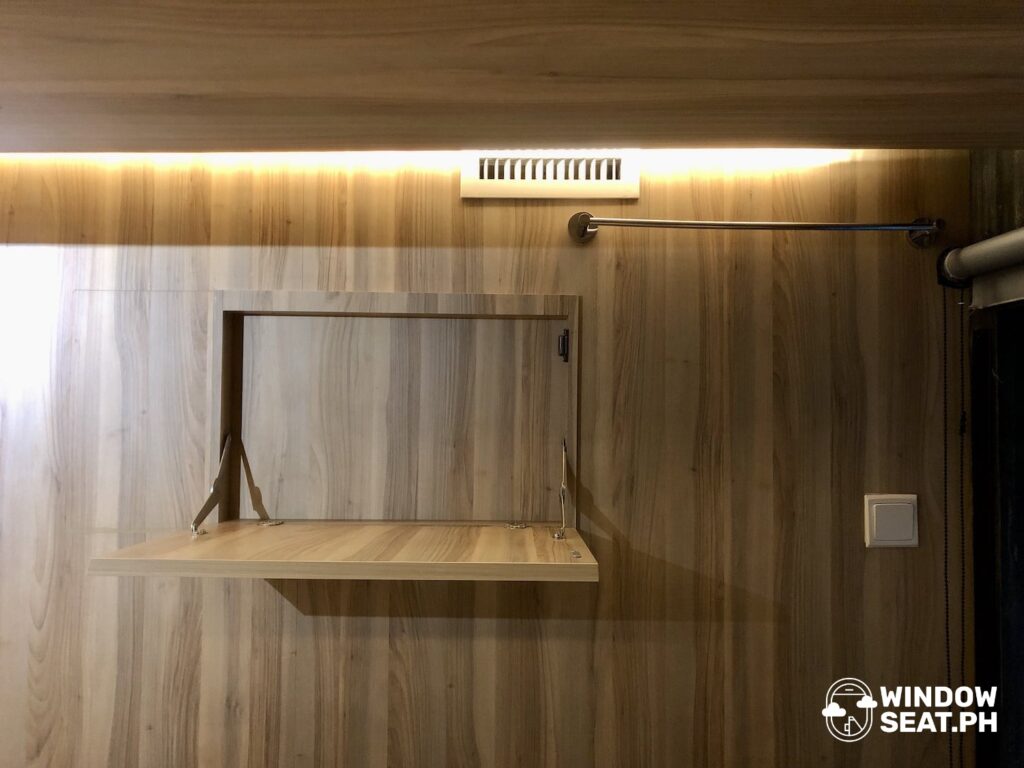 Cube gives each guest complimentary towels, water bottles, and a toothbrush. On our floor, there are eight bathrooms, each with its own hair dryers and toiletry supply. The bathrooms are clean and smell good, and the best part is they have a bidet. We also didn't have problems using the bathroom despite having about 20 tourists sharing them.
Breakfast at Cube was a great way to kickstart your day. They offer brewed coffee, bread with options for spread, eggs, cereal, fruit, and Singapore noodles.
And if you're traveling with your family, Cube also has a Family Boutique Capsule Hotel a few steps away with the cutest double-decker beds. You can look up rooms here.
Where to Stay in Singapore: Come Home to These Cozy Apartments
Where to Stay in Singapore: Come Home to These Cozy Apartments
Ina Louise Manto | Aug 16, 2022
Heading to Singapore? Go Cafe-Hopping at These IG-Worthy Spots
Heading to Singapore? Go Cafe-Hopping at These IG-Worthy Spots
Ina Louise Manto | Aug 03, 2022
6. Best Places to Visit in Singapore
Gardens by the Bay
Even if you only have 24 hours to explore Singapore, we would still recommend you drop by Gardens by the Bay. It's a glorious blend of flora and fauna with Singapore's iconic structures and architectural marvels. Twelve towering Supertrees light up at night for a captivating Garden Rhapsody. During the day, you can walk the OCBC Skyway through the giant vertical gardens or check out the Supertree Observatory at the garden's highest point.
At the Flower Dome, it's always springtime with its stunning and fragrant floral displays. Meanwhile, the Cloud Dome observatory houses a 35-meter indoor waterfall and a lush mountain of exotic plant species. Pro tip: Bring a jacket if you get cold easily since the temperature actually drops in these cooled observatories.
While the Supertree Grove is free, we booked our tickets to Flower Dome and Cloud Dome here.
Singapore Botanic Gardens
Singapore is home to a wide range of biodiversity even in the middle of a bustling urban city. They've got over 300 parks and lots of nature reserves and conservation areas. It's a haven for plantitos and plantitas. Singapore Botanic Gardens is another must-visit destination. The tropical garden was built in 1859 and is located a short drive from Orchard Road, Singapore's shopping district. Walk around the 82-hectare property and take in nature. Oh, and did we mention entrance is free?
Merlion Park
What's a visit to Singapore without posing at the iconic Merlion Park? From the small statue, you get a panoramic view of Singapore's greatest attractions including Marina Bay Sands, the Supertree Grove in the distance, and the Helix Bridge.
ArtScience Museum
Save space on your itinerary for a trip to the ArtScience Museum. The permanent exhibition "Future World:
Where Art Meets Science" is full of digital interactive installations. If you're coming with family, kids will enjoy the teamLab-powered projections and artworks, Crystal Universe, the interactive fruit field slide, and the Sketch Aquarium. Kids will 100% love the Sketch Aquarium. Visitors get to color sea creatures and have them digitally scanned and brought to life in the giant digital aquarium.
Make sure to check out ArtScience Museum's website for special exhibits before you visit. We booked our tickets for PHP 760 here.
Marina Bay Sands SkyPark Observation Deck
You might not have the budget to book a room at the five-star luxury Marina Bay Sands hotel but guests can visit its SkyPark Observation Deck on its 56th floor. Enjoy panoramic views of Marina Bay and the Singapore skyline. You'll even get a bird's eye view of Gardens by the Bay, Singapore Flyer, and more. And if you stay until the evening, you'll be dazzled with the nightly outdoor light and water show, Spectra.
You can book a ticket for PHP 953 here.
Universal Studios Singapore
Allot an entire day on your itinerary for Universal Studios Singapore, the first and only one in Southeast Asia. There are about 30 rides to cycle through and dozens of shows to check out. And even if you're not a fan of rides, you'll still enjoy the sights and the vibe from the different zones — Hollywood, New York, Sci-Fi City, Ancient Egypt, The Lost World, and Far Far Away. Make sure to book your tickets online and in advance for discounts. And if you want to make the most of your time, consider going for the Express Pass and paying a little extra. Trust us, it's worth it!
You can book a ticket for PHP 2,817 here.
Sentosa
You could maybe squeeze in a Sentosa half-day trip but it's one of Singapore's destinations that's better reserved for a whole-day visit. Sentosa Island is a resort island with tons of options for attractions, beaches, dining, and relaxation. You could visit Adventure Cove Water Park, S.E.A. Aquarium, or Madame Tussauds Singapore. Spend some time on Sentosa's three beaches — Siloso, Palawan, and Tanjong. Try the Skyline Luge or iFly Singapore — the list is endless!
Get a Sentosa Fun Pass for PHP 4,142 here.
Haji Lane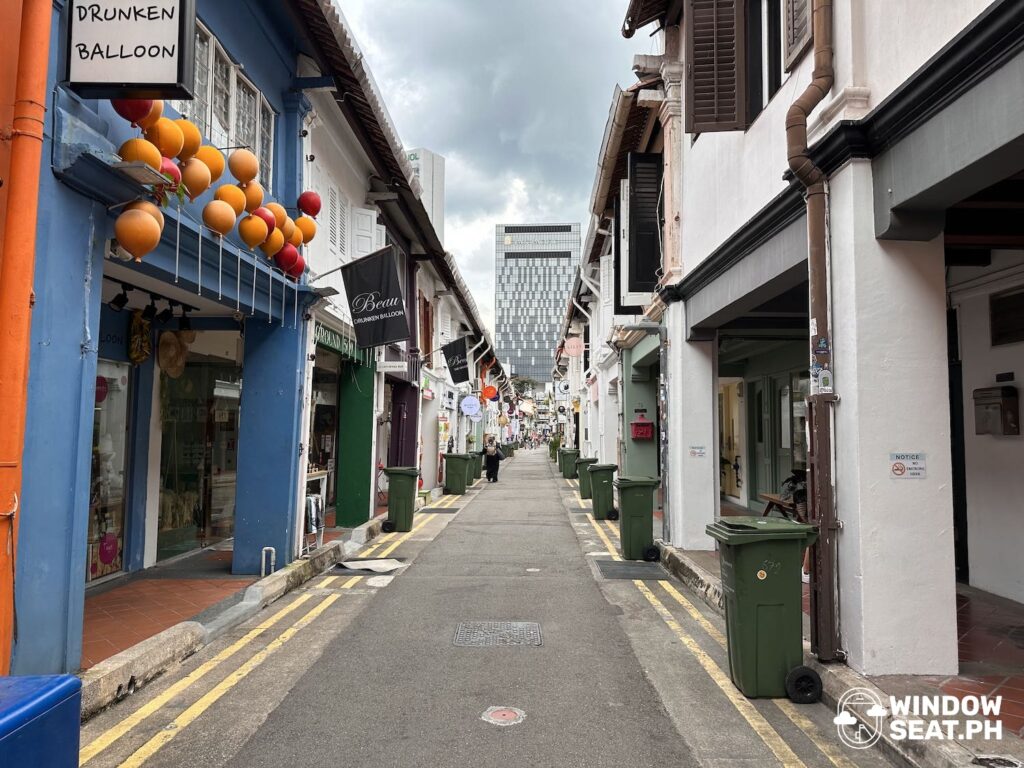 Haji Lane is a hip alley in the heart of Singapore's Kampong Glam neighborhood, a short walk from Bugis MRT. The street is filled with independent shops, quirky cafes, and hole-in-the-wall food spots. We even saw a self-photo studio! Allow a good hour or two roaming around the place. We're sure you'd want to take endless photos with the colorful street as the background. Walk a little further and you'll find yourself in Arab St., another textile landmark shopping and dining strip.
Jewel Changi Airport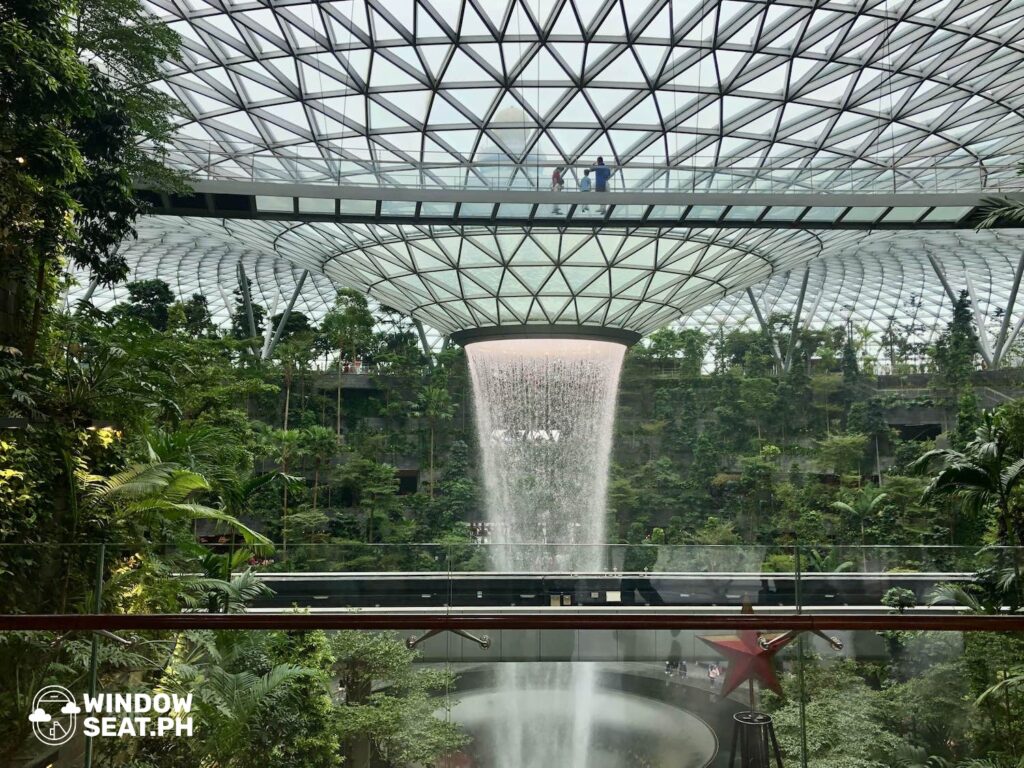 Pro tip: Allot at least three hours of your schedule for going around Jewel Changi Airport. It's a destination in and of itself where you can play at attractions, take tons of photos at iconic landmarks, dine, shop, and even stay at the YOTELAIR. Changi has been voted the best airport for 8 years in a row until it was usurped by Hamad International Airport in Doha, Qatar in 2021.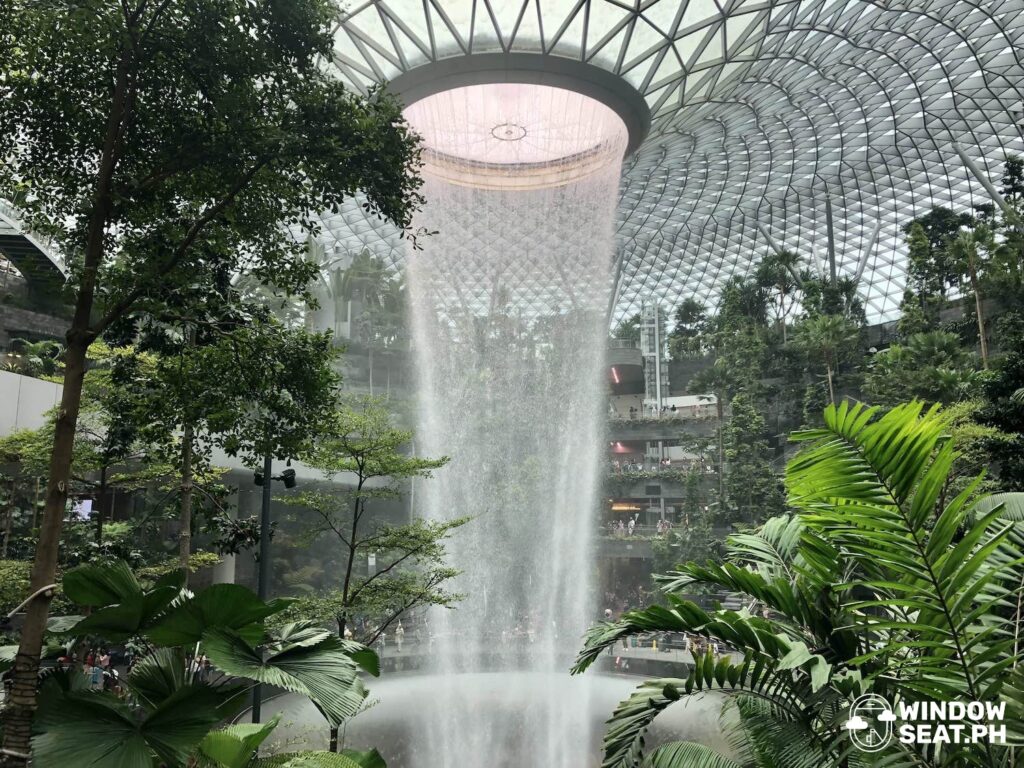 At the heart of Jewel Changi Airport is the iconic HSBC Rain Vortex flowing 40 meters down to the basement making it the world's tallest indoor waterfall. It's surrounded by plants from the Shiseido Forest Valley. While waiting for your flight, you can also play at the Walking Net, Discovery Slides, Bouncing Net, Mirror Maze, Hedge Maze, and Canopy Bridge.
Tickets for Jewel attractions start at PHP 250 and you can book them here.
7. Sample 3D2N Singapore Itinerary
A short stay in Singapore is more than enough to explore the city's offers. Although admittedly, to get the full experience we'll say you need to stay for at least 7 to 10 days. But if you're pressed for time, here's a sample 3D2N itinerary you can follow:
Day 1 (Arrival, Check-in, Gardens By the Bay)
10 AM – Touchdown Singapore (Immigration, buy EZ link cards, get sim card)
11 AM – Travel to your accommodation via MRT Changi station or book a Grab
12 NN – Check-in at the hotel (If early check-in isn't allowed, you can ask to leave your bags in the lobby)
1 PM – Lunch (Look up the nearest hawker where you're staying)
2:30 PM – Visit Merlion Park, Helix Bridge
4:00 PM – Visit Gardens By the Bay (Start with Flower Dome, Cloud Dome, and end with the Supertree Grove light show)
8 PM – Dinner at Satay by the Bay
9 PM – Hotel + Lights out
Day 2 (Option 1: Universal Studios Singapore)
9 AM – Breakfast (If your accommodation doesn't come with breakfast, look up the nearest "kopi tiam" for an authentic Singaporean breakfast)
10 AM – Leave for Universal Studios Singapore (Buy Express Pass tickets to maximize your time!)
11 AM – Enjoy USS (Must try: Lights, Camera, Action!, Shrek 4-D Adventure, Enchanted Airways)
12 NN – Lunch (Must try: Loui's NY Pizza Parlor, Goldilocks, Fossil Fuels)
1 PM – Enjoy USS (Must try: Revenge of the Mummy, Transformers: The Ride, Jurassic Park Rapids Adventure)
7 PM – Go back to the city
8 PM – Dinner (Locate the nearest hawker)
9 PM – Hotel + Lights out
Day 2 (Option 2: Exploring more of the city)
8 AM – Breakfast (If your accommodation doesn't come with breakfast, look up the nearest "kopi tiam" for an authentic Singaporean breakfast)
9 AM – Take MRT to Little India
9:30 AM – Explore temples in Little India + Drop by Mustafa Center (optional)
11 AM – Take a bus to Haji Lane
12 NN – Lunch
1 PM – Explore Haji Lane + Arab St.
3 PM – Walk around ION Orchard
6 PM – Dinner at Clarke Quay
9 PM – Hotel + Lights out
Day 3 (Fort Canning, Art Science Museum, Marina Bay Sands, Departure)
8 AM – Breakfast + Check out and leave bags in the lobby
9 AM – Fort Canning (Must do: Take pictures at the Fort Canning tunnel)
10 AM – ArtScience Museum
12 NN – Marina Bay Sands Skypark Observation Deck
1 PM – Lunch
3 PM – Go back to the hotel to get bags
4 PM – Head to Changi Airport and check-in
5 PM – Explore Jewel Changi and Other attractions + Dinner
8 PM – Board flight
12 AM – Touchdown Philippines
8. Budget Breakdown: 3D2N for P15,000
This budget does not include the following:
Roundtrip flights from Manila to Singapore*
Philippine Travel Tax – P1,620
*You can watch out for Cebu Pacific promo announcements on Facebook to snag affordable flights.
Here's how we budgeted P15,000 per person based on the 3D2N itinerary:
Hostel for 2 nights – PHP 4,440/pax (Booked via Booking.com)
EZ-Link (around SGD 30) + Sim Card (PHP 393) – PHP 1633.64
Gardens by the Bay + Marina Bay Sands SkyPark – PHP 1,780
ArtScience Museum – PHP 579
Universal Studios Singapore – PHP 2,817
Food expenses for 3 days – PHP 2,000/pax
Pasalubong – PHP 1,000
Total = PHP 14,249.64
9. More Tips for Your Singapore Visit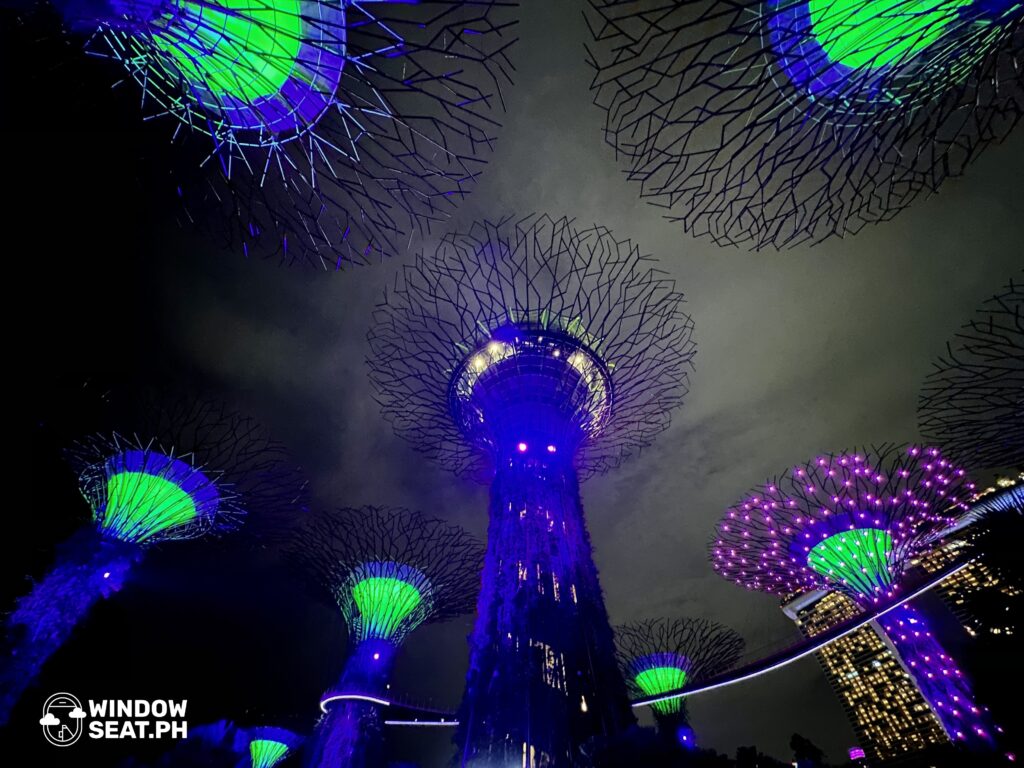 Book your accommodations as early as 3 months from your flight so you get cheap prices.
Consider skipping the SGD 38 unlimited EZ Link card if you're not planning on going to lots of places anyway. We did a 3D2N stay in Singapore and rode the MRT and bus for more than 20x and still only spent around SGD 30 in total.
You can use your credit card practically everywhere. You can even tap it directly on the MRT turnstiles (Just make sure you've called your provider in advance and let them know you're going abroad!)
Download CityMapper to help you navigate around Singapore. It displays accurate times for MRT and bus arrivals too.
Exchange a small amount of money at the airport (NAIA or Changi) and do the bulk of your exchanges in kiosks in Singapore. Just search for the nearest money exchange.
Bring a tumbler with you so you can go for water refills. Water bottles in Singapore cost around SGD 2 (PHP 82)!
Going for a red-eye flight might be the best option to maximize your Singapore visit. Cebu Pacific flies multiple times a day to Singapore with red-eye flights late in the evening or early morning. That way you'll still enjoy a whole day's stay!
Looking for other places to explore? Join WindowSeat.ph's official Facebook community What's Your Trip PH​ for more recos!