YOLO Travel: 5 Thrilling Places to Try Canyoneering in the Philippines
Caution: Only the brave need apply.
by Kara Santos | September 21, 2016
While still a relatively young sport in the Philippines, canyoneering or canyoning, is slowly but surely making waves. This extreme activity involves walking, scrambling and hiking through ravines and gorges, descending down waterfalls and cliff jumping into rivers and pools.
It's a thrilling, adrenaline-packed full-body workout where you get to enjoy beautiful, natural scenery and test your limits.
Here are five destinations in the Philippines, for newbies and advanced canyoneers alike, where you can take the plunge.
Cebu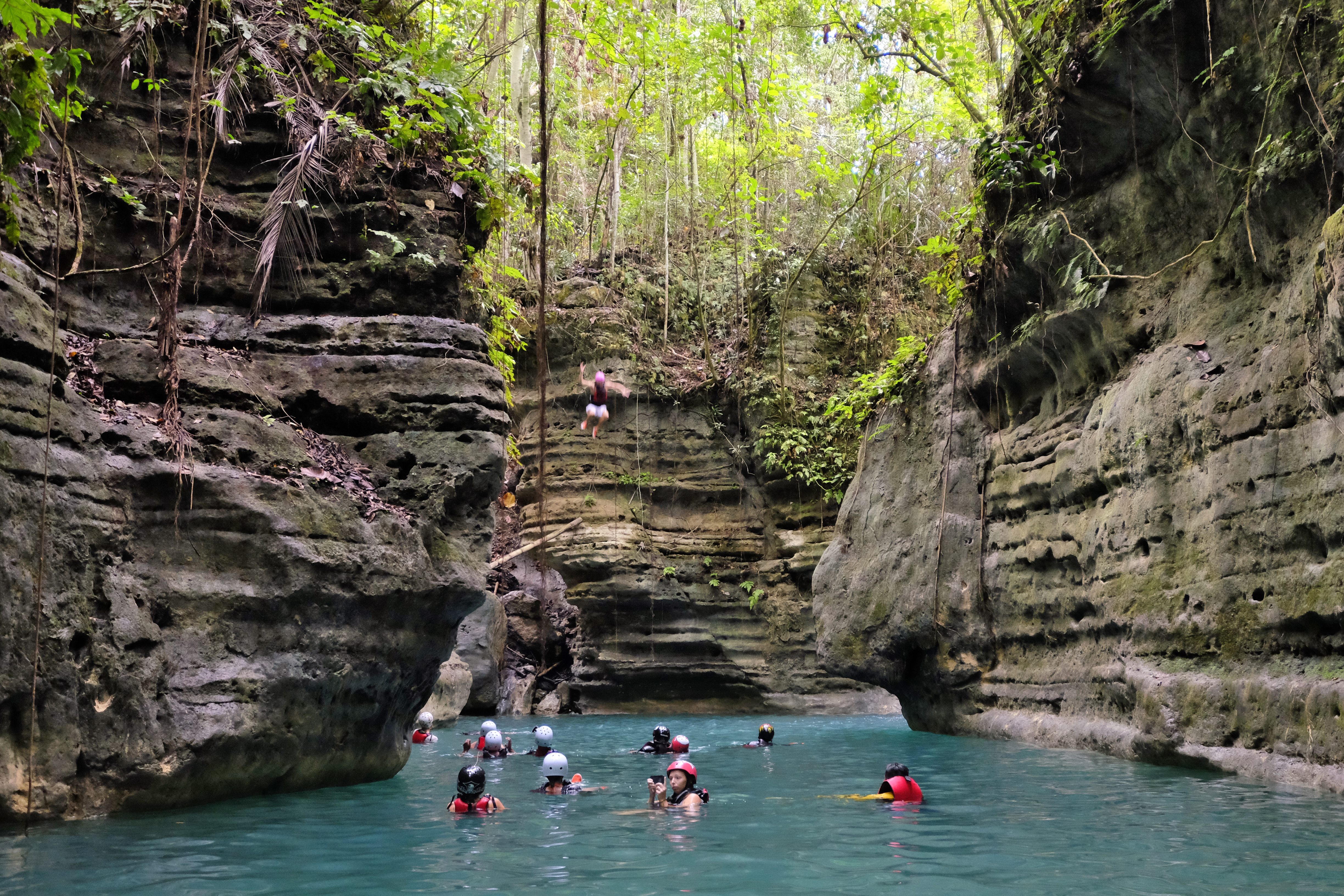 While the naturally beautiful Kawasan Falls has been drawing tourists for years, the towns of Alegria and Badian became even more popular ever since canyoneering tours were introduced.
With Kanlaob River's stunningly beautiful blue waters, picturesque ravines and relatively low jumps and water slides, this is a good option for beginners. Some of the higher jumps are optional and there are easy paths on the trail for those who (at the last minute) want to back out.
Though all canyoneering tours were suspended due to safety issues earlier this year, operations in Alegria have since resumed last September 1.
Contact: Kawasan Cebu Canyoneering has headquarters in Matutinao Beach Resort, Badian, Cebu. Contact numbers: 09186544111 / 09053332623. Email: kawasancanyoneering@gmail.com. www.kawasancanyoneering.com.ph
Budget: PHP1,500 per person (regardless of nationality). Package includes: Use of life vest, safety helmet, all government fees, aqua shoes, ride to jump-off station, tour guide fees, light snacks, bamboo rafting at Kawasan falls and recovery meal (lunch)
Biliran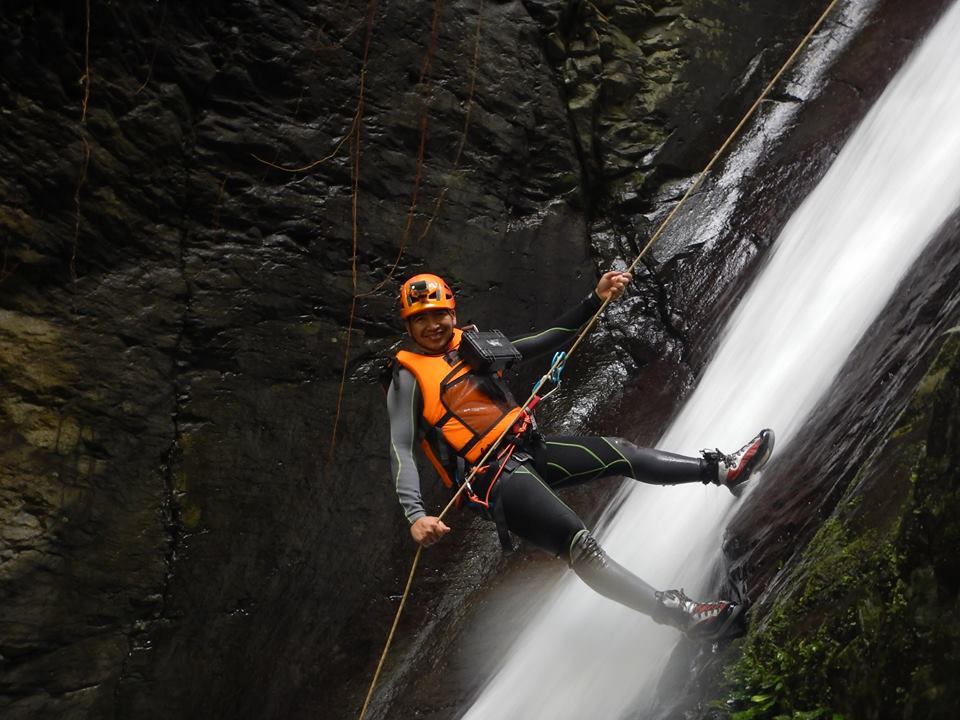 For those who want a highly technical and more extreme canyoneering experience without the tourist crowds, head over to Biliran. This quiet island province, located in the Eastern Visayas region, has pristine natural rivers and gorges that you can enjoy all to yourself.
The most accessible canyoning destination here is Sampao River in Barangay Sampao, Almeria. Canyoning involves a two-hour hike to reach the jump-off point where you start rappelling, sliding and jumping downstream passing 15 waterfalls.
The grand finale requires you to rappel down the majestic Ulan-Ulan Falls, one of Almeria's top tourist sights.
Because of the height of the canyons and waterfalls here, special equipment, safety gear and expertly trained guides are required for all trips. While first-timers are accepted, it's strongly recommended that all participants learn to rappel properly to ensure safety, time-efficiency, and enjoyment. The group size is also limited to a maximum of 10 per day to ensure safety.
Contact: Biliran Outdoor Shop or Trexplore the Adventures. Cellphone Number: 0919-2943865 / 0927-6750062. Facebook Page: Canyoning Biliran
Budget: PHP2,500 per person (for groups of five to 10) or PHP3,000 per person (for groups of 1 to 4). Package includes: Complete set of top-quality canyoning equipment (e.g. wet suit, harness, PFD, helmet, etc.), transportation to Sampao River and back, guides, porters, lunch, certificates and photo documentation (bring your own USB or storage device).
Camarines Sur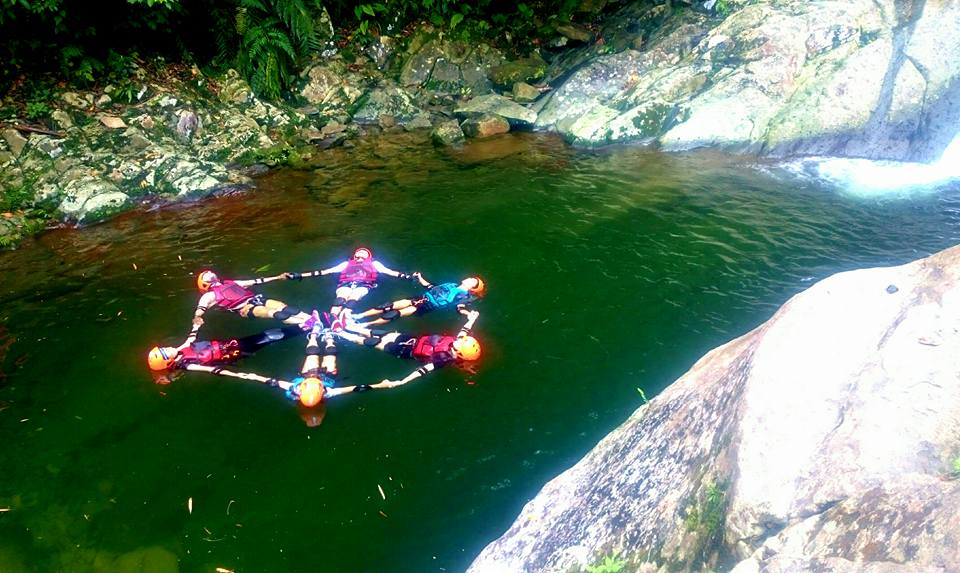 The Mt. Isarog National Park in Camarines Sur hides many pristine waterfall circuits shrouded in triple-canopy forests and foothills that have become a favorite playground for adventure tours operated by professionally trained canyoneers and mountaineers.
In Nalalata Falls in Bula, you can practice waterfalls rappelling, including Australian-style abseiling which involves descending in a standing position…face down. The main sight for canyoning can be found in Brgy. Curry in Pili which has a series of 10 consecutive falls.
After hiking to an elevation of 2,500 ft above sea level, the only way down requires rappelling down five waterfalls, jumping down two cliffs, sliding down natural water slides as well lots of hiking and river trekking.
Contact: Kadlaggan Outdoor Shop. 0919-8006299. Facebook Page: Kadlaggan Outdoor Shop
Budget: PHP3,500 per person (2 pax), PHP3,000 per person (3 pax), PHP2,500 per person (4-5 pax), PHP2,200 per person (6 pax), PHP1,800 per person (7-8 pax), PHP1,500 per person (9-10 pax) Package includes: Round trip land transportation from Naga City to Mt. Isarog, permits, entrance fees, facilitators, all canyoning equipment, a souvenir scarf and certificates.
Samar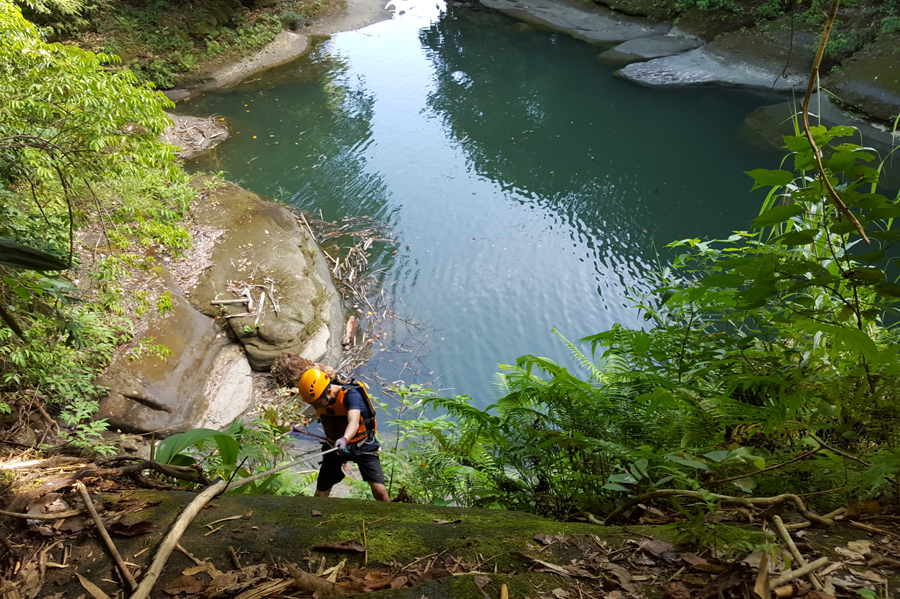 After visiting Samar's awesome caves, if you only have half a day to spare, you can still get an introduction to canyoning at Bangon Falls. The canyoning site, which is the source of water in the capital town of Catbalogan City, contains a seven-layered waterfall, with the largest basin being a popular spot for locals to head to during weekends for picnics.
It's a one-hour trek from Brgy. San Andres to Colador (the water pumping station where you start rappelling, sliding and jumping into the waterfalls). Canyoning tours are held all year around except during bad weather. Take note that the water level at the pools and waterfalls varies during the rainy and dry seasons in Samar.
Contact: Samar Outdoor Shop or Trexplore the Adventures. Cellphone Number: 0919-2943865 / 0927-6750062.
Budget: PHP2,000 per person. Package includes: All permits, canyoning gear, transportation, food, local porters, canyoning guide, certificate and photo documentation
Cagayan de Oro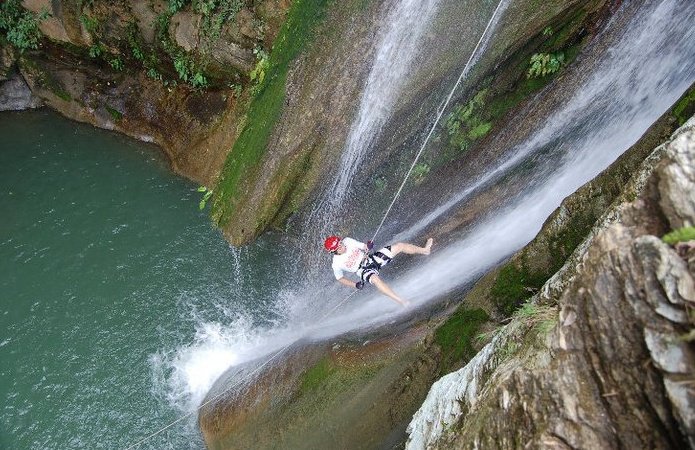 If you're looking for something else to do aside from White Water Rafting in Cagayan de Oro, schedule a day trip to Mapawa Nature Park, a 2,500 hectare eco-tourism destination just 30 minutes away from the city proper.
Here, you can face a series of obstacles in five waterfalls within the property, including sliding down from a 20 foot-high waterfall, body rappeling during the trek, jumping from a 25 foot high cliff and rappelling down a 65 foot-high waterfall. Be sure to schedule your trip beforehand to ensure that organizers can prepare or let you know if slots are fully booked.
Contact: Mapawa Nature Park. Malasag, Brgy. Cugman, Cagayan de Oro City. Phone: (088) 858 4402 or (08822) 725265, Mobile: 0917-7067206. Facebook: Mapawa Nature Park
Budget: PHP1,200/person. Package includes: Entrance fee, use of equipment, packed lunch and bottled water
Which canyoning location do you want to try? Please tell us in the comments section!