8 Reef-Safe Sunscreens That Protect Your Skin Without Harming Marine Life
Save the seas!
by Cristina Morales | October 13, 2022
There's no question that sunscreen is essential — not just for when you hit the beach, but every day. Sunscreen has been proven to prevent UV damage, which can lead to skin damage and even cancer. But did you know that some sunscreens have been found to damage coral reefs?
Certain chemicals found in sunscreen (namely oxybenzone, octinoxate, and octocrylene) can damage coral reefs, which is why some marine sanctuaries have even banned certain kinds of sunscreens. Some sunscreens (such as aerosols) also have particle sizes below 100 nanometers. Sunscreens that use nanoparticles apply smoother and even transparent, but these tiny particles are also harmful to coral reefs and other marine life, as they can easily absorb potentially harmful ingredients.
Thankfully, there are reef-safe alternatives. You can find them by looking for a "reef-safe" or "reef-friendly" label, but double-check the list. Make sure that the sunscreen that:
Does not contain oxybenzone, octinoxate, or octocrylene
Is a cream or lotion (instead of mist or spray)
It's also a good idea to opt for sunscreens that leave a white cast. Sure, they might not look the best in photos, but when you consider the potential damage to marine life, the choice should be a no-brainer.
Not sure where to start? Here are some reef-safe sunscreens you could pack next time you hit the beach:
Magwai Reef-Safe Sunscreen Lotion SPF 50+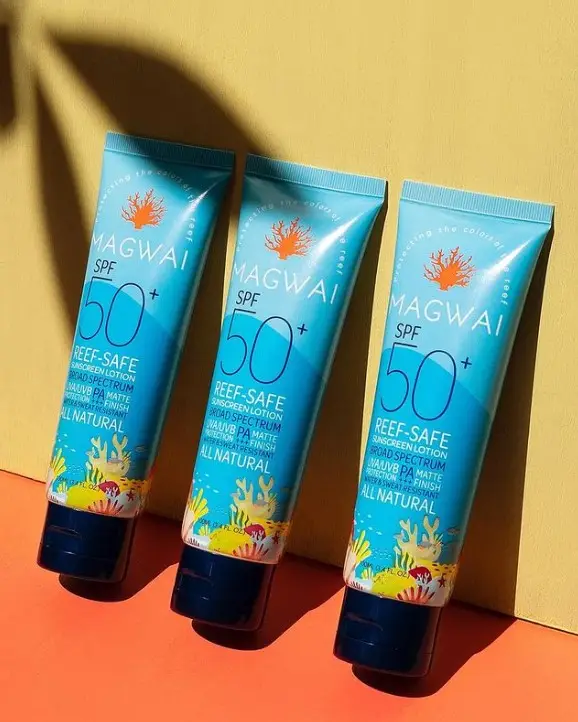 Local brand Magwai's reef-safe sunscreen is made with natural ingredients and is water- and sweat-resistant. It's also safe for kids! Since it's a physical sunscreen, note that it will leave a white protective cast. Magwai ships their products with eco-friendly packaging, so you can get a guilt-free shopping experience every time.
Get a 100 mL bottle for ₱599 on Shopee.
4 Sustainable Swimwear Brands for Your Next Beach Trip
4 Sustainable Swimwear Brands for Your Next Beach Trip
Kyzia Maramara | Mar 26, 2019
Human Nature Safe Protect Sunscreen SPF 30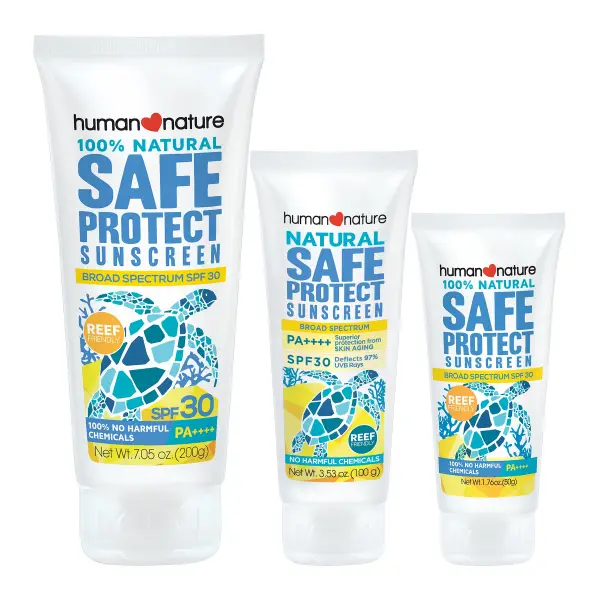 Human Nature SafeProtect Sunscreen provides protection against UVA and UVB rays using natural physical ingredients. To use, apply liberally on exposed skin 20 minutes before sun exposure. As with all other sunscreens, make sure to re-apply every hour and/or after swimming, sweating, or toweling off.
Human Nature SafeProtect Sunscreen comes in 50g, 100g, and 200g bottles. Prices start at ₱299.75 for a 50g bottle — order from their official website.
Beach Hut Naturales Reef Safe SPF 50 Sunscreen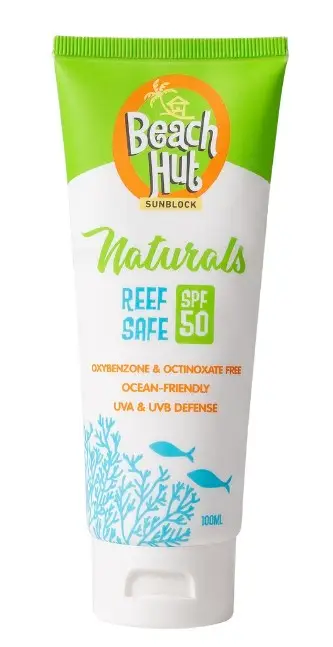 As its name suggests, Beach Hut Naturals Reef Safe SPF50 is made with 100% natural ingredients. Compliant with the Hawaii Reef Bill, it doesn't contain harmful chemicals that contribute to coral bleaching.
Get a 100 mL for ₱600 on Shopee.
Belo SunExpert Reef-Friendly Sunscreen SPF60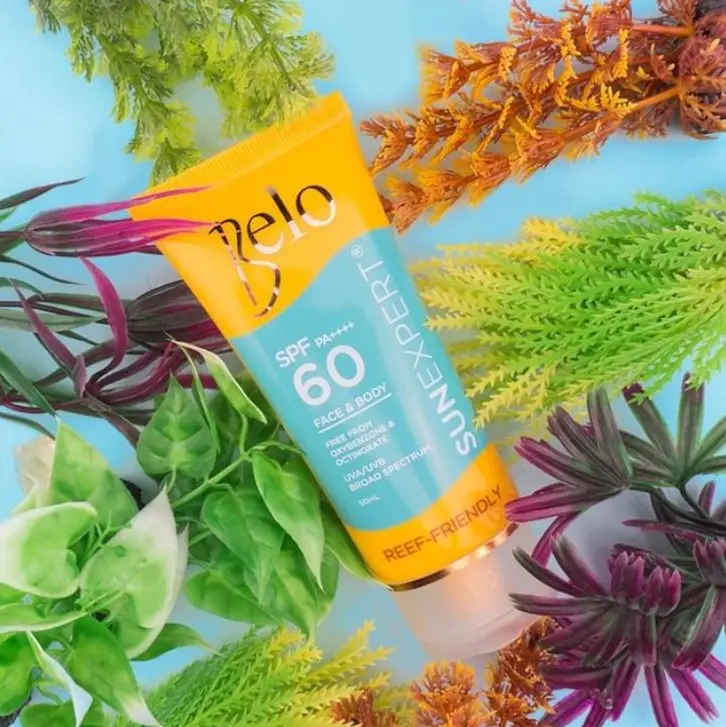 Free from the ingredients that have been found to harm marine life, Belo SunExpert Reef-Friendly Sunscreen protects against harmful UV rays and helps prevent premature skin aging. Non-sticky and water-resistant, it works as soon as its applied.
Get a 50 mL bottle for ₱424 on Shopee.
The Face Shop Natural Sun Eco Super Active Reef-Safe Sun Cream SPF50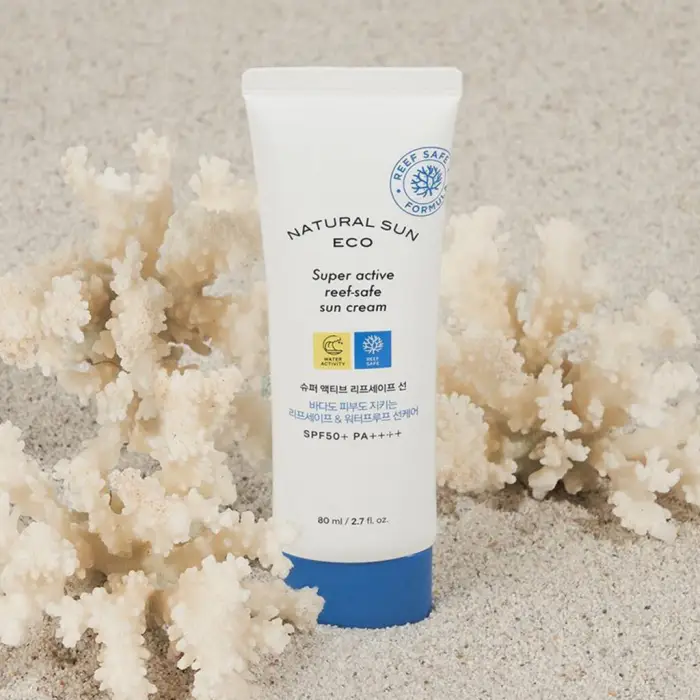 From popular Korean beauty brand The Face Shop, the Natural Eco Sun Super Active Reef-Safe Sun Cream protects skin from UV rays with a soft and hydrating formula that doesn't budge, even during water activities. It contains skin-soothing ingredients like Birch Sap and Rooibos Leaf Extract, and can be used on both the face and body.
Get an 80 mL bottle for ₱1,495 on Lazada.
Beach Born Sunscreen Bar SPF 25
Homegrown brand Beachborn's Sunscreen Bar is perfect for eco-friendly lifestyles, as it isn't just reef-friendly, but is also plastic-free! You can order it in a travel tin, or just as is. To use, just rub the bar directly on skin, just like soap.
Get a bar for ₱350 on Shopee.
Primera Skin Relief Sunmilk with Reefsafe SPF50+/PA++++ (50ml)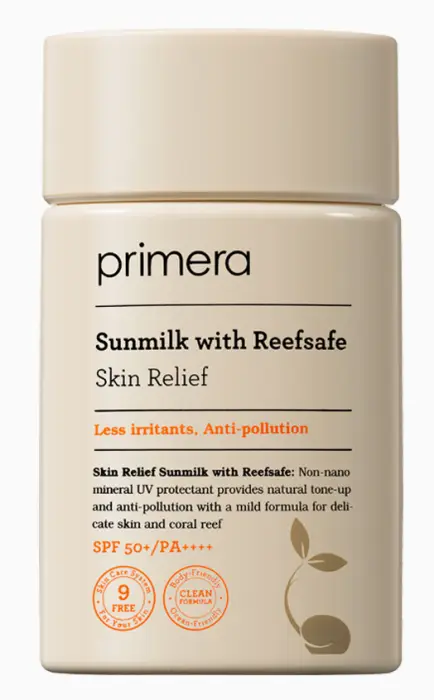 Another sunscreen from a Korean brand, Primera Skin Relief Sunmilk with Reefsafe is a lightweight sun milk that protects your skin from UV rays without damaging ocean life. With zinc oxide, it blocks harmful UV rays, and it's got a milky formula that doesn't feel too heavy on the skin.
Get a 50 ml bottle for ₱1,800 on BeautyMNL.
Happy Camper Cocoblock Reef-safe Sunblock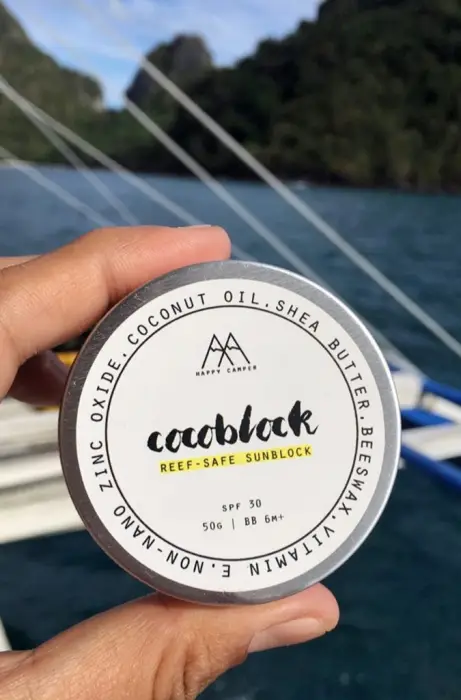 With virgin coconut oil, shea butter, beeswax, vitamin E, and non-nano zinc oxide, the Cocoblock Reef-Safe Sunblock from homegrown brand Happy Camper is safe for your skin and the ocean. To use, apply generously 30 minutes before sun exposure, and reapply every hour after swimming or sweating.
Get a tin for ₱299 on Shopee.
This article was republished with permission from 8List.ph.