Expressways Are Soon Going Completely Cashless; Here's Everything You Need to Know
Motorists have until Nov. 2, 2020 to get and install their RFID stickers.
by Kyzia Maramara | August 31, 2020
The COVID-19 pandemic has sped up various industries' efforts to shift to contactless payment. Aside from restaurants and shops, toll plazas and major expressways are now going cashless. While the RFID system has always been highly encouraged even pre-pandemic, the Department of Transportation is now enforcing electronic payment by implementing strict 100% transition from manual payment to RFID stickers come Nov. 2, 2020. This means if you own a vehicle and you regularly go through NLEX, SCTEX, or other major expressways, you have to get that sticker ASAP.
RFIDs and how they work
RFID is the acronym for "radio-frequency identification." Basically, it's a wireless technology that uses radiofrequency waves to transfer data from a tag attached to an object and input it directly into a system. For electronic payment, it works by scanning tags, such as the transparent ones you stick on your car's headlamp, from several feet away.
The benefits of using RFID for cashless payment
Sticking RFID stickers in your car means you won't need to interact with people at tollgates, ergo cashless payments, and breezing through in seconds. This method allows motorists to adhere to the strict social distancing measures for their safety. Say goodbye to being stuck in traffic at tollgates because manual payment is taking too slow. Plus, you won't have to panic looking for loose change or your misplaced ticket right before your turn at the gate.
DOTr to carry out 100% cashless payment before the year ends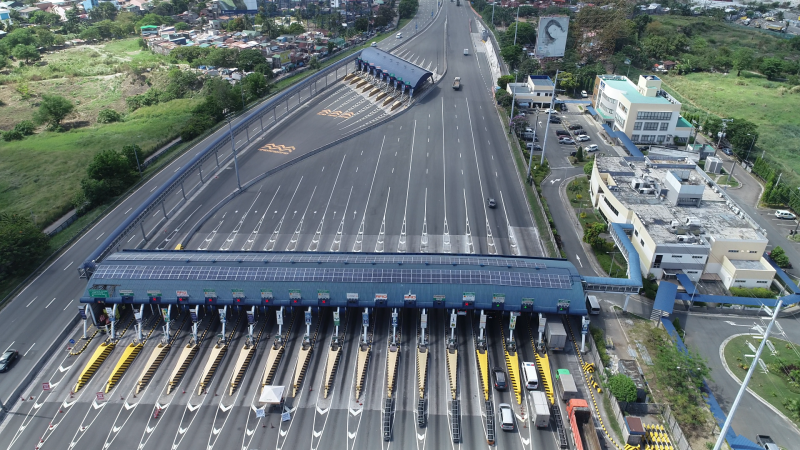 The DOTr posted on Monday that they will be requiring contactless transactions in toll expressways from Nov. 2, 2020 onwards. This was to limit physical contact among motorists and staff and to help contain the spread of COVID-19.
"We carry with us the burden of ensuring that our transport facilities will not be a transmission vector of the disease, while at the same time, providing an efficient system of public transport. . . Requiring contactless transactions is one of our ways of doing it," said DOTr Secretary Arthur Tugade.
The implementation is under Department Order 2020-012 signed on Aug. 13, 2020. It also stated that concerned agencies of the DOTr — Toll Regulatory Board (TRB), Land Transportation Office (LTO), and Land Transportation Franchising and Regulatory Board (LTFRB) – are given three months to ensure the full transition to cashless payment will be as smooth as possible.
Which toll plazas are involved?
The following identified limited access facilities will implement contactless transactions:
South Luzon Expressway (SLEX)
Manila-Cavite Toll Expressway (CAVITEX)
North Luzon Expressway (NLEX)
South Metro Manila Skyway
Southern Tagalog Arterial Road (STAR) Tollway
Subic-Clark-Tarlac Expressway (SCTEX)
Cavite-Laguna Expressway (CALAX)
According to DOTr, this includes "other road networks, including any extension of the existing expressway facilities mentioned, that may be constructed, established, and/or operated as expressway toll facilities."
Expressways Are Soon Going Completely Cashless; Here's Everything You Need to Know

Expressways Are Soon Going Completely Cashless; Here's Everything You Need to Know
Kyzia Maramara | Aug 31, 2020
Where to get free RFID stickers
If you don't have RFID stickers yet but can't be bothered to go to a location site for installment, getting your own online is easy. The stick-it-yourself Easytrip RFID can be ordered from Shopee. You only need to pay the initial consumable load of P500. Take note of your Order ID and register it at www.easytrip.ph/siyrfidform.html. Easytrip could be used in NLEX, SCTEX, CAVITEX, C5 Link Flyover, and CALAX.
Autosweep RFID can be used exclusively at Skyway, SLEX, NAIAX, STAR Tollway, MCX, and TPLEX. You can get yours installed for free in the locations on this list. Make sure you bring proper forms and documents.
Installing your RFID sticker
If you're scared to install your purchased sticker, don't worry, it's easy enough. Check out this short video tutorial and you'll be on your way in no time.
https://youtu.be/jPBH_PKoes8
Want an RFID 2-in-1 sticker? Integrate your Autosweep with Easytrip
Combine your Autosweep and Easytrip accounts in one RFID sticker for easier transactions on any tollgate. The DOTr Toll Regulatory Board's Interoperability Project allows those who own the Autosweep RFID to register their card into the Easytrip System by visiting the designated registration sites in this list. You only need to present your Autosweep Card, fill out some forms, and pay for the initial P500 load for the Easytrip account. After three working days from the date of registration, the RFID tag can be used at tollways.
How to have your RFID reloaded
NLEX Corporation shared on their Facebook page an updated list of installation and reloading sites for Easytrip along NLEX.
Reload your Easytrip RFIDs in the safety of your home via credit card (VISA, Mastercard), online banking (BDO, BancNet, Metrobank, UCPB), or online payment sites (GCash, SmartMoney, PayMaya, etc.). Click here to know more.
Autosweep users can reload online via GCash, JustPay.To, UnionBank, Maybank, Coins.ph, ChinaBank, BPI, Bank of Commerce, and more. Click here to know more.
Transitioning to electronic payment is honestly a great and hassle-free way to use our expressways. The future of all transactions is electronic anyway so why not start now?
This article was originally published on 8List.ph.