Cool Off This Summertime at these Must-Visit Rizal Airbnbs with Private Pools
This is your sign to go on a well-deserved summer escapade.
by Ina Louise Manto | April 15, 2022
When halo-halo or your favorite cold drink just doesn't work anymore, a well-deserved staycation might help you cool off in this sweltering heat. If you're just beginning to make summer plans with your friends or family but don't want to travel too far from the metro, we've prepared this list of must-visit Airbnbs that is just located around Rizal:
Balai Urunjing
Location: Teresa, Rizal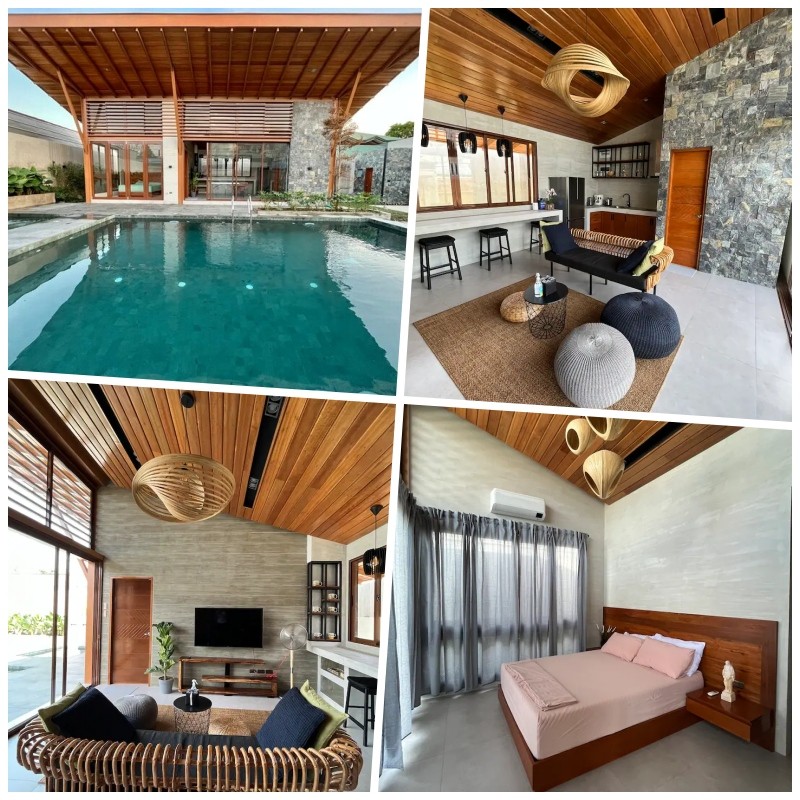 Get the Balinese experience without booking expensive tickets at Balai Urunjing. Even the pool has natural green sukabumi stones that are imported from Indonesia! The stunning industrial-Balinese pool villa is right in the heart of Teresa, Rizal, making it very accessible to visitors driving from the metro. Featuring wood and huge glass windows, the villa can accommodate up to six guests and has a lounge pool jacuzzi, a spacious and bright living area, equipped kitchen, patio, and outdoor dining area.
Rates start at P6,729 per night. Book your stay here.
Bungalow surrounded by nature
Location: Antipolo, Rizal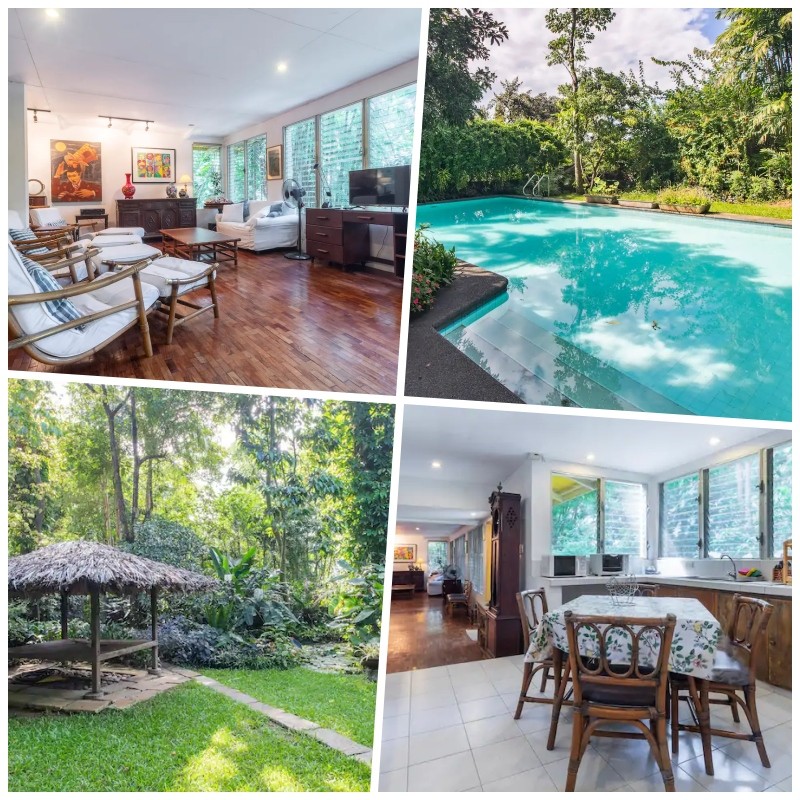 Surrounded by lush greens, this bungalow in Antipolo will instantly bring you a peaceful and relaxing feeling. It'll be like going back to your provincial home, where all you have to worry about is how you'll appreciate slow days even more. The idyllic house has two bedrooms, three baths, a dining area, a kitchen, and a living area that features large windows, ensuring cool air around. This listing is only for up to six guests, and additional guests staying overnight will be charged Php 1,000 per head.
Rates start at P7,714 per night. Book your stay here.
Balay Natu
Location: Antipolo, Rizal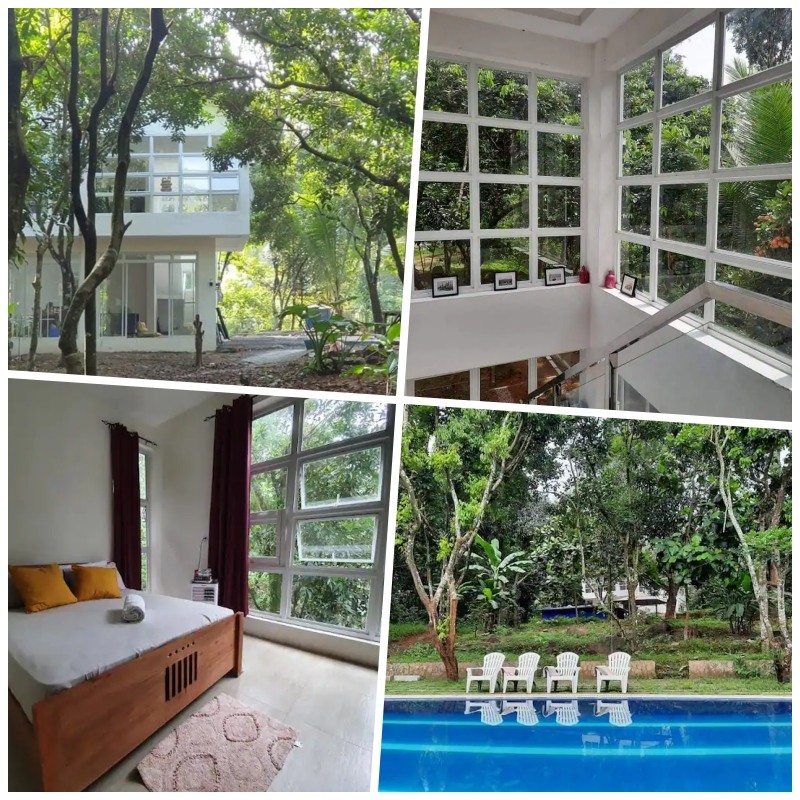 Balay Natu is the space perfect for choosing a random nook and burying yourself in a new read. In fact, there's a mini-library in the house! The space has plenty of glass windows, allowing light and fresh air inside the house, which makes it feel cozier. If you're looking for a place for a peaceful retreat, this country house will not disappoint. Aside from having the house exclusively, guests staying at Balay Natu also have access to the estate's amenities such as the multipurpose trails for biking and hiking, children's playground, and picnic areas.
Rates start at P15,164 per night. Book your stay here.
T&A Penthouse
Location: Antipolo, Rizal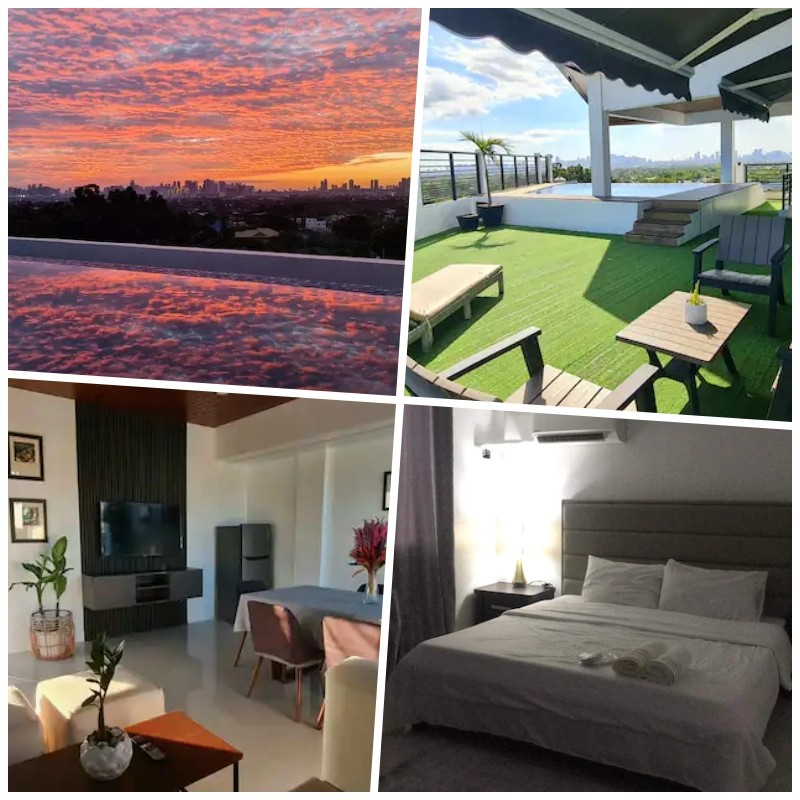 If you're a fan of cityscapes or skyline views, T&A Penthouse offers one of the dreamiest views of the metro – a full 360 view. You'll be away from the hubbub of the city but will be treated to a romantic view of it, right when you take a dip at the infinity pool located on the rooftop. The penthouse has a bedroom enough to accommodate up to six guests, and the outdoor area also makes the perfect location for setting up romantic dinners and intimate celebrations. They just added a small outdoor kitchen on the deck too, perfect for when you want to swim and dine.
Rates start at P7,614 per night. Book your stay here.
The Orchard Villa
Location: Morong, Rizal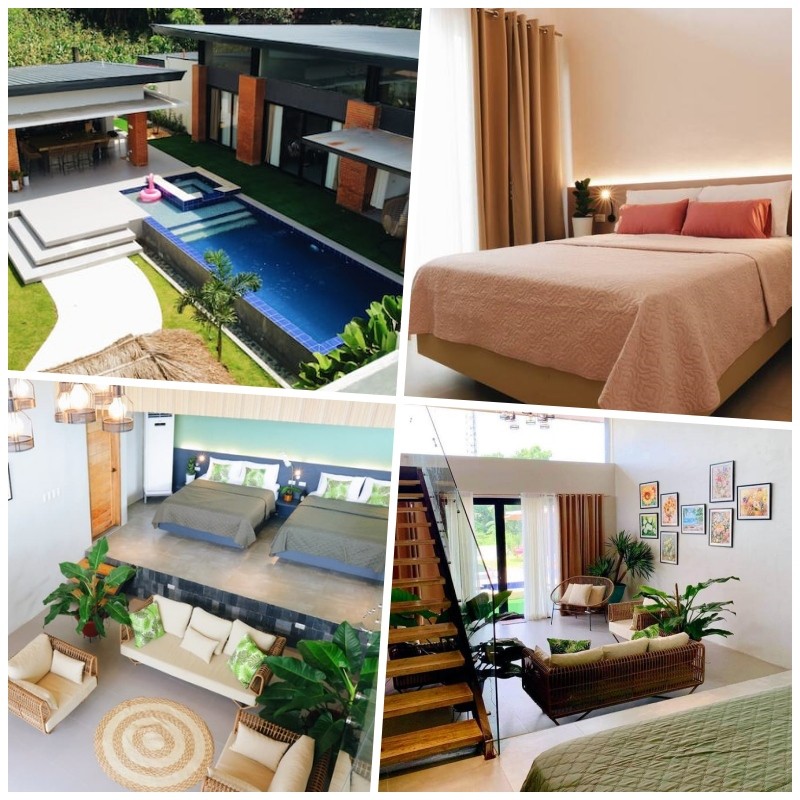 When you feel like treating your family or barkada to a luxe stay, go for a drive to Morong and discover The Orchard Villa. The modern and stylish villa was just built in September 2021, so all of its amenities and facilities are pretty much still in pristine condition. It features common spaces with huge glass doors and windows, giving an outdoor and pool view wherever you are. Up two 12 guests can stay here, with three bedrooms where you can sleep comfortably. A full outdoor kitchen is located by the pool – the island can double as a minibar or dining area too!
Rates start at P18,571 per night. Book your stay here.
Eight Chico Resort
Location: Angono, Rizal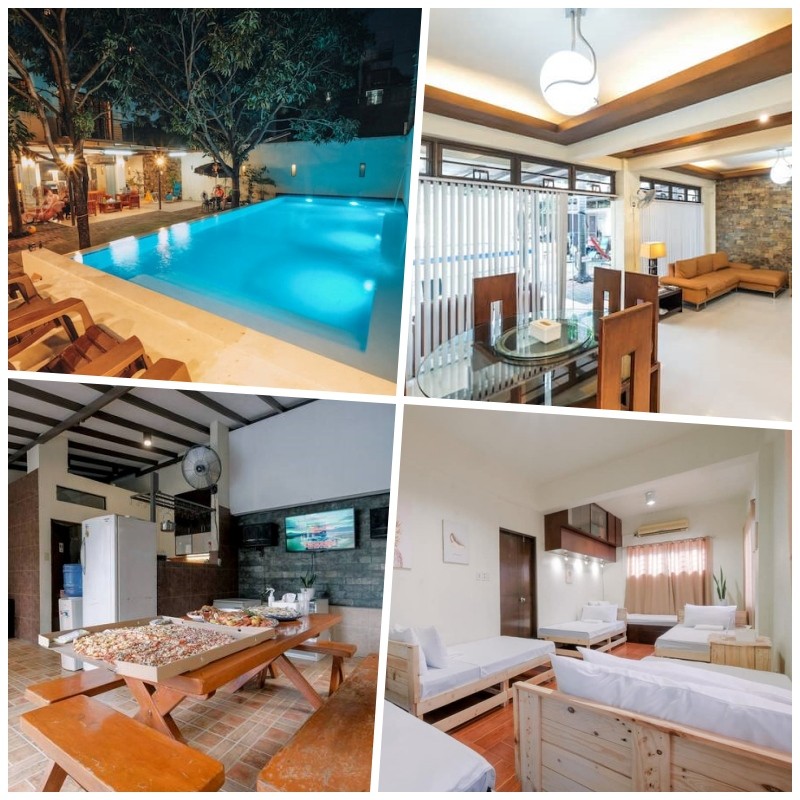 Looking for a private space for a big group? Eight Chico Resort can accommodate up to a maximum of 20 guests, and they have various amenities to keep everyone entertained. One of the best parts of the house is the spacious infinity pool where you can also set up an outdoor cinema; yes, you can watch a movie while swimming! Other resort amenities include three air-conditioned bedrooms, a full kitchen, karaoke, and a mini gym.
Rates start at P14,714 per night. Book stay here.
Casa Balario
Location: Tanay, Rizal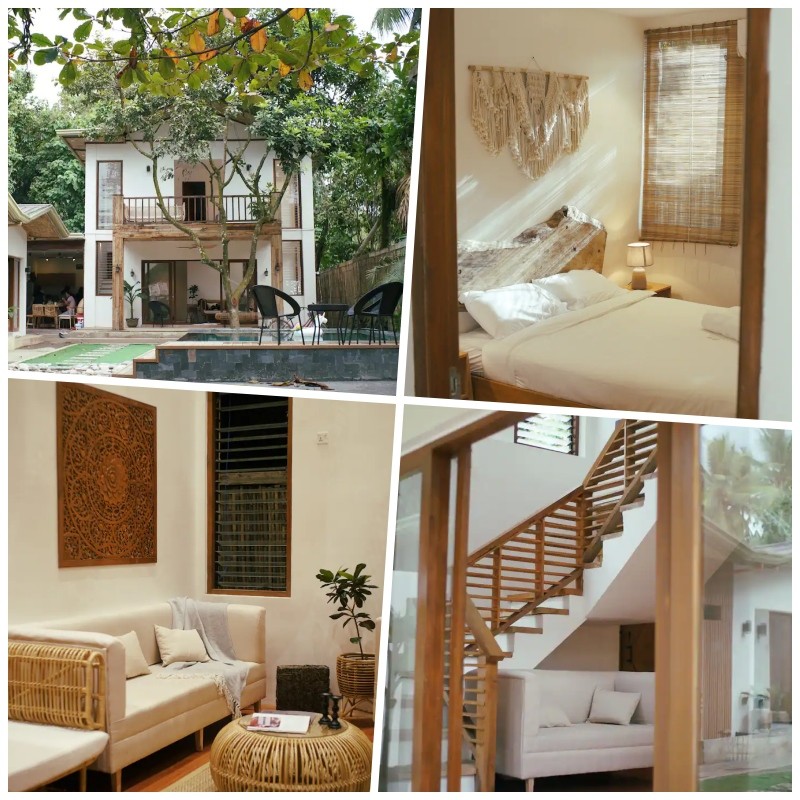 Nestled in Tanay, Casa Balario is a Bali-inspired stay that's ideal for big groups. If you're a fan of minimalist interiors that feature white spaces and accents of wood, this private home will make you swoon. It has four air-conditioned bedrooms with an en suite toilet and bath, which can comfortably sleep up to 15 guests. According to the owner, it can host two to three families during your stay. When you're feeling adventurous, this location is also perfect for exploring Daraitan; it's just within walking distance of hiking spots and natural attractions.
Rates start at P18,400 per night. Book your stay here.
Private house overlooking the mountains
Location: Tanay, Rizal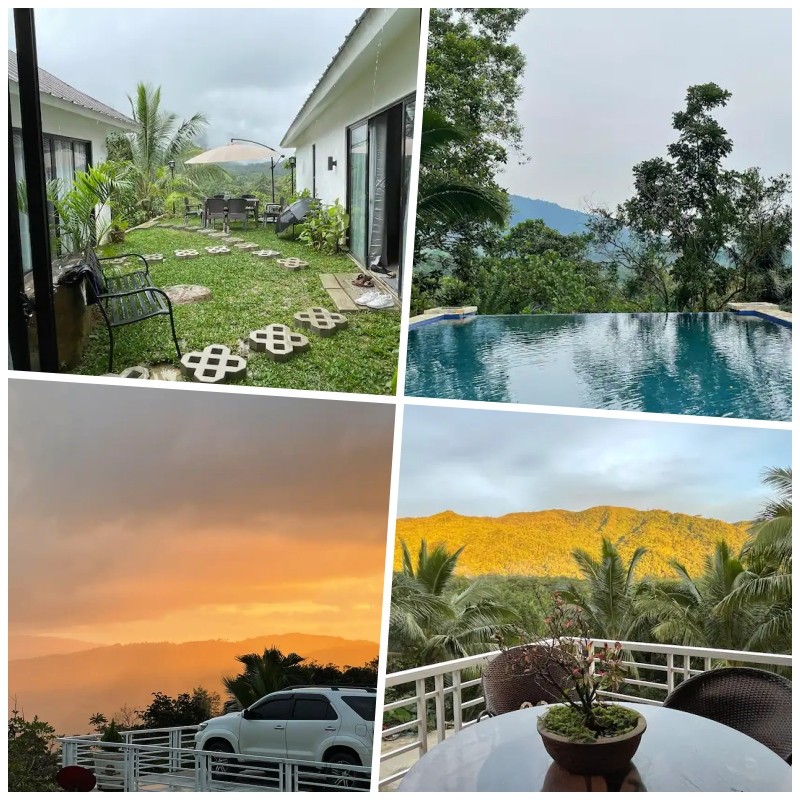 Can't get enough of nature? This private house in the mountains is surrounded by a forest and you can already get the best views starting at the parking area located at the top-most part of the one-hectare property. To reach the villa, you'll have to gown down 148-step stairs. Up to 16 guests can stay here, with the infinity pool as one of the most scenic areas. It has a panoramic view of the mountains and forest!
Rates start at P22,000 per night. Book your stay here.
Enjoy Your Breakfast Next to a Sea of Clouds at This Open-Air Restaurant in Rizal
Enjoy Your Breakfast Next to a Sea of Clouds at This Open-Air Restaurant in Rizal
Cristina Morales | Nov 06, 2020
For more information and bookings, contact the Airbnb host. Travel safely and responsibly!