Searching for Paradise: Manila to the Maldives
Oh, the dream life!
by Joanne Ignacio | September 05, 2016
Currently the resident yoga teacher of luxury resort One&Only Reethi Rah in the Maldives, Joanne Ignacio left the corporate rat race for hosting on TV, and eventually left that industry to pursue teaching yoga full time. In this first of a series of travel essays for Windowseat, she details how she ended up in one of the most beautiful places on Earth, starting with an anxious job hunt, trying to find an assignment that she likes but also pays the bills.
"It's so pretty!" I repeated for the nth time as I was being toured around Reethi Rah, this beautiful island in Maldives I would be calling home for the next two years. Stepping into this paradise took not only my breath, but the rest of my vocabulary away, as well.
I was so floored by how lovely everything was that every time I was shown a different place on the island, my boss would look at me teasingly and say, "Wait, let me guess. It's so pretty, right?" If I may argue though, my description was quite befitting, since Reethi Rah means beautiful island in Divehi [the Maldivian Indo-Aryan vernacular], anyway.
Repeat after me, "It's so pretty!"
I am currently the resident yoga teacher of a luxury resort One&Only Reethi Rah. I honestly didn't think it was possible to obtain a work visa and be brought to another country as a yoga teacher.
I was always under the impression that I needed to find some "serious job" or perhaps travel and just teach on the side. But, hey, apparently, opportunities abound if you have the patience to search for them.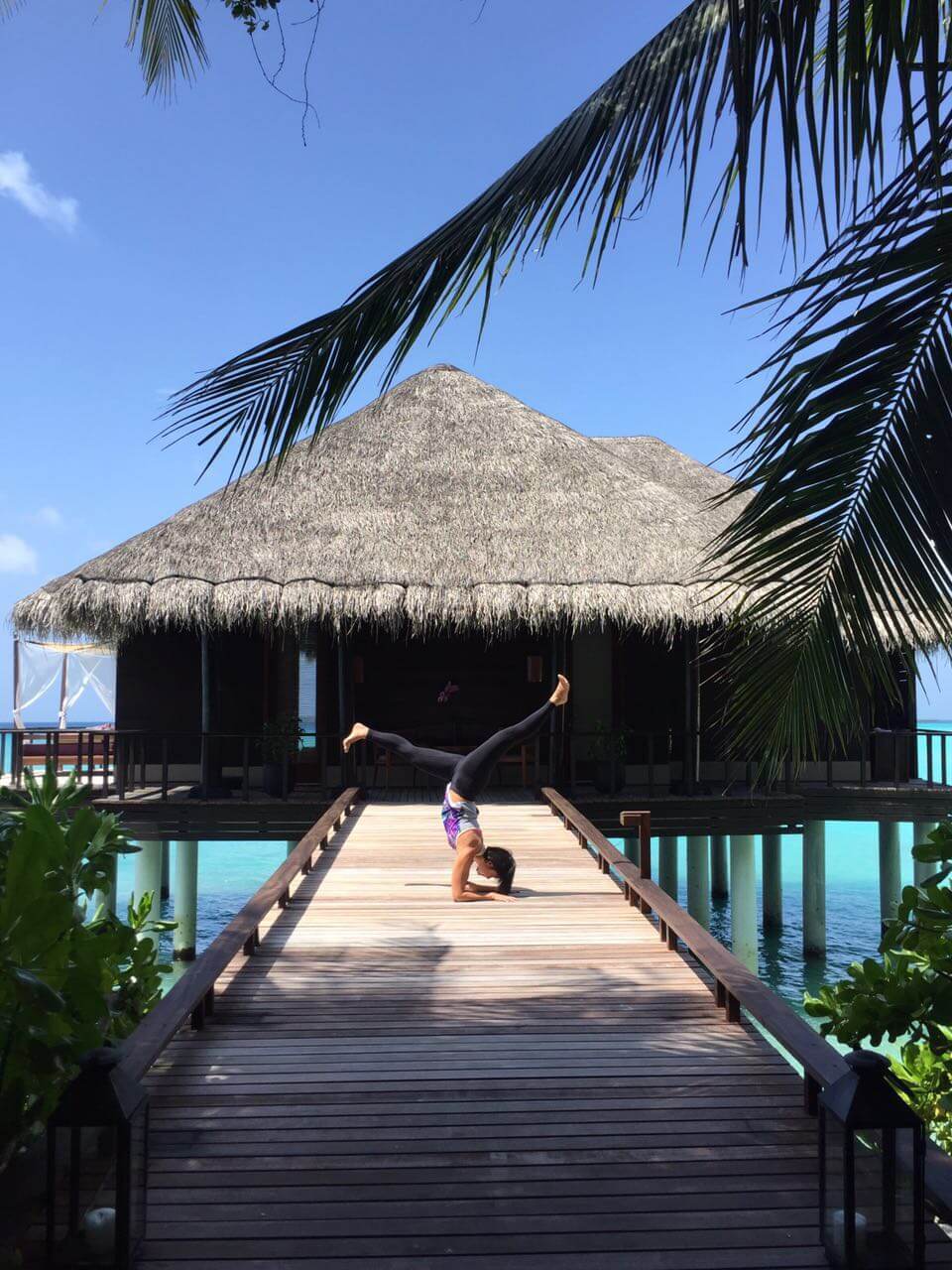 Every place in the resort is photo-op worthy.
Welcome to my office!

I don't have a desk, but I have chairs, a silk hammock, and an awesome view. What more can I ask for?
Although working overseas found its way into my bucket list, it stayed unchecked for a number of years. How I would actually go about getting this accomplished remained to be seen. I have always been a firm believer in being patient enough to wait for things to happen when they're supposed to happen, but opportunities for moving abroad won't just fall out of the sky.
After all, if you want to win the lottery, you have to buy a ticket.
So off I went, in search of "tickets" I fancied, signing up under sites like Yogatrade.com and Yogatraveljobs.com. These websites post jobs specifically for yoga teachers and wellness practitioners.
If a site posts job listings from all around the world, that means you are jockeying for a position against people from all over the world as well. The sites will allow you to upload your resume and send them to prospective employers, but getting a response isn't guaranteed. I spent two weeks just browsing the job posts (there are new additions almost every day), studying each company and opportunity. I must have sent my resume to around 30 resorts. Some would respond, some would not.
After several Skype interviews, I found that most of the resorts wanted work exchanges; you stay for free and teach yoga classes in return. Most were short-term contracts, ranging from one to six months, depending on the season. The number of classes you have to teach differs from place to place; some only require one class a day, while others will ask for as many as five classes!
You have to pay for your travel expenses, and while most places give you a room, not all establishments will throw in meals. While this benefits people who are really planning to travel, I found that these options would quickly burn a hole in my pocket. I was looking for actual work and not a working vacation, so I once again put the idea on the backburner.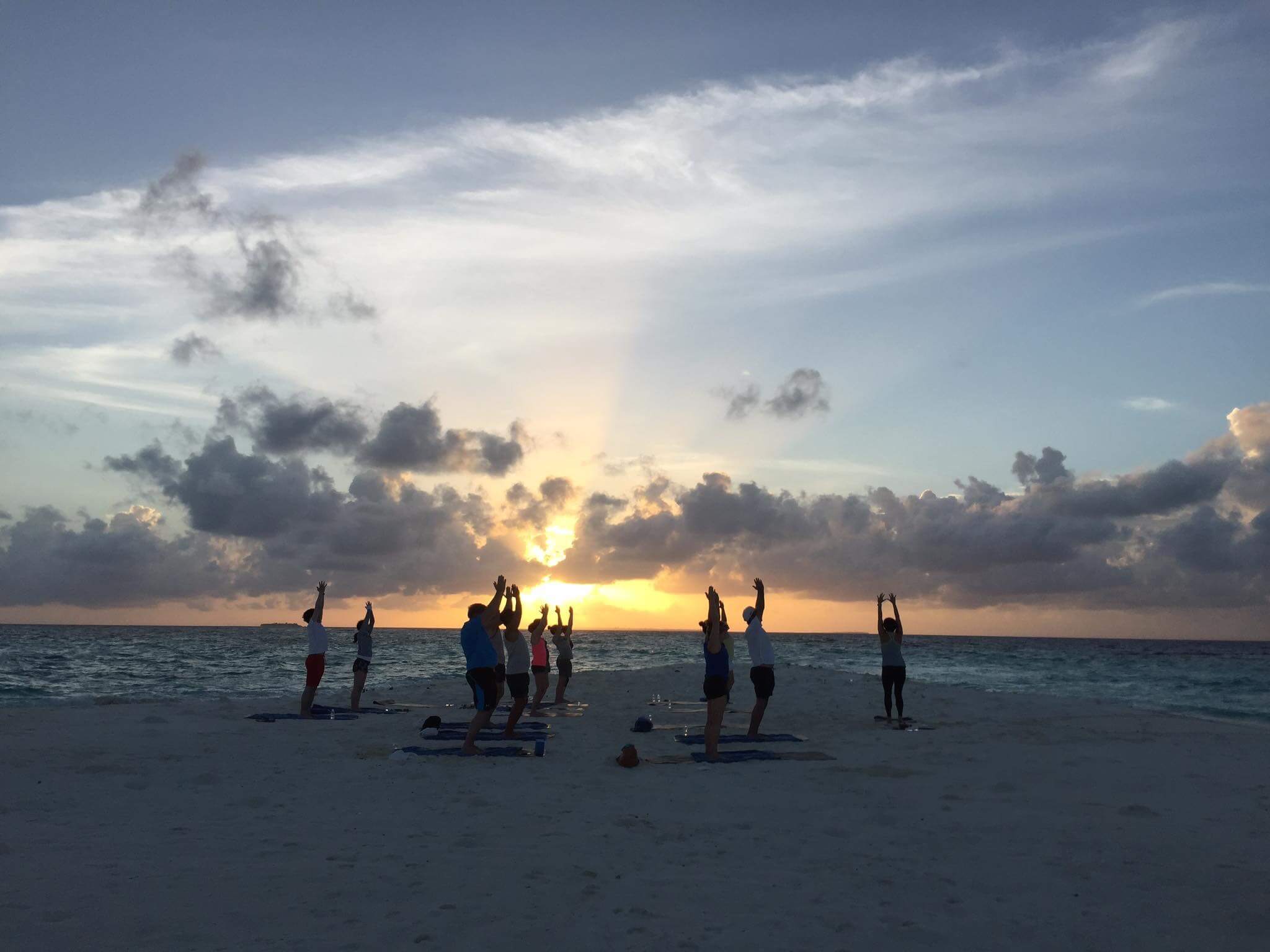 Teaching a sunset yoga session at the sandbank.
Four months later, one of the resorts I had sent my resume to contacted me with an actual job offer–a contract good for two years, providing me with a monthly salary (in USD!) to teach yoga. Transportation would be taken care of. I would be given my own room, get four meals a day, and a few perks here and there. I would have been crazy to pass this up, so I took the leap.
All I needed to do now was to prepare to leave home.