Spots in Seoul that Bibliophiles will Absolutely Love
A dream come true for book lovers.
by Andy Flores | October 22, 2019
If you're the type of traveler who likes checking out local bookshops, combing through shelves, sitting down with a newfound read or just breathing in the wonderfully intoxicating scent of books, then you'll love Seoul.
This upbeat city—best known as the beating heart of K-Pop, K-Dramas, and K-Beauty—is actually dotted with bookshops and libraries ranging from old-fashioned to polished to jaw-dropping (but always Insta-worthy) that will bring childlike joy to your book-loving soul. You will even find some of them in the most unexpected of places!
Here, we list down eight pockets of heaven in the South Korean capital that traveling bibliophiles will absolutely love:
Book Park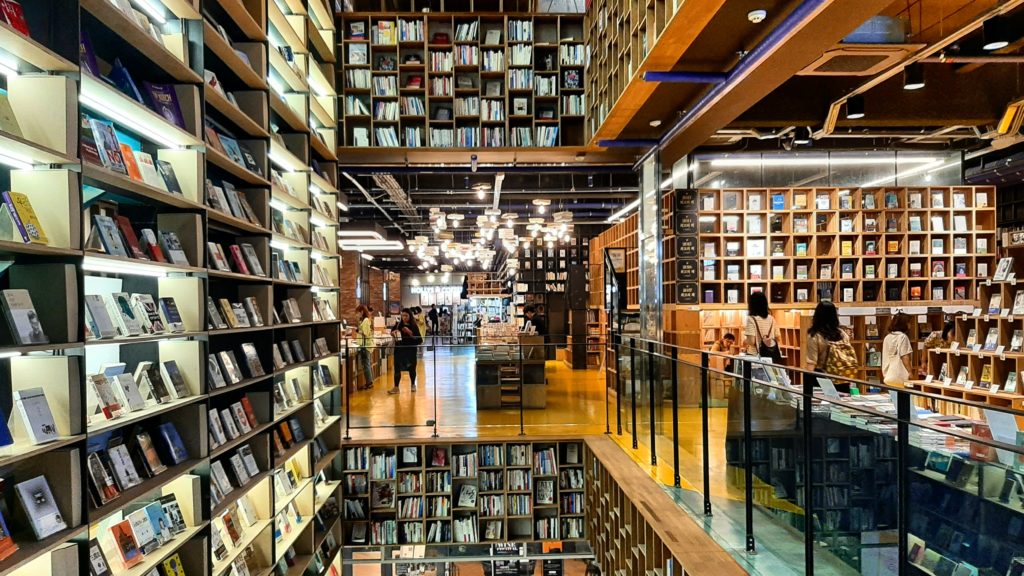 Perhaps, Book Park is what every book lover's dream is made of: This place is filled with books in almost every nook and cranny; its shelves standing from floor to ceiling, crossing multiple levels of the entire cultural space. Aside from a library and a bookstore, it also features lecture halls, an art gallery, and a cafe, where you can begin a new read while enjoying a delightful brew.
04399  294 Itaewon-ro, Yongsan-gu, Seoul  (Blue Square)
Closest Subway Station: Hangangjin Station, Exit 2
Seoul Book Bogo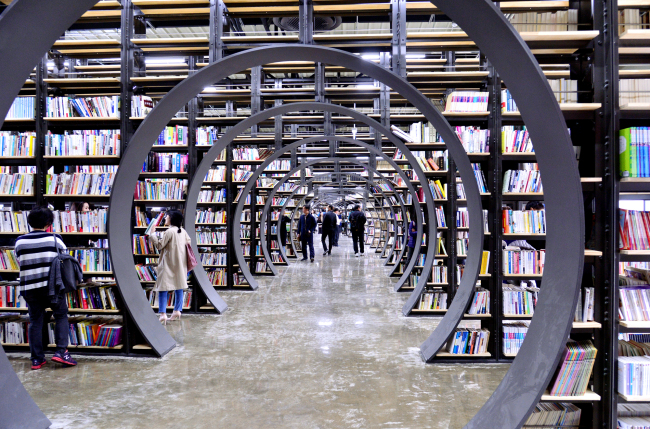 The Seoul Metropolitan Government recently repurposed an abandoned warehouse and turned it into an expansive pre-loved bookshop. The 1,465-square meter space is now known as Seoul Book Bogo, and houses over 100,000 titles collected from small secondhand bookstores across central Seoul that have been struggling to survive, as big franchises and online retailers continue to rake in profits. Aside from selling books, this repository also serves as a venue for events including forums and seminars.
05507  1 Ogeum-ro, Songpa-gu, Seoul 
Closest Subway Station: Jamsillaru Station, Exit 1
Kyobo Book Centre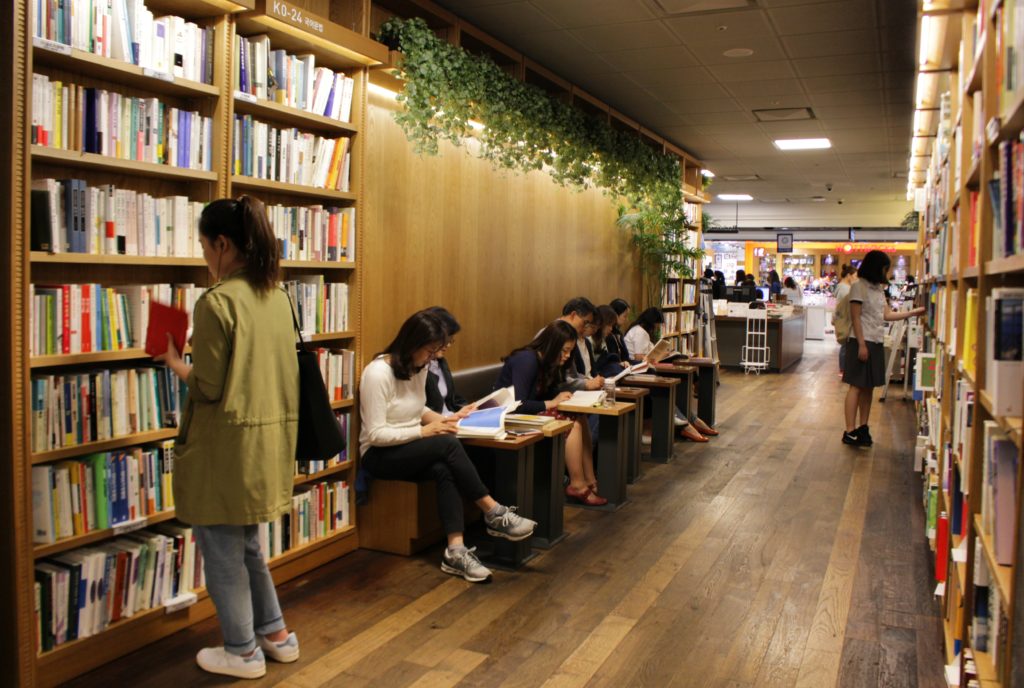 Known as Korea's largest bookstore chain, Kyobo Bookstore has ten branches throughout the peninsula. But the one you'd want to visit is the flagship store called Kyobo Book Centre in Seoul. Located in the basement of the Kyobo Building in Gwanghwamun, it is a book haven tucked away from the hustles and bustles of the city above. It boasts more than 2 million titles in various languages across numerous genres, which you can easily search for in their electronic database. Kyobo Book Centre also features sections for stationery, novelty items, and K-Pop, as well as a food court for the hungry book hunter.
1, Jong-ro, Jongno-gu, Seoul
Closest Subway Station: Gwanghwamun Station, Exit 4
COEX Starfield Library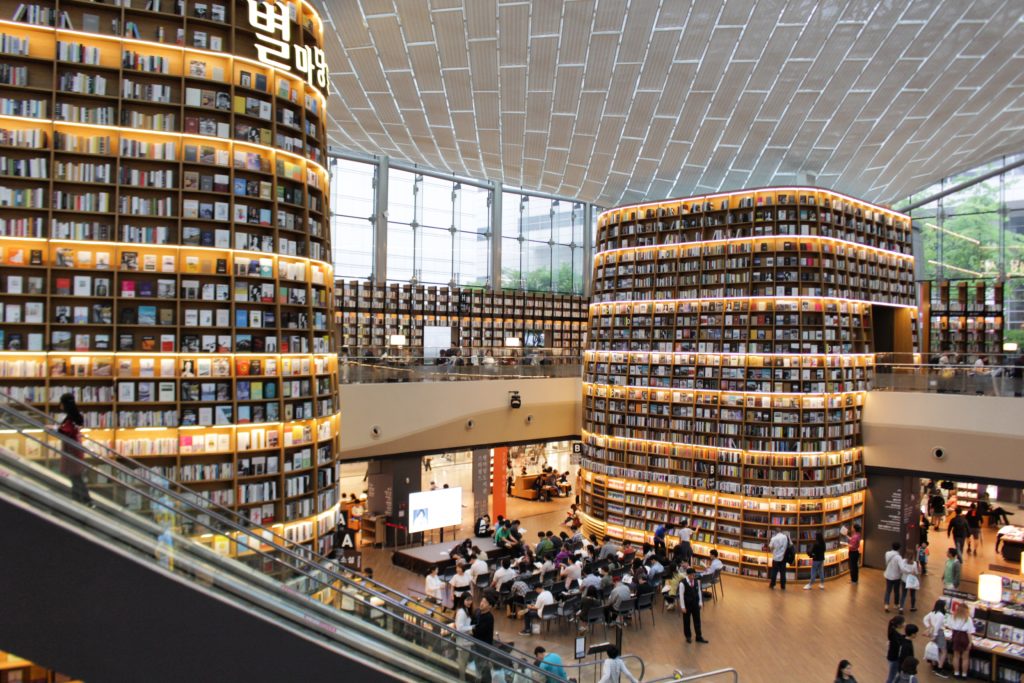 Situated in the largest underground shopping center in Asia, the COEX Starfield Library is a massive athenaeum with over 50,000 titles stocked on its shelves. It's a great breathing space if you want to take a break after all the shopping or just want to scan through local titles. You might even chance upon an open exhibit on your visit!
06164  513 Yeongdong-daero, Gangnam-gu, Seoul 
Closest Subway Station: Samseong Station, Exit 5 or 6
ARC.N.BOOK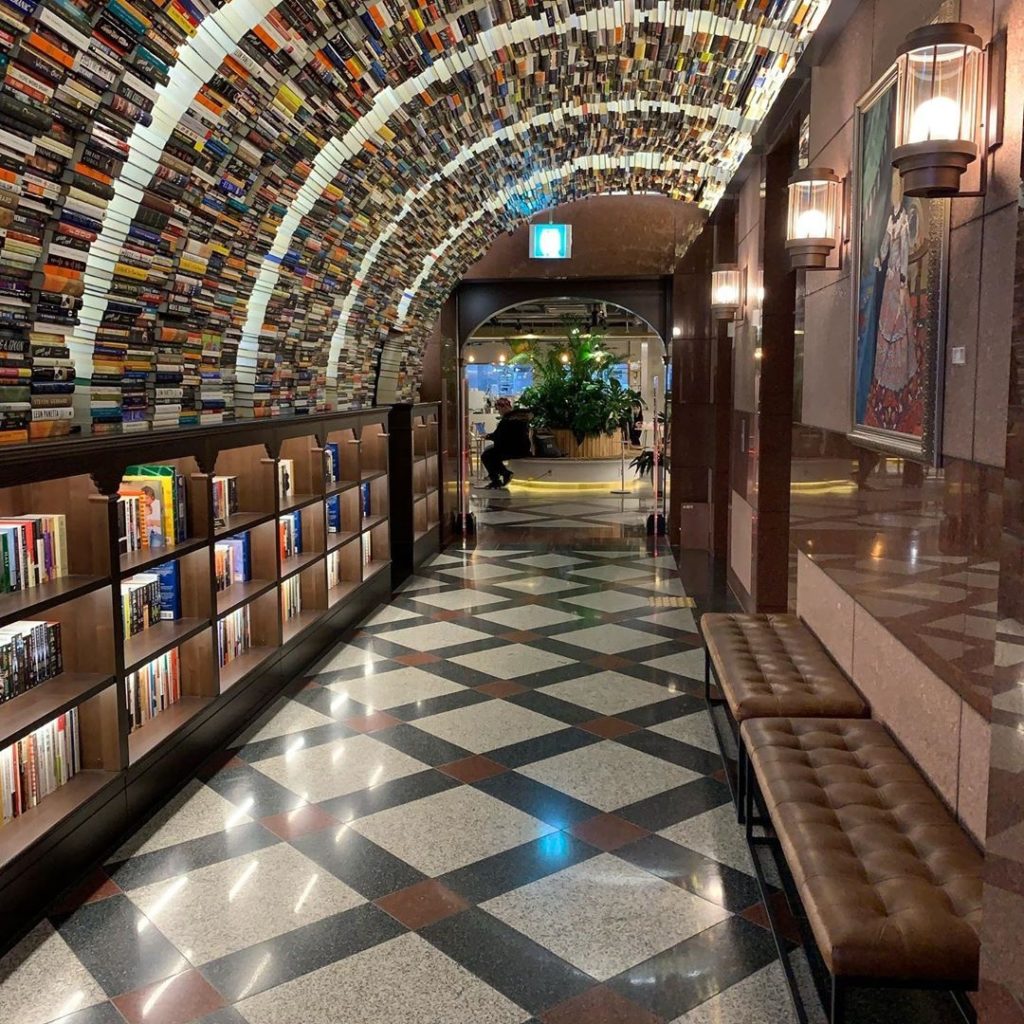 Opened just last year, this new reading space-slash-lifestyle shop poses itself as a curated bookshop that's divided into four themed sections, namely Daily, Weekend, Style, and Inspiration. Here, books are displayed with lifestyle products related to their titles for the complete sensory experience. Gaining popularity among bookworms and non-readers alike, ARC.N.BOOK is impeccably designed, with a marvelous book tunnel as its defining feature.
04523  B1F, 29 Eulji-ro, Jung-gu, Seoul 
Closest Subway Station: Euljiro 1(il)-ga Station, Exit 1-1
History Book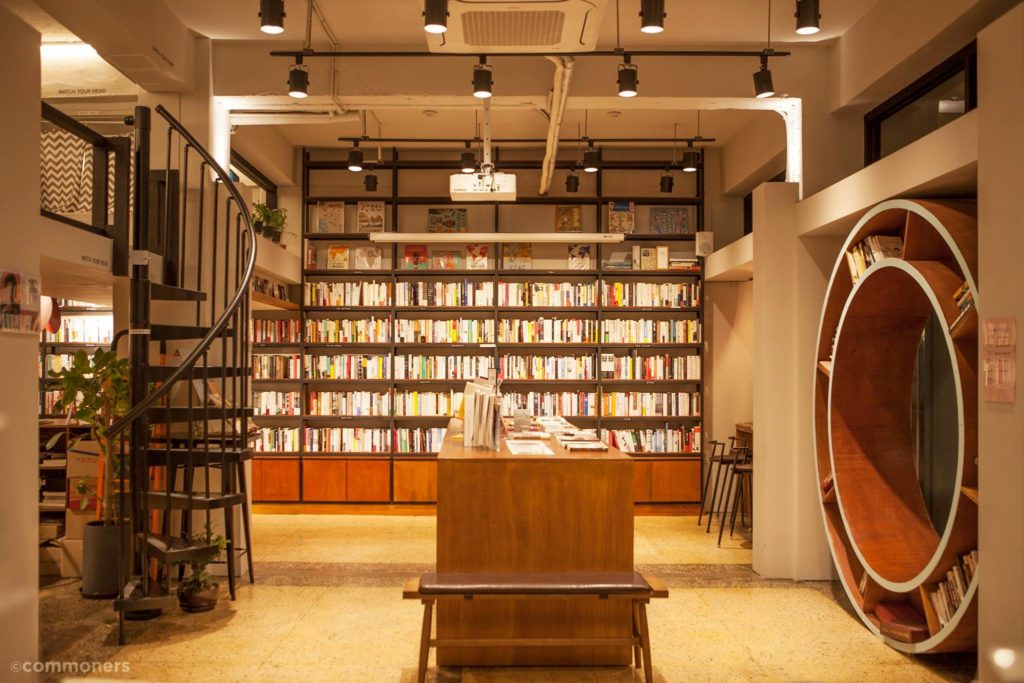 Take it from its name—this bookstore sells all books related to history. From world history to art history, it offers a wide selection of titles for history buffs and curious minds. While it's near the touristy Gyeongbokgung Palace, it maintains its laid-back atmosphere perfect for when you just need a break from sightseeing. It also has a cafe in case you need a caffeine fix.
24 Jahamun-ro 10-gil, Tongui-dong, Jongno-gu, Seoul
Closest Subway Station: Gyeongbokgung Station, Exit 3
Choi Ina Books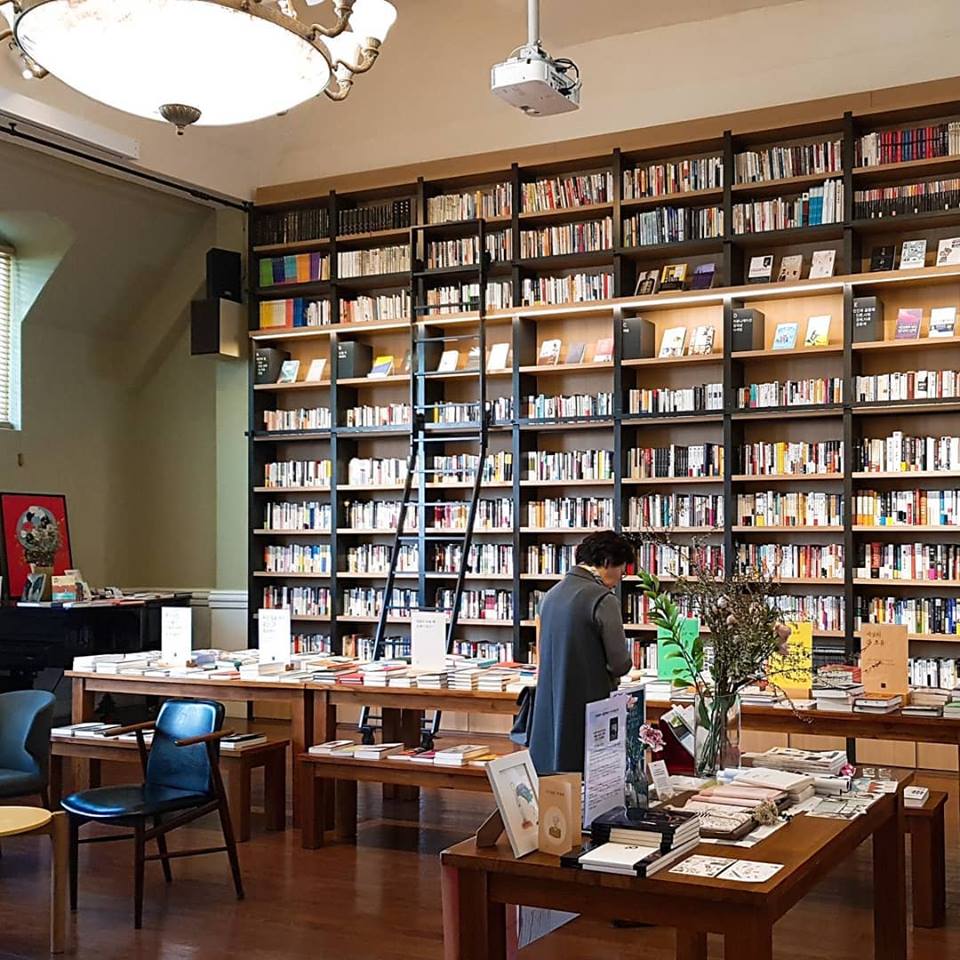 On the lookout for a new book recommendation? Choi Ina Books puts a spin on how you will find your next great page-turner. Named after its owner, a retired copywriter of a major advertising firm in Korea, this library-like bookshop is a small and serene place to enjoy some me-time in the fast-paced and ever-busy Gangnam district. The eponymous store has an entire curated section, with titles selected by advertising professionals and some by the owner herself!
521 Seolleung-ro, Yeoksam-dong, Gangnam-gu, Seoul
Closest Subway: Seolleung Station, Exit 7
Dae-Oh Bookstore 33 Cafe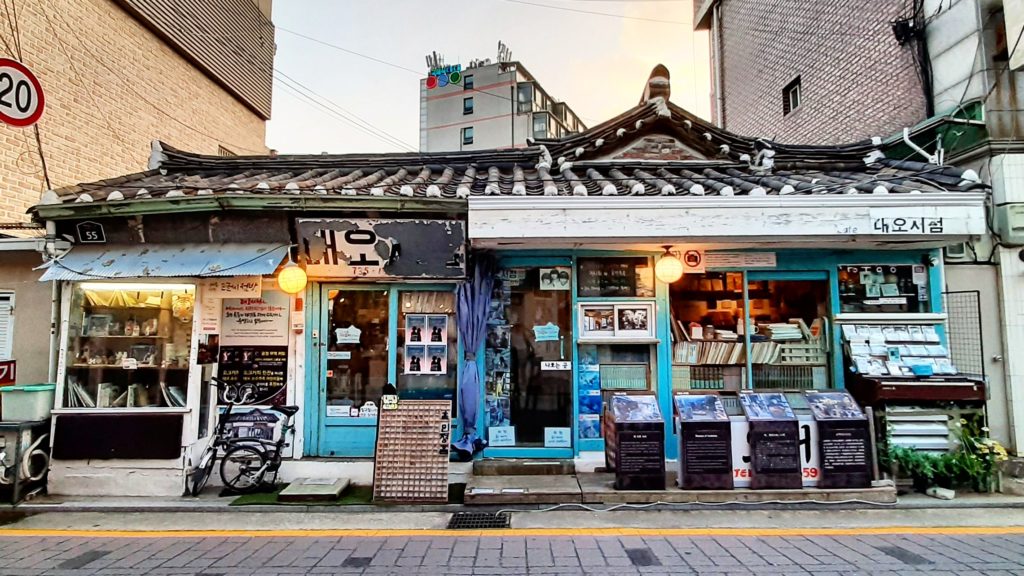 Tucked in the charming neighborhood of Seochon, this quaint bookstore-turned-cafe is a favorite stop among locals and tourists, who've wandered off to the west of Gyeongbokgung. Dae-Oh is known as the oldest bookshop in the city (it first opened its doors in 1951), and although it no longer operates as a bookstore, it still delights visiting bibliophiles with their thirst-quenching refreshments (their honey citron tea is definitely a must-try!) and, of course, the wealth of books still on the shelves…and floors…and tables…
03036   55 Jahamun-ro 7-gil, Jongno-gu, Seoul 
Closest Subway Station: Gyeongbokgung Station, Exit 2
*All photos courtesy of the author unless otherwise stated 
Which of these have you been to? Tell us below!