10 of the Coolest Starbucks Stores in the World
Starbucks Reserve Roasteries are our favorite!
by Kyzia Maramara | January 29, 2020
Finding a Starbucks Coffee store wherever you travel abroad is a form of comfort. It's as if you aren't away from home because you can always order your usual morning or afternoon brew and you're right back in your country. But not all Starbucks stores will make you feel at home. Some Starbucks stores around the world will make you feel in awe of their amazing designs that promote local culture and love for all things coffee. Some Starbucks stores are so beautiful they even offer tours in coffee plantations and lessons on the journey of coffee seedlings to your cup.
Just take a look at these cool Starbucks stores around the world. Who knows? Maybe you can add them to your itinerary one day.

Ninenzaka Yasaka Chaya, Kyoto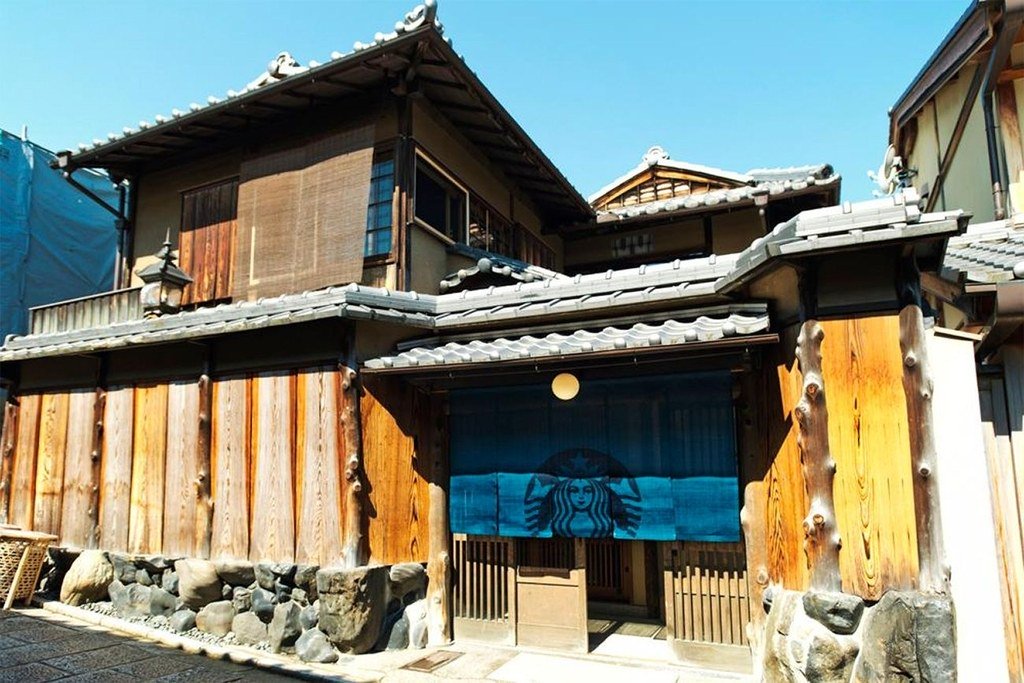 349番地 Masuyacho, Higashiyama Ward, Kyoto, 605-0826, Japan
In 2017, the world's first tatami Starbucks was opened in Kyoto, Japan.  Tatami is a type of straw mat found in traditional houses in Japan and this Starbucks store has detailed interiors incorporating traditional tatami seating on its two floors. Starbucks made the perfect marriage of traditional Japanese culture to the modern taste and services of a 21st-century coffee shop. The outside might look a bit unassuming but the interior is a sight to behold.
After spending your morning at the Starbucks Ninenzaka Yasaka Chaya, roam around the famous tourist spots that make Kyoto a must-visit destination.
Boulevard des Capucines, France
3 Boulevard des Capucines, 75002 Paris, France
Believe it or not, this Starbucks Coffee in France is located inside a building that dates back to the 17th century. Elegant chandeliers hang from the ceiling and the ceiling itself is designed intricately with swirls of gold. It's a coffee shop designed as a ballroom straight out of a fairytale!
Sun Valley, Idaho
491 Sun Valley Rd, Ketchum, Idaho
Drink your favorite signature roasts and lattes at this beautiful Starbucks in Idaho. I mean, just look at it! What a sight it must be during the winter, with a backdrop of the mountains and surrounded with snow. The warm glow and high ceilings would invite you in for a warm cup of hot chocolate.
Prado Norte, Mexico
Avenida Prado Norte 324, Ciudad de México
Prado Norte's Starbucks exterior features a grand staircase, a fountain, and detailed tile murals. You'll feel like royalty climbing up the elegant steps!
Starbucks Reserve Roastery New York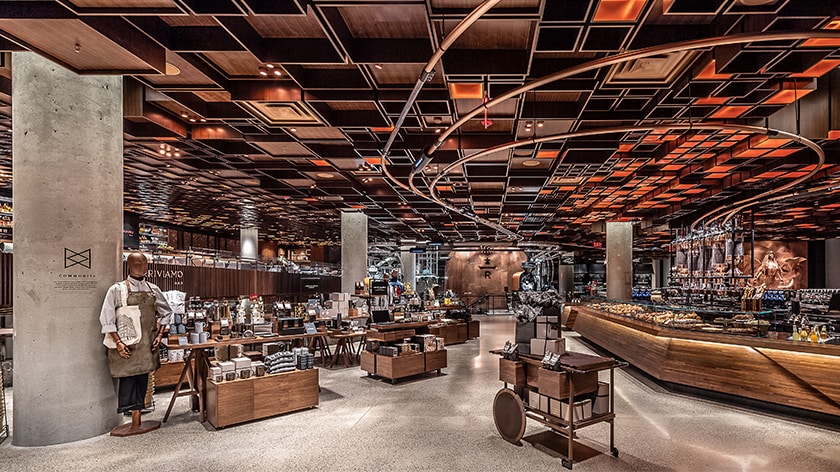 61 9th Ave., New York
This store might be a lot to take in especially since it's located across a 23,000 square feet space. The New York Roastery is perfect for coffee enthusiasts who want to know the practice behind making a perfect cup of joe every day. This store has multiple coffee bars guests can immerse themselves in the art of coffee crafting, coffee bean scooping, and even mixing cocktails and coffee creations.
Chapultepec Reforma, Mexico
Paseo de la Reforma, Bosque de Chapultepec, Ciudad de México
Located inside the largest park in Latin America (Bosque de Chapultepec), this relaxing Starbucks in Mexico has an advocacy to preserve the green areas surrounding it. The furniture is made from wood that has been recovered and treated locally. The store makes use of natural lighting and areas that need artificial light have LED lights. The design also promotes fabrics made by local artists.
Ibn Battuta Mall, Dubai
Sheikh Zayed Rd, Dubai, United Arab Emirates
An explosion of beautiful colors welcomes guests at this Starbucks located inside Dubai's luxurious mall. Colorful patterned Persian tiles line up the high domed ceiling finishing off with a chandelier. You might just have a stiff neck trying to look up.
Starbucks Reserve Roastery Milano, Milan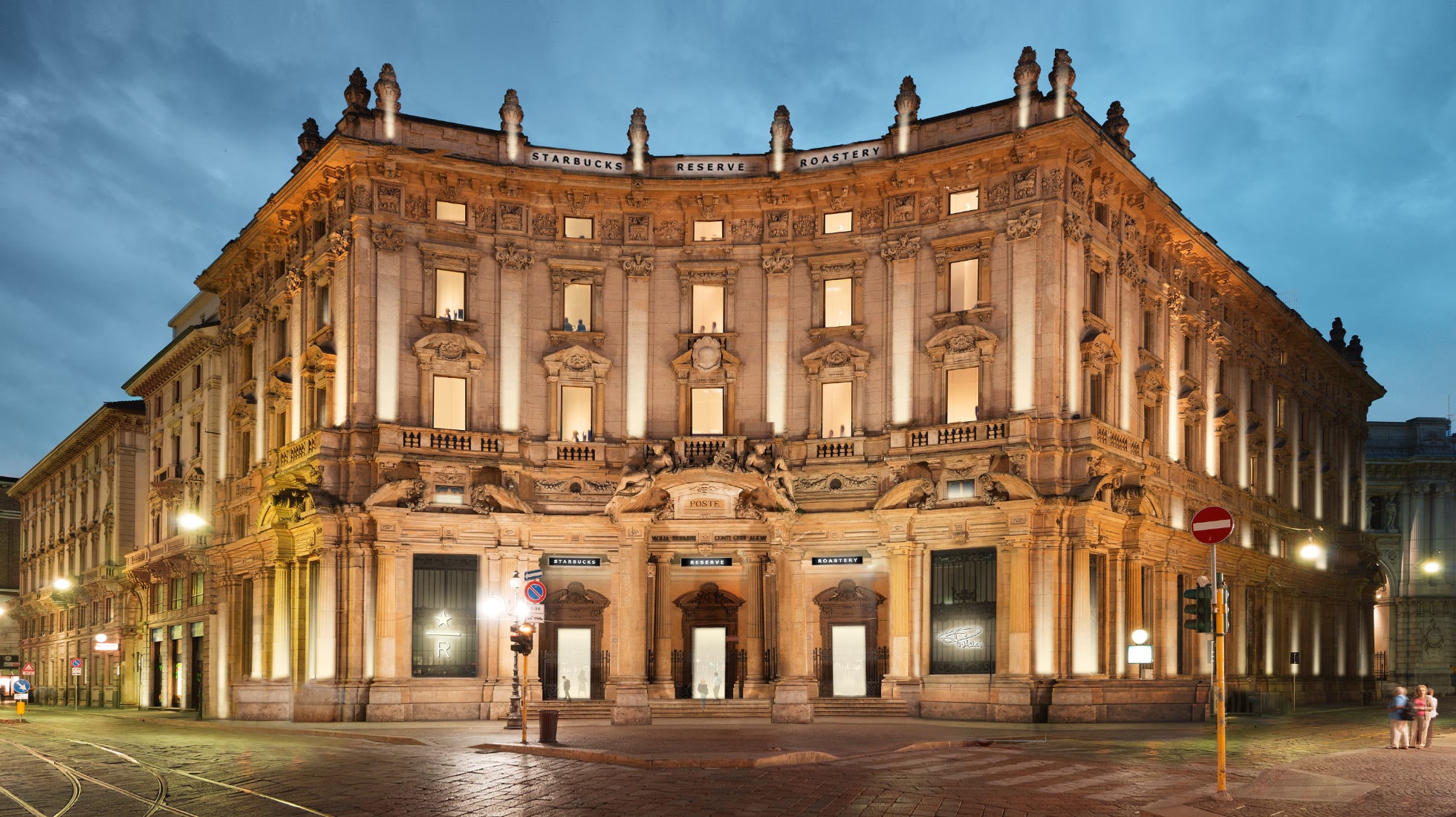 Piazza Cordusio 3, Milan
Have a romantic date at this Roastery in Milan, Italy. Located at the Piazza Cordusio, this Starbucks' exteriors are just as lovely as its interiors. Learn more about coffee crafting with the different bars that let guests have front row seats to the experience.
Hacienda Alsacia, Costa Rica
15 KM North from the Alajuela Justice Courts, Dulce Nombre, Costa Rica
Starbucks' only coffee farm can be found in Costa Rica at the foot of a volcano. If you've ever been curious about how the coffee beans are harvested, processed, and delivered to your table, this is the best place to be. Hacienda Alsacia offers immersive, interactive tours through the whole place. After the tour, you can spend time chilling at the visitor's center overlooking the plantation with a fresh mug of coffee in hand.
Starbucks Reserve Roastery Chicago
646 Michigan Ave, Chicago, Illinois
The world's biggest Starbucks just opened last November 2019 in Chicago in a five-story 35,000 square-feet space. Coffee is made fresh daily with freshly roasted coffee beans that travel by pipe all over the place. Visitors can drink their cups in the store or take home a fragrant bag of coffee. Like all Starbucks Reserve Roasteries, this location serves as an immersive coffee experience coffee lovers shouldn't miss.
Where's the most beautiful Starbucks store you've been at?