The Perfect Thailand Beaches for Your Nightlife Needs
We baht you'll love the party over here.
by Tynne De Leon | July 28, 2016
Thailand of Southeast Asia, the land of smiles, the uncolonized, kingdom of ornate temples and ancient ruins, the gem across the sea and a tropical paradise—clearly, there's so much that Thailand has to offer with its lush landscape and fascinating culture (who doesn't love elephants?)
You know what we love about hot countries? Beaches! A place to get our bodies tanned! While you're at them, why not extend your itinerary 'til the sun goes down? After all, the real fun always starts at midnight.
Fly off to Thailand and swing into their nightlife, I baht you'll love these:
Chaweng Beach
Koh Samui, Thailand
Considered as the longest beach in Koh Samui, Chaweng is undoubtedly Thailand's busiest town. From sports activities to a rave nightlife, this beach boasts a lot of attractions and amenities; you'll surely never run out of things to do. Take a swim in the morning and unleash your party animal by night in a place that never sleeps. Chill-out bars, fancy restos, cabaret shows–name it, they have it. So if you're an enthusiastic partygoer, this is definitely the place for you.
If you're crafting your itinerary, you can check this out.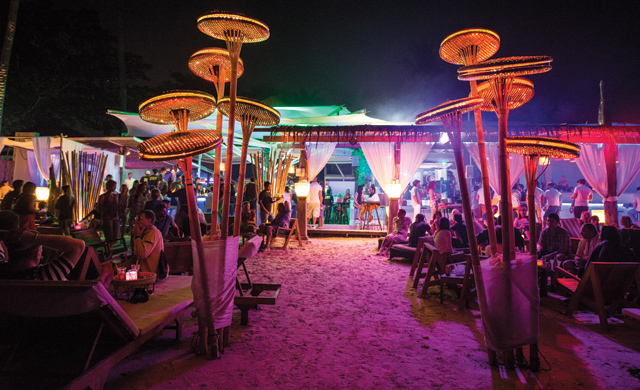 Pattaya Beach
Pattaya, Thailand
Dubbed as the Sin City of Asia, Pattaya holds its title way up high with the wide array of party places from left to right. Its world-famous Walking Street is a must-go for wild parties, as it draws a lot of foreigners and Thai nationals primarily for its nightlife. Much of Thailand's hardcore party scenes, shopping boutiques and various food hubs are centered in Pattaya, and you won't want to miss the fun! See the best Pattaya happenings here.
Phi Phi Island
Krabi, Thailand
Just a bus away from Phuket, Ko Phi Phi (note: Koh means "island" in Thai) is one of Thailand's most popular beaches, with a really nice view of the deep blue sea. Their nightlife showcases dazzling fireworks hosted by several bars every night, alongside entertainers performing a fire show with lively. So if street performance is your kind of entertainment, Phi Phi is just the place. The island also offers a contrasting experience, so if in case you want to shift from quiet to upbeat; it's the place to stay. Hostels cost around 500 Bahts per night ($15) per person, and travelers who've been here recommend going for a more expensive place.

Koh Pha Ngan
When someone mentions Pha Ngan, full moon parties will always be at the top of their mind. Pha Ngan is known globally for hosting monthly full moon parties–with 10,000 to 30,000 people flocking into the island every 30 days. This "tradition" started when a group of tourists found out that Pha Ngan has the perfect view of the full moon, thus hosting the monthly parties, people around the world fly off to the country to join the celebration. No wonder it was featured in several famous movies, including Leonardo DiCaprio's The Beach. See the schedule here and be part of this much-talked about festival!
Cha-Am District
If your idea of the nightlife is peace and quiet, Cha-Am is one of the more subdued parts of Thailand, perfect for a laid-back beach experience. The district is just a tight community where you can immerse yourself with the culture of the locals. While it is beside a huge beach, a large majority of tourists opt for resorts, as Cha-am is the place for families who seek a simple and cozy night-out. Here are some guides on the best hotel picks.
What beach do you prefer for your kind of night life? Sound off below!