Tie the Knot at These Beautiful Wedding Destinations in Thailand (That Could Double as Honeymoon Venues)
There's an abundance of tropical destinations, mountaintop panoramic views, and picturesque beachside locations.
by Kyzia Maramara | August 14, 2020
The global pandemic putting a halt on our lives for now only means we get more time to map out our future plans. Some day, you will once again get to use that dusty travel itinerary, celebrate birthdays with friends, and, yes, push through with that wedding you've always dreamed of. Couples cooped up at home might want to dream big in planning their postponed wedding dates. How about a beautiful destination wedding in Thailand?
Thailand has always been one of the top tourist destinations for Filipinos. It boasts of a variety of landscapes that will suit each couple's taste. There are tropical destinations teeming with flora and fauna, a picturesque beachside, or a mountain region with panoramic views. The best part? These locations could all double as the perfect honeymoon destination too.
Bangkok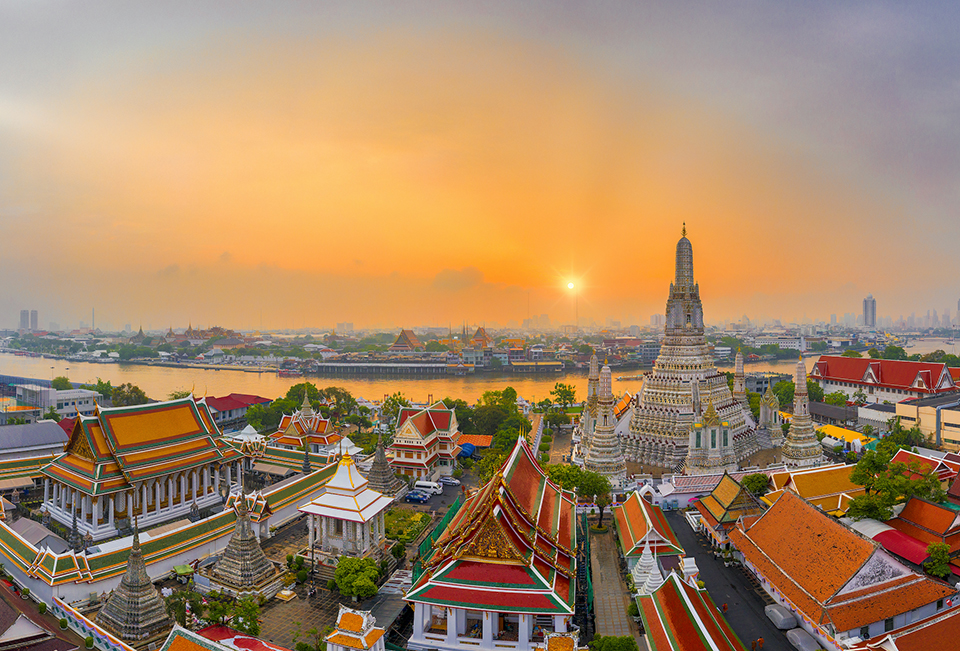 Bask in love in the romantic city of Bangkok  and wake up to the view of Wat Arun
Thailand's capital, Bangkok, is a busy metropolis where tourists can find luxe accommodations, wellness facilities, designer shopping, or venues for a grand and unforgettable celebration. It's quite the location for a fusion of a modern city and traditional palaces and temples. If that suits your fancy, Bangkok has that and everything in between.
Pattaya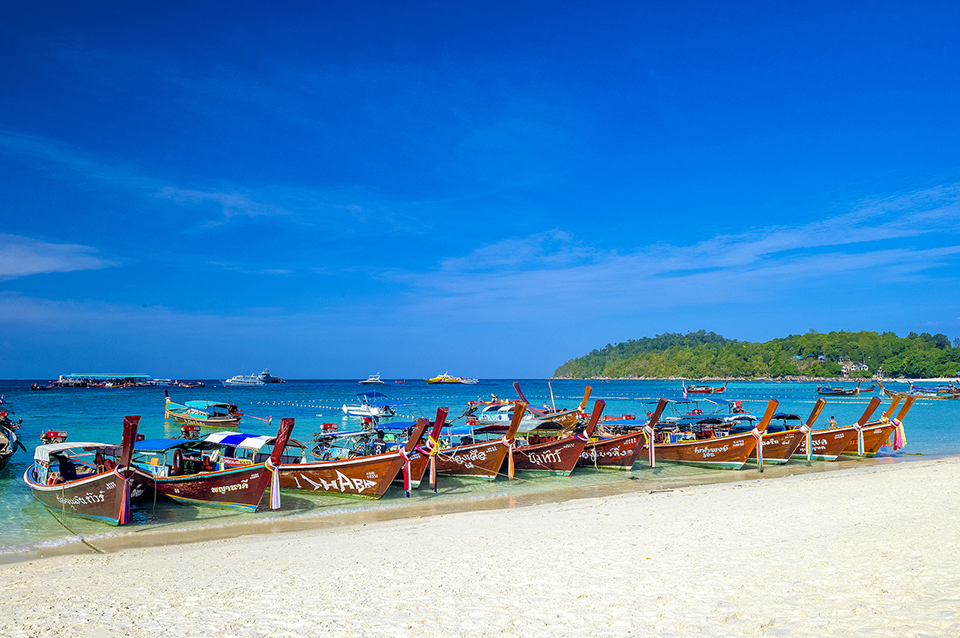 For a beautiful beach venue that's close to Bangkok, Satun-Ko Lipe-Pattaya Beach is the closest to the city.
Beachside lovers would be glad to know that the beautiful beaches of Pattaya are theirs for the taking (or renting). It's a mere two-hour drive from Bangkok and it has both city comforts and a scenic beach backdrop. Pattaya is ideal for its accessibility, you won't be hard-pressed to find decent suppliers or run out of stunning wedding venues to choose from.
Chiang Mai and Chiang Rai
Enjoy a peaceful location with your partner at Chiang Rai
Chang Mai is known for its mountainous landscape and lush forests. Dive deep into Chiang Mai's lush forests and scenic landscapes for a tranquil wedding that celebrates Thailand's traditions and customs. Pro tip: avoid the months of February to April if you're planning an outdoor wedding, the city experiences smog at this time due to local farmers' "burning season."
Another romantic location that's a bit off the beaten track is Chiang Rai. It is one of Thailand's oldest settlements, and because of this is steeped in tradition. If you're a couple looking for a rustic and remote wedding destination for a weekend of romance, then Chiang Rai is definitely your best bet! Set against its well-preserved historic sights and lush rice paddies, this city offers guests a peek into what life was before the hustle and bustle. Schedule your date towards the end of the year, when the weather is cooler and much more forgiving
Hua Hin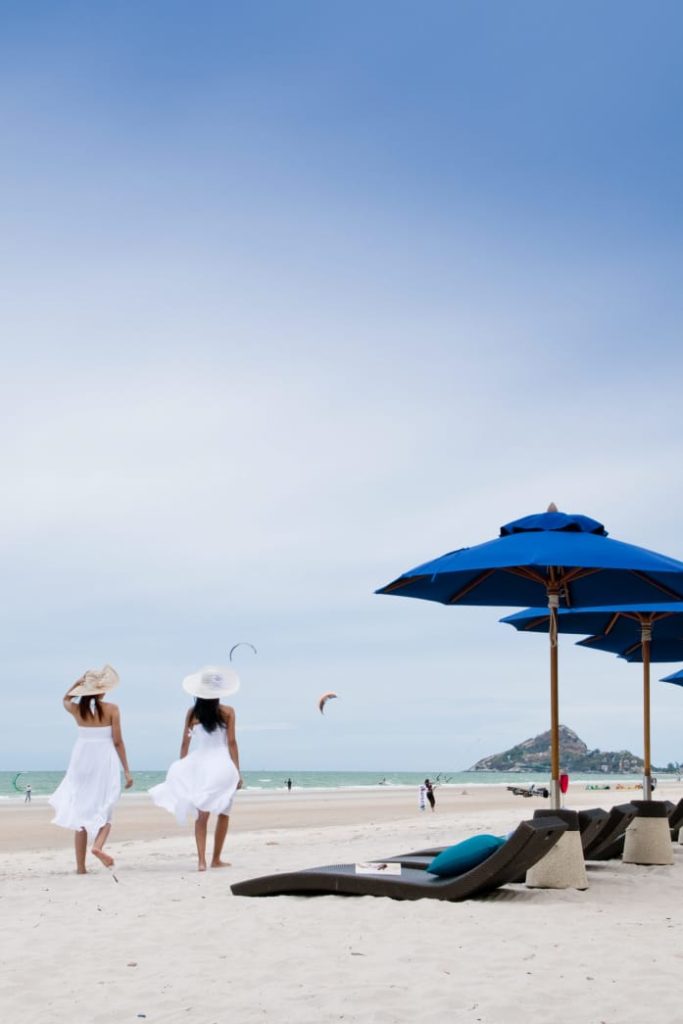 Have a luxurious beachfront wedding at Hua Hin Beach
Picture this as the setting of your wedding: A stunning beach resort town that's a mere three-hour drive from the capital. With a wide range of venues to suit every budget, you can have a luxurious beachfront wedding or an intimate ceremony in your very own romantic beachside villa. After that, head straight to the honeymoon and explore more of what Hua Hin has to offer, including cultural sights and impressive natural formations.
Phuket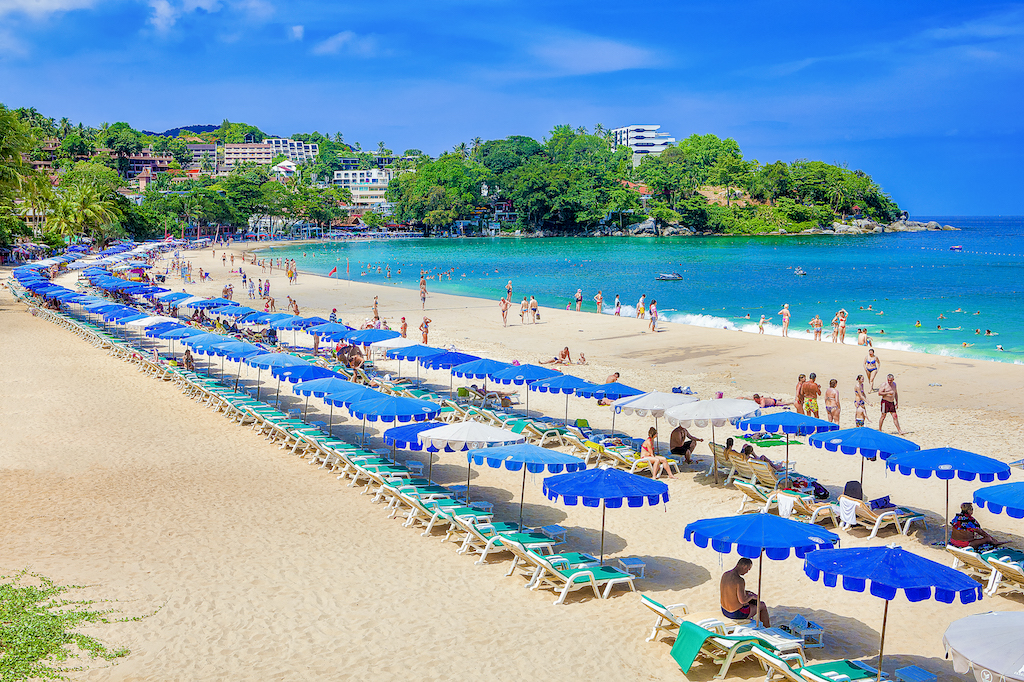 Kata Beach in Phuket
As one of the most popular wedding destinations in the world, Phuket has everything a romantic getaway promises. The island has white sand, clear blue water, and imposing land formations that make up a postcard-perfect backdrop for one of the most important celebrations in your life. No wonder the island's been used as a location for a number of Hollywood movies. If you're looking for a beach venue that's easy to get to (international flights can fly direct) with a wide range of accommodations and on-site suppliers, Phuket is a no-brainer!
Krabi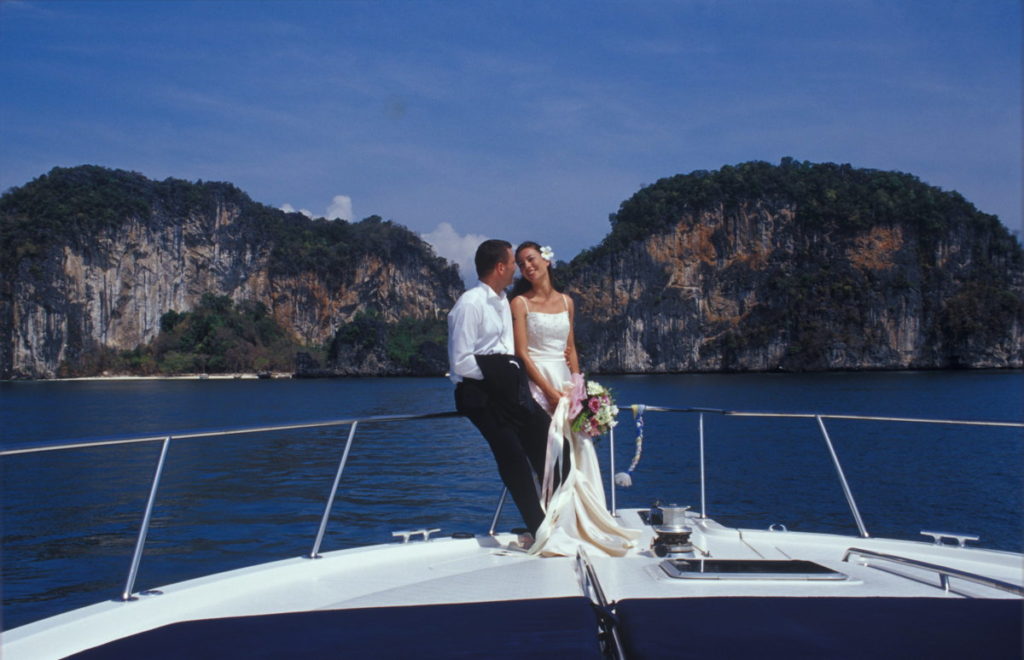 Do you dream of a tropical wedding with a backdrop of majestic rock formations and sunny blue skies? Krabi does a more adventurous take on a beach wedding. Whether you're looking for a beach reception only accessible by boat or a breathtaking cliffside ceremony, there are a variety of venues to suit every couple's taste.
Once you've settled on a wedding venue, you'll need to plan a few more other things. Check out Thailand's official website for a complete list of wedding planners, caterers, and other wedding-related services available to help make your dream wedding come true.
For more information, visit the Tourism Authority of Thailand on Instagram.
READ MORE:
Here's How Traveling to Thailand Will Look Like in the 'New Normal'
Thailand Might Be the First Southeast-Asian Country to Legalize Same-Sex Unions
Japan's First-Ever Hotel in a Wooden Castle Lets Guests Travel Back in Time
Starbucks Lovers Must Visit This Newest Three-Floor Heaven in South Korea