Thailand Might Be the First Southeast-Asian Country to Legalize Same-Sex Unions
If passed, Thailand will be the second country in Asia to recognize same-sex partnerships — the first being Taiwan.
by Cristina Morales | July 10, 2020
Thailand has long been considered one of the most LGBTQ+ friendly countries in Asia, and now it is moving to legalize same-sex unions. A draft bill allowing the legal registration of same-sex partnerships has been approved by the cabinet.
Will this legalize same-sex marriage?
This bill would legalize same-sex unions, but not recognize these as marriages. Rights activists recognize this bill as a step in the right direction, but criticize it for its avoidance of the term "marriage".
Contrary to how Thailand is often portrayed as one of the most accepting places for the LGBTQ+ community, discrimination is still rampant. According to this USAID report, Discussions of sexuality are still considered taboo and sex education in schools remains limited. Many LGBTQ+ professionals choose to remain closeted to avoid discrimination at work. Transgender people who cannot hide their gender identities are often limited to roles in hospitality, fashion, entertainment, or the sex work industry.
Though the bill does not use the term "marriage", it would give same-sex unions many of the benefits heterosexual marriages have. The bill would allow those in registered same-sex unions to jointly own property, adopt children, and pass on inheritance.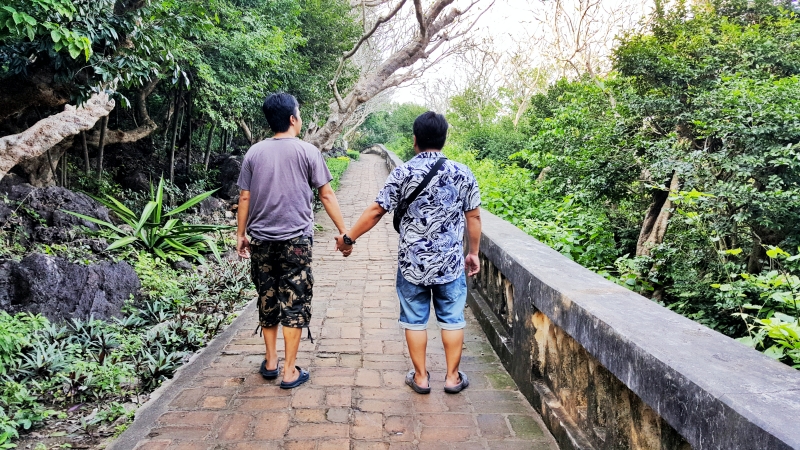 Who would be able to register for a same-sex union in Thailand?
Only couples where at least one of the pair is a Thai citizen can register for a civil partnership in Thailand. Both individuals should be at least 17 years old.
If the bill is approved by the Thai Parliament, Thailand will be the first Southeast Asian country to recognize same-sex unions, and the second in Asia. Taiwan legalized same-sex marriage last year.
Meanwhile, same-sex relations are still criminalized in Malaysia, Singapore, Brunei, and other Asian countries. Just this year, a Singapore judge refused to overturn the law that could punish consensual gay ex with two years' imprisonment, even though the colonial-era law is rarely enforced.
Some Asian countries — like Malaysia — also criminalize certain forms of gender expression. Last year, Brunei passed laws that would punish gay sex and adultery with stoning to death. However, after an international backlash, Sultan Hassanal Bolkiah clarified that the country had not carried out the death penalty for decades and that the moratorium would continue.
Tell us what you think about this bill in the comments below!