This Bamboo House Offers a Little Sanctuary in an Empty Beach in Siargao
All yours exclusively.
by Ina Louise Manto | July 06, 2022
Siargao is getting back on its feet again. After the devastation brought upon by Odette in December of last year, the surfing island reopened to tourists in February. While the rainy season may not be the ideal time to go to the beach, it's the best period for those who wish to try surfing. And there's no better place than experiencing it firsthand in the country's surfing capital. If you're planning to visit Siargao this surfing season, you might want to stay at The Bamboo House:
The Bamboo House
Staying around General Luna may be the best option for its conveniences but if you're looking for a location you can have exclusively, you'll find your little sanctuary in The Bamboo House. Nestled in Santa Fe, which is known for its white-sand beaches, this stylish house blends right into its tropical setting. It's surrounded by hundreds of towering coconut trees and a lush garden. The best part is that a secluded beach is just a few steps away – 50 steps to be exact, according to the owner.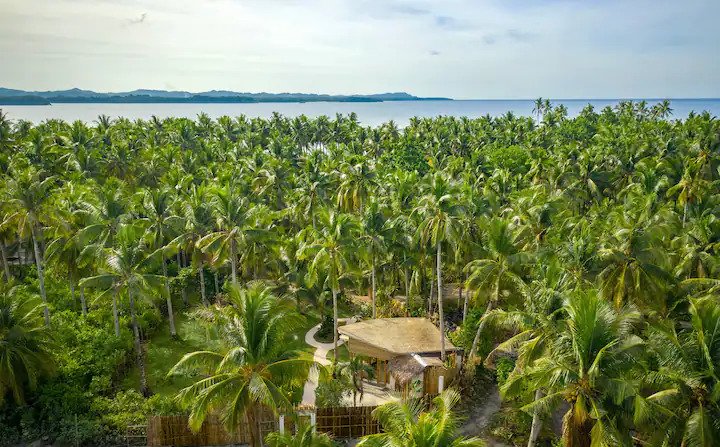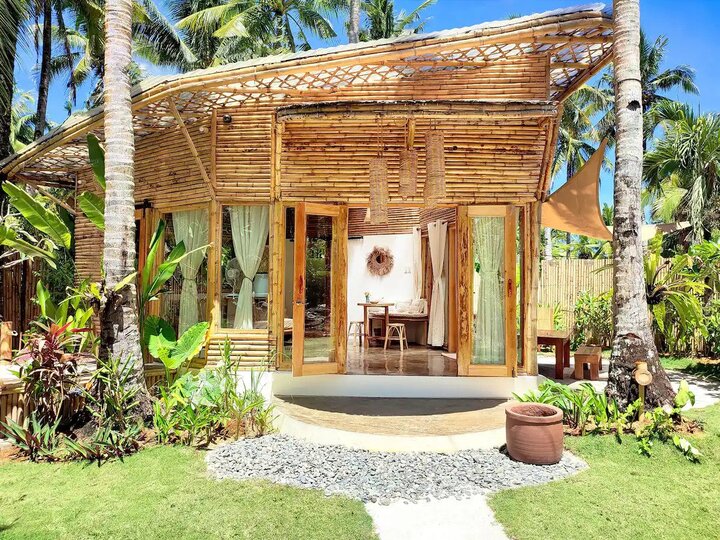 Constructed with bamboo (hence the name), this eco-house is designed to make you appreciate and embrace the surrounding nature it offers. All its faces are made with glass, which also makes the interiors look bright. And if you wish to go stargazing at night, there are parts of the ceiling that are made of glass too.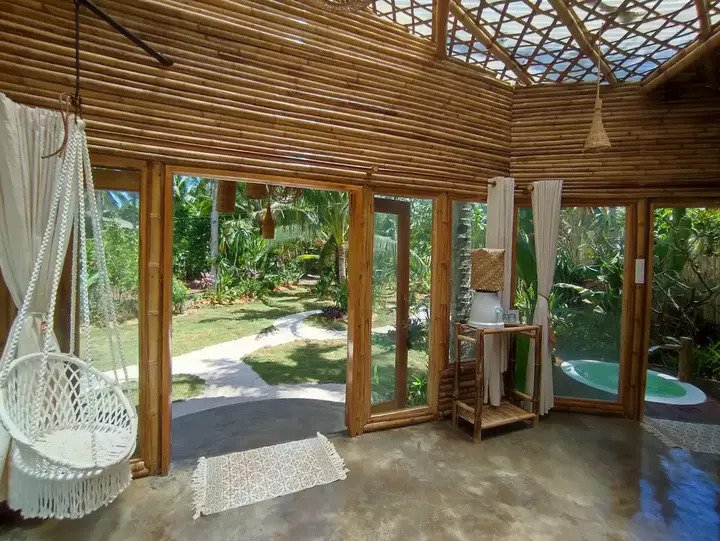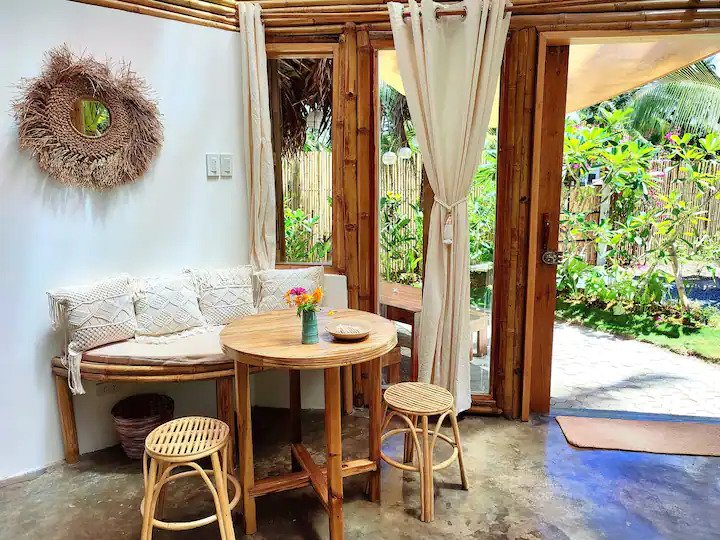 A tiny pool connected to a natural spring is located on the side of the house. Take an early morning dip or fall asleep to the sounds of flowing water during your siesta – this is what paradise must be like.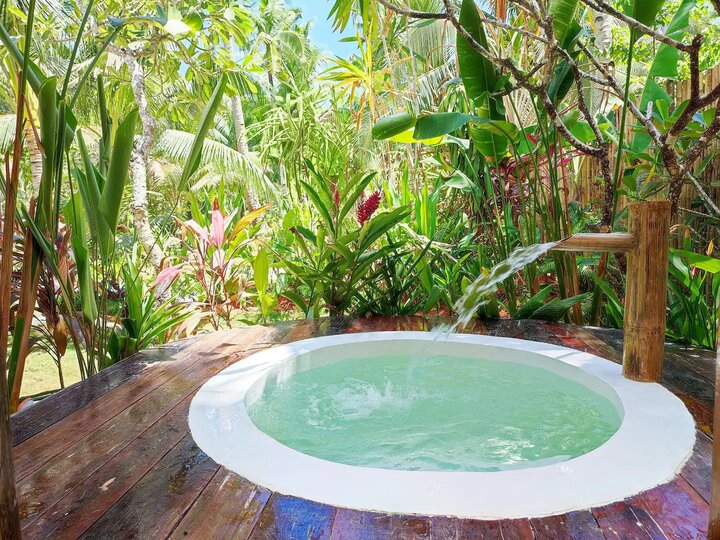 This little sanctuary is ideal for couples who want to go on a romantic escapade. But don't worry, you can bring your barkada here too or even go solo. Up to four guests can stay at the one-bedroom house, with an additional queen-sized air mattress.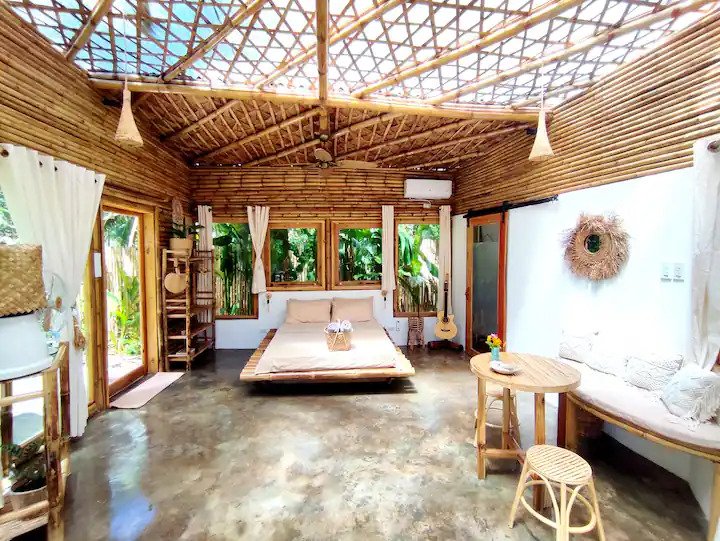 Even the private bathroom is as picturesque, with the outdoor rain shower.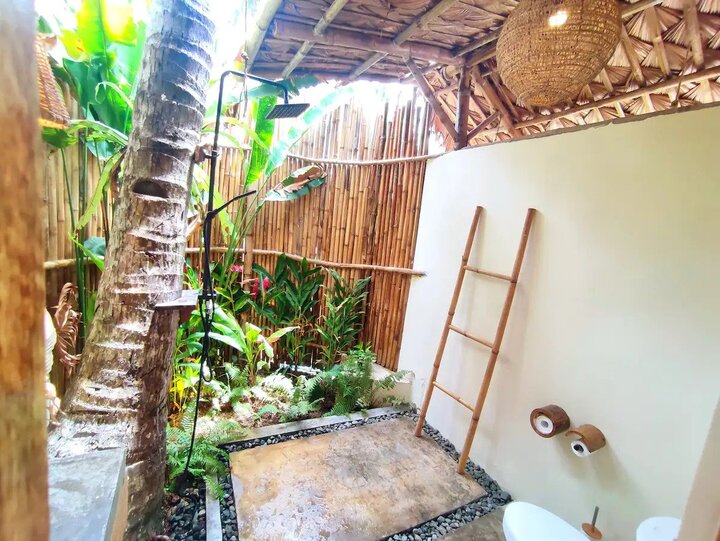 Amenities
Planning on staying completely off-grid during your island stay? You can prepare your meals in the fully-equipped kitchen. You can save on eating out too!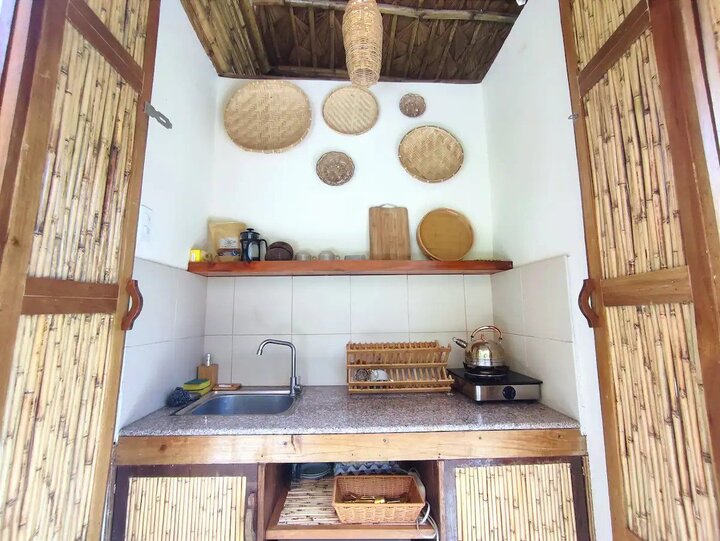 The dining area is just across the outdoor kitchen as well, where you can enjoy a garden setting while having your meals.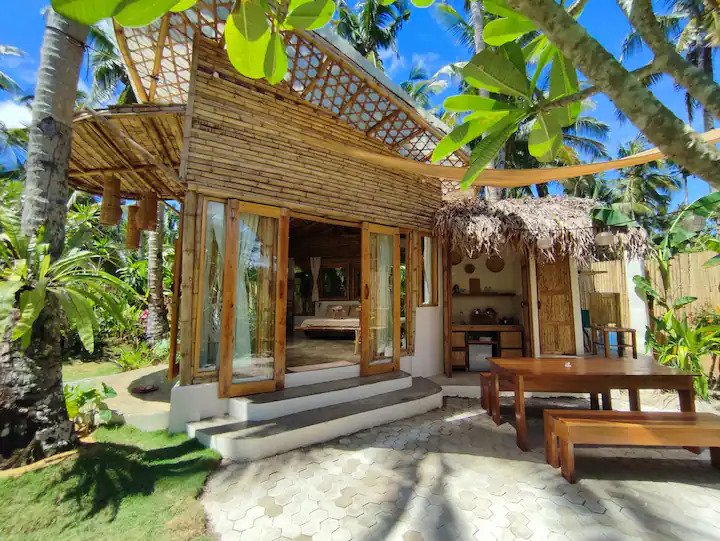 Lounging areas are also found around the garden, perfect for when you want to get tan or chill on a lazy afternoon.
How to get there
Since The Bamboo House is away from town, the owner suggests renting a motorcycle. It's the popular way of getting around the island, anyway. Van rentals from the airport may also be arranged for P400 per head.
Current Siargao travel requirements
As shared by the Siargao Tourism Assistance Center, you need to present the following to enter Siargao:
Rates at The Bamboo House Siargao start at P4,699 per night. Book your stay here.
For booking inquiries and more information, contact the Airbnb host.