Awesome (and Useful) Things Every Traveler Would Love to Have
You'll want to whip your credit card out for this.
by Jaime Perez-Rubio | April 29, 2016
From inflatable couches that fit in a pouch to a portable washing machine that'll make the chore of washing your clothes a lot more convenient —here are 8 awesome and useful things every traveler will surely and seriously covet.
Steve Aoki Micro Luggage
Steve Aoki helped designed this awesome 3-in-1 luggage that's a scooter, suitcase and music player. It's meant to be used in the airports, where walking between terminals can be quite tedious.
Imagine cruising around the airport in a cool scooter that holds all your carry-on belongings while you blast your music! (Okay, maybe not too loud, but) it's airport-approved and fits in the overhand compartment.
This is the carry-on of the future—and the future is now! Get your Steve Aoki Micro Luggage right here!
The Carry-On Cocktail Kit
Yes, this is essential and useful—especially if you're the type that gets anxious when flying. And the type who loves a good cocktail.
The Carry-On Cocktail Kit contains ingredients to stir up your favorite cocktails, minus the alcohol, which can be purchased or provided by the cabin crew of the aircraft.
So far there are six different kits, namely: The Old Fashioned, The Gin & Tonic, The Champagne Cocktail, The Bloody Mary, The Moscow Mule, and the Travel Pack that includes all five cocktails!
You'll never have to settle for the plain old whiskey or vodka on the rocks while on a plane when you have something as awesome as the Carry-On Cocktail Kit available! Get yours here!
Lamzac Hangout
The Lamzac Hangout is an inflatable couch—but it's unlike any other. You can sit on it or sleep on it and it's portable enough to carry around in a pouch and weighs only two pounds.
Fill it up with air and it turns into a 6.5 foot bouncy sofa! Plus, you don't even need a pump to fill it up! All you need to do is open it up and drag it through the air and seal it. Talk about convenience!
Own your very own Lamzac Hangout by placing an order from here.
Baubax Utility Jacket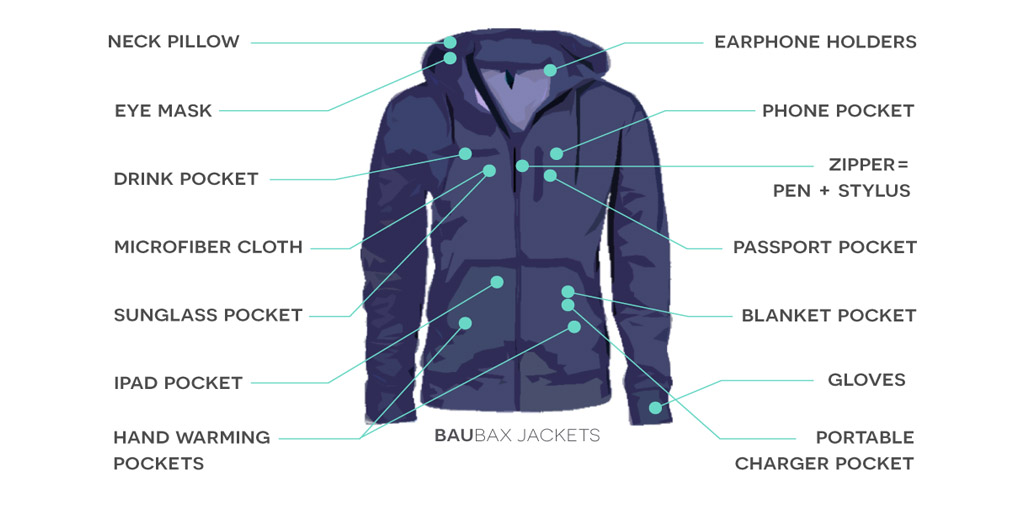 The Baubax Utility Jacket is the only jacket you'll ever need for travel.
The Kickstarter success comes equipped with just about everything you would need to make life simpler while on the go—all while maintaining its stylish appearance. It has a neck pillow and eye mask for long trips on the road. It has different pockets perfect for keeping your passport, phone, sunglasses, ipad, blanket, and even a drink!
It is also made with microfiber cloth making it as durable as it is useful! Get it here!
Lifestraw
The Lifestraw is a straw-style filtration device that lets you turn up to 1,000 liters of contaminated water into safe drinking water.
It's a must-have for those who love to camp, go backpacking, or go hiking. It can also be used for survival in cases where emergency water is needed.
The Lifestraw is awesome because it helps us conserve and reuse this most undeniable element in life. Get yours here!
Blue Ridge Camping Hammock
The Blue Ridge Camping Hammock is a 2-in-1 tent and hammock. It can hang suspended from two trees while still providing a nice canopy for its occupant. It can also be used on the ground like a normal tent.
It's very lightweight, plus it's weather-proof and insect-proof. It's suitable for the wilderness, the jungle, and the beach.
Weighing a measly 4.25 pounds, it's easy to carry around and perfect for travelers who are always on the go. Get your hammock here!
Ostrich Pillow
Perfect for long trips and waiting in airports—the Ostrich Pillow lets you create your own mini sleeping environment safe from the light and noise of the outside. It's made of flexible fabric and filled with numerous micro balls for added comfort.
Mimicking the way ostriches sleep by burying their heads in the ground, the ostrich pillow is flexible enough to use any way you feel is comfortable. Just stick your head in it like an ostrich would!
Power napping has never been this easy. Get your Ostrich Pillow right here.
Scrubba Wash Bag
A modern take on the old-fashioned washboard, the Scrubba Wash Bag is an ultra-portable washing machine.
Weighing less than five ounces, the Scrubba Wash Bag is twice as effective as hand washing thanks to the help of hundreds of internal "Scrubba Nobules."
Owning one of these babies will allow you to wash your clothes wherever and whenever you want making it perfect for people who love to travel for long periods of time—especially those who love the wild.
It also doubles as a drying bag after you've washed your clothes so it's a win-win all around! Get your Scrubba Wash Bag right here!