Outrageous Travel Ideas That Spell D-E-A-T-H to Acrophobics
Attention: adrenaline junkies (and acrophobics who finally want to conquer their fear).
by Andy Flores | May 11, 2016
Love it, hate it, there's no denying that the involvement of heights makes activities a bit more extreme and exciting. So whether you're an adrenaline junkie pushing your courage to new limits or a total acrophobic willing to finally liberate yourself from your worst fear, taking your adventure to a higher level—literally—is the best way to go.
Here are some of the most hardcore travel ideas that are guaranteed to give you the ultimate high.
1. Take a leap of faith in Macau

Home to the world's highest bungy, Macau can offer you the plunge of a lifetime. Head on over to the AJ Hackett Macau Tower for their famous Bungy to feel the exhilarating rush of free falling from the height of 233 meters at 200 kilometers per hour. You can also try other attractions at the tower devised by renowned bungy inventor and expert AJ Hackett himself, like walking around the outer rim of the Adventure Deck (SkyWalk), scaling the tower to the antenna à la King Kong (Tower Climb— the world's highest urban climb at 338 meters), and taking a controlled 17-second flight over the Macau cityscape (SkyJump). Check it out here.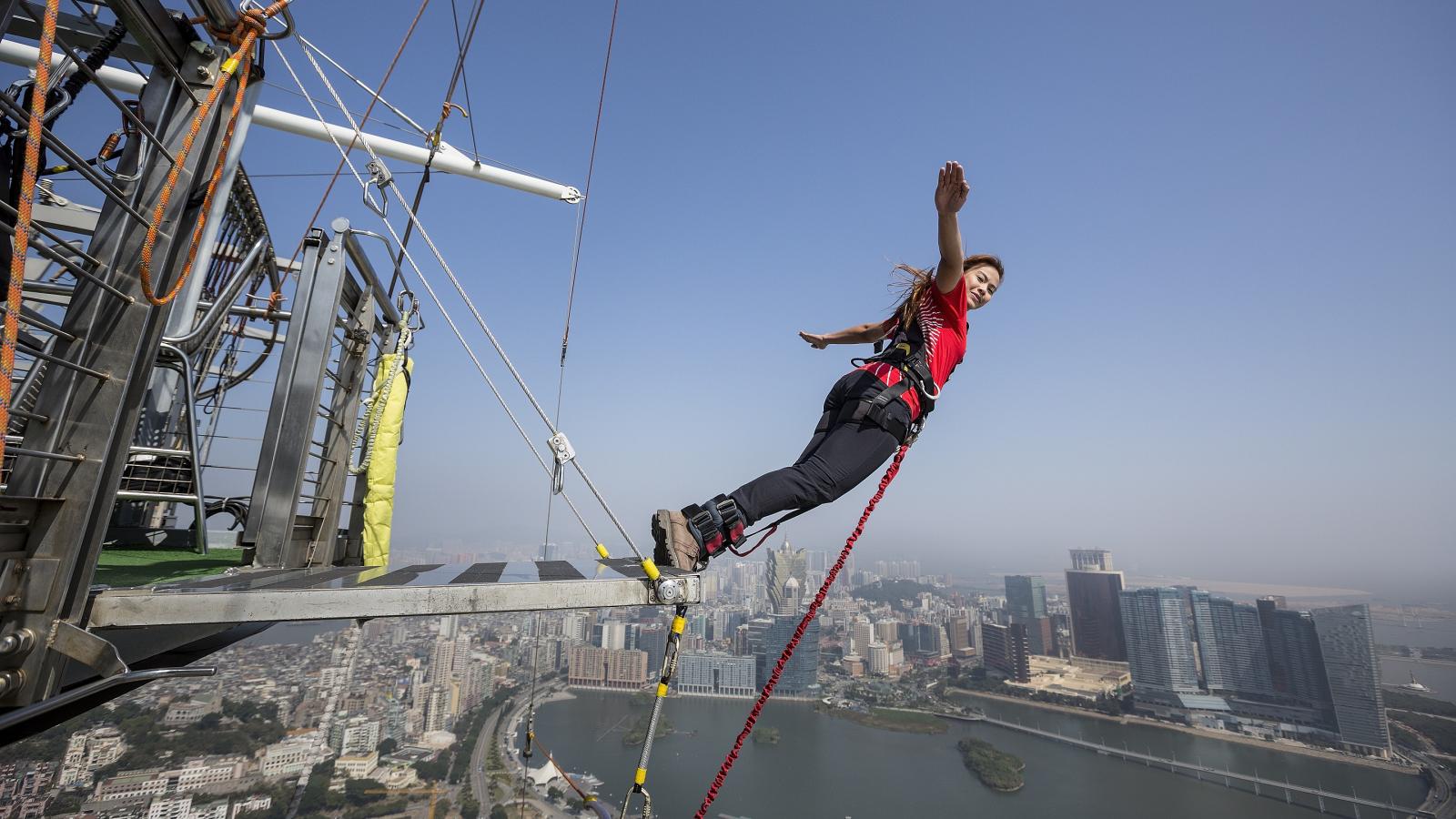 2. Put on a gravity-defying show in the UK
Probably the only known activity in which you won't be strapped and secured in a plane but *on* a plane, wing walking is the thrilling experience of walking on the top wing of an authentic vintage Boeing Stearman biplane, while a highly experienced pilot takes you through a series of bloodcurdling aerobatic maneuvers, including low-level flypasts and a heart-stopping 500-foot dive. As you take your most intense and unforgettable steps in the air, you will have spectators from below to cheer you on. Talk about morale boosters. Check it out here.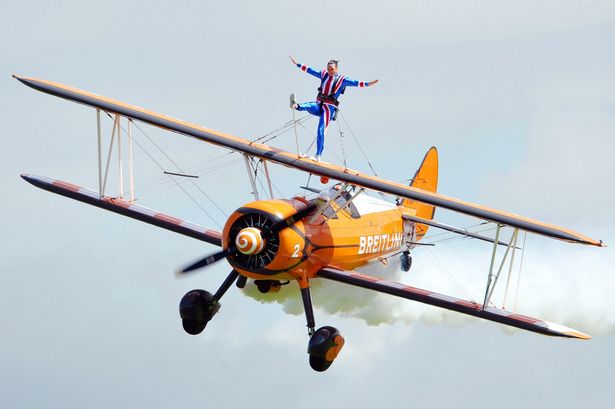 3. Ride the world's steepest roller coaster in Japan 
If you're in the mood to scream your lungs out, this one's for you. Japan's Takabisha, a Gerstlauer Euro-Fighter steel coaster, minted a spot in the Guinness Book of World Records in 2011 as the world's steepest roller coaster made of steel. Situated at the Fuji-Q Highland Amusement Park, the terrifying attraction, which can be translated as "high-handed" or "domineering" in English, can accommodate only eight guests at a time. It has a drop angle of 121°, and can speed up to 100 kilometers per hour. The ride lasts for a stomach-flipping two minutes. Check it out here.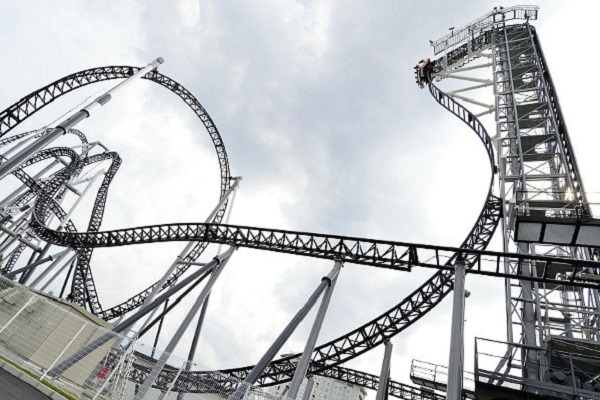 4. Hike up the most dangerous trail in China
Grab your trusty hiking shoes and take the hike of your life in China. Arguably the most dangerous and most challenging cliff path you can trudge in the country, Mount Hua's route is not for the faint-hearted. You will need about 9 hours to complete the hike covering all five peaks of the sacred mountain, which includes climbing a steep rock staircase and walking on a creaky wooden path that's just about a foot wide, with nothing but chains fixed onto rocks for you to cling on.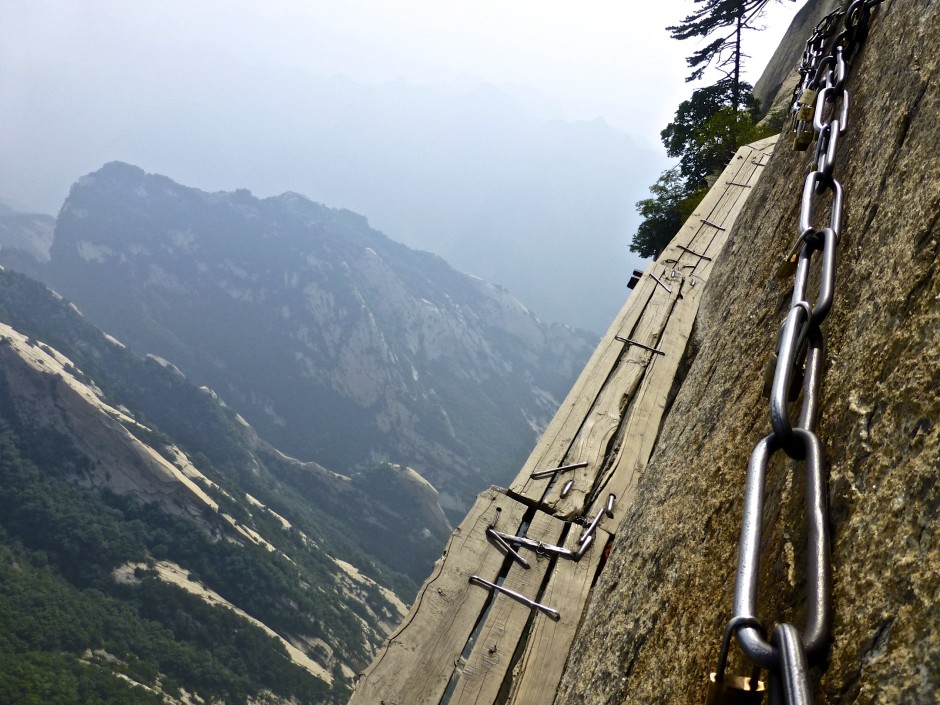 5. Up your date night game in Belgium
Feeling fancy but still want a thrilling twist on your date night? The Belgian capital Brussels can give you an answer to your dilemma: Dinner In The Sky. First launched in 2006, the gimmicky endeavor allows you to enjoy a first-class dinner from world-class chefs all the while hanging 180 feet above the ground. (Just a tip: If the date goes well, you might want to avail of their Marriage In The Sky Package.) Check it out here.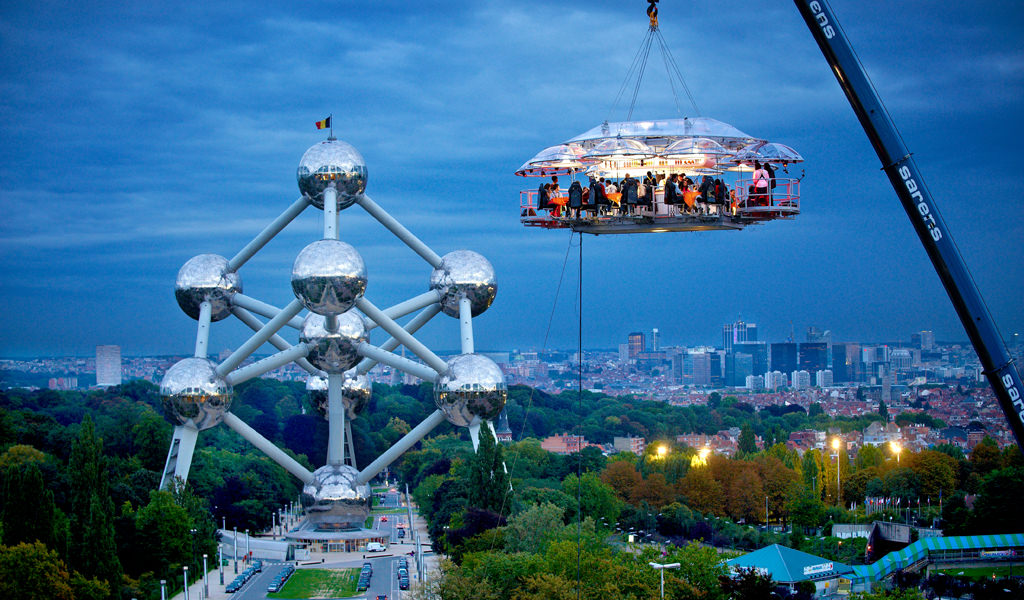 6. Try edge walking in Canada
Take on one of the world's most extreme urban challenges at the CN Tower in Toronto. The EdgeWalk gives you the opportunity to take a spine-tingling 20 to 30-minute walk around the roof of the CN Tower's restaurant, 356 meters above the ground. You'll be led by an experienced guide, and at the end of the tour, you'll be getting some awesome souvenirs, including a keepsake video, printed photos, certificate of achievement, and re-entry to the CN Tower. Check it out here.
7. Dare yourself to BASE jump in Venezuela
BASE jumping is probably the most hazardous activity you can try in your adventure-filled life. A true test for daredevils, BASE jumping involves diving from buildings, antennas, spans (bridges), or earth (natural formations) – hence, the acronym "BASE" – and working a wingsuit or parachute all the way back to the ground. Due to the risky nature of the activity, BASE jumping is considered illegal in many places, but if you have the guts to try it, here's a tip: One of the most scenic (and most dangerous) natural BASE jumping spots is Venezuela's Angel Falls, the world's highest waterfall (979 meters). Located in a protected site, it requires you to pay a certain fee in order to take the jump. There have been 264 BASE jumping-related deaths to date, since record keeping began.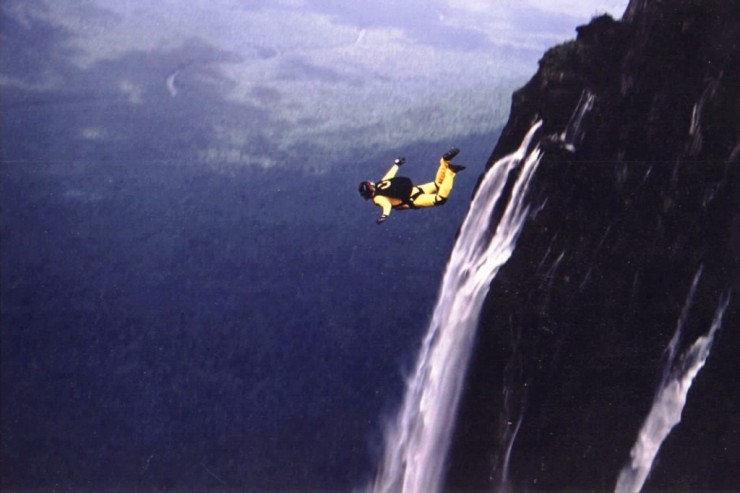 8. Chill on the edge of a cliff in Norway 
Picture the Pride Rock from Disney's "The Lion King" and place it against the backdrop of "Frozen" – that's pretty much how Trolltunga (Troll's Tongue) looks. One of Norway's most popular cliffs, Trolltunga will give you the most breathtaking views you'll ever see in the country, whilst standing about 700 meters above the picturesque lake Ringedalsvatne. Consider it your reward for making the challenging 4-hour hike to the spot from Skjeggedal. To join a trek group, visit the official website of Trolltunga Adventures.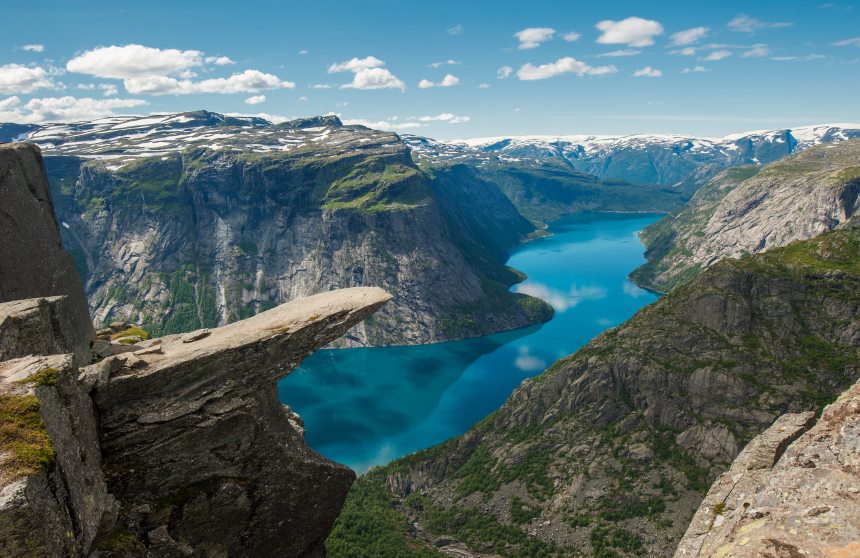 9. Feel the thrill of zip sliding in South Africa 
Tagged as the "original" zip slide, Sun City's Zip 2000 in South Africa is one of the world's longest, highest, and fastest zip slide with an impressive 100% safety record. Traveling up to 160 kilometers per hour through the 2-kilometer line with no bumps or jerks, your quick trip across a rich South African landscape would be a breeze. Check it out here.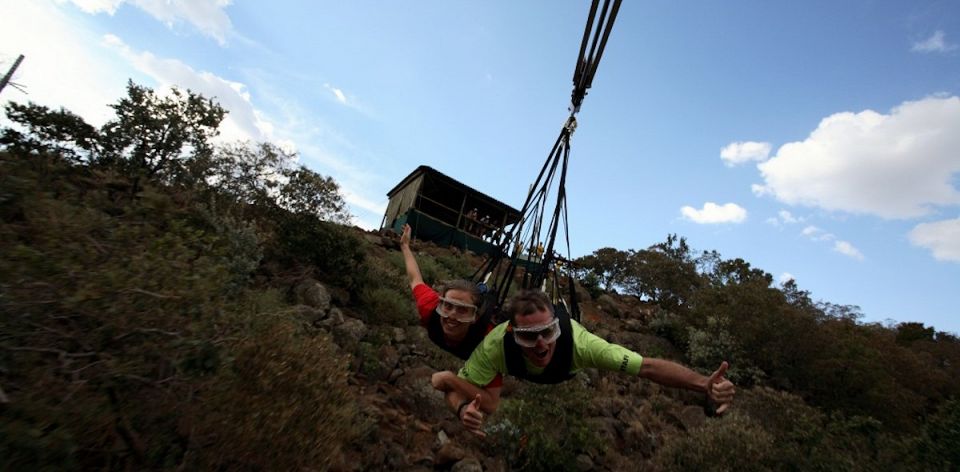 10. Touch the sky in Nepal
Climbing Mount Everest is one thing, but skydiving from the world's highest peak is an entirely different adventure on its own. Everest Skydive offers solo and tandem skydiving packages, which you can avail if you have at least USD 22,000 to shell out. While the rate may seem as steep as Mount Everest itself, taking the 23,000-foot drop from a AS350 B3 helicopter is a one-of-a-kind experience that you might want to add to your bucket list. Check it out here.
11. Swing over an abyss in Ecuador
A quaint treehouse on the edge of a canyon in Baños, Ecuador, the aptly-named Casa del Árbol is a seismic monitoring station built for observing Mount Tungurahua, an active volcano. The tree house attracts tourists from all over the globe for its unique feature: A crude swing that's basically a branch suspended by ropes from a skinny twig of the tree called "The Swing at the End of the World" that gives you the impression of arching over a void, which is really just some 100-foot drop from the edge of the canyon. Obviously not your typical playground swing, it's fair enough to say that the Swing at The End of the World can take you on a ride that will give you a taste of infinity.
Also read about:
6 of the Most Colorful Sand Beaches That You Should Include in Your Travel Bucket List
Less-Traveled Summer Destinations That You Can Explore in Asia