Get Planning: Visa-On-Arrival Destinations to Visit over the Holidays
Because you should see the world this holiday season.
by Tynne De Leon | November 10, 2016
You don't need to give an arm and leg working on getting a visa to go a little farther than SEA. There are plenty of places to visit, especially for the long Christmas break, that give their visa on arrival. Here are some of them—so get planning!
Georgia
Visa-on-arrival: 90 days
Christmas in Georgia will definitely be memorable since there's so much to do in this mountainous country. Especially now that it's snowing here!
Georgia has one of the most attractive winters in the world with its majestic view of the slopes, plus the slew of snow activities. If you want to learn skiing and snowboarding, Bakuriani is one place to go. Not only it has dozens of alpine slopes and cross country trails, it's also the ideal place for beginners since the slopes here aren't too steep. Aside from throwing snowballs and making bonfires, you can also do wine and dine, visit temples and do some hot therapy at the spa hotels.
To know more about the visa requirements, click here. And read this when planning your Georgian winter vacation.
Maldives
Visa-on-arrival: 30 days
While everyone's going off to cold weather destinations this season, a holiday on a tropical coast is always a great idea. And to quench your thirst for a faraway beach and copious amount of sunshine, there is no place like the Maldives.
A place where it's sunny all year long, Maldives is a dream paradise for every self-proclaimed beachcomber. Spoil yourself with the endless view of the ocean and experience a wide array of water activities. Well, that's a lot to tick off on your bucket list! For first-timers, Male is the rite of passage. If you'll want to enroll in a yoga class, look for Joanne Ignacio, resident yoga teacher of luxury resort One&Only Reethi Rah who is also a Windowseat.ph contributor. Check out her Maldives article here.
Click here to know more about their visa rules.
Also read: Making it to Maldives: Tips, Tricks, and Inspiration. For cheap accommodations, read Tropical Life on The Cheap: 7 Budget Hotels in the Maldives.
Sri Lanka
Visa-on-arrival: 30 days
If you like breathtaking scenery and pristine beaches (who doesn't?) then you'll definitely want to spend the holidays in the mesmerizing Sri Lanka. What's good is that it's still in the continent, and is more likely not crowded compared to other holiday destinations.
For starters, its hill-country village Ella is world-famous for its peaceful vibe and the long, magnificent stretch of train travel (perfect for sentimental travelers). The country's capital city Colombo, on the other hand, not only got the lively city vibes that you need, it's also home to 10 beautiful beaches.
It is highly recommended that you apply for visa online prior arrival to Sri Lanka, but you can also obtain a visa upon arrival with additional charges. Click here to see the steps.
India
Visa-on-arrival: 30 days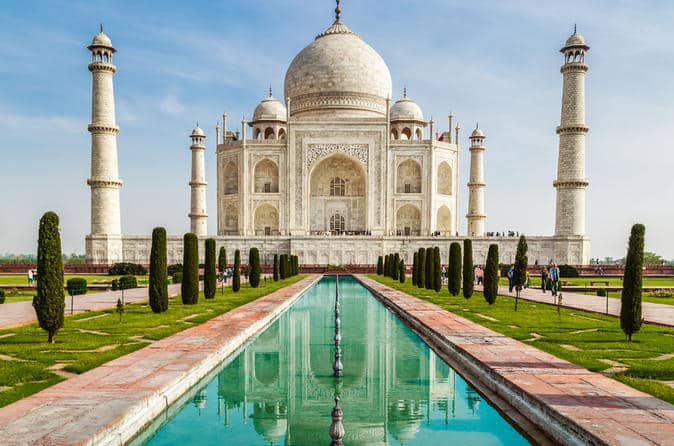 From its rich culture, delectable spread of culinary options to unpredictable adventures, a trip to India will be one heck of a holiday vacation. For curious travelers, there's definitely a lot to do in this country—more than you could ever imagine.
Go on a Golden Triangle trip and explore the fascinating cities of Delhi, Agra and Jaipur. Start in Delhi, the nation's capital, and experience the lively Indian spirit and street life. Tick-off Taj Mahal on your bucket list and walk through its historic floors which you can take solo or with a tour operator in Agra. Jaipur, the third destination, boasts a lot of fine architecture as the city's bursting with history and flamboyance.
Indian visas must be obtained prior to travel, but they also offer visa-on-arrival in New Delhi and Mumbai airports. To know more about their rules, click here.
Also read: 24 Hours in Kolkata, India
Palau
Visa-on-arrival: 30 days
Listen water enthusiasts: Palau is like an underwater paradise. Sitting just beside the Philippines, this "scenically magical" place screams nature with its sheer abundance of marine life, picturesque islands and rich historical background.
While it's obviously one of the best diving destinations, you can also try other soul-satisfying activities such as sea kayaking at The Rock Islands, going on an off-road driving tour at Koror and Babeldaob and even camping under the stars. You can also ride Palau Helicopters and see the breathtaking wonder of the islands that will definitely get you sentimental. Explore other activities here.
To obtain a visa upon arrival, you must present a return/onward plane ticket and proof of sufficient funds for your stay. Click here to know more.
Which destination makes your holiday senses tingle? Tell us below!