Where to Stay in Siquijor: Embrace the Island Life at these Cozy Airbnbs
Rates start at P800 per night.
by Ina Louise Manto | August 07, 2023
When we hear of Siquijor, the first thing to come to mind is the magic that surrounds the island. In fact, it's also known as the Island of Witches, The Mystic Island, and Isla de Fuego. But there's more to this magical island, which is gaining more popularity among both local and international tourists: white sand beaches, diving spots, and jungles. While there are no direct flights to Siquijor yet, it's easily accessible when hailing from Dumaguete or Cebu. Gearing up to be enchanted by Siquijor? Here's a list of Airbnbs where you can stay:
River Hut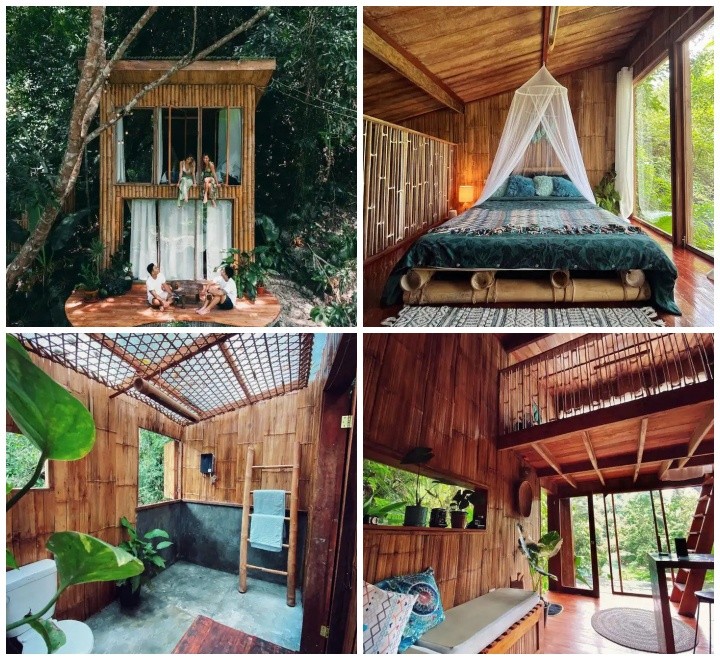 Nestled near Cambugahay Falls, this charming River Hut boasts bamboo walls and huge glass doors and windows. You'll wake up to a scenic river and jungle view and have flowing river water as your background music. Combined with the sounds of chirping birds, it's the kind of morning view you'd love to wake up to. This two-floor hut accommodates up to four guests and has direct access to the river.
Since you'll be in the jungle, don't forget to bring repellant too.
Rates start at P3,627 per night. Book here.
Jungle Hut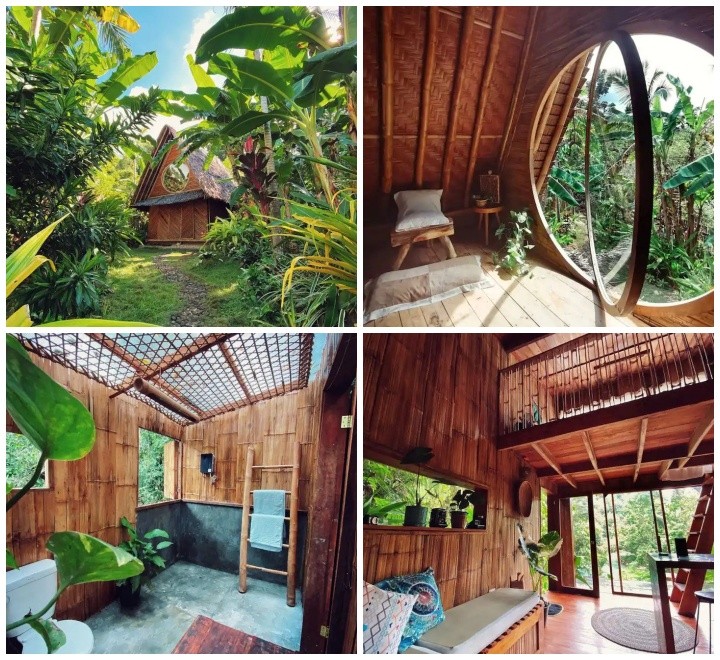 If you're looking for another picture-worthy stay near Cambugahay Falls, go for this Jungle Hut. It's a bamboo hut in a garden setting with an outdoor tub, which is perfect for the IG snapshot. This hut accommodates up to three guests and will have access to other amenities such as the kitchen, living area, and terrace. The main sleeping area is on the second floor, featuring a gigantic circular window, giving you a view of the surrounding greenery as you relax.
Rates start at P2,533 per night. Book here.
Balay Presca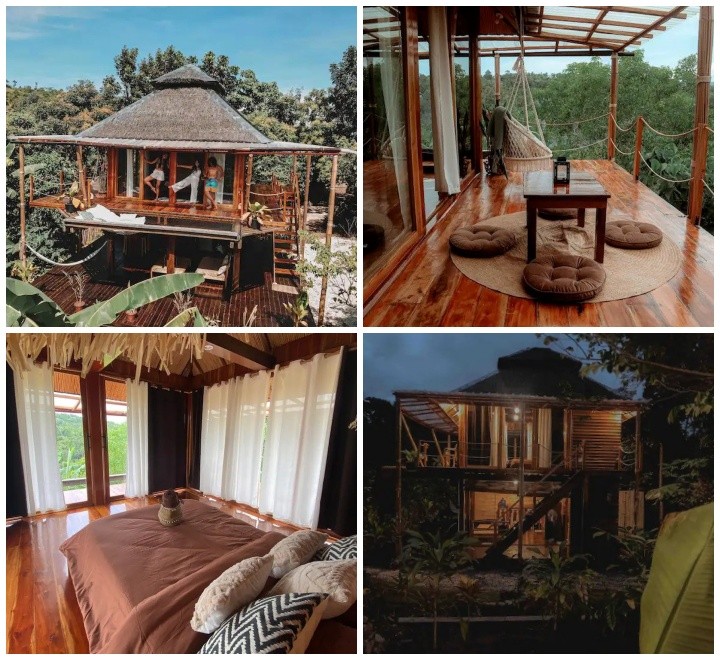 Want to wake up to a panoramic jungle view? Balay Presca is a two-floor wooden home that's perched within the rolling hills near the Cambugahay Falls. Its location is secluded enough to give you ab off-grid feel, but it's still close to the island's best-kept secrets. Finding a spot for some muni-muni wouldn't be difficult too because there are plenty: a deck on the second floor or the outdoor lounging area on the ground floor. Don't forget to take pictures on the hammock that juts out from the deck!
Rates start at P3,900 per night. Book here.
Unique Chalet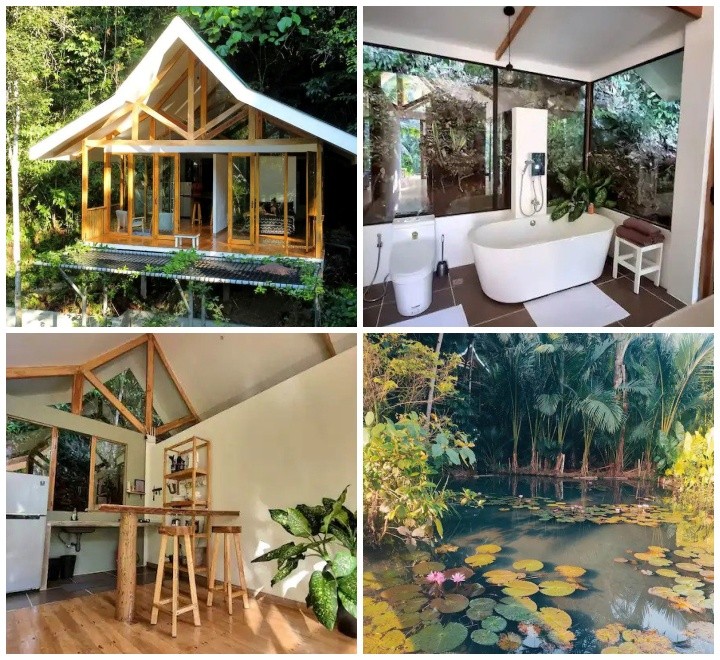 If you want complete isolation in the heart of the island, you'll love this family-owned chalet. The chalet nestled inside the half a hectare property is hugged by native trees and massive rocks, making you feel like you're completely one with nature. One of the best parts of staying is you'll have access to a pristine lagoon with crystal-clear waters. The chalet is completely modern inside too, with floor-to-ceiling windows and doors that will allow you to appreciate the surrounding jungle view.
Rates start at P2,489 per night. Book here.
The Flying Pen Suites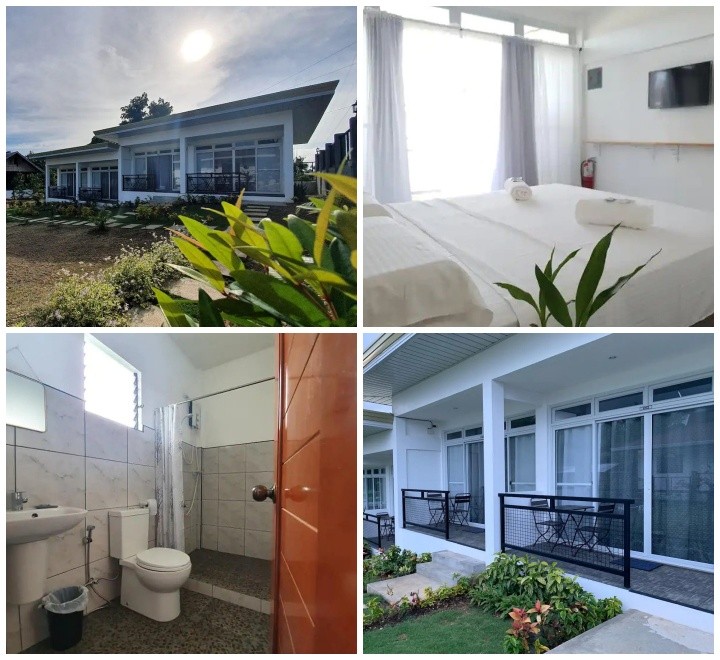 If you want to be near where the crowd is, go for The Flying Pen Suites located in Siquijor's main town and near San Juan's popular tourist spots. The Kelsi Room features a spacious stay with a queen-sized bed, a television, and a private bathroom and shower. You'll also have a small balcony outside the room, providing garden views.
Rates start at P900 per night. Book here.
Goldsky Seaview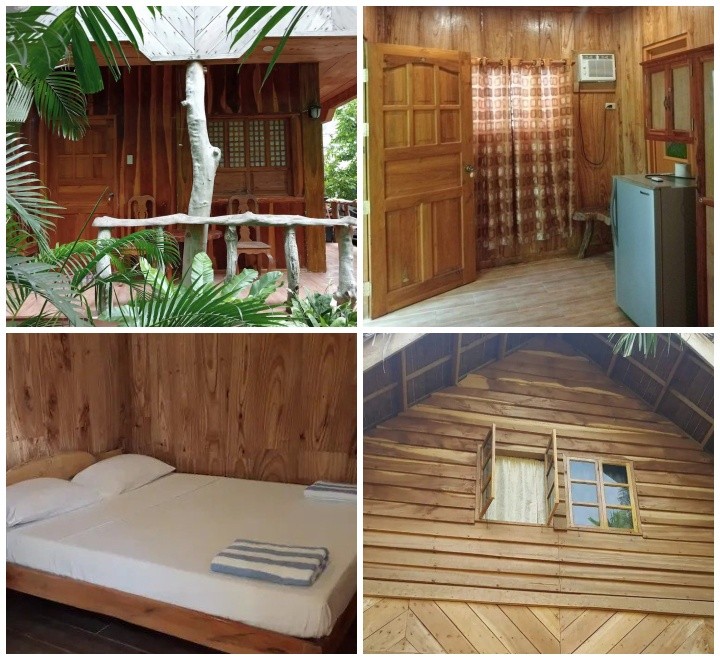 Goldsky Seaview is nestled near the beach, which is perfect for travelers who want to make the most out of Siquijor's beaches. This wooden house is complete with everything you'll need for a relaxing stay: a comfy bed, a small fridge, and a private bathroom.
Rates start at P1,300 per night. Book here.
Canjahawon Nipa Hut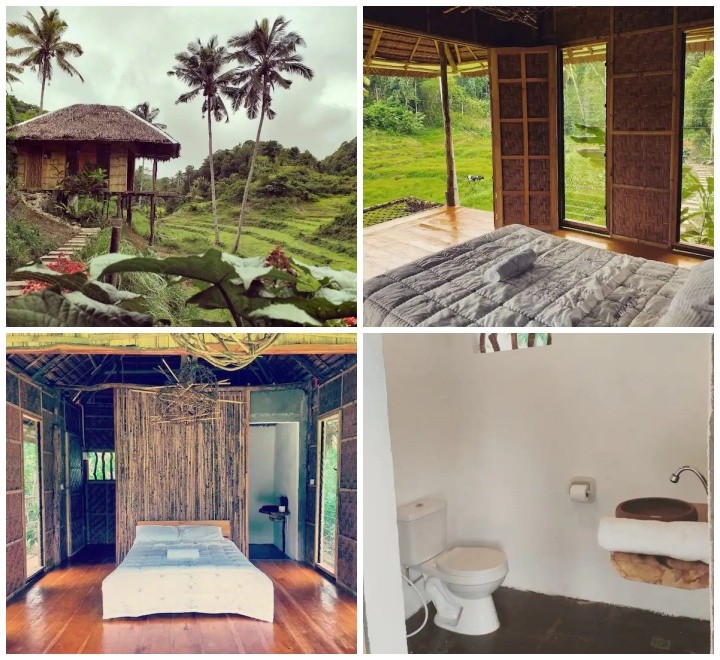 Offering scenic mountain and garden views, Canjahawon Nipa Hut is a stay that's ideal for two guests. It's perched on top of a small hill with nipa walls that open completely, giving you a panoramic view of the lush greenery. A hammock also juts out from the bedroom, which is easily one of the picture-worthy corners of the house. The hut isn't air-conditioned, but it has jalousie windows that you can leave open at night. Bring protection against bugs!
Rates start at P1,221 per night. Book here.
Mimi's Haven
Mimi's Haven features a tiny house on a hill with a stunning view of the distant seas. This simple stay is basically a room with huge glass doors, a kitchenette, and a dining area; it may be small but the view you'll get is breathtaking. If you wish to hang out outside, there's also space for lounging and cooking.
Rates start at P1,080 per night. Book here.
Bermuda Triangle Bungalows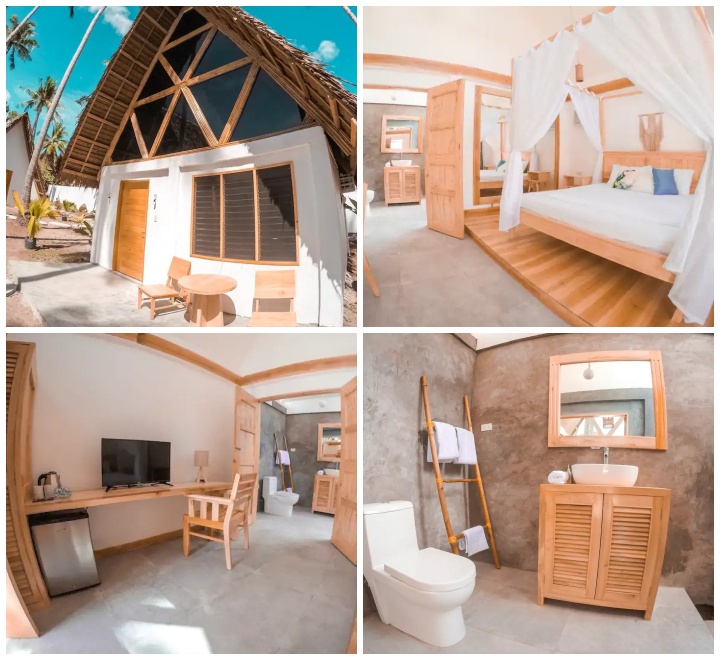 Don't be scared of its playful name. A stay at Bermuda Triangle Bungalows wouldn't make you vanish from the face of the earth; instead, you'll be treated to a picturesque and relaxing stay. It features materials made of wood and the lighting here is perfect, making every corner snap-worthy. This newly built home is ideal for two,
Rates start at P2,500 per night. Book here.
Isla De Paz Private Beach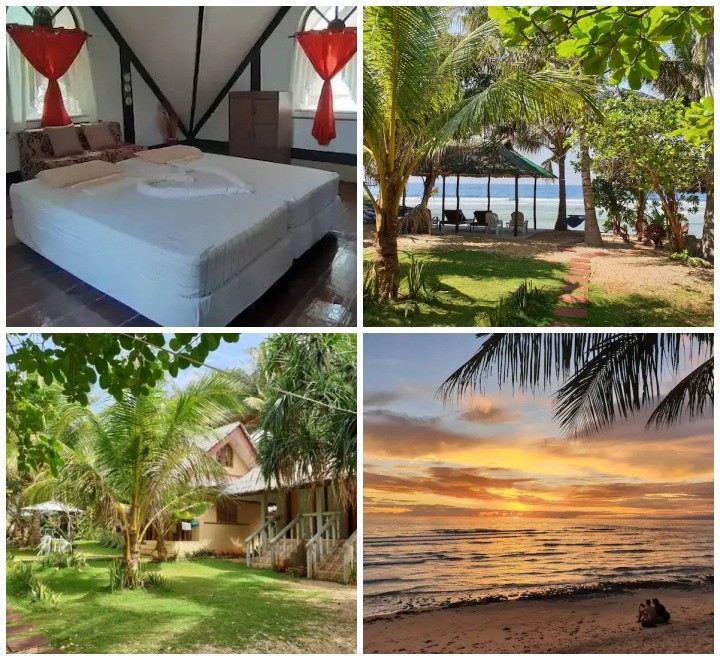 For just P800 a night, Isla De Paz Private Beach will treat you to a relaxing stay near the sea. They have cottage rooms perfect for solo and group travelers, including this cozy air-conditioned room. There are plenty of lounging areas around the resort too, which is perfect if you plan on staying for a longer period of time. Working remotely on this beautiful island is possible too, since their WiFi connection is stable, according to previous guests.
Rates start at P800 per night. Book here.
Sand 1 Hostel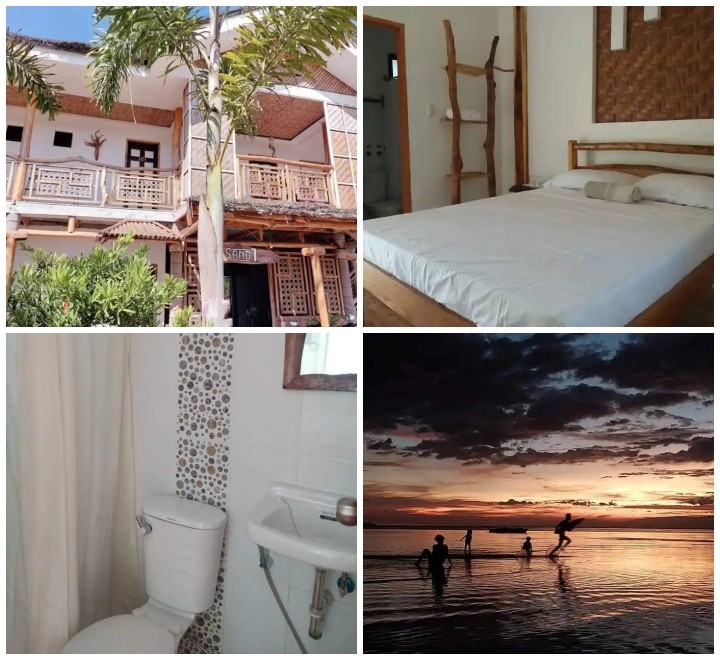 Located in San Juan Siquijor, Sand 1 Hostel offers five rooms that can accommodate up to two guests and a family room that's ideal for four. Their rooms are air-conditioned and have an ensuite bathroom with a heated shower and toiletries. Before heading out to explore the island, enjoy a cup of complimentary hot coffee in the morning while staring out at the sea, which is just across the hostel.
Rates start at P1,350 per night. Book here.
Keady Cottage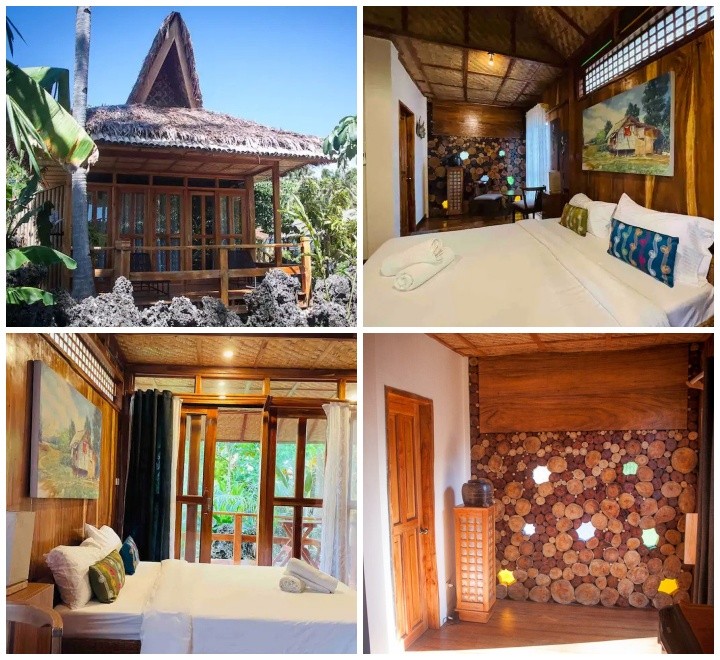 Built just 30 meters from the beach, Keady Cottage boasts a nipa-like structure made of acacia wood and nipa leaves. This rustic cottage sits on a lush garden with a dreamy view right from the bedroom, which also extends to a balcony. Aside from its proximity to the beach, the cottage is also near a must-visit restaurant on the island, Baha Bar. You can also have your island activities arranged with the owners (for an additional fee) such as paddle board, motorcycle, and mountain bike rentals during your stay. They also have a recommended diving instructor, who will bring you to the best spots around Siquijor.
Rates start at P4,000 per night. Book here.
White House Seaside Cottage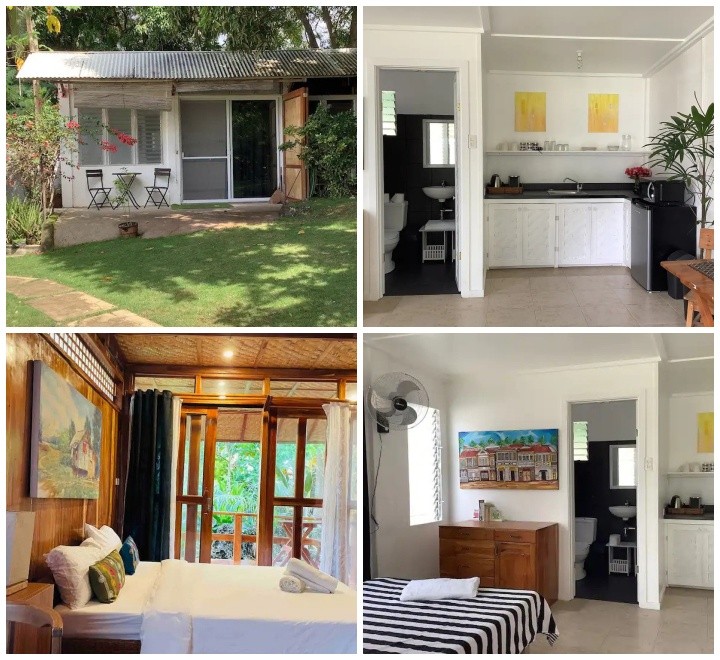 If you've ever wondered what it's like to embrace the island life, feel like a local when you stay at White House Seaside Cottage. This cozy homestay is nestled in a garden just a few steps away from the sea; who wouldn't love waking up to a view of the crystal-clear waters? This cottage is a home away from home, and it's complete with a kitchen, a private bathroom, and a lounging area just outside your room.
Rates start at P2,700 per night. Book here.
This Week on Instagram: The Enchanting Island of Siquijor
This Week on Instagram: The Enchanting Island of Siquijor
Tynne De Leon | Oct 01, 2017
Looking for other places to explore? Join WindowSeat.ph's official Facebook community What's Your Trip PH for more recos!