Why Some Taylor Swift: The Eras Tour Tickets Were Voided by Klook
It's safe to say that many Filipino fans were affected.
by Cristina Morales | July 19, 2023
Travel experience booking platform Klook has come under fire from many fans of pop superstar Taylor Swift. Why? Apparently, Klook has been voiding tickets for Swift's highly anticipated The Eras Tour. While some disgruntled fans are crying foul on Twitter (some even labeling the action as a scam), there's more to the story.
Exceeding purchase limits
The main reason for the ticket cancellations lies in a breach of Ticketmaster Singapore's purchase policy. Ticketmaster Singapore has a policy limiting users to a maximum of four tickets. However, some users have exceeded the allowed purchase limit by buying tickets from both Ticketmaster Singapore and Klook. This double-dipping, so to speak, goes against the terms and conditions set by both platforms.
How did Klook find out that users exceeded their Ticketmaster purchase limit?
A Ticketmaster registered email account was required by Klook specifically to check if users had exceeded their purchase limit: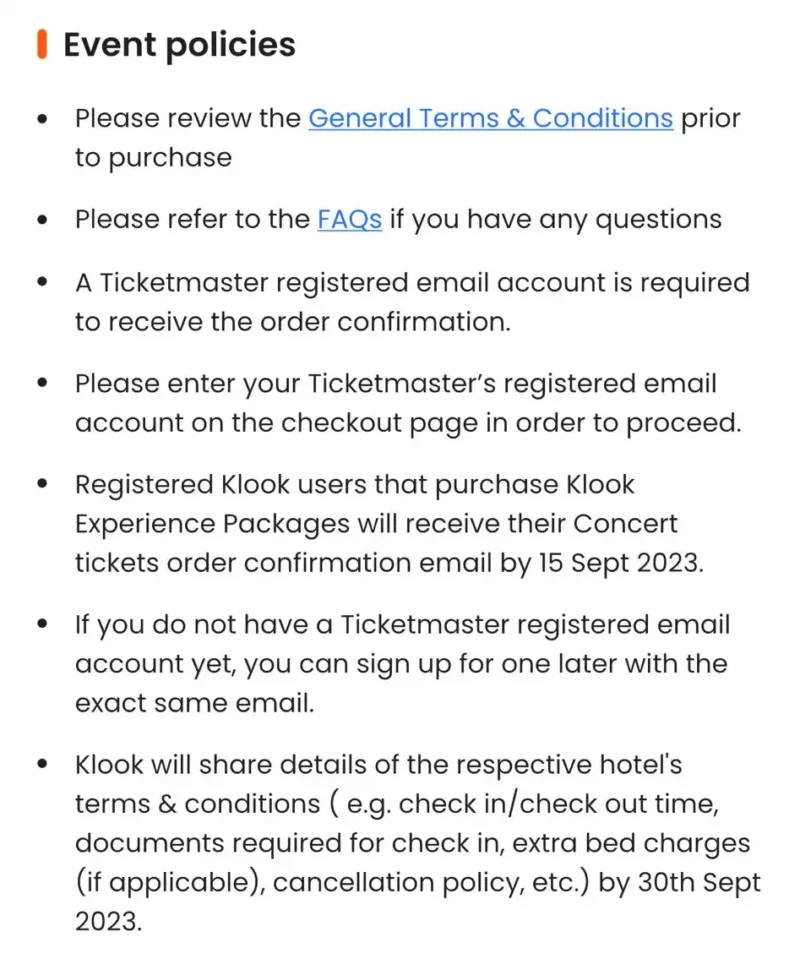 Source
Though many users may have been unaware of this, Klook did detail this policy in their Terms and Conditions. The platform has maintained that exceeding the ticket purchase limit would lead to the cancellation of the extra tickets.
Is Klook refunding voided tickets?
Though Klook is not refunding the concert tickets themselves, they are refunding the cost of the hotel, which was bundled in the package.
Yeah, ours got voided. Hotel will be refunded but not tickets.

— Red Aller 🌸🇵🇭 (@chardevoire) July 19, 2023
Filipino fans affected
Though we don't know how many fans were affected by this recent development, it's safe to say that many Filipino fans have been impacted.
According to Klook, more than 600,000 fans waited in line on their platform to get a chance to buy a Klook Experience Package. Among all the fans purchasing Taylor Swift tickets from Klook, it was the Filipinos who led the way, ranking as the number one group of buyers in the region:
The top five origins of The Eras Tour Klook packages:
The Philippines
Singapore
Indonesia
China
Malaysia
A lesson in reading the fine print
Could Klook have been clearer with their terms and conditions? Perhaps.
But this incident serves as a reminder of the importance of thoroughly reading and understanding the fine print before making any purchase. Consumers need to know what they are agreeing to, especially when it comes to high-demand events like The Eras Tour.
As for those who had their tickets voided, it is undoubtedly a heartbreaking lesson learned in understanding the importance of purchase policies.
This article was republished with permission from 8List.ph.