11 Beautiful Airbnbs that Can Double as Intimate Wedding Venues
It's wedding season! Have an intimate celebration in style.
by Cristina Morales | June 05, 2020
By now you're probably sick of the phrase "new normal", not only because it's everywhere you look, but also because it feels like anything but normal. For instance, "normal" now means not being able to have big celebrations for significant events like weddings. But just because you can't have a big bash doesn't mean that you can't spend your special day somewhere beautiful. Gather your closest friends and family in one of these beautiful Airbnbs and you could still have the wedding of your dreams.
(Note: ALWAYS notify the host if you plan on holding an event on their property.)
Amberfields Farmhouse (Tagaytay, Cavite)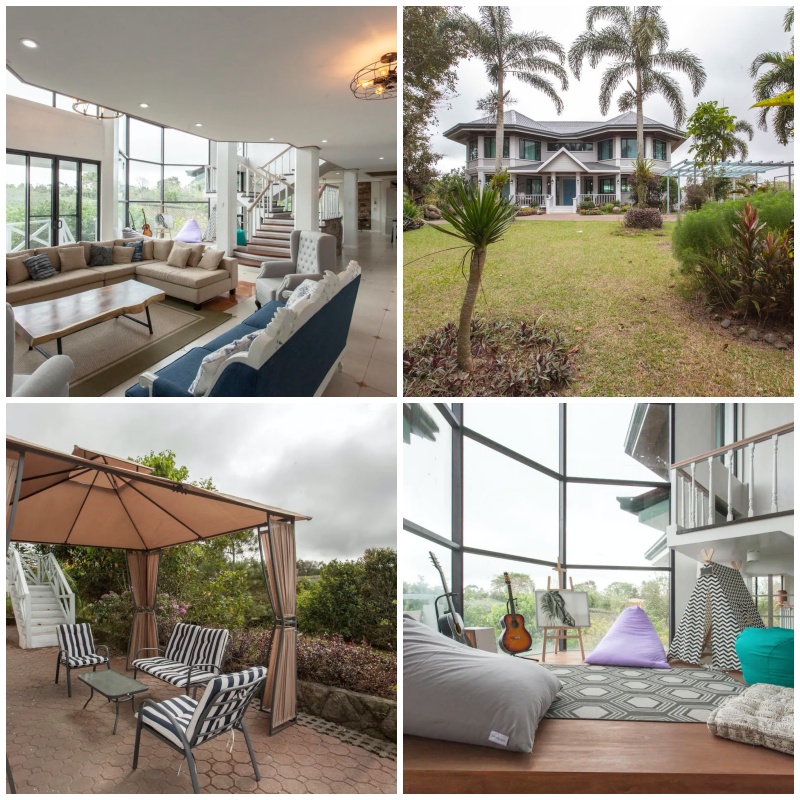 This beautiful country home is nestled in a sprawling garden that's perfect for wedding ceremonies and receptions. With three bedrooms (four including the basement), there's more than enough room for a group of 15. It's got a gorgeous staircase that's perfect for pictorials, and w love that elevated nook in the living area for the little ones to hang out in.
Donrio Balinese Villa (Calamba, Laguna)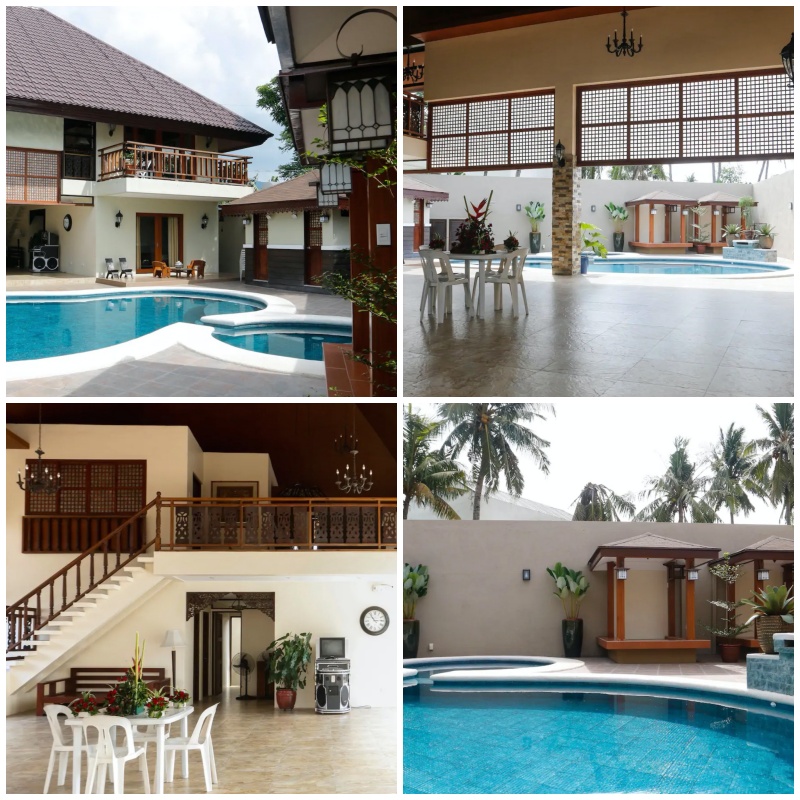 Traditional brides who love the Filipiniana aesthetic will probably adore the capiz window details in this villa. It's got a social hall that could fit under 80 people, as well as four bedrooms for 16 people. After the festivities are over, go swimming and stargaze by the stunning pool.
Rustic Boho Chalet (Amadeo, Cavite)
Boho brides, Casa del Sol might just be the perfect place for you. This rustic industrial farm home is perfect for events, with a huge garden, as well as a spacious living room and entertainment area. There's a charming patio area complete with a wide porch swing, as well as a swimming pool.
Paradis Island (Cavinti, Laguna)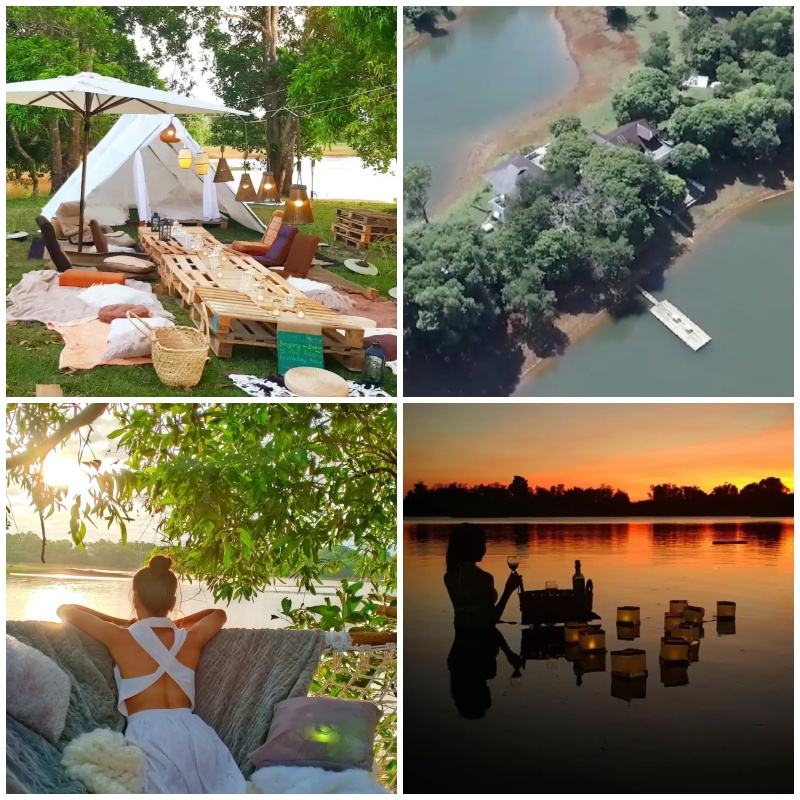 Weddings are once-in-a-lifetime, so go big or go home! Why not rent out an entire island while you're at it? Paradis Island is located three hours away from Manila. With two lake villas and glamping tents, the island can accommodate events for up to 70 people, with 40 people staying overnight. You can also make the most of the inclusions in the Paradis Island package, which include a flower hot bath with "kawa", a marshmallow bonfire party, mango picking (when in season), kayaking and swimming in the lake, and lake sunset watching in the bamboo lounge.
Casa Kalinaw (San Juan, Batangas)
If you're the type of couple who'd like to keep the celebrations simple but still want to do it in style, take a look a Casa Kalinaw. This luxurious, modern beachfront vacation home is perfect for small, low-key celebrations. The place has five bedrooms that can sleep 20 people comfortably, a pool area that overlooks the beach, and a bonfire area for your after-sunset get-togethers.
Mahogany Rest House (Barili, Cebu)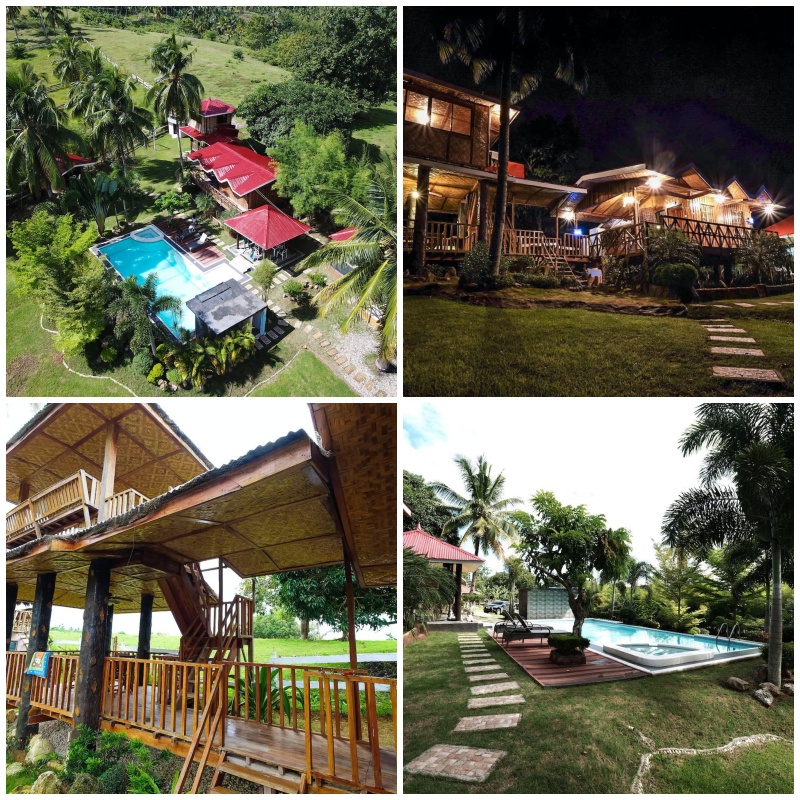 A one- to one-and-a-half-hour drive from Cebu City, this resthouse is nestled in 3,000-square meter property. The sprawling yard is perfect for events, and it also has a swimming pool and basketball court. Its location is also great for people who are new to Cebu — it's the ideal jump-off point for sightseeing in Southren Cebu.
Ultimate Dream Villa (Guindulman, Bohol)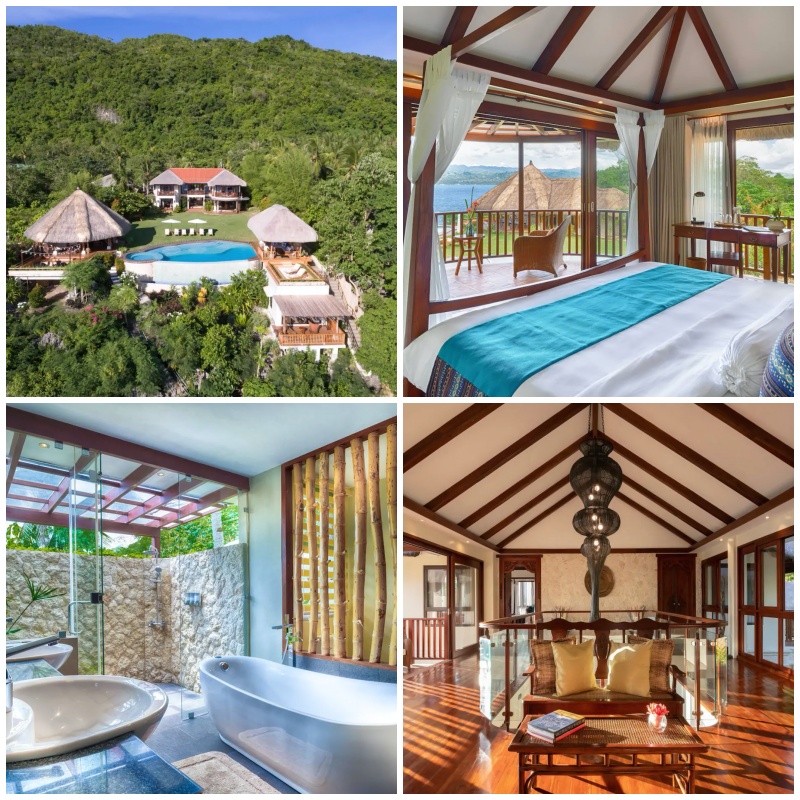 You're not going to find accommodations as lavish and exclusive as Pure Shores Villa. Featured in Condé Nast Traveller, the five-bedroom luxury villa estate boasts million-dollar views and a stunning infinity pool and exceptional service from the in-house staff. Since the villa opened in 2015, the villa has hosted weddings for couples from all around the world.
Nature Lodge at Tagaytay (Mendez, Cavite)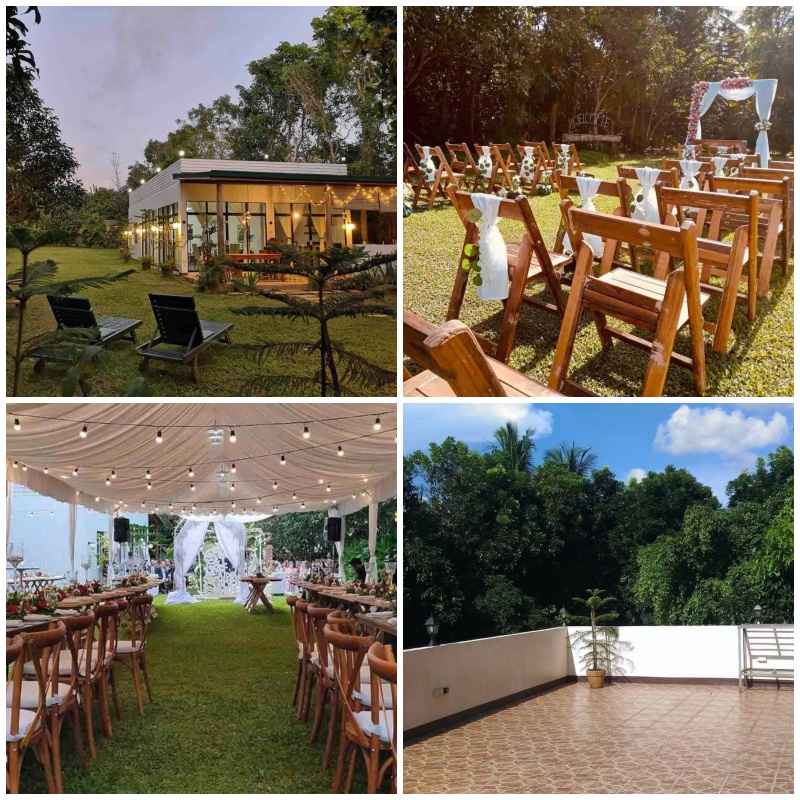 This modern minimalist bungalow near Tagaytay's got a charming yard that's perfect for wedding celebrations. Or you could take the party to the rooftop, if that's more your style. The hosts have hosted many wedding receptions before, so you know you'll be in good hands.
Villa Bohol (Panglao Island, Bohol)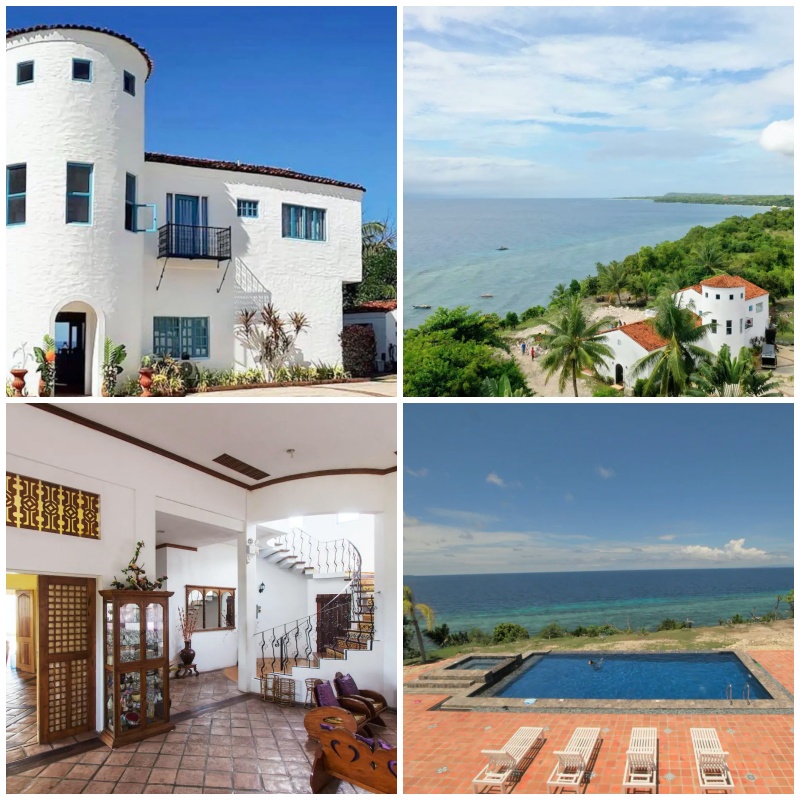 You'd be forgiven for thinking that this Mediterranean-style villa was in Tuscany or in the South of France, but it's actually in Panglao Island in Bohol! Standing on a bluff overlooking the sea, guests at Villa Bohol also have access to a small private bach with clear water, as well as an infinity pool. The property has accommodated up to 50 overnight guests and 100 for events.
Captivating Private Resort with Majestic Views (Antipolo, Rizal)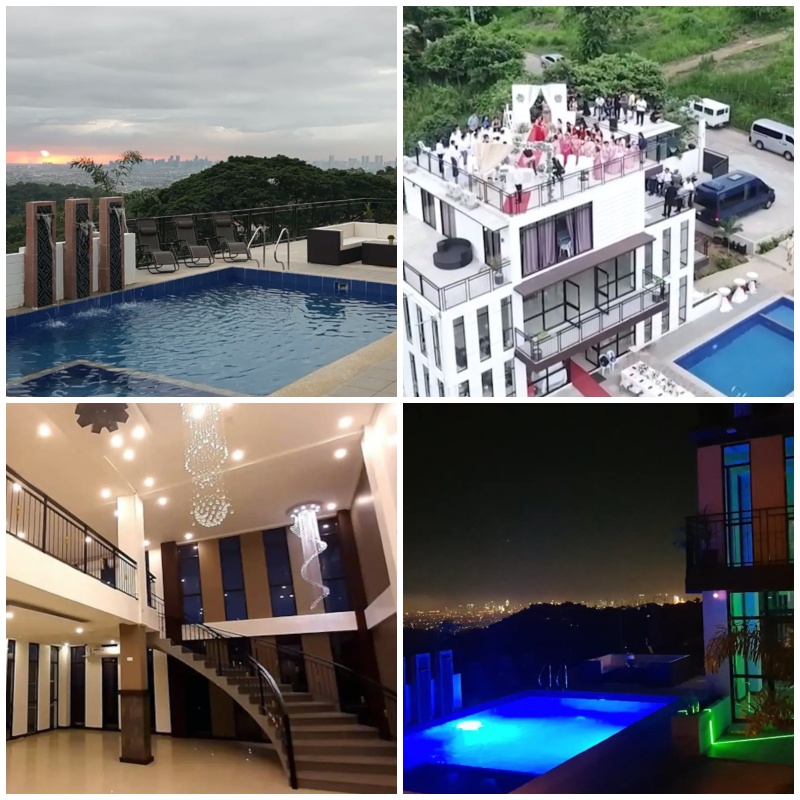 Just outside of Metro Manila is Tyvo, an exclusive resort that's got all the trappings you'll need for an event: a rooftop overlooking the city, a function hall, and even a videoke and game room! With two bedrooms and ten beds, the place can accommodate over 16 overnight guests comfortably. Hold your celebration just before sunset so you and your guests can make the most of the breathtaking view.
Balai Talahib Mountain Resort (Tanay, Rizal)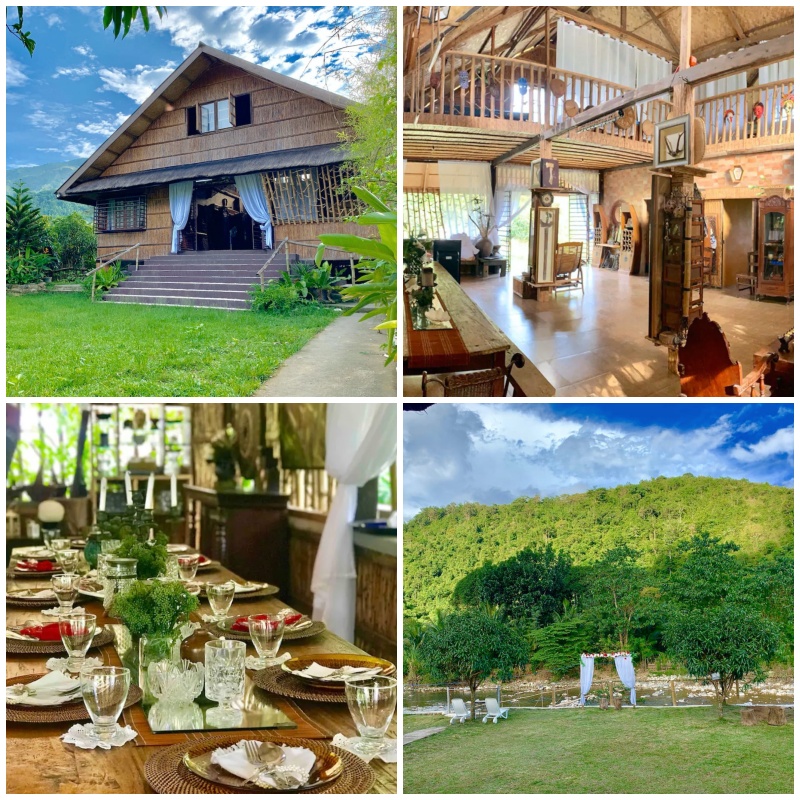 If you and your partner love the outdoors, this rustic resthouse in Tanay could be the perfect wedding venue. Surrounded by mountains, Balai Talahib lets you hold your festivities in nature, right next to a sparkling river. Sounds like a dream, eh?
Can you picture yourself celebrating your wedding at any of these Airbnbs?