Spend Your Next Staycation at These Stunning Airbnbs with City Skyline Views
Relaxation in the heart of the city.
by Ina Louise Manto | May 18, 2020
Having a relaxing weekend getaway doesn't mean you'll have to drive far. Sometimes, you can get your piece of relaxation and quiet right in the heart of the city. For your next staycation, you might want to bookmark these stunning Airbnbs that have skyline views:
Wood House in Poblacion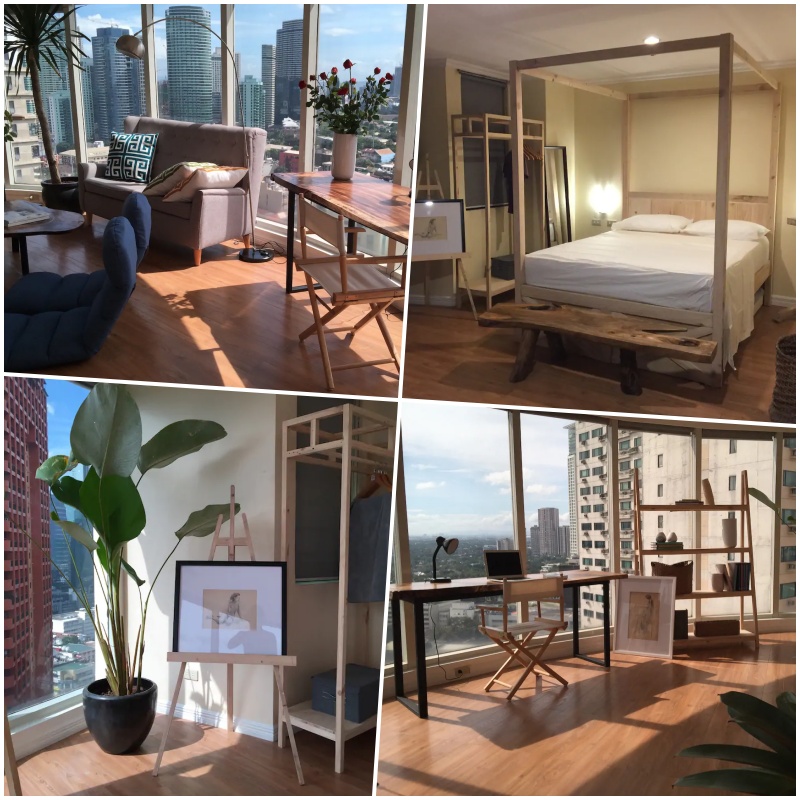 3 guests · 2 beds · 1 bath
Rates start at Php 2,590 per night
If you're a fan of chill nights where you can dine, watch a gig, or simply stroll around the city, then you'll love this wood house in Poblacion. This 51 square-meter corner apartment has glass window panels that give a 180-degree unobstructed view of the Manila skyline. Enjoy the natural light seeping into the windows during the daytime and watch the twinkling city lights at night. You'll experience a semblance of the countryside in this apartment as its interiors are furnished with wooden furniture and real plants.
Modern Home in Forbes Park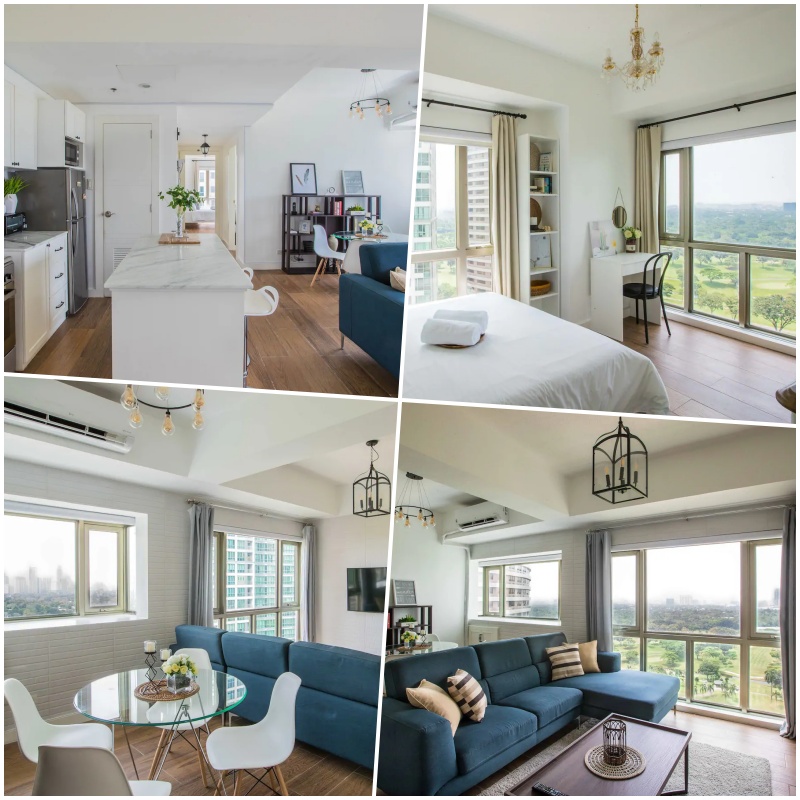 9 guests · 2 bedrooms · 2 beds · 2 baths
Rates start at Php 6,590 per night
This elegant home in Forbes Park is the ideal staycation spot for big families who wish to just chill out for a weekend. Julia's home boasts modern minimalist interiors: white walls, wood tile floors, large windows, and marble countertops that are all pleasing to the eyes. You'll get a balance of the city and nature as you wake up next to a golf course. It's near supermarkets, restaurants, and convenience stores if you plan to cook or stock up on snacks. The kitchen is fully equipped and entertainment wouldn't be a problem as cable and Netflix are accessible through the smart TV. Guests also have access to the building's gym and pool.
Penthouse Loft in Greenhills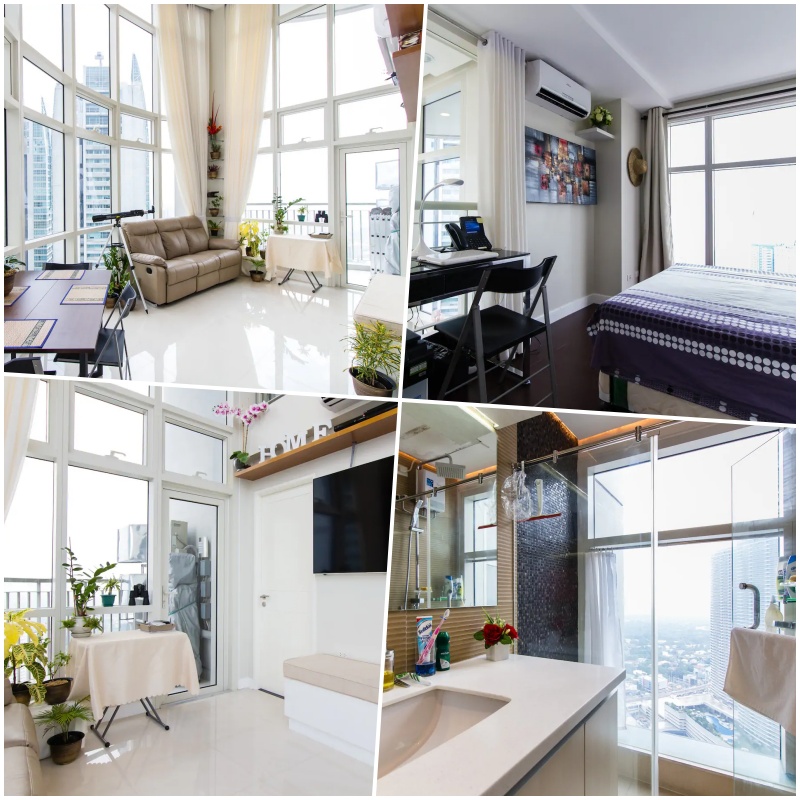 5 guests · 2 bedrooms · 4 beds · 2 baths
Rates start at Php 4,775 per night
Elevate your usual condo experience at this spacious penthouse loft in Greenhills. Once you enter the apartment, you'll be greeted with tall glass windows that give a 260-degree view of Ortigas not only Ortigas but also Manila Bay, Antipolo, and Laguna de Bay. Each bedroom has its own bathroom; one even has a huge glass window by the shower to enjoy that scenic view of the city. It's nearby shopping malls and located in the Greenfield District where you can enjoy parks, open green spaces, and restaurants.
Glass House in Makati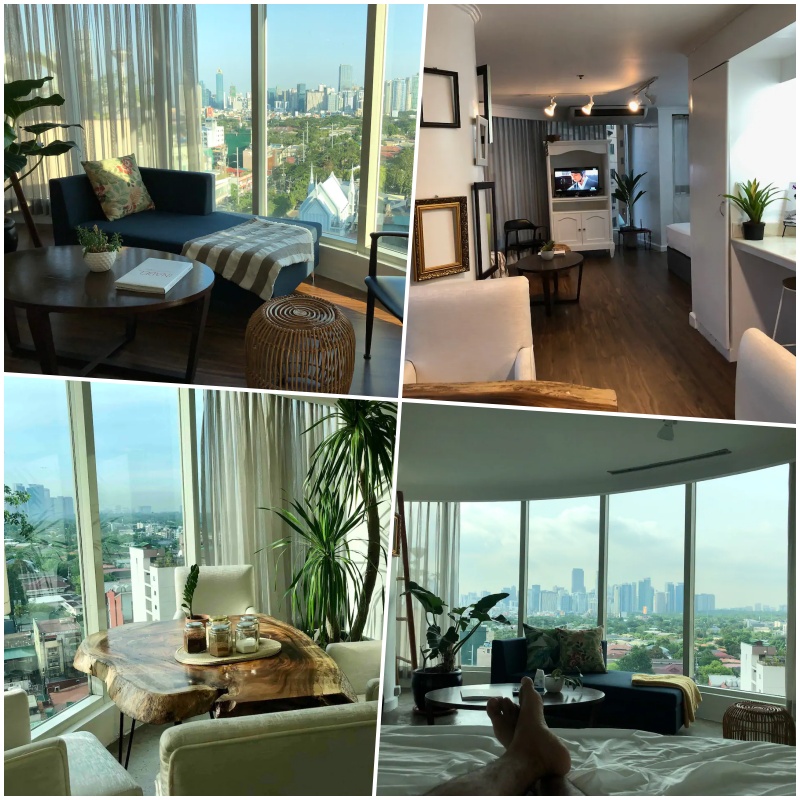 4 guests · 2 beds · 1 bath
Rates start at Php 2,290 per night
This stylish glass house is another property right in the heart of Poblacion, Makati. It's located in one of the trendiest places with a booming nightlife: restaurants offering different cuisines, pubs, and rooftop bars. This glasshouse features modern interiors with touches of tropical plants. It also features a 180 degree-view of the skyline, which is perfect for stargazing after a night out downstairs.
Tropical Oasis in Quezon City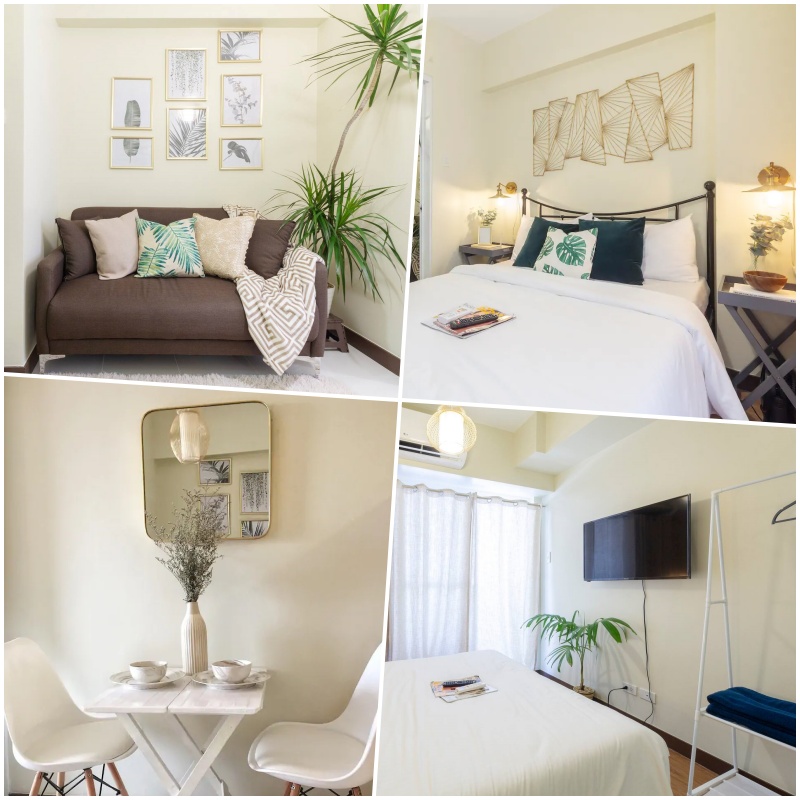 2 guests · 1 bed · 1 bath
Rates start at Php 1,999 per night
This tropical oasis in the heart of Quezon City will let you experience luxury resort living. It's a cozy home-away-from-home that features white walls, minimalist interiors, and tropical decorations that look like it's straight out of your Pinterest. The apartment is nearby establishments like bands, convenience stores, and restaurants. If you wish to have a night out, it's also nearby Tomas Morato. Staying in made better with Fibr internet and Netflix.
Where do you plan on spending your next staycation? Tell us below!