8 Must-Visit Airbnbs in Laguna That Have Private Pools
For that late summer getaway.
by Ina Louise Manto | May 12, 2020
Laguna is the home of many lakes, waterfalls, and mountains that are sights to wonder for both locals and tourists. It is also the home of various resorts that are perfect for family or barkada celebrations. Once the quarantine is over, you can check out these Airbnbs in Laguna for that late summer getaway without driving too far from the Metro:
Kolonya Hot Spring in Calamba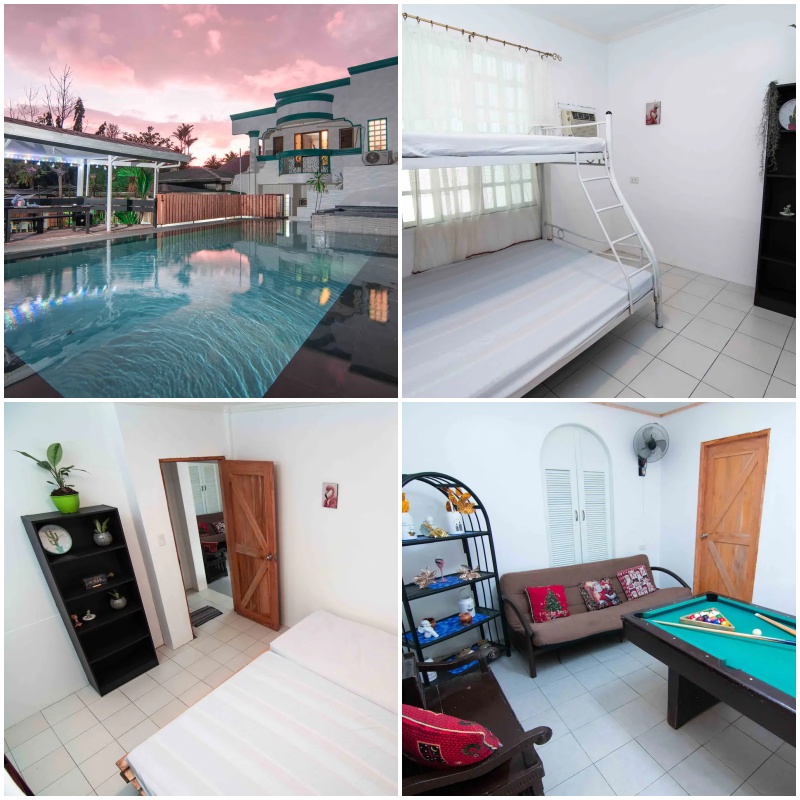 16+ guests · 4 bedrooms · 9 beds · 2 baths
Rates start at Php 3,600 per night
Aside from being the hometown of our National Hero Jose Rizal, Calamba is known as the Resort Capital of the Philippines. The city is the home of multiple resorts (both private and private), making it a hotspot for Pinoys who want to cool off during the summer. Kolonya Hot Spring is a private resort in Pansol, Calamba that is perfect for hosting large families or groups. Located at the base of Mt. Makiling, the hot spring is equipped with a nipa hut, videoke area, comfy lounge, garden, griller, and kitchen. Don't worry about kids and their fun time, as adult and kid pools are separated for safety.
River Front Vacation House in Liliw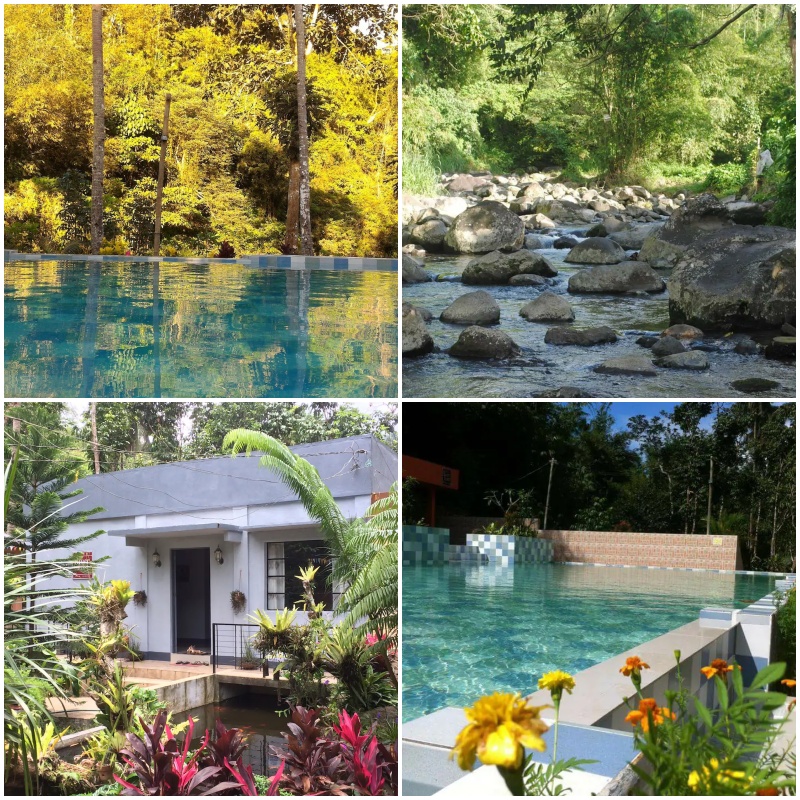 5 guests · 3 bedrooms · 4 beds · 1.5 baths
Rates start at Php 4,000
Liliw is the home of some of Laguna's sweetest treats and is also known as the Shoe Capital of Laguna. Nestled along the riverbank of Banahaw River is a slice of paradise. Resort River Front is a vacation home that offers villas that give direct access to the Banahaw River. It's a secret hideaway for those seeking a relaxing and peaceful experience with nature. The water used in the pools is from the waters of the river and as you cool off at the infinity pool, you're surrounded with lush greenery. Guests are also given direct access to the river if they wish to explore.
The Lake House at Caliraya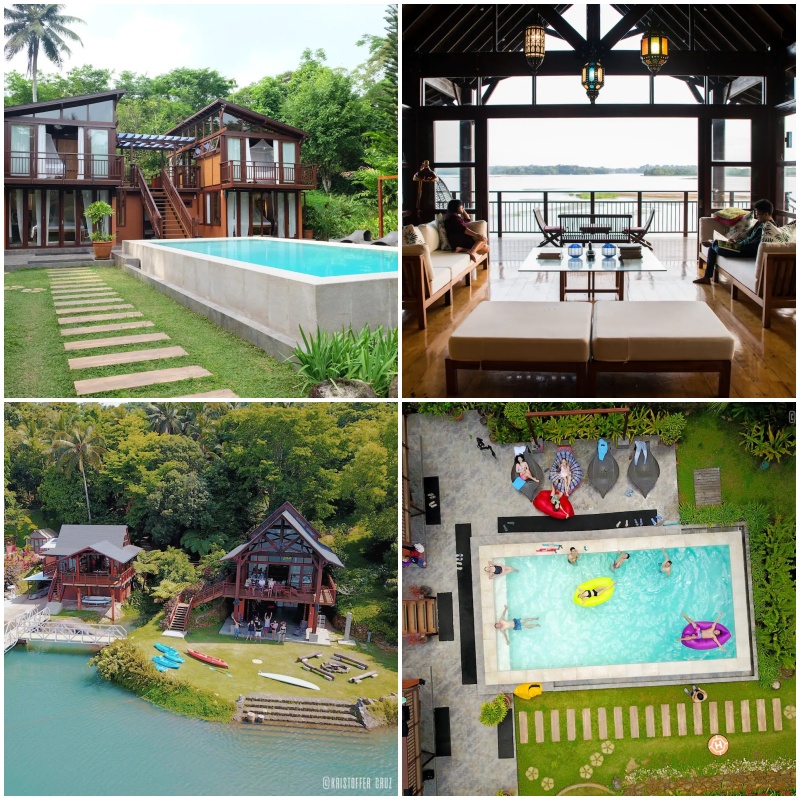 12 guests · 9 bedrooms · 14 beds · 3.5 baths
Rates start at Php 22,000 per night
The Lake House is the location for families and groups of friends who wish to have a relaxing getaway surrounded by nature. Just a two to three-hour drive from the Metro, the property is a private vacation home by the man-made Caliraya Lake. To level-up the nature experience, the villas are 100% run by solar power! The lakeside lounge offers stunning views of the lake, which is perfect for when you want to slow down and enjoy the breeze. Guests have access to both the pool and lake, bonfire area, and can use life vests, fishing rods, SUPs, and kayaks.
Private Hot Spring Pool in Pansol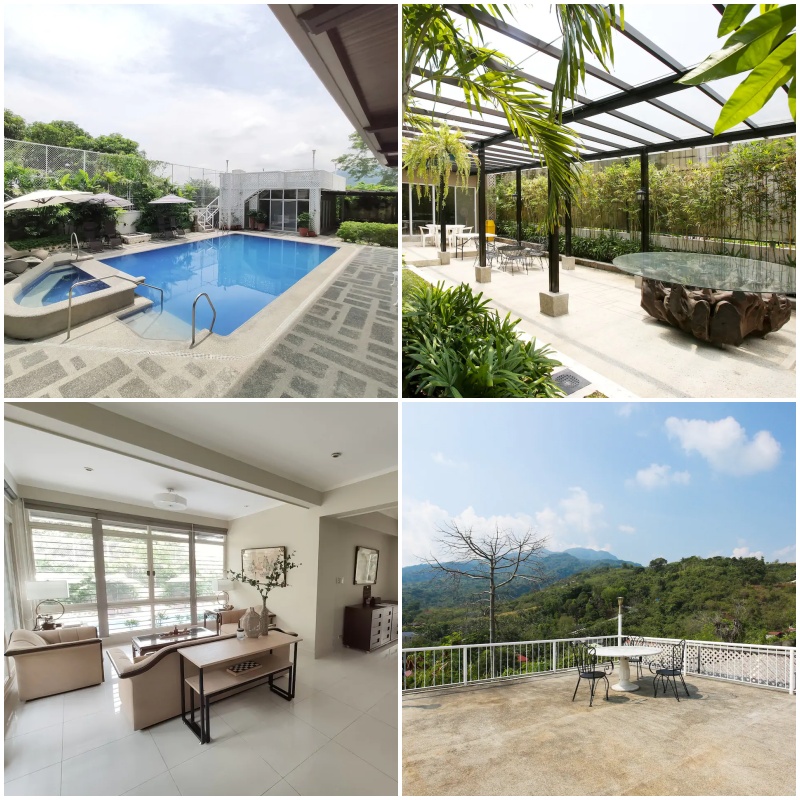 12 guests · 3 bedrooms · 3 beds · 6 baths
Rates start at Php 15,500 per night
This Pansol home is another must-visit property in Calamba. The two-story home offers a private hot spring, outdoor swimming pool, and amenities that are perfect for hosting family gatherings or nights with the barkada. You can find a spacious dining and living area on the first floor while air-conditioned rooms are found on the second floor. An outdoor barbecue, patio, and cabana are located by the pool. There's also a roof deck that offers stunning view s of the mountains and Laguna de Bay.
Donrio Balinese Villa in Calamba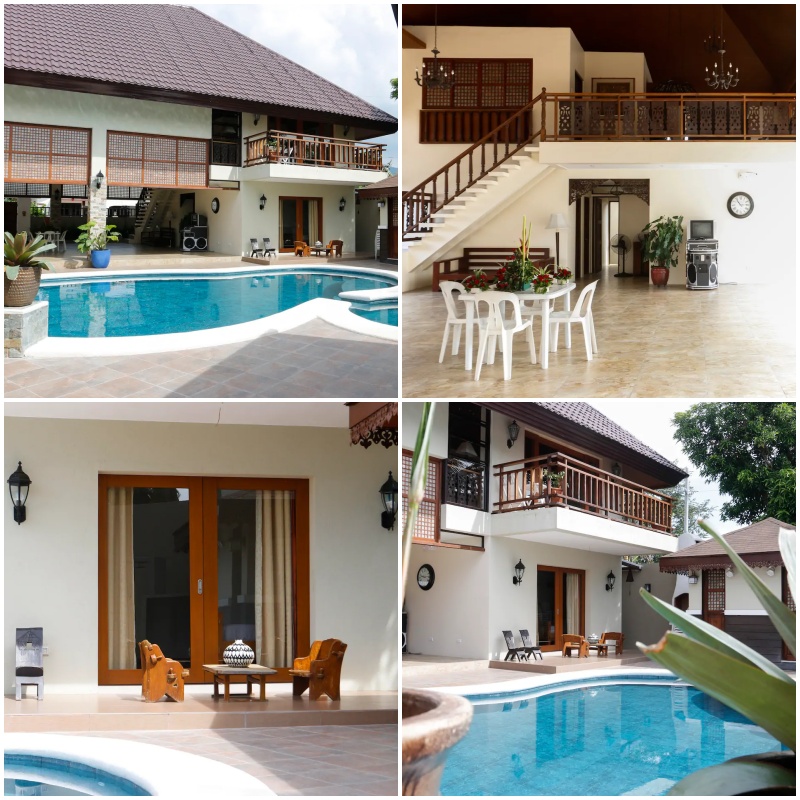 16+ guests ·4 bedrooms · 9 beds · 4.5 baths
Rates start at Php 15, 888 per night
The Donrio Balinese Villa is a private resort that is perfect for guests who are looking for a location for big gatherings. The villa is good for debuts, receptions, parties, off-sites, or just a simple summer getaway for the family. If you wish to explore the city or nearby spots, Jose Rizal's ancestral home and Moun Makiling are only a 30-minute drive from the villa.
Cozy Casitas in Bay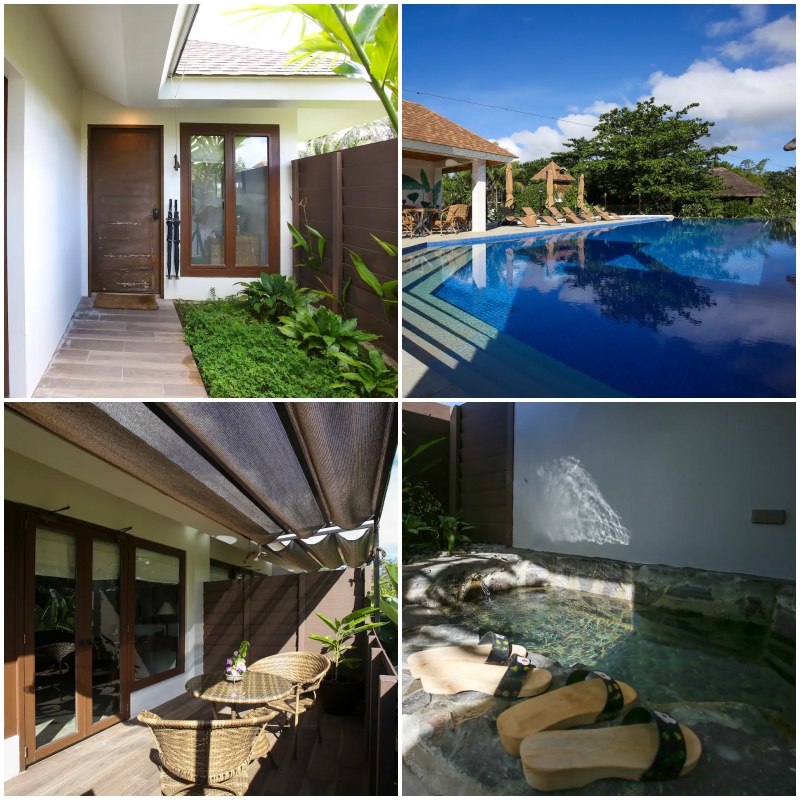 2-3 guests · 1 bedroom · 1 bed · 1 private bath
Rates start at Php 15,500 per night
Looking for a quick weekend getaway? The Lotus Pod Casita by Cozy Spots would make you feel like you're in Bali, Indonesia. It's a 25sqm room that has its own private entrance and garden and terrace. The room's walls feature huge glass windows that give relaxing views of nature. The best part is its private bathroom that leads to a private hot tub dipping pool! Guests also have access to the lounge area, swimming pool, trampoline, zip line, bikes, and kid's playground.
Casa Salvadore in Lumban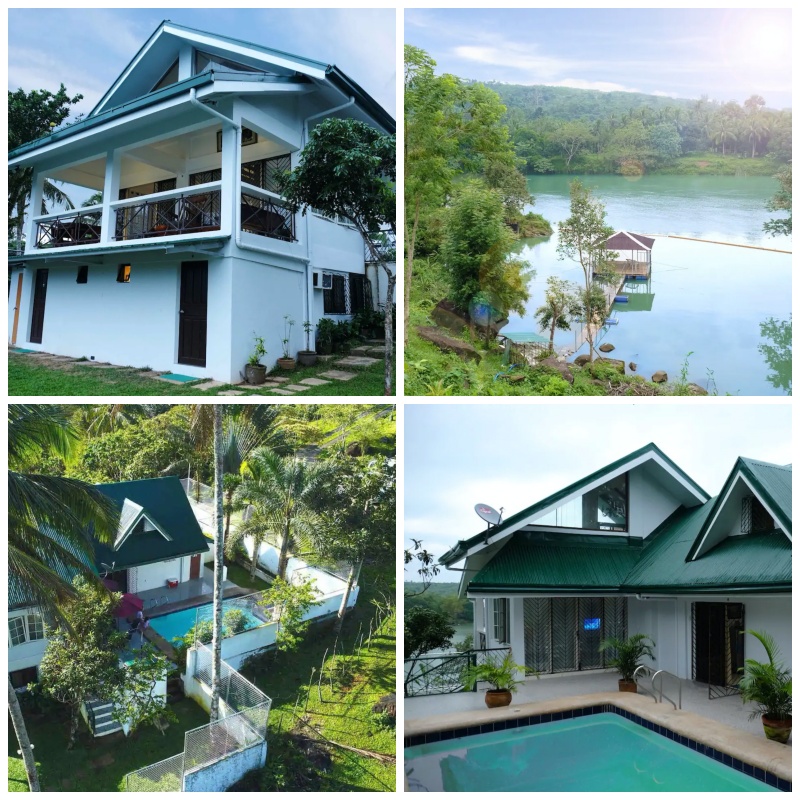 12+ guests · 3 bedrooms · 8 beds · 5 baths
Rates start at ₱12,000/ night
Located in a quiet neighborhood along Caliraya Lake in Lumban, Casa Salvadore is a vacation home that's perfect for big families or groups of friends, as it can accommodate over 15 people comfortably. Its lakeside location will let you experience nature at its best — apart from the swimming pool, there's a floating gazebo, a barbecue area, and a billiard table.
La Finca private pool villa in Lipa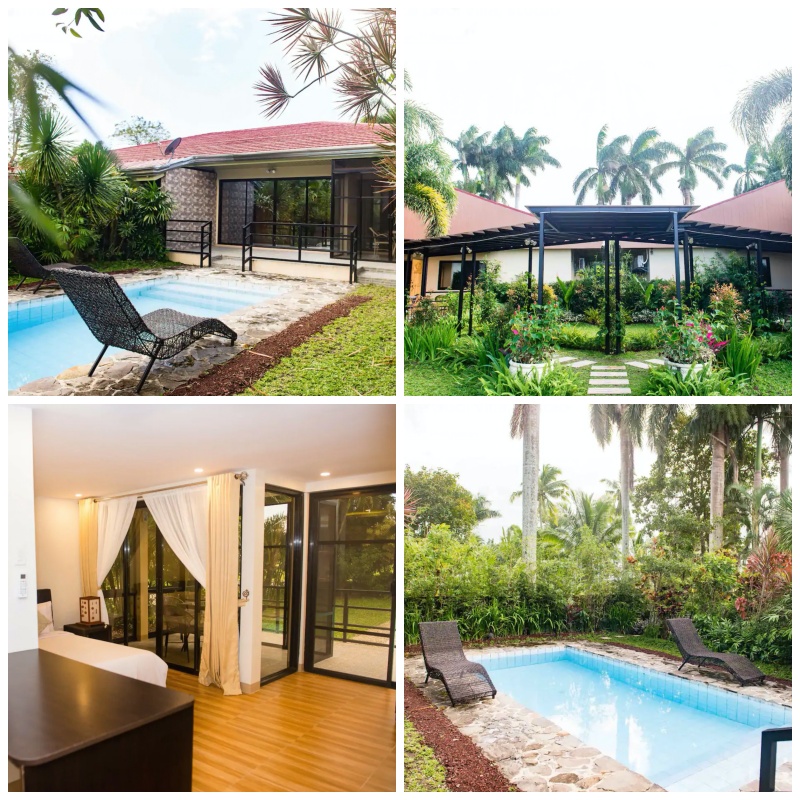 2 guests · 1 bedroom · 1 bed · 1 bath
Rates start at ₱6,000/ night
La Finca Village gets its name from the Spanish for "The Farm". Designed as a place to heal and relax, this private pool villa lets you get some R&R without sacrificing the comforts of modernity. You can also enjoy sports such as golf, swimming, tennis, or go sightseeing in nearby attractions.
Other Airbnbs you might want to visit: 
These Airbnbs in Batangas will Give You a Slice of Paradise Near the Metro
10 Relaxing Airbnb Getaways in Rizal for When You Need to Recharge in Nature
This Glass Treehouse in Baguio Will Let You Sleep Under the Stars