The Most Beautiful Starbucks Branches Around Metro Manila
Drink your coffee in style.
by Meryl Medel | February 12, 2020
In the hustle and bustle of everyday, you probably just drop by your favorite coffee shop, order your usual drink, and jet off to your next schedule. Or maybe you even resort to just making your own coffee in the office. 
But when you're looking to take a break from the monotony of work-eat-sleep-repeat, you should try dropping by some of the most beautiful Starbucks branches around Metro Manila. Maybe you can even take your Valentine's date to one of these branches this weekend!
If you want a spacious workspace
You won't have a hard time looking for your own comfortable space when you go to Starbucks Macapagal because it is the biggest branch in the country. Apparently, over 200 people can stay in this two-floored coffee shop, and yet the floor-to-ceiling glass windows bring in enough natural light that you'd feel immediately comfortable. If you're in a rush, you can opt to just get your caffeine fix via their drive-thru, but try to find time because despite its size, this is a beautiful Starbucks branch.
Address: 9 Macapagal Blvd. corner Bradco Avenue, Parañaque City
Store hours: Mondays to Thursdays from 07:00 to 23:30, Fridays from 06:00 to 23:30, Saturdays from 08:00 to 23:30, and Sundays from 09:00 to 23:30
If you want to see some of the coffee chain's history
View this post on Instagram
The Starbucks 6750 Ayala Avenue is where everything started. This is the coffee chain's first ever branch in the country, and it's amazing how it's still standing. The branch has been through a few renovations, but the loft interior remains spacious and cozy with the towering column full of picture frames showing some important moments in the history of Starbucks Philippines.
Address: 6750 Ayala Avenue, Ground Floor – Office Drive Side, Makati City 
Store hours: Mondays to Thursdays from 05:30 to 02:30, Fridays from 05:30 to 03:30, Saturdays from 05:30 to 02:30, and Sundays from 06:00 to 01:30
If you want to go back in time
View this post on Instagram
Perhaps the most beautiful and most unique Starbucks in the country is their Starbucks Intramuros Puerta Isabel branch. Using a structure that dates as far as back as the time of the Spaniards in the 16th century, this branch would bring you back in time. In contrast to other branches that usually employ modern architecture, the Intramuros branch is quaint and rustic, making it the most Pinoy as well.
While you're in the area, have a look around some of the museums in the historical Intramuros.
Address: Puerta Isabel II, 15-A Muralla St. cor Magallanes Drive, Intramuros, Manila
Store hours: Mondays to Thursdays from 06:30 to 22:30, Fridays from 06:30 to 23:00, and closed on Saturdays and Sundays
If you want to relax with nature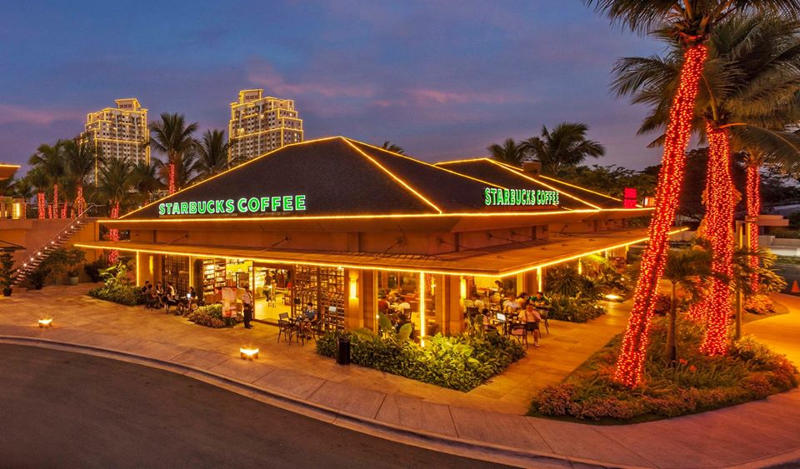 Looking for some breath of fresh air but still craving some caffeine? Maybe you should go to Starbucks The Grove. Its cozy interior is full of lush greenery and wooden furniture that all nature lovers would surely enjoy. This branch won Starbucks'"Best New Core Store Design in Asia" in 2013 for its unique interior, beating over a hundred other Starbucks outlets in Asia.
Address: The Grove By Rockwell, E. Rodriguez Jr. Avenue, Ugong, Pasig City
Store hours: Sundays to Thursdays from 06:30 to 00:00, Fridays and Saturdays from 06:30 to 01:00
If you want a sleek, modern workspace
In celebration of Starbucks Philippines' 20th anniversary, the coffee powerhouse opened the Starbucks Reserve Powerplant branch featuring a sleek, modern design with Pinoy highlights. The mountains of Benguet and inspired the sloped wooden ceiling right above the Reserve Bar. This is also one of the select Reserve stores making use of the Black Eagle espresso machine.
Address: Stall R1-162, Level 1, Powerplant Mall, Rockwell Center, Makati City
Store hours: Every day from 07:00 to 00:00
If you want specialty coffee at work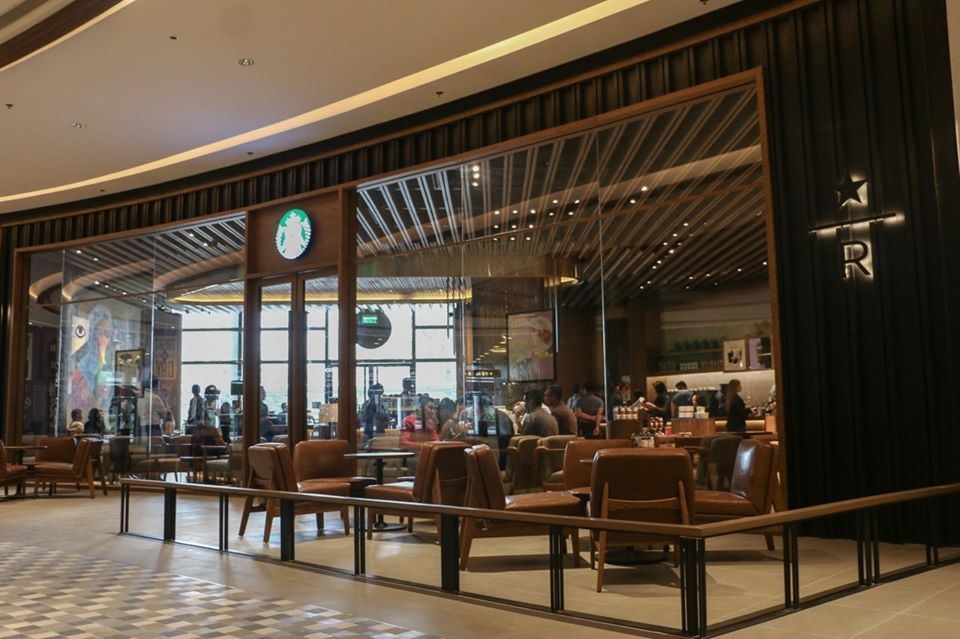 Stuck in a meeting in the business district and craving more than the usual caffeine fix? You can head over to Starbucks Reserve The Assembly Grounds. The high ceilings at this branch helps you get out of that stifling feeling from the office. Pair that with a good cup of coffee from the Reserve menu and you'll feel powered up in no time.
Address: Unit 121-122 Ground Floor The Assembly Grounds, Malugay Street, Makati
Store hours: Everyday from 07:00 to 01:00
If you want to enjoy the sunset by the bay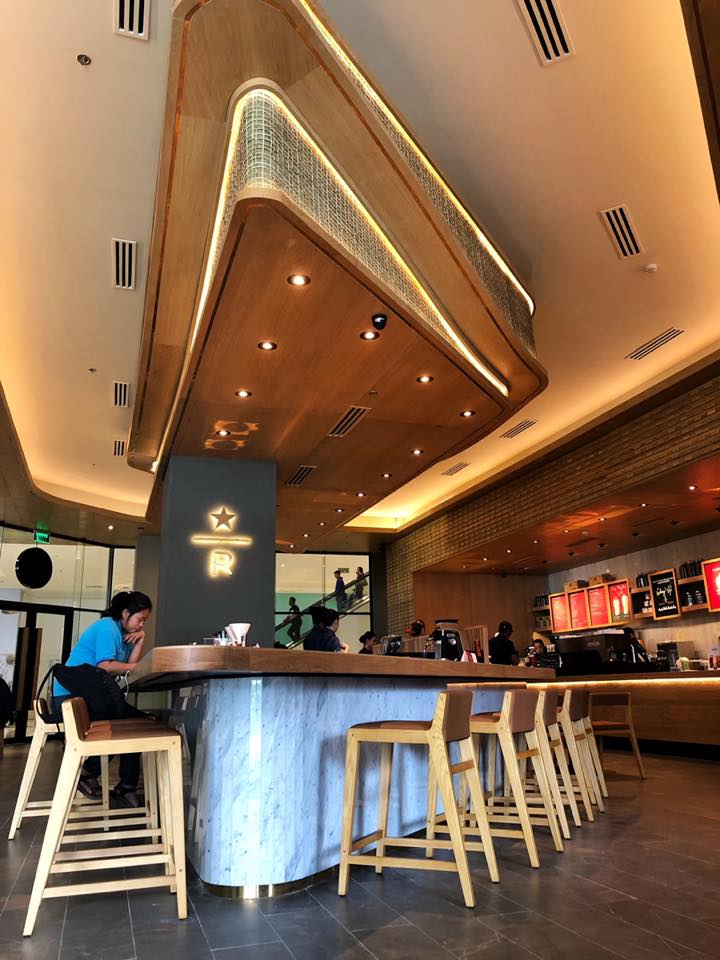 Opened just late last year, the Starbucks Reserve Ayala Malls Manila Bay is one of the latest Reserve branches of the famous coffeehouse. Its ceiling design is inspired by Hacienda Alsacia, Starbucks' first-ever coffee farm located in Costa Rica. You can stay inside the cool and comfy coffee shop, but if you want to see the sunset over Manila Bay, it's only a few blocks away.
Address: Diosdado Macapagal Boulevard corner Aseana Avenue, Paranaque City
Store hours: Everyday from 09:00 to 00:00
Which branch do you want to see visit this weekend? Tell us below!