LOOK: This Scenic Resort in Bataan Will Make You Feel Like You're in 'Mamma Mia'
Ready your favorite songs by Abba!
by Ina Louise Manto | December 14, 2021
Ready your favorite Abba tunes, because this resort sitting on top of a hill will make you feel like you're in the set of Mamma Mia. If you're looking for a scenic space you can call home for a night or two over the holidays or on your next celebration, this resort in Bataan has a breath-taking scene that will make the hours on the road worth it.
Casa Paraiso
Known for its natural attractions, white sand beaches, and historical sites, Bagac, Bataan is a popular destination near the metro if you wish to learn about history and go on an adventure. While you can easily visit popular beach resorts around Bagac, one resort will make you swoon for the ambiance, location, and view. Offering the best of both worlds, the mountain, and the sea, Casa Paraiso is a resort that will bring you to a Greek-like holiday.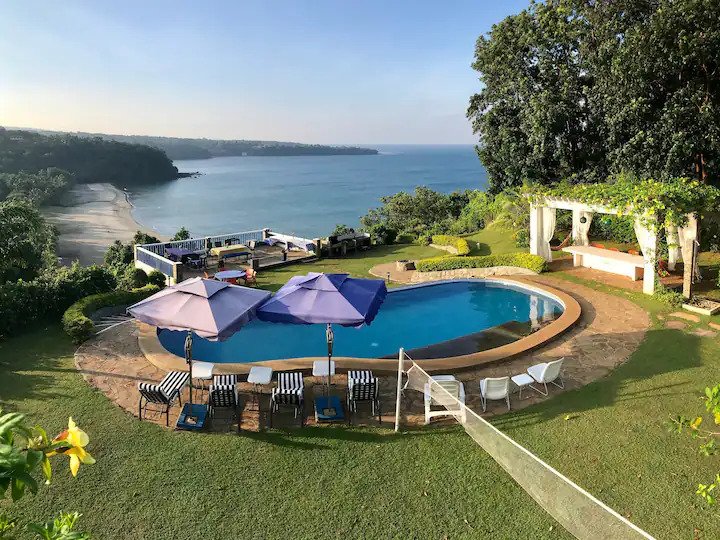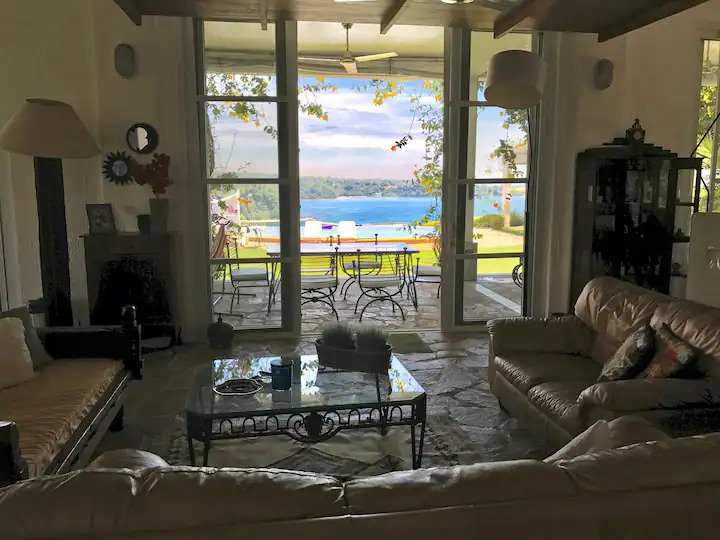 Nestled on top of a hill, Casa Paraiso is one of the only few properties that are up for rent in the scenic neighborhood. Just the view from its balcony looks straight out of a postcard already: a garden with a pool overlooking an exclusive white-sand cove and greenery from the surrounding forest and mountain. With approximately 3,500 sqm of land of property exclusive to your group only, the resort makes the perfect venue for intimate celebrations as well.
The house
The resort features a Greek-inspired two-story home that boasts white walls and accents of blue. Paired with the colorful tapestries and quirky lighting and decor, its interiors would really make you feel like you're in the set of Mamma Mia.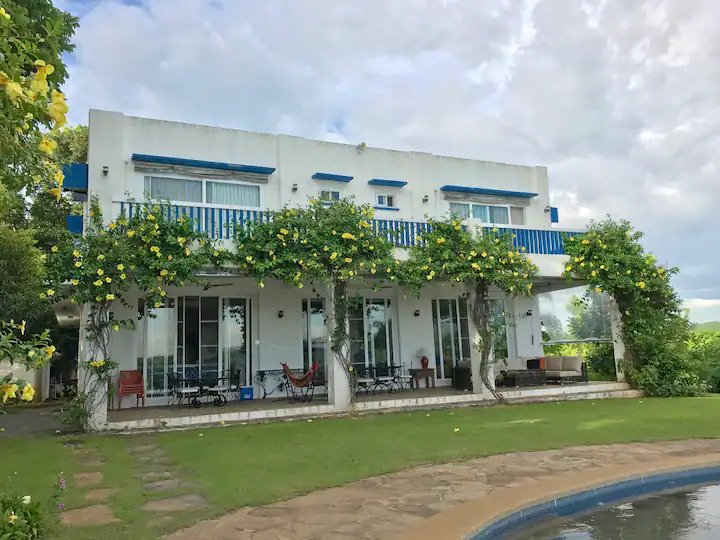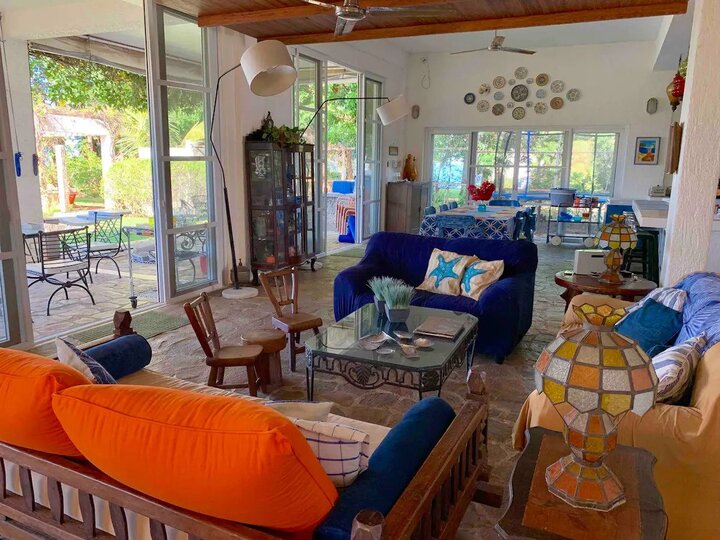 There are four bedrooms in the house, which can comfortably accommodate up to 16 guests. An additional fee of P350 per head will be charged in excess of 16 pax. Some rooms have a private balcony where you can appreciate the scenic view right from the comforts of your bed, thanks to the huge glass panel doors.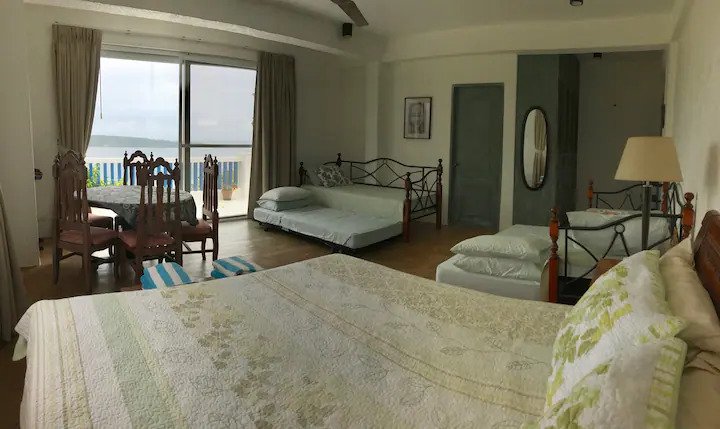 Located on the ground floor are the various common areas that are spacious and bright: a living area, dining area, and a fully equipped kitchen. Don't miss out on the fresh seafood readily available in the nearby market! According to the owners, you can opt to cook your meals or hire a cook during your stay.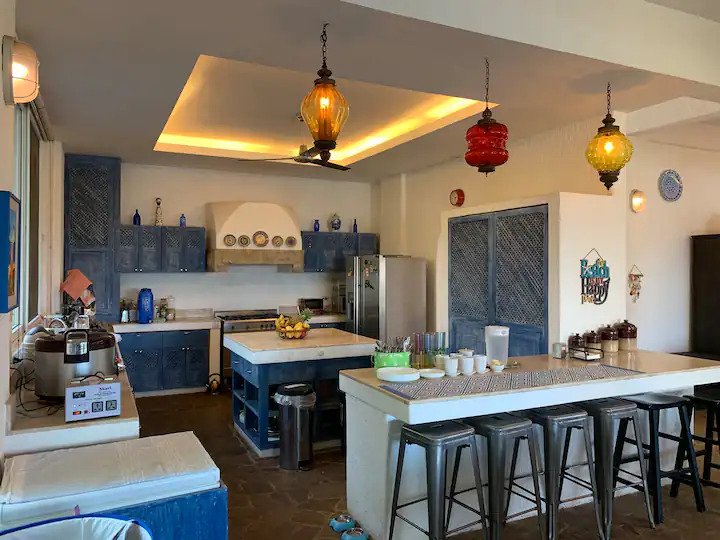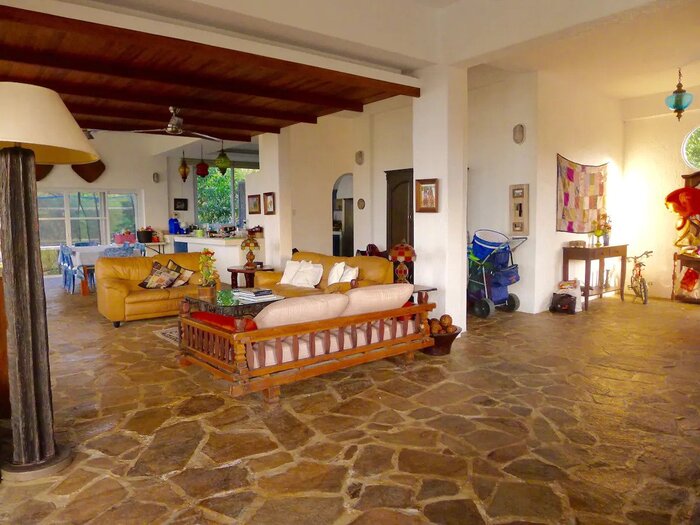 The outdoors is probably where you'll stay the most; who would want to give up basking in the sun and enjoying the view? There are seating arrangements in the veranda and alfresco dining set up by the pool if you wish to enjoy the breeze when eating. At night, you can also use the bonfire pit for an additional fee. The bonfire starts at 8:30 PM!
Nearby establishments and attractions
The beach view you'll get from the house is Montemar Beach Club, which is just 5 minutes away, including other neighboring beach resorts. The wet market and convenience stores are just less than 10 minutes away in case you need extra ingredients or miscellaneous items. If you wish to explore Bagac more, waterfalls, Las Casas Filipinas de Acuzar, and Anvaya Cove are just less than an hour's drive away as well.
Rates at Casa Paraiso start at P34,757 for 16 guests. Book your stay here.
LOOK: This Scenic Resort in Bataan Will Make You Feel Like You're in 'Mamma Mia'
LOOK: This Scenic Resort in Bataan Will Make You Feel Like You're in 'Mamma Mia'
Ina Louise Manto | Dec 14, 2021
For inquiries and more information on travel requirements, contact the Airbnb host.