Shop, Feast and Be Merry: Your Guide to Europe's Most Festive Christmas Markets
Spending the holidays in Europe?
by Andy Flores | December 06, 2016
Across Europe, hundreds of street markets bustle in activity for the holidays. With a plethora of local fare, handicrafts and various forms of entertainment, these seasonal attractions of everything Christmas lure throngs and throngs of shoppers and foodies annually, treating them with the ultimate experience for the senses and the spirit.
Winter Wonderland – London, UK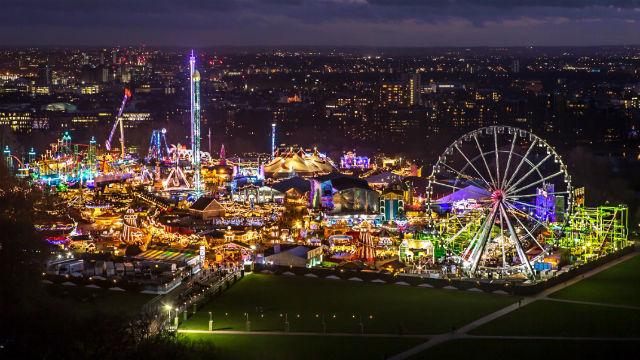 Until 2 January 2017
On its 10th year, Hyde Park's Winter Wonderland Festival makes a comeback, offering a host of family-friendly Christmas-themed activities.
Shop: For items perfect for gifting, head on over to the Angels Christmas Market and Fairies Market, where you'll find selections upon selections of unique pieces of jewelry, trinkets and decorations.
Feast: Scour the market stalls for warm and crispy churros, mulled wine or hot chocolate.
Be merry: Sing and dance along to Oom-pah bands into the evening at Winter Wonderland's Bavarian Village, where you can also have your fill of German specialties like sausages and glühwein. For some family fun, skate and twirl away at Hyde Park's ice rink (the UK's largest outdoor rink), catch a show of The Nutcracker on Ice, or check out Magical Ice Kingdom, Winter Wonderland's latest attraction that features stunning ice sculptures.
More info here: visitlondon.com
Winter Wonders Christmas Market – Brussels, Belgium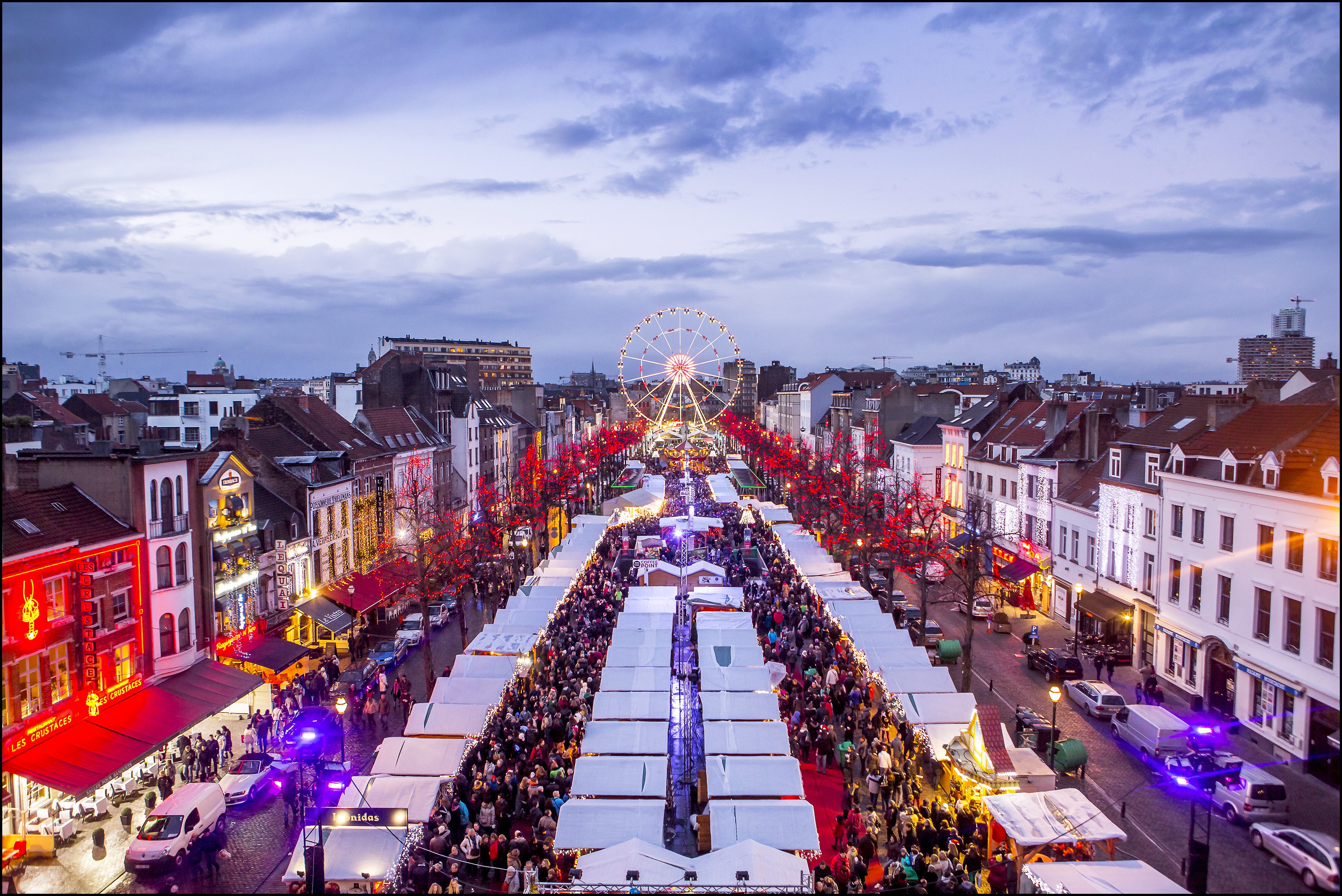 Until 1 January 2017
Among the youngest Christmas markets in Europe is Brussels' Winter Wonders Christmas Market. It marries the concepts of tradition and modernity, making it one of the most popular attractions of the Plaisirs d'Hiver/Winter Pret ("Pleasures of Winter") festival.
Shop: Get ready to drop some cash on Christmas items, crafts and souvenirs made by artisans from around the world.
Feast: A true paradise for the certified sweet tooth, the Winter Wonders Christmas Market is never complete without stalls selling irresistible Belgian treats such as fluffy Brussels waffles, croustillons (sugar doughnuts) and, of course, divine Belgian chocolates. If you're not a fan of sweets, go for Belgian fries or Belgium's best seafood offerings like mussels and caricoles (whelks or sea snails), which you can down with crisp Belgian beer.
Be merry: Admire the breathtaking view of Christmas in Brussels from a 160-foot Ferris wheel, the key attraction of Winter Wonders.
More info here: visit.brussels
Vánoční Trh (Staroměstské Náměstí) – Prague, Czech Republic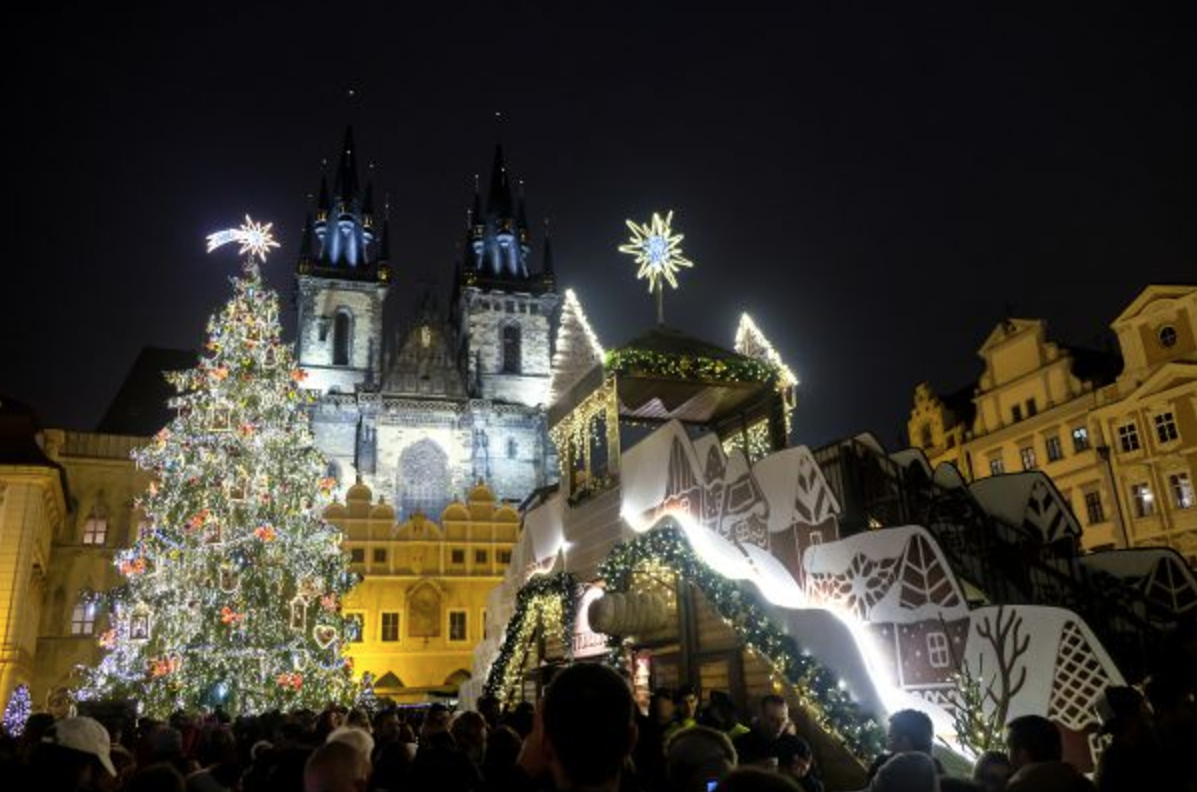 Until 6 January 2017
Experience the unique atmosphere of medieval central Prague during the holidays at the Christmas market (Vánoční trh) of Old Town Square (Staroměstské Náměstí).
Shop: From carved wooden toys to Bohemian crystal work to blacksmith's ware, this Christmas market offers an assortment of goods that are proudly Czech.
Feast: Never say no to pivo (beer). Czechs are confident that their beer is the best in the world, and they want you to know it, so give it a go! Enjoy it with blood sausages or barbecued pork. If you're looking for something sweet, try trdelník (grilled pastry topped with sugar and crushed wallnuts), vosí hnízda (nutty cookies with rum that resemble wasp nests), or vánočka (special braided bread with raisins traditionally baked at Christmas). Pair them with the equally sweet svařené vino, a sweet mulled wine.
Be merry: Various cultural programs are held on a multi-functional stage at the square to set the yuletide mood. Stick around for Christmas carols, theater performances, and dances.
More info here: trhypraha.cz
Wiener Christkindlmarkt – Vienna, Austria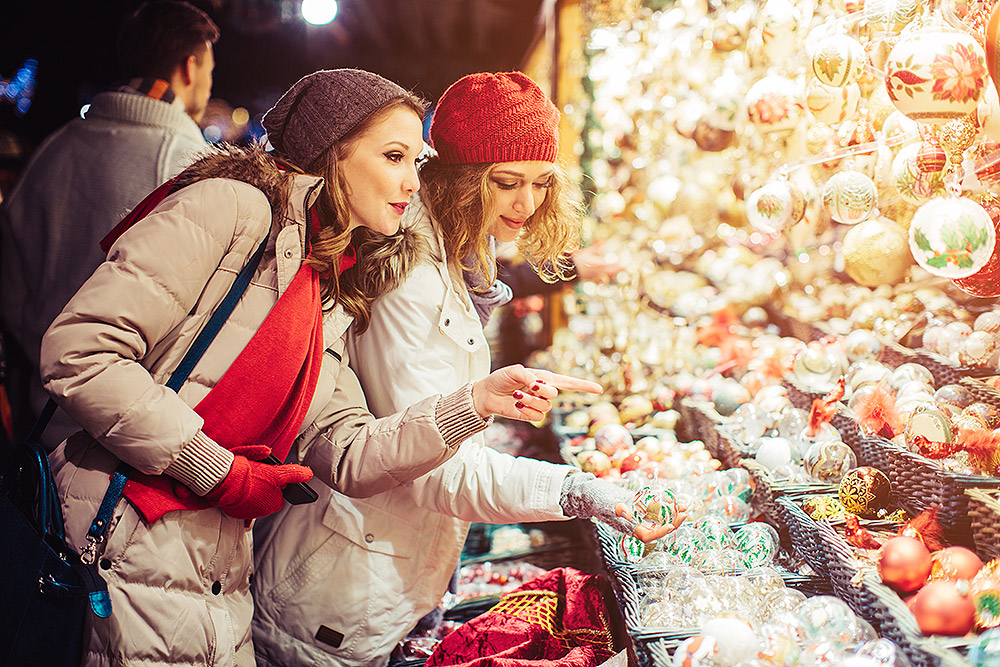 Until 26 December 2016
Prepared to be charmed by Vienna's Christmas market at the Rathausplatz. Taking pride in its diverse collection of exhibitors, Wiener Christkindlmarkt draws in millions of visitors each year.
Shop: Here, you will find delicate glass ornaments that will look absolutely beautiful on your Christmas tree. Beeswax candles and wooden toys are also best sellers.
Feast: With the scent of lebkuchen hanging in the air, it would be impossible for you to resist the temptation of trying this Christmas treat that somewhat resembles gingerbread. Pair it with weihnachtspunsch, a popular spiced punch during Christmastime made with wine, brandy, or schnapps and warm fruit juices.
Be merry: Drown your ears in sweet melodies at the Christkindl stage, directly below the grand Christmas tree, where you can listen to choirs and trumpeters while visiting the Christ Child.
More info here: wienerweihnachtstraum.at
Christmas Fair and Winter Festival – Budapest, Hungary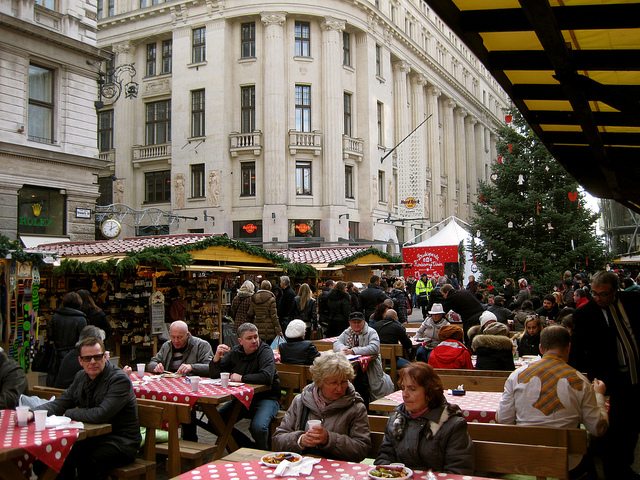 Until 1 January 2017
Right in the heart of Hungary's capital, Vörösmarty Square transforms into a marketplace that has all the makings of the perfect Christmas dream.
Shop: Get your hands on quality folk and craft products such as Christmas tree ornaments, candles, and toys made with paper, wood, yarn or bulrush that local artisans make on-the-spot!
Feast: Help yourself with generous servings of stuffed cabbage and goulash, then for dessert, have some kürtös kalács, a cylindrical pastry with a sweet coating (caramelized sugar, ground walnut, coconut or chocolate). If you've got some space in your stomach to spare, sink your teeth in lángos, a deep-fried flat bread, or lepény, Hungary's "bread pizza" that's topped with sour cream, bacon, or sausage and cheese. Wash them all down with krampampuli, a traditional Hungarian punch drink.
Be merry: Throughout the day, cultural shows and concerts of various music genres are held on the market's main stage. Keep your eyes peeled for open kitchens and approach the cook to find out about Hungarian culinary secrets. You can also strike up a conversation with artists and artisans showcasing their crafts at the market.
More info here: budapestinfo.hu
St. Gallen Christchindli Market – St. Gallen, Switzerland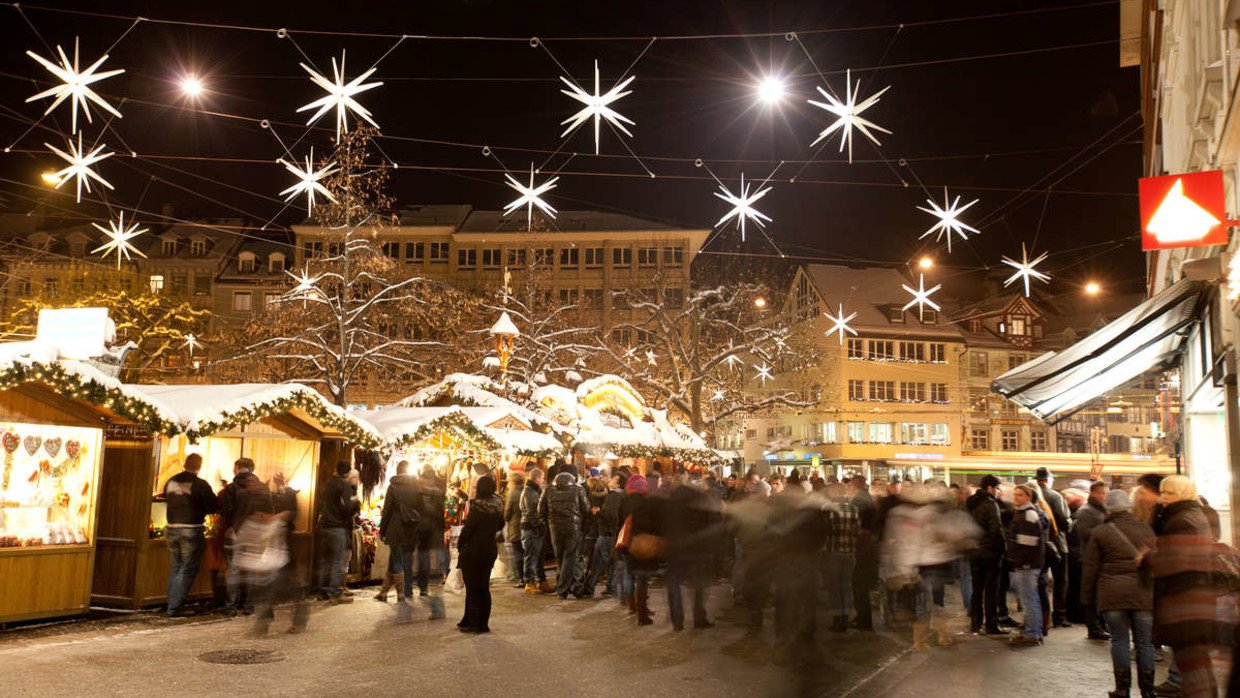 Until 24 December 2016
Seven hundred lights in the shape of stars shine above the romantic old town of this city. An hour away from Zurich, it's a comparably humble place to enjoy the festive mood.
Shop: Tick off all the names of the kids in your Christmas shopping list, as St. Gallen's market is heavy on wooden toys. You can also find handcrafted items for your home here.
Feast: You can't leave this Christmas market without having a bite of St. Geller kalbsbratwurst or veal bratwurst, an authentic St. Gallen specialty. Have it cooked the way the locals love it — crisp and brown from the grill — then warm yourself up with a mug of feuerzangenbowle, a wine and rum fire punch. Craving something sweet? Stuff your face with biberli, a Swiss Christmas ginger cookie that come in different shapes.
Be merry: Take a moment to marvel at the Christmas tree in the Abbey district. At 20 meters, it's the tallest Christmas tree in Switzerland.
More info here: bodensee.eu
Christkindelsmärik – Strasbourg, France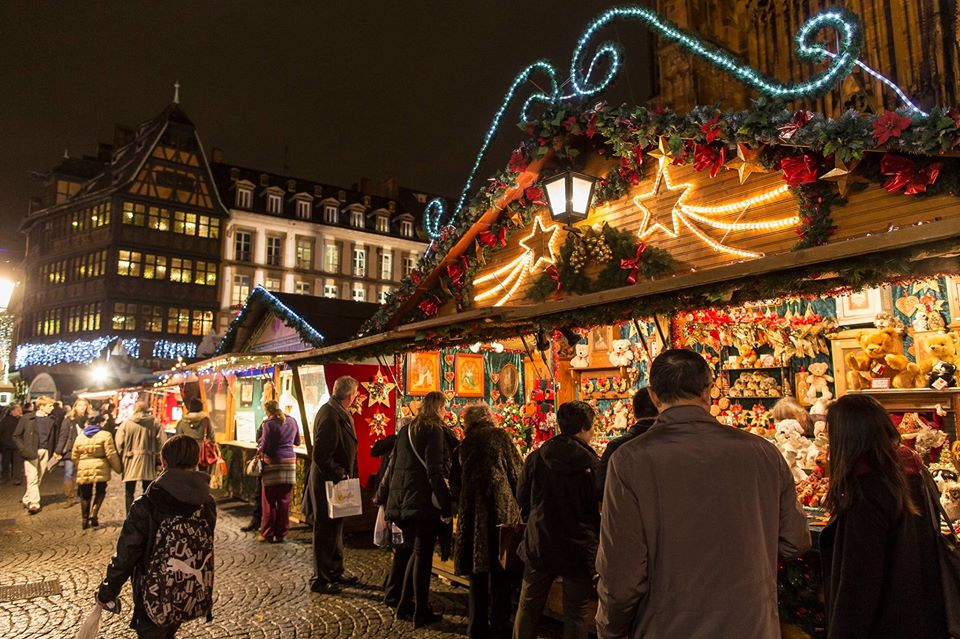 Until 24 December 2016
Strasbourg's Christkindelsmärik (market of the infant Christ) has stood the test of time. Having existed since 1570, it's the oldest and arguably the best Christmas market in France.
Shop: Comb the stalls for the freshest regional produce, traditional Alsatian Christmas decorations, and other craft objects you won't find anywhere else.
Feast: Complete your Christmas Eve banquet with Bredele Christmas biscuits, foie gras, Alsace wines, beers, and mulled Alsace white wine — all of which you can get right here. If all the shopping makes you hungry, gobble down the mouth-watering flammekeuche ("flamed cake"), a flatbread covered with fromage blanc or crème fraîche, onions and lardons.
Be merry: Watch local craftsmen demonstrate their skills at the market. Each week, a new craft will be on show at a special stand in the venue.
More info here: noel.strasbourg.eu
Striezelmarkt – Dresden, Germany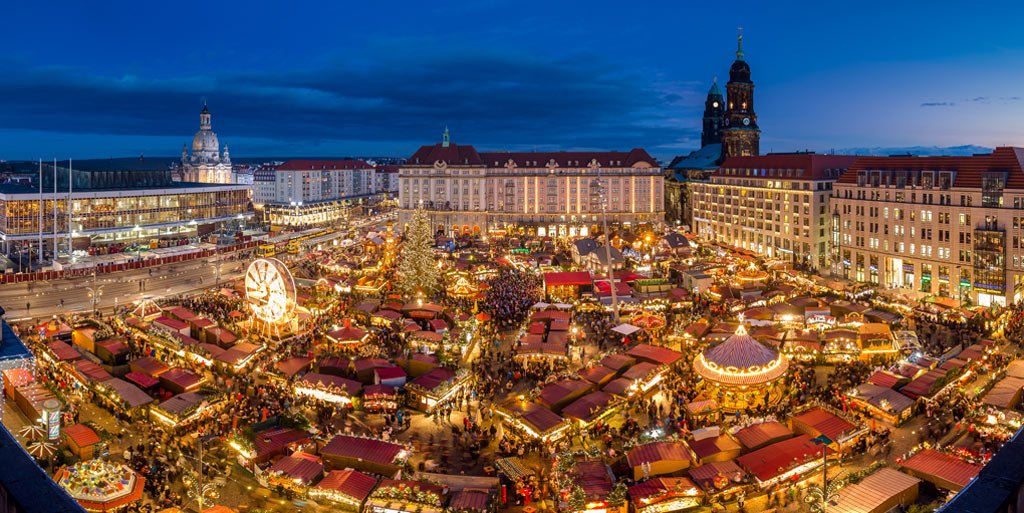 Until 24 December 2016
The wooden stalls at Germany's oldest running Christmas market has once again flung their shutters open to treat shoppers with classic Saxon goodies.
Shop: The finest artists and artisans across Saxony join the Striezelmarkt's festivities, bringing with them regional crafts of all sorts, such as blown glass from Lauscha, filigree lace products from Plauen, blaudruck (blue print) textiles from the upper Lusatia region, and Dresden's prized ceramics.
Feast: If your visit is timely enough (on the Saturday before the second Sunday of Advent), you might just get lucky and have a piece of Dresden's four-ton stollen or fruitcake — but not before it's been paraded around the streets by the city's citizens, accompanied by the Stollenmädchen or the Fruitcake Maiden.
Be merry: Be sure to have a look at the focal point of the Striezelmarkt — a 14-meter tall weihnachtspyramide or Christmas pyramid, a traditional German Christmas decoration. The pyramid has its own festival which takes place on the Saturday before the third Sunday of Advent.
More info here: dresden.de
What are your favorite Christmas markets? Post them in the comments!