Coron for the Weekend Warrior
My heart will Coron.
by Cattleya Mariano | May 08, 2015
[article_carousel images="https://windowseat.ph/wp-content/uploads/2015/05/GOPR1011.jpg, https://windowseat.ph/wp-content/uploads/2015/05/GOPR1194-1.jpg, https://windowseat.ph/wp-content/uploads/2015/05/GOPR1202.jpg, https://windowseat.ph/wp-content/uploads/2015/05/GOPR1209.jpg "]
Our trip to Coron was completely unexpected. Within a week, flights were booked and bags were packed, and the next thing I knew, I was sitting in the window seat of my first-ever propeller plane, on my way somewhere I knew next to nothing about – which, for the record, I believe is the best way to approach any new adventure.
As someone who was off to Palawan for the very first time, I had high expectations. Everyone I knew who'd been there had nothing but great stories to tell and beautiful photos to show, and I can honestly say that my experience wasn't any different.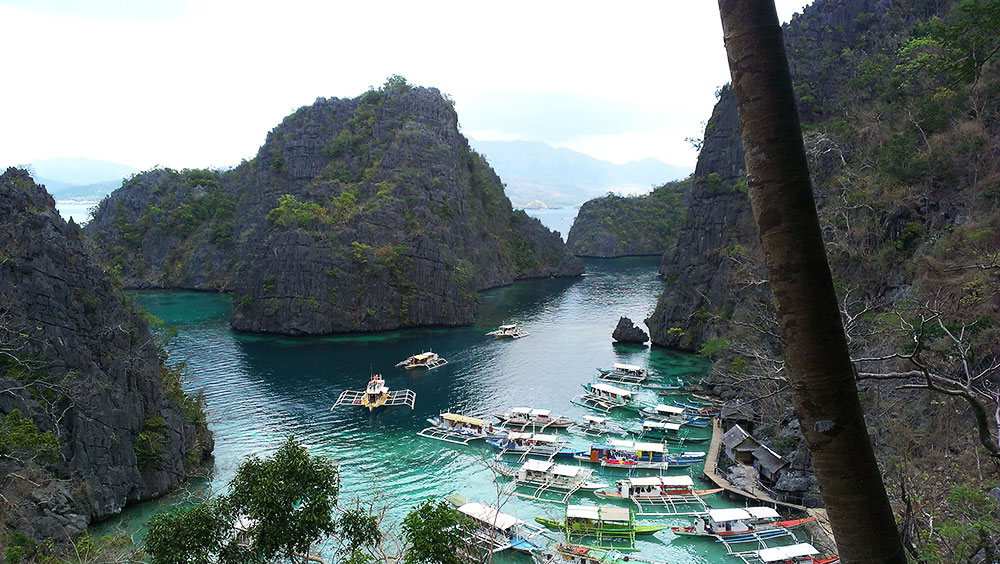 Composed of pretty much half of Busuanga Island, the whole of Coron Island, and more than 50 other islets, Coron is one of the larger tourist destinations of Palawan, located at its north-eastern tip. You'll land in Busuanga airport, having been greeted by spectacular aerial views of the island, mountains, and surrounding bodies of water. Our hotel, Coron Westown, provided us with airport transfers, so in twenty short minutes we were settling in and on our way to the pool to unwind. Our trip there was pretty short, so we tried to fit in as many activities as possible.
Here was our itinerary to give you an idea:
Day 1:
7:40-8:00AM Travel from Hotel to Port
8:15-8:40AM Travel to Siete Pecados
8:40-9:40AM Swimming and snorkeling at Siete Pecados
9:40-10:00AM Travel from Siete Pecados to Kayangan Lake
10:00-11:45AM Stay at Kayangan Lake
11:45-12:20PM Boarding and travel from Kayangan Lake to Banol Beach
12:20-2:15PM Lunch at Banol Beach
2:15-2:40PM Boarding and travel from Banol Beach to Twin Lagoon
2:40-3:30PM Stay at Twin Lagoon
3:30-4:00PM Boarding and travel from Twin Lagoon to CYC Beach
4:00-4:50PM Swim and snorkel at CYC Beach
4:50-5:30PM Travel back to Port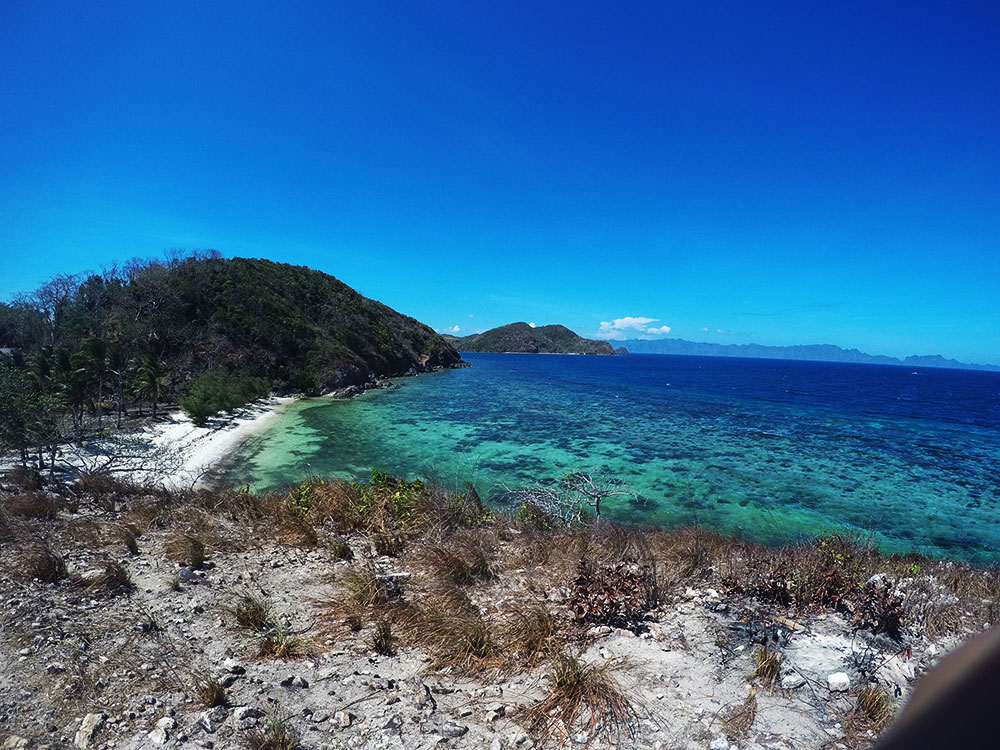 Day 2:
7:40-8:00AM Travel to Port
8:00-9:45AM Travel from Port to Malcapuya Island
9:45-3:15PM Swimming, snorkeling and lunch at Malcapuya Island
3:15-4:45PM Boarding and travel from Malcapuya to Port
4:45-6:00PM Travel from Port to Market for souvenir shopping (Market is beside the port)
6:00-6:30PM Travel back to hotel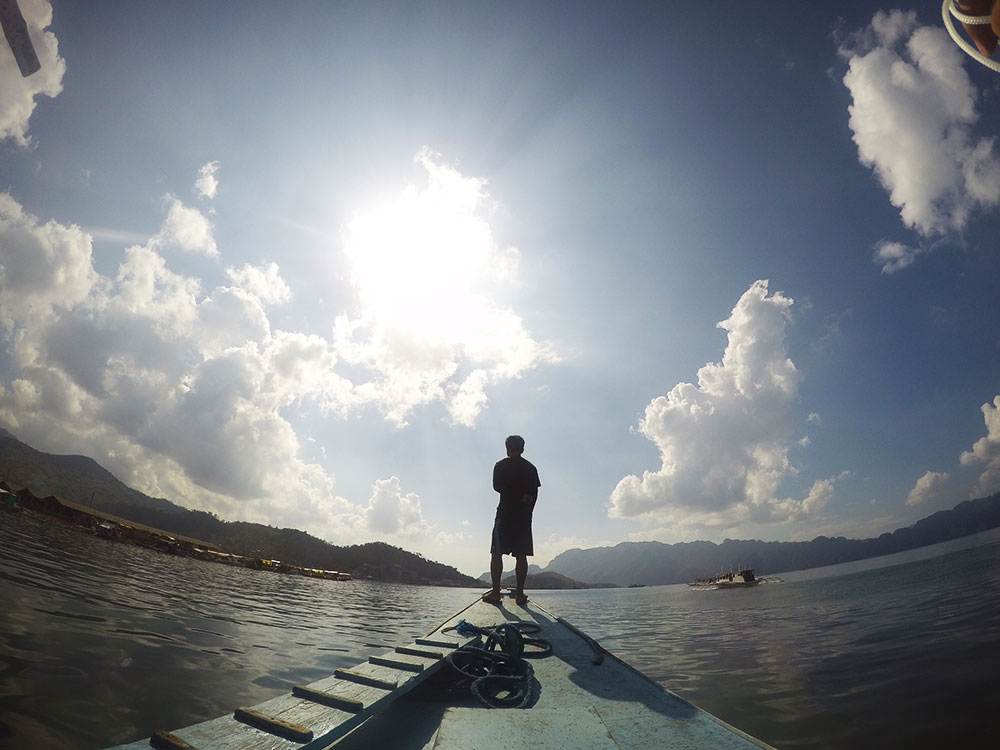 I thoroughly enjoyed myself at each of these locations, but don't limit yourself to them! If you're into scuba diving, there are other great reefs and beaches to explore. The diversity of the marine wildlife in Coron is breathtaking, and I can only hope that the local government remains vigilant in keeping the whole of Palawan safe from pollution and excessive garbage.
What to expect
Much like Manila, or anywhere in the Philippines for that matter, Coron is generous with the sun and humidity in the summer months and liberal with the rain and humidity the rest of the time. Nights are cooler, but you won't need more than a shawl or light jacket in the town proper.
Good food is everywhere. The seafood at Sinugba sa Balay (located at San Agustin st. in Barangay 4) is excellent, and good coffee/tea are available at Coffee Kong (Brgy 5, National Highway).  Like most provinces in Manila, your best bets for good, home-cooked food at affordable prices are found off the beaten path.

Flights to Coron range from P3,000-P5,000 each way – of course, rates are cheaper if you travel in the middle of the week versus the weekend.
Tip: Check if the hotel you're staying at offers free airport transfers, as this will save you a couple hundred pesos as well, or find out if you can get a van under contract if you're with a large group of people.
Tricycles are also available. Don't be afraid to ask a local what the going rates are before you set off on your adventure.
Renting a boat to take you island hopping will cost you around P4,000 for the whole day, which is very manageable if you and your companions split the cost.


CLIMATE
General climate: 24 to 33C
March to May – summer season
July to October – rainy season
November to January – a little bit of rain and a bit chilly at night


FLIGHTS
Manila to Coron
Cebu Pacific
Philippine Airlines
Skyjet


BUDGET
P10,000 – P15,000
Includes airfare, food, accommodation, transportation around town
Accommodation
You don't have to stay at a chain hotel, as the town is backpacker-friendly. There are numerous hostels available for around P500 per night, and most of the locals speak Filipino without a hitch. This will save you a lot of money if you're travelling solo or on a tighter budget.