Fantastic Beers and Where to Find Them
What's your favorite hoppy place?
by Kara Santos | October 12, 2016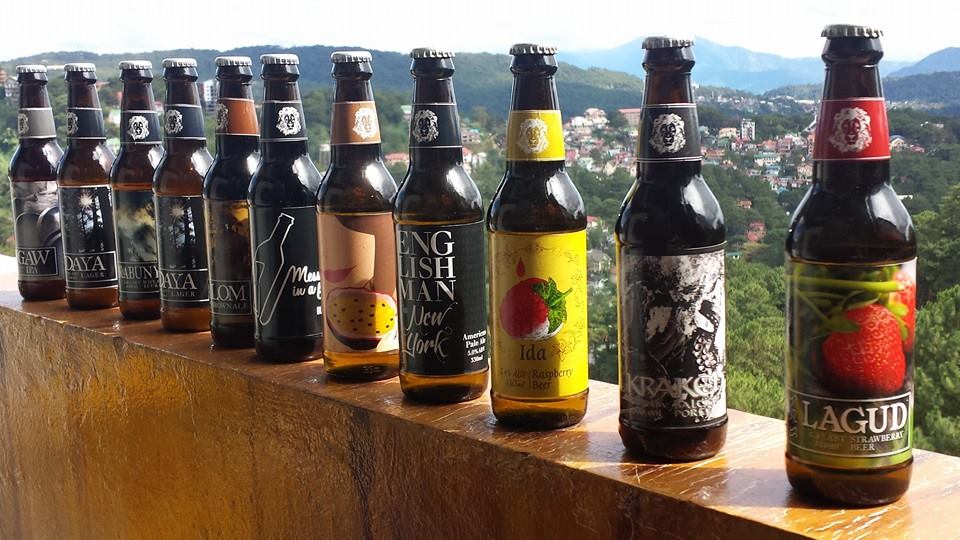 Beer and travel really go together. There's nothing like chilling out after a day of adventure and exploration with an ice-cold beer in hand. But let's face it, sometimes you want to enjoy something more than the usual San Mig or Red Horse.
If you're a craft beer enthusiast, you'll be happy to know that there are a growing number of microbreweries in different provinces of the Philippines producing their own artisanal beers and infusing them with local flavors and ingredients. Here are just a few of the fantastic craft beers and where you can find them around the country. You're welcome.
Baler Brew
Baler, Aurora
After riding the waves in Baler, the capitol town of Aurora, kick back with some refreshing brews on tap at Charlie Does, a surf shop on Sabang Beach that's the home of Baler Brewing Company.
Their Baler Brew Honey Wheat Beer is a light and refreshing drink perfect for lazy afternoons on the beach.
Where to find them: Charlie Does Surf Shop, Buton Street (Cor. Alley 1), Sabang Beach, Baler, Aurora. Facebook: Baler Brewing Co.
Cerveza Sagada
Sagada, Mountain Province
If you're done visiting the Hanging Coffins and caving, pay a visit to Sagada Cellar Door, a quaint brewery hidden under a forest of pine trees. This is the home of Cerveza Sagada, craft beers brewed with local ingredients from the Cordillera region.
Gusi Violet Ale gets it color from heirloom black rice or "Balatinao" of Mt. Province; Into Brown Ale has the aroma and flavor of Sagada Arabica coffee; while Alig Wheat Ale contains wild sunflower honey and locally harvested Sagada oranges.
Where to find them:  Sagada Cellar Door, Wine Cellar and Beer Bar, Lallalai, Sagada (above Sagada Pottery), Mountain Province. Facebook: Cerveza Sagada
Baguio Craft Brewery
Baguio City, Benguet
Chill out in the City of Pines with a glass or two at Baguio Craft Brewery. This hip bar serves a wide range of fresh, handcrafted beers inspired by Cordillera mythology and culture.
Specials include Lagud Strawberry Beer, Pugaw India Pale Ale, Dalom Brown Ale, Daya Lager, Kabunyan Wheat Beer, Zigzagger, Rolling Fog Wheat Ale, Ida Raspberry Beer and RIPE Passion Fruit Beer, to name a few.
Where to find them:  The Tasting Room at Baguio Craft Brewery. RKC Building, 120 Marcos Highway, Km 4 (Ben Palispis Highway), Baguio City, Benguet. They have a second branch in Riverwalk, Harbor Point, Ayala Mall, Subic Bay Freeport Zone. Facebook: Baguio Craft Brewery
The Laughing Carabao Brewery
Tarlac City, Tarlac
Known for its vast sugar and rice plantations, Tarlac is considered the "Melting Pot of Central Luzon." If you're driving through, look out for restos serving beers from The Laughing Carabao Brewery, Tarlac's first Craft Brewery.
Their White Mango Ale makes use of mangoes harvested from farmyards of Bamban, Tarlac while Inuruban Pale Ale is inspired by a local delicacy made of sticky rice, young coconut and sugar.
Where to find them: Beers from The Laughing Carabao Brewery are available at Jack Meets Kaldi Specialty Coffee Shop, Unit 2 – Cluster 4 Ripples Building, San Vicente and can be bought direct from the brewery at 50 Zamora Street, Paraiso, Tarlac City, Tarlac. Facebook: The Laughing Carabao Craft Beers
Pinatubo Craft Beer
Angeles City, Pampanga
The Culinary Capital of the Philippines is always worth visiting for good eats. Now, you can find some unique brews there as well. Pinatubo Craft Brewery, named after the iconic Mt. Pinatubo (located between the provinces of Pampanga, Zambales and Tarlac) is the first and only microbrewery in Angeles City.
Their beer lineup includes potent brews aptly named Dark Angel, Crown Lager, Golden Nectar, Twister Ale, Sunrise Wheat and Brainstorm IPA.
Where to find them: Pinatubo Brewing Point Snackhouse. 355 Yukon St., Riverside Subd., Anunas, Angeles City, Pampanga (near Clark). Facebook: Pinatubo Craft Beer
Crazy Carabao Brewing Co.
Sta. Rosa, Laguna
Laguna-based brewery Crazy Carabao Brewing Co. (CCB) aims to deliver the freshest and finest locally made boutique beers to quality establishments. Their four flagship beers feature interesting trivia about Philippine culture and icons.
Their beer lineup includes Tarsier Wheat Beer, Tuff Tuko Pale Ale, Kalinga Kolsch and Exit Wounds IPA.
Where to find them: Crazy Carabao Brewery, Building 14, Daystar Sta Roza Industrial Park, Pulong Sta Cruz, Sta Rosa, Laguna. Facebook: Crazy Carabao Brewing
Palaweño Brewery
Puerto Princesa, Palawan
The island province of Palawan is best known for its beautiful beaches and natural attractions. The country's "last frontier" is also home to Palaweño Brewery.
They offer Ambog Ale (American Amber Ale), Palawan Wit Belgian Wheat Beer, Palaw'an Honey Kolsch, Ayahay IPA, Hunter Honey Nut Brown Ale and Mango de Palawan (seasonal), some of which are brewed with local Palawan honey.
Where to find them:  Palaweno Brewery, 82 Manalo Street, Puerto Princesa City, Palawan. Beers are also available at El Nido Boutique and Art Cafe, Telesfora Beach Resort and D'Bottle Shop in El Nido, Palawan. Facebook: Palaweno Brewery
Turning Wheels Brewery & The Cebruery
Cebu City, Cebu
Cebu City, the Queen City of the South, is a major trading port and site for some of the nation's fastest-growing industries. After feasting on lechon and visiting iconic heritage spots, be sure to stop by the dining establishments and bars that serve local brews.
Turning Wheels Brewery has cycling-themed beers aptly named Derailed IPA, Skyline White IPA, Single Track IPA, Turning Point Double IPA and Single Speed Imperial Stout. Meanwhile, The Cebruery offers six brews named after iconic Philippine destinations and culture including Boracay Blonde Ale, People Power Pale Ale, Dumaguete Dubbel, Chocolate Hills Porter, Guimaras Gose and Las Islas Pilipinas Ale.
Where to find them: Turning Wheels Brewery beers are available in Ilaputi, Axis, Escario, Lahug, Cebu City. Facebook: Turning Wheels Brewery.
The Cebruery is located in Mandaue City, Cebu with beers available in various bars in Cebu City. It's also available in Coco Loco in Bohol. Facebook: The Cebruery
Negros Island Craft Brewery & Illusion Brewery
Bacolod City, Negros Occidental
Home to the most of the country's sugar plantations, Negros Island is known as the "Sugarbowl of the Philippines." Negros Island Craft Brewery uses Negrense muscovado sugar and pure Negros spring water for their brews.
Their line-up includes Bogsbrew, Primo, Kawayan Ale (brewed with bamboo shoots), Xmas Oatmeal Porter and Negros Pale Ale.
Meanwhile, Illusion Brewery is a mysterious magic-themed pub hidden in a speakeasy. They offer lots of gourmet beers including their flagship Pale Ale and Cream of Smiles Cream Ale, a light tasting beer but with a hint of vanilla. Other beers variants include Stout Drakula, Bullet Catch, Saludo, Nothing Spectacular and Card Catcher.
Where to find them: Bogsbrew Beers are available at Cafe Bob's Deli Shop, 21st Street, cor. Lacson Street, Bacolod City. Facebook: Bogsbrew
Illusion Brewery beers are served at The Trap Door Tasting Room. 22nd Street, Bacolod City. Facebook: Illusion Brewery
Fat Pauly's Hand-Crafted Ales & Lagers
Iligan City, Lanao del Norte
Most famous for its waterfalls, Iligan City in Northern Mindanao is also home to Fat Pauly's Hand-crafted Ales & Lagers by Stuart Brothers Craft Spirits Co. Inc.  This local craft beer from the same family behind the famous Suka Pinakurat, uses both imported and Mindanao-sourced raw materials including Iligan's Timoga Spring waters and wild Putyukan Honey to make their fresh home-brewed beers.
Their Sultan Coffee Stout is infused with ground arabica from coffee farms in Bukidnon and Cotabato and homemade dark coconut syrup, while Diwata White Wheat Ale with Lime & Peppercorns has flavors of local lime or suha called Biasong. Other flagship brews include Iligan Single Hop Origin Pale Ale, Ilaya Intensely Hopped Pale Ale and Lumad Steam Lager.
Where to find them: Fat Pauly's Brewery is located within the Suka Pinakurat Factory, Purok 3, Pugaan, Iligan City, Lanao del Norte. Facebook: Fat Pauly's Handcrafted Ales & Lagers
For those based in the metro who can't travel to the different regions, the good news is that many of these craft beers are making their way to Manila. Check out each brewer's Facebook page for their exact beer locator so you can find where to get your hands on their awesome brews. Cheers!
For a more complete list of craft beers from around the Philippines, visit the author's blog: Craft Beers in the Philippines and like the Philippine Craft Beer Community page on Facebook. Got more brews? Post them in the comments!