5 Luxurious Cruise Lines You Should Start Saving Up For
Not all cruise lines are created equal.
by Jaime Perez-Rubio | June 15, 2016
We all dream of going on a cruise at least once in our lives. It may take a lot of discipline because cruises are pretty expensive (especially for those times when it feels like there is no wiggle room in your budget to save more). But do yourself a favor and save up for one of these luxurious cruises – because if you're going to do it once, you might as well do it right.
Carnival Cruise Line
Average Price: $179 Per Night/Per Person
The Carnival Cruise Line is an American/British owned cruise line that's based in Doral, Florida. Known as "The Fun Ships", Carnival Cruise Line sports Las Vegas-style décor and features entertainment for all ages including casinos, bars, spas, and even activities for kids and teens!
They have WaterWorks which is a waterpark within the cruise – perfect for kids and even adults who are kids at heart. They also host Carnival Live which is a concert/comedy performance for everyone to enjoy while cruising through the many destinations the cruise offers – Caribbean, Europe, Canada & New England, Australia, the Bahamas, Bermuda, Hawaii, Mexico, Alaska, and the Panama Canal.
Royal Caribbean International
Average Price: $277 Per Person/Per Night
The Royal Caribbean International is a cruise line founded in Norway and currently based in Miami, Florida. Kids can enjoy 10 different pools and whirlpools, a waterslide, the Dreamworks Experience where they can meet and greet characters like Shrek and the Kung Fu Panda, and a lot more.
For the adults, activities like the Flowrider surfing simulator, Rock Climbing, Basketball, Ice Skating, and mini-golf await them at the Royal Caribbean experience. There are also 14 different bars, lounges, and nightclubs for adults to gather and have fun. Destinations include Alaska, Asia, Australia/New Zealand, South Pacific/Tahiti, The Caribbean, The Mediterranean, South America, and many more.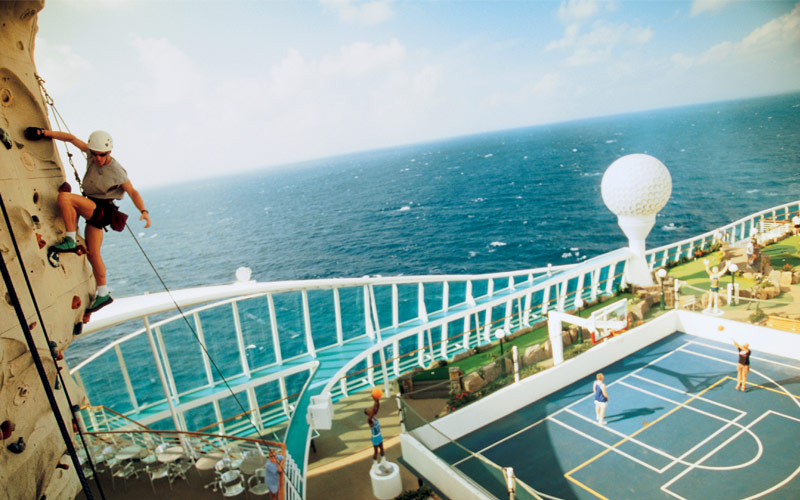 MSC Cruises
Sail the oceans in style with MSC Cruises. MSC Cruises is a Swiss cruise line with headquarters in Geneva. Their ships resemble a Mediterranean resort with classic European design. Entertainment includes 6 different original shows on a 7-night cruise. The shows include a pirate show, acrobatics, an opera, and classical Broadway-style productions!
There are outdoor tennis, volleyball and basketball courts that guests can use for fun under the sun. There is also a gym and yoga classes for all the health-enthusiasts on board. Kids can enjoy the Lego Club where there are group activities supervised by trained staff. Their cruises include excursions and custom tours to up-to 73 countries worldwide with personal guidance to soak in the culture of new places.
Hebridean Island Cruises
For a more sophisticated and intimate cruise, try the Hebridean Island Cruises. This cruise will take you on an amazing journey through the Scottish Islands with only 50 guests aboard. The ship has a very romantic ambiance and is perfect for couples or even solo adventurers looking to meet like-minded people.
Unlike most cruise lines, the Hebridean Princess cruise includes a stop-over to the shores of all the places visited. This means that guests will get first-hand experience to history and culture. Just the perfect cruise for the explorer in you!

Disney Cruise Lines
A subsidiary of the Walt Disney Company, the Disney Cruise is a great choice for a family-oriented adventure across the world with activities like Broadway-style live shows, port adventures, and deck parties. Catch any Disney movie at Goofy's Pool or test your Disney knowledge during a game night if you're feeling a little competitive.
Enjoy Disney's Rotational Dining, where you get to tour 3 upscale restaurants that cater to both kids and adults (You can enjoy your meals while there's an interactive storytelling going on). Destinations include the Alaskas, the Bahamas, the Calfornia Coast, the Canadian Coastline, the Caribbean, Europe, Mexico, Transatlantic, and the Panama Canal!
Also read:
Bali, Indonesia: 10 Luxury Hotels and Resorts That Will Make You Want to Save Up
Here's Why You Need to (Work Hard and Save Up to) Go to Israel
6 Hacks for a Budget-Friendly Hong Kong Trip